For fresh college graduates and first-time employees, membership in the Pag-IBIG Fund (as well as PhilHealth and SSS) is like a rite of passage into adulthood. It marks your beginning as a full-fledged career professional.
Consider yourself lucky because nowadays, most government transactions like the Pag-IBIG online registration can be done over the internet. No need to waste your precious time waiting in line just to register with a government agency.
With Pag-IBIG online, it takes only a few minutes and several clicks to enroll as a member of the Pag-IBIG or Home Development Mutual Fund (HDMF). It's a lot more convenient now compared to the manual registration that your parents and older siblings had to go through in the past.
To make the process even easier for you, here's a simple guide on how to apply for Pag-IBIG membership online.
What is Pag-IBIG Online Registration?
Pag-IBIG online registration refers to the process of enrolling yourself as a Pag-IBIG Fund member. This involves submitting your information, generating your Member's Data Form (MDF), and getting your Pag-IBIG Membership ID (MID) Number through the HDMF Online Registration System.
Who Should Register for Pag-IBIG Membership?
Pag-IBIG membership may either be mandatory or voluntary depending on the person's source of income.
Mandated Pag-IBIG Membership
Mandatory coverage under the Pag-IBIG Fund means membership is required for the following people:
Employees in the private sector (permanent, temporary, or provisional status) up to 60 years old
Government employees with GSIS coverage regardless of appointment status
Self-employed individuals up to 60 years old earning at least PHP 1,000 a month
Kasambahays (e.g., household helper, cook, driver, gardener, etc.) with a monthly salary of at least PHP 1,000
Land-based and sea-based OFWs
Filipinos employed by foreign-based employers, whether deployed locally or abroad
If you don't belong to any of the groups that qualify for mandatory Pag-IBIG membership, you can still apply as a voluntary member.
Voluntary Pag-IBIG Membership
Registration with the Pag-IBIG Fund is optional for the following individuals aged 18 to 65:
Non-working spouse of registered Pag-IBIG members
Filipino employees of a foreign government or international organization
Employees of employers with a waiver or suspension of coverage by the Pag-IBIG Fund
Religious group leaders and members
Pensioners, investors, and other individuals with passive income or allowances
Public officials and employees without GSIS coverage (e.g., barangay officials, Sangguniang Kabataan members, etc.)
Pag-IBIG Membership Benefits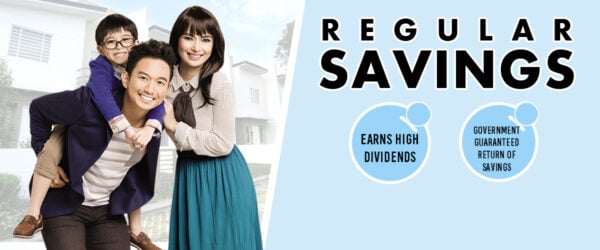 More than just a requirement for a new job, there are several good reasons to enroll as a Pag-IBIG Fund member. Pag-IBIG benefits that members get can help them meet their short-term and long-term financial needs.
When you become a Pag-IBIG member, you're entitled to these key benefits:
Regularly save money for retirement and other financial goals through the Pag-IBIG Regular Savings Program and MP2 Program
Borrow funds for different purposes through Pag-IBIG loans (housing loan, salary loan, and calamity loan) with low interest rates and long repayment terms
Enjoy discounts, rewards, and other perks at partner establishments through the Pag-IBIG Loyalty Card Plus
Read more:
How to Register Online in Pag-IBIG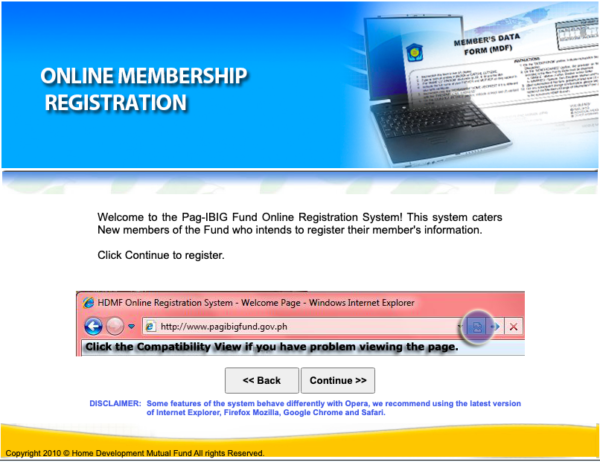 There are two ways to apply for Pag-IBIG membership online: employee-assisted and self-assisted. To avail of the employee-assisted membership registration service, visit the nearest Pag-IBIG branch and use the kiosk there to enroll in Pag-IBIG online. A dedicated staff will help you complete your Pag-IBIG online registration.
The other method is to register online by yourself at home. Online enrollment in the Pag-IBIG Fund is a quick and straightforward process. Unless you are a senior citizen or you don't have an internet connection at home, you don't have to go to a branch and have an employee help you register online.
Pag-IBIG Website Online Registration Steps
1. Go to the Pag-IBIG Fund website[1], hover your mouse over the E-Services tab on the menu, and click on the Membership Registration link. Tip: The faster way to access the Pag-IBIG online registration system is to go to this page: www.pagibigfundservices.com/PubReg/Starter_Page.aspx.
2. Click the Continue button.
3. Enter your complete name and birth date. Input the CAPTCHA code and click the Proceed button.
4. Fill out the required fields on the online registration form. Click the Next button to proceed to the succeeding section.
5. When you've completed the Pag-IBIG membership online form, click the Submit Registration button. The Successful Registration page will appear, and you'll also receive a text confirmation.
6. Click the Print MDF button to print or save your enrollment form.
Once you're done with your Pag-IBIG online registration, take note of your Registration Tracking Number (RTN) sent to you via SMS by the Pag-IBIG Fund. The RTN can also be found on your MDF.
Self-employed members can already use the RTN when paying their Pag-IBIG contributions.
Meanwhile, employees who have enrolled in Pag-IBIG online must wait for around two to three working days before they're issued their permanent Pag-IBIG MID number. After verifying their Pag-IBIG number, employed members should submit it to their employer. Employers need their new hires' Pag-IBIG MID number for new employee registration with the Pag-IBIG Fund.
Related article: The Complete Guide to Claiming Your Pag-IBIG Contributions
Pag-IBIG Online Registration FAQs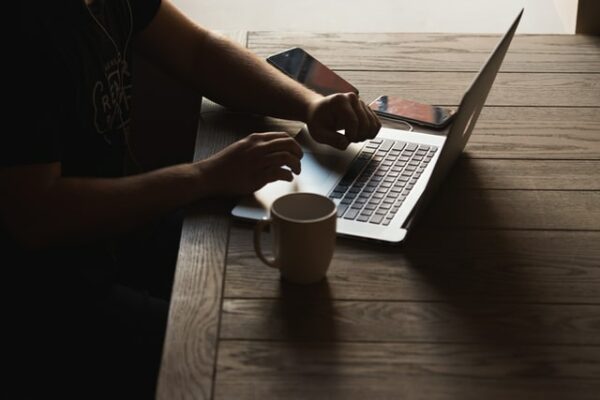 1. What are the Pag-IBIG online application requirements?
No need to submit anything to the Pag-IBIG Fund for your online membership application. The Pag-IBIG Fund does not require any documents for those who use the Pag-IBIG online registration system.
However, you should have a copy of your birth certificate on hand. You'll refer to this document when filling out the Pag-IBIG membership online. The personal information (such as birth date, mother's maiden name, etc.) you provide for your Pag-IBIG online registration should match with the data on your birth certificate.
2. How to verify Pag-IBIG number?
Once you've been issued a permanent Pag-IBIG MID number, you'll receive a text message from the Pag-IBIG Fund with instructions on how to receive this number.
If more than three working days have passed since your Pag-IBIG online registration and you haven't received any notification yet, here are three ways to verify your Pag-IBIG MID number:
a. Pag-IBIG Number Verification via SMS:
Text IDSTAT<space>[RTN]<space>[Birth date in MM/DD/YYYY format] and send to 0917-888-4363 (Globe) or 0918-898-4363 (Smart).
b. Pag-IBIG Number Verification via Pag-IBIG Hotline:
Get your MID number by calling the Pag-IBIG Hotline 8724-4244. You'll be required to answer three security questions correctly (for identity verification purposes) before you receive your Pag-IBIG number.
c. Pag-IBIG Number Verification via In-Branch Inquiry:
If none of the two methods above has worked, go to the nearest Pag-IBIG branch to request your MID number. Remember to bring a valid ID, which you'll present to the staff to prove your identity.
3. Does having a Pag-IBIG number mean I am already a member?
No. Completing the Pag-IBIG online registration and being issued a MID number does not automatically mean your membership has started. Your actual membership with the Pag-IBIG Fund will begin only after you've paid your first monthly contribution.
4. How to create and log in to Pag-IBIG online account?
The Pag-IBIG online registration system is intended only for those enrolling as a new member. If you'll avail of a Pag-IBIG service online (like checking your loan or savings records), use the Virtual Pag-IBIG portal[2].
Virtual Pag-IBIG offers three options for creating an online account: through the member's Loyalty Card Plus, account activation at the nearest Pag-IBIG branch, and a separate account creation method for OFWs.
5. How to update Pag-IBIG online membership?
There's no way to update or correct your Pag-IBIG membership record online. For security purposes, the Pag-IBIG Fund requires members to go to a Pag-IBIG office to personally request for updating of their membership information. A printed copy of the accomplished MDF [3] must be submitted for this purpose.
Read more:
Final Thoughts
The Pag-IBIG online registration process should be quick and hassle-free. However, if you're having trouble using the online system, you may contact the Pag-IBIG hotline or chat with a customer service agent through the Pag-IBIG Fund website for assistance.

Sources: