What is the easiest valid ID to get? You guessed it right: the postal ID.
Postal ID registration in the Philippines is a quick and convenient way to get a valid ID. The process is straightforward, and applicants can even opt for rush processing if they need the ID card ASAP. If the bank or government refuses to transact with you because you lack a valid ID, then you should apply for a postal ID.
National ID registration, processing, and delivery are still ongoing, and it takes months—sometimes even years—for the card to be issued. Meanwhile, the COMELEC has stopped issuing new voter's IDs to give way to the new national ID system.
So for now, a postal ID may be your only option to complete your requirements for any bank or government transaction.
Here's everything you need to know about how to get a postal ID in the Philippines.
What is the Postal ID?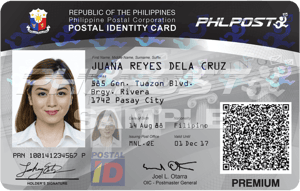 The Postal Identity Card, widely known as the postal ID, is a government identification card issued by Philippine Postal Corporation (PHLPost). It's known as the easiest and fastest government ID to get in the Philippines.[1]
What are the Uses of the Postal ID?
The postal ID card is the most widely accepted identification document in postal transactions all over the world, according to the Universal Postal Union.
In the Philippines, the postal ID was originally issued to ensure the correct delivery of letters and parcels. Postmen used the ID to verify a recipient's identity and address.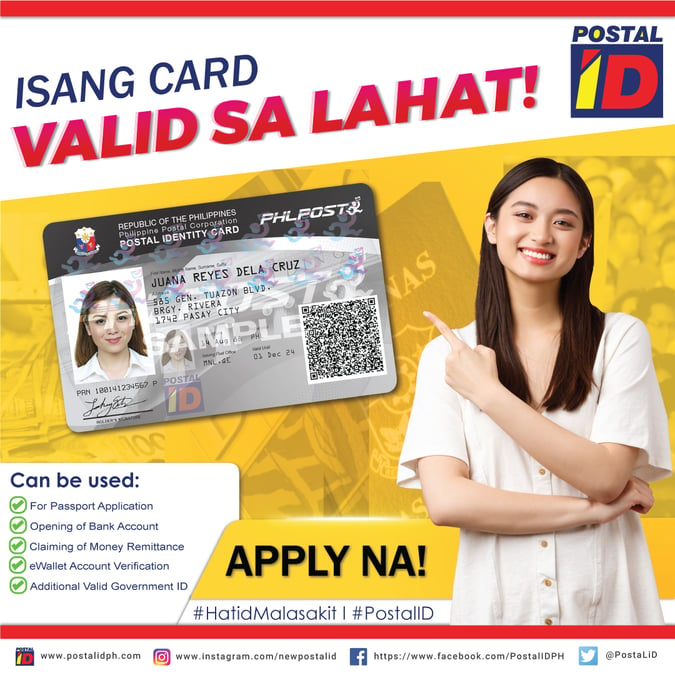 Today, besides postal transactions, the postal ID can also be used in different ways, such as the following:
Proof of identity for government transactions:

Applying for other government-issued IDs such as Philippine passport, police clearance, and NBI clearance
Availing of SSS, PhilHealth, and Pag-IBIG benefits and other government services
Sending or receiving money from remittance centers

Valid ID when opening a bank account and applying for a credit card, personal loan, and other banking products
Verifying e-wallet account
Availing of the Postal ID Privilege Program,[2] a service similar to the Pag-IBIG Loyalty card that provides discounts, freebies, and other privileges from various business establishments in the Philippines
Who Can Apply for a Postal ID?
Anyone regardless of age, citizenship, and occupation can get a postal ID. Foreigners can apply for a postal ID if they've been living in the Philippines for at least six months. Even students can get this ID, which makes it one of the most popular valid IDs anyone can easily get.
What are the Postal ID Requirements in 2023?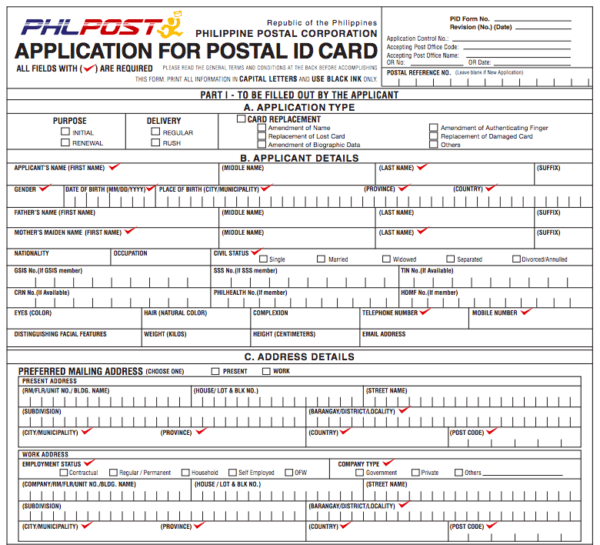 Applicants need to present both the original copy and photocopy of the required documents. Make sure to fill up all the necessary forms before you head down to the nearest post office.
📌 Postal ID Requirements for Filipinos
Two filled-out copies of the postal ID application form, available in any post office or to be downloaded online[3]
Proof of identity:

Any of the following: Birth certificate (issued by the Philippine Statistics Authority or Local Civil Registry), SSS UMID/GSIS ID, passport, or driver's license
In the absence of a primary valid ID, any two of the following valid secondary IDs can be presented:

Alumni ID
Baptismal certificate
Confirmation certificate
Company ID
Elementary or High School Form 137
IBP ID
OWWA ID
Pag-IBIG ID
PhilHealth ID
PRC ID
Seaman's Book
Senior citizen ID
School ID
Transcript of Records
TIN ID
Voter's ID

Proof of address under the applicant's name (any of the following documents):

Barangay certificate (issued within three months before your postal ID application)
Utility bill (electric, water, internet, cable, etc.)
Bank statement
Credit card billing statement
Certified true copy of lease, titles (issued by the Land Registration Authority), or real estate tax receipt

Additional requirement for married women: Marriage certificate issued by the Philippine Statistics Authority
Read more: PSA Serbilis vs PSAHelpline: Which Online Delivery Service is Better?

📌 Postal ID Requirements for Foreign Residents in the Philippines
Two filled-out copies of the postal ID application form
Passport valid for six months before postal ID application)
Any of the following documents, valid for at least six months before the application:

Alien Certificate of Registration Identity Card
Diplomatic Visa
Long Stay Visitor Visa Extension (LSVVE)
Special Resident Retiree's Visa (SRRV)
Temporary Resident Visa (TRV)

Proof of address under the foreign applicant's name, issued within three months before the application):

Bank statement
Barangay Certificate of Residency
Certification or statement of account from the hotel, transient home, or any temporary residence
Credit card statement
Notarized land, house, or condominium lease contract
School billing statement
Utility bill (electric, water, internet, cable, etc.)
How to Get a Postal ID: Regular and Rush Application Guide in the Philippines
📌 How to Apply for a Regular Postal ID
Submit the postal ID requirements: Submit all your documents and payment to any post office in the Philippines. Wondering where to get a postal ID near you, whether in Manila, Cavite, or anywhere else? Check out the Philippine postal ID website to locate the designated post offices and malls.[4]
Have your ID data captured: Go to the nearest ID capture station so they can take your photo, fingerprints, and signature. You can also find the postal ID capture stations on the website.
Receive your postal ID: Wait for your postal ID delivery to your mailing address.
Important notes:
Wondering where else to apply for a postal ID? PHLPost also provides postal ID mobile capturing services from time to time. Check the Postal ID Facebook page (www.facebook.com/PostalIDPH) for announcements on mobile capturing schedules and locations.
Some post offices don't have the postal ID delivery option. Instead, you'll be asked to wait for a text message regarding when your postal ID is available for pick-up at a designated post office.
📌 How to Apply for a Rush Postal ID
Need to get your postal ID faster? Avail of the rush service. Processing is available in select branches only.
How to get the rush postal ID? The application procedure is the same as the regular one. However, the postal ID rush fee is more expensive.
Where Can I Get a Rush Postal ID Near Me?
Here are some post offices that accommodate rush postal ID applications in Metro Manila:
Manila Central Post Office (Liwasang Bonifacio, Ermita)
Makati Central Post Office (Gil Puyat cor. Ayala Ave.)
Las Piñas Central Post Office (Las Piñas City Hall, Real cor. Pamplona St.)
Parañaque Central Post Office (Ninoy Aquino Ave., Brgy. La Huerta)
Cainta Post Office Rizal (Ardi 1 Bldg. Ortigas Ave. Ext. Brgy Sto. Domingo)
Quezon City Central Post Office (NIA Rd., Brgy. Pinyahan, Diliman)
Robinsons Otis Central Post Office (2/F Lingkod Pinoy, Philpost Robinsons Otis, Paz M. Guanzon St., Paco, Manila)
Robinsons Las Piñas Post Office (L/G, Robinsons Mall, Talon Tres)
SM Aura - Government Service Express (7/F SM Aura, Taguig City)
Mall of Asia (​2/L North Parking Bldg., SM Mall of Asia Gov't Services Center)
SM Southmall Post Office (G/F SM Southmall Alabang Zapote Road)
Taguig City Hall (Gen. Luna St., Tuktukan, Taguig City Hall)
Valenzuela Central Post Office (Old City Hall Complex, McArthur Hwy., Malinta)
For the complete list of rush ID processing locations in the Philippines, check the Postal ID website.[5]
How Many Days Does It Take to Get a Rush Postal ID?
Wondering if you can get your postal ID on the same day of your application?
You can get your ID within the next working or even the same day in select post offices. Rush postal ID applications are open from Monday to Friday, usually from 8 a.m. to 5 p.m. After that, you can pick up your ID the same or the next day from 4 p.m. to 5 p.m.
How to Renew Your Postal ID: Requirements and Procedure
If your postal ID expires or gets lost or damaged, you can apply for a renewal or replacement at any post office in the Philippines. Simply surrender your expired, expiring, or damaged card, submit two copies of the accomplished postal ID application form, and pay the fee.
If you're replacing your ID to change or update your information on the card, present applicable supporting documents, such as a birth certificate for correction of name/birthdate, marriage certificate for changing from maiden name to married name, or proof of billing for change of address.
For postal ID renewal due to loss or theft, submit a notarized affidavit of loss. To get this legal document, go to the nearest notary public and describe how you lost your card. The notary public has a template for the affidavit of loss, so you don't need to create one from scratch.
If you're replacing your old laminated paper-based postal ID (issued before April 2016), this will be considered a new application and not a renewal. Follow the postal ID application steps listed above.
Postal ID Application FAQs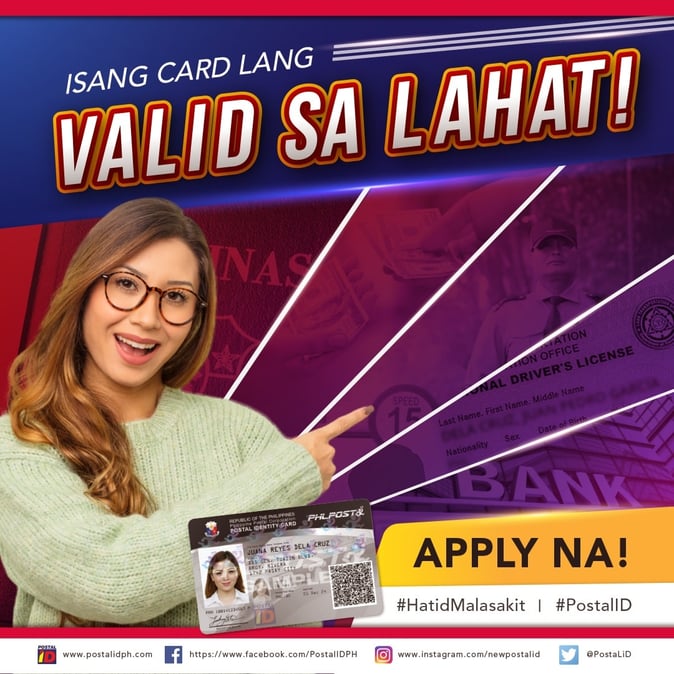 1. Is the postal ID a valid ID?
Yes, the postal ID is honored as a valid government-issued ID in different transactions with government and financial institutions, as long as it's within the ID card's validity period.
2. What is the validity of the postal ID?
The postal ID is valid for three years for Filipinos and foreign residents with Special Retiree's Resident Visa (SRRV). On the other hand, the postal ID expiration date is one year for the rest of the foreigners in the Philippines.
3. How to get a postal ID online?
You might be wondering how to get or apply for a postal ID online. Currently, there's no postal ID online registration and application facility yet. The procedure is done on-site, as you need to be personally present to have your picture, fingerprints, and signature taken.
Nonetheless, the postal ID application is an easy and convenient process, as long as your requirements are correct and complete.
4. How many days does it take to get my postal ID?
| | |
| --- | --- |
| Area | How Many Days to Get Postal ID |
| Metro Manila | 15 working days |
| Other cities and provinces outside Metro Manila | 20 working days |
| Remote provinces and islands | 30 working days |
After completing your application, expect your new ID within 15 working days if you live in Metro Manila. In the provinces, ID delivery takes about 20 working days. Those living in remote barangays and island provinces in the Philippines can expect their new ID within 30 working days.
5. How much is the postal ID fee?
| | |
| --- | --- |
| Application Type | Postal ID Price |
| First-time application | ₱504 |
| Renewal application | ₱504 |
| Rush application | ₱650 |
The total postal ID price, whether for first-time or renewal applications, is ₱504 (₱450 postal ID card and delivery fee + ₱54 for 12% VAT). If you need this ID card immediately, the rush postal ID application fee is ₱650.
6. How to track my postal ID application status?
To verify your postal ID status, simply go to the PHLPost Tracking website (tracking.phlpost.gov.ph)[6] and enter the tracking number given to you.
If that doesn't work, or you don't have a tracking number, you may contact the PHLPost customer service hotline at (02) 8288-7678 (available Mondays to Fridays, 8 a.m. to 5 p.m.) or send an email to phlpostcares@phlpost.gov.ph or the Postal ID Facebook page to follow up on your postal ID delivery status.
Tip: If you also applied for the national ID or Phil ID and haven't received it yet, you may also track its status on the PHLPost Tracking site.
7. What is the Philippine Postal Corporation and what does it do?
Also known as the Philippine Post Office or PhilPost, the Philippine Postal Corporation[7] is a government-owned and controlled corporation (GOCC) that provides postal services in the country.
Aside from issuing postal IDs, the Philippine Post Office is in charge of the collection, handling, transportation, delivery, forwarding, returning, and holding of mail and parcels throughout the Philippines and to and from select countries abroad.
8. What is the postal code of my province?
The easiest way to check the postal code or ZIP code of your province, city, or town is to look it up at the World Postal Code website (worldpostalcode.com/philippines).[8]
Simply click on the initial letter of the place you're looking for and do a CTRL+F search. For example, if you need to know the postal code of Baguio City, just click on B, press CTRL+F, and type Baguio.
You'll then see that Baguio's ZIP code is 2600. The same procedure goes for when you need to look up the postal code of other provinces such as Cabanatuan, Cagayan, and Quezon.
Another way to check postal codes in the Philippines is to visit the official website of your local government unit or province. Let's say you want to know the postal code in Bulacan. You can find the complete list of postal codes of its 25 towns and cities online through Bulakenyo.ph.[9]
Likewise, the official website of the province of Cavite[10] has a list of each postal code of its towns and cities, including Bacoor (4102) and Dasmariñas (4114).
9. How to verify if a postal ID is legit?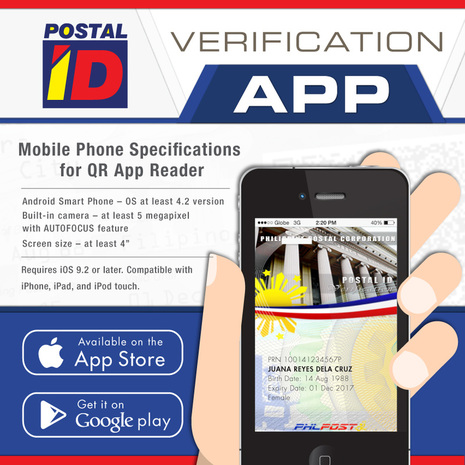 Never fall for postal ID scams offering assistance for ID processing through Facebook and other social media channels. At the very least, they'll scam you out of a few hundred pesos in the guise of hidden or extra fees. Worse, they'll try to obtain your personal information.
Don't share personal or financial information with people you don't know, whether it's via Facebook, e-mail, phone call, or text message. Apply for a postal ID only at PHLPost offices.
To help combat scams, PHLPost developed an app that verifies an ID through the embedded QR code. Just download the Postal ID Verification App via Google Play then scan the QR code on your postal ID. If you received your postal ID from the post office, it's probably legit.
10. How to avail of the Postal ID Privilege Program?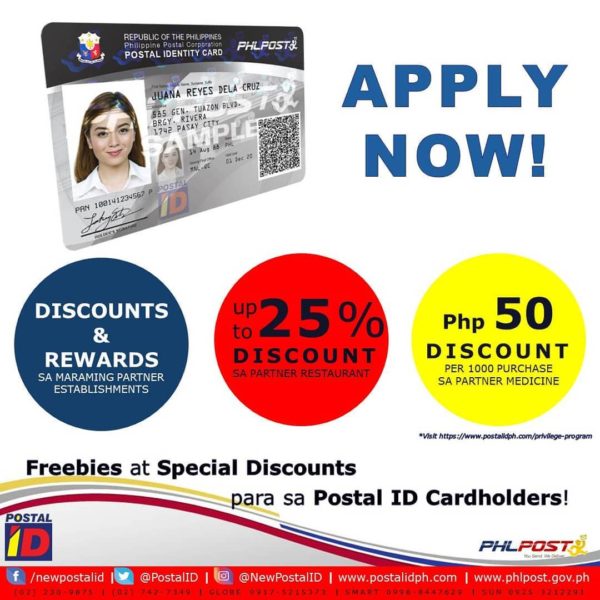 To maximize the benefits of a postal ID, use it to avail of the perks offered by partner establishments.
However, note that only the cardholder can use the postal ID to get the perks under the privilege program. In addition, the privileges that come with the postal ID can't be used along with the merchant's other promos, senior citizen discount, student discount, and PWD discount. Choose only one promo with the higher discount.
Here's how to use your postal ID as a privilege card:
Check the Postal ID website for the list of partner merchants or the Postal ID Facebook page for updates on new partner merchants.
Visit your preferred merchant.
Present your valid postal ID to the cashier or customer assistant and inquire about the product or service that qualified for the privilege program.
Follow the mechanics and enjoy your freebie or discount.
Final Thoughts
To sum up, the postal ID is evidently one of the easiest government IDs to get in the Philippines. So if you need one more valid ID, make sure you know how to get a postal ID!

Sources: