Tiny houses are gaining traction abroad because of the affordability they offer to homeowners. Filipinos are also starting to see the appeal and recognize the benefits of living in a small, stylish, and functional space.
Read on if you're eager to know more about tiny houses and get inspired by tiny house design ideas in the Philippines.
What is Considered a Tiny House?
A tiny house in the Philippines usually has a floor area of 18 to 54 square meters (sqm). However, there's no one size for a tiny house because it depends on the homeowner's design.
For example, if you build a tiny house out of a shipping container, which usually measures 6m x 2m or 12m x 2m, your tiny house will have 14 sqm or 29 sqm of living space.
How Much Does a Tiny House Cost?
Got a design for a small house in the Philippines? Construction can cost anywhere from ₱150,000 to ₱2 million. Of course, it still depends on the tiny house's size, its inclusions, and the materials to be used.
For example, if you use a six-meter shipping container, you can spend around ₱800,000 for three containers to make 55 sqm of living space.
If you hire a contractor, expect to spend around ₱17,000 to ₱25,000 per square meter.
Read more: Try Out These Simple, Low-Cost Filipino House Interior Design Tips
The Pros of a Tiny House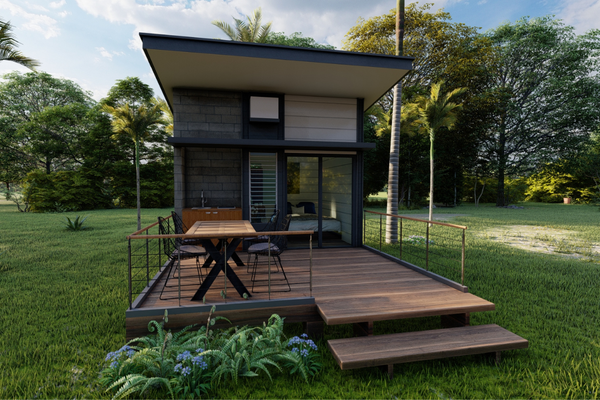 Living in a tiny house doesn't mean living in squalor. Many people live in small homes to embrace a simple and minimalist life. And in case you don't know it yet, living in a small house in the Philippines has plenty of benefits. Here are some of them:
👍 It Costs Less
Save money by building and living in a smaller house. Regular houses typically cost over a million pesos, but you can build a tiny house for a fraction of that cost. Since you won't have to shell out a large amount of money, you can enjoy more breathing room in your monthly budget.
Moreover, you enjoy lower overhead expenses. With less space to clean, organize, and decorate, you save more money on cleaning products, furniture, and appliances. Use this money for other essential expenses or occasional luxuries.
👍 It's Low-Maintenance
Tiny houses are low-maintenance. The upkeep won't be tiring, time-consuming, or costly. And because you won't have to spend the whole day cleaning the entire house, you have more time to do things you love.
Related reading: 9 House Cleaning Services You Can Book in Metro Manila
👍 It's a More Sustainable Way to Live
Compared to a traditional house, tiny houses require fewer materials and less energy to power and cool.
According to a study conducted by Maria Saxton, a Ph.D. candidate in environmental planning and design at Virginia Tech in the U.S., people who downsized to tiny homes reduced their energy consumption, on average, by 45%.[1]
👍 You Enjoy a Different Kind of Freedom
A tiny house is customizable. You have the freedom to redecorate, add rooms, change the windows, or repaint the walls anytime.
Unlike in a condo, you can build a tiny deck or veranda, a pocket garden, or even a little playground for your kids or pets. You can add a second floor (or even a third) as your needs change over time.
After you purchase a lot to build your tiny house on, the property is entirely yours. You have the full and exclusive right to it.
Plus, it's an excellent long-term investment. Even if the tiny house's structure declines over the years, the value of the land it's built on appreciates.
The Cons of a Tiny House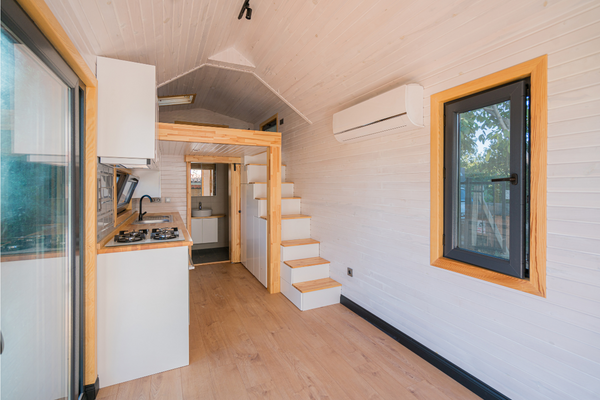 Let's face it—tiny houses aren't for everyone. They don't work for all homeowners for various reasons, such as these:
👎 There's Too Little Space
The most obvious con is the small living and storage space. Prepare to give up space or even your privacy if you're living with your family.
To maximize your space capacity, you'll have to minimize the kitchen, bathroom, and bedroom spaces. You'll need to buy small appliances and multi-functional furniture and dispose of things that won't fit in your tiny space.
You might even have to skip hosting dinner parties, slumber parties, or weekend hangouts because of your limited space.
👎 You Need to Clean More Frequently
You may have a smaller space to clean, but you'll have to tidy up more often than usual. A little mess in a tidy home is more noticeable and distracting. It can instantly make the house look cluttered or disorganized.
👎 It Can Be Challenging to Find Tiny House Builders or Designers
Because the tiny house movement in the Philippines is relatively new, there aren't a lot of builders with extensive experience, especially if you have a unique house design or structure in mind.
Tiny House Design Ideas in the Philippines
When it comes to tiny house design ideas in the Philippines, there's no universal size, shape, or layout. Tiny houses can be made from shipping containers or look like smaller versions of luxurious mansions or traditional homes.
Here are the most common types of tiny houses:
🏠 Prefabricated House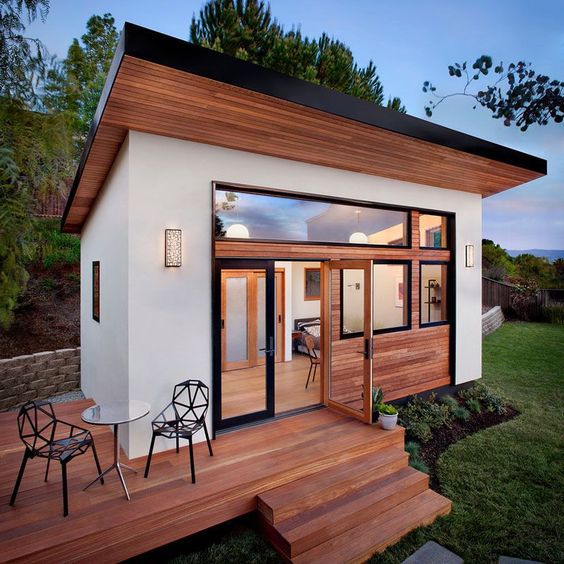 Photo: Pinterest
A modular or prefabricated house in the Philippines is a pre-built home. The essential components of the house are built in the factory or on-site. The parts are then shipped to the site, where they're assembled.
Since it's pre-built, external factors like rain and wind are not a problem. It's also more efficient, with fewer delays—you can build a modular house in the Philippines in just a few hours.
Looking for a prefabricated house supplier in the Philippines? Cubo Modular offers modular homes in beautiful layouts and designs if you're looking for a small modern house in the Philippines. They can also build a tiny house in just four hours.[2]
Another option is Indigo Prefab House, which offers single and multi-story prefab houses in a range of designs—from domes to wooden logs.
How Much Does a Prefab House in the Philippines Cost

?
If you look up the price list of a prefab house in the Philippines, you'll find that prices range from ₱180,000 to as much as ₱2.2 million, depending on the inclusions and extensions.
Cubo has various models and plans, ranging from ₱899,000 to ₱2.2 million. Their prefab house designs in the Philippines come with 21.5 sqm to 63.5 sqm of living space, perfect for two to six people.[3]
Curious to know the price of an Indigo prefab house in the Philippines? Prepare to shell out around ₱695,000, excluding delivery and installation costs.
Think they're perfect for your housing needs? Check out this review of prefab houses in the Philippines:
🏠 Shipping Container Homes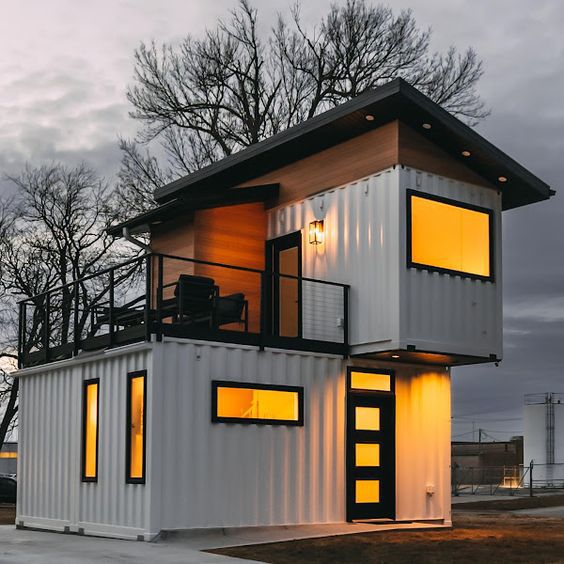 Photo: Pinterest
Shipping containers are built with the strongest steel that can withstand extreme weather. If you want a bright and airy container home, you can easily customize it with large windows on all sides.
They're also easily accessible. You can find several companies that sell and deliver them to your location, which is why prefabricated container houses in the Philippines are popular tiny house options.
If you have a smaller budget, you can reuse old shipping containers to build a tiny house. This family reused container homes to make their 55-sqm tiny home, which cost around ₱800,000 to build.
Considerations Before Building Your Tiny House
A modern tiny house in the Philippines is an excellent alternative for people who want their own homes without spending millions. Here are some things to consider before you start building yours:
Get a feel of tiny living. Do a test run to know if tiny living is for you. Experience living in a small space and leading a minimalist lifestyle. Try decluttering and holding on to essentials only.
Research. Through articles and YouTube videos, learn about other people's experiences building and living in their tiny houses. Take note of how they set a budget, save on costs, and pick out designs to maximize the space.
Buy the real estate for it. You need to purchase the lot where you'll build your tiny house. Developers recommend moving away from the metro and building one in the suburbs or rural areas.
Decide on your essential spaces. Do you need a bigger kitchen or a more spacious sleeping area? Is natural light important to you? Every homeowner's needs differ, so make sure your tiny house has a layout that works for you.
Set a budget. Got a tiny house design idea in the Philippines? Next, finalize your budget. Prepare a financial buffer for additional expenses.
Work with professionals. Work only with architects, contractors, and designers who have experience building tiny homes. Get recommendations from tiny home owners or search online for companies specializing in tiny houses.
Read more:
Final Thoughts
There are so many unique tiny house design ideas in the Philippines. It's easy to see the appeal, so it's no surprise that more and more Filipinos are embracing the tiny house movement.
Aside from its aesthetic, functionality, and sustainability, a tiny home is also an affordable housing option. It's an excellent choice for singles and starting families who want their own place. With tiny homes, less is definitely more!

Sources: