Everyone knows the importance of keeping one's home clean. The problem, however, is not everyone has time for house cleaning, especially working professionals who live alone in the metro.
Even if you or anyone in your household can take on the task of keeping your home clean, there are certain jobs like deep cleaning and disinfection that are best left to professionals.
This is where house cleaning services come into play. You book one for a schedule, and the cleaning staff comes to your home complete with tools and equipment to turn your home into a cleaner and healthier living space.
If you're renting out your space on a home-sharing platform, hiring professional home cleaning services after your guests check out is a must.
Looking for house cleaning companies? Here are some providers, mostly in Metro Manila, that you can book.
Busy Bee Cleaning Co.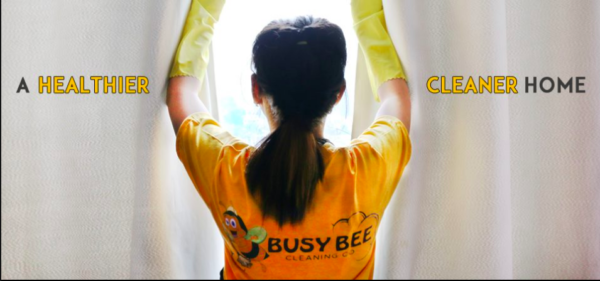 Specializing in deep dry cleaning methods, Busy Bee Cleaning Co.[1] offers the following home cleaning services:
Deep house cleaning (for standalone houses, condos, apartments, and commercial spaces) - Includes floor vacuuming and sweeping, bathroom sanitation, mattress and sheet vacuuming, and air purification and aromatizing
Post-construction intensive cleaning - Includes dusting, scrubbing, aromatizing, and air purification for newly constructed homes
Deep dry cleaning - Removal of dirt, residue, and mites on linen/leather sofa and mattress through dry vacuuming
Deep shampooing - Removal of spills, stains, and obvious marks on sofas and mattresses through the application of shampoo and cleaning solution
Serviceable areas: Metro Manila and nearby areas
House cleaning rates: Depends on the quote
Contact information: (0917) 174-8158 | info@bbcleaningph.com
Note: Busy Bee temporarily suspended its operations until further notice due to the COVID-19 outbreak. However, it still accepts inquiries and slot reservation requests.
Clean Zone Ph
Clean Zone PH[2] provides professional home cleaning services, taking pride in its well-trained and background-checked staff. Its services include condo and house cleaning, post-construction/renovation cleaning, move-in/out cleaning assistance, carpet and rugs shampooing, upholstery cleaning, and grease trap cleaning.
Serviceable areas: Metro Manila (mostly serves Makati, Mandaluyong, Manila, Pasay, Pasig, and Quezon City), Visayas, and Mindanao
Cleaning hours: 9 a.m. to 9 p.m.
House cleaning rates: Starting at PHP 500 per cleaning officer for a minimum of 2 hours
Contact information: (02) 721-7061 | (0997) 602-1222 | 09-CLEAN ZONE (25326-9663) | customerservice@cleanzoneph.com
Cleaning Lady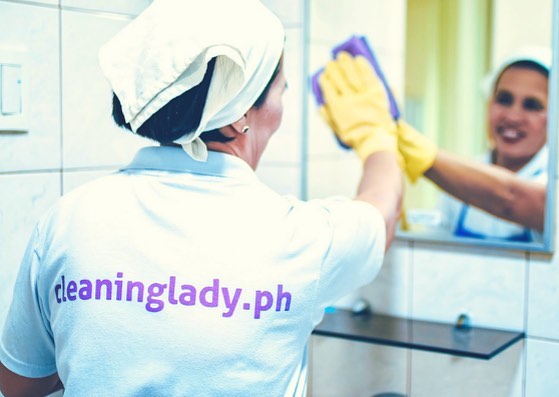 Cleaning Lady (CL)[3] is a digital social enterprise serving house, apartment, and condo dwellers in Metro Manila. The Cleaning Lady staff, trained by TESDA-certified senior CL officers, consists of unemployed women from Gawad Kalinga communities. A portion of CL's profit goes to funding the women's personal causes, like sending their children to school. By booking the Cleaning Lady's service, you're supporting a worthy cause.
Serviceable areas: Metro Manila
Cleaning hours: 8 a.m. to 6 p.m., Mondays to Fridays
House cleaning rates: Starting at PHP 350/hour (for condo units) / PHP 2,000 (for houses, apartments, and townhouses)
Contact information: (0939) 838-3471 | (0917) 625-9784 | info@cleaninglady.ph
Note: Cleaning Lady's operations are suspended until further notice, but customers may still send inquiries and requests for future bookings on its Facebook page.
CMDA Cleaning Services
With seven years of cleaning experience under its belt, CMDA[4] specializes in post-construction cleaning, mattress shampooing, carpet shampooing, and office chair shampooing. Its cleaning services are available for condos, houses, offices, and restaurants.
CMDA Cleaning Services uses BFAD-approved liquid cleaning solutions and industrial-grade vacuum and cleaning supplies.
Serviceable areas: Nationwide
House cleaning rates: Starting at PHP 75 per sqm
Contact information: (02) 8650-9018 | 8994-7870 | (0917) 144-2632 | inquiry@cmdacleaning.com
Note: CMDA's operations are currently suspended. However, its phone lines are still open to customer inquiries and future bookings.
Delmont Cleaning Services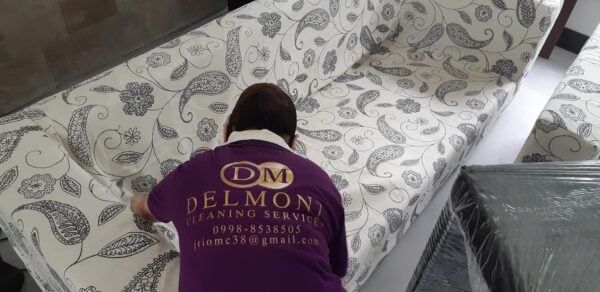 Delmont[5] has been in the cleaning business since 2015, using an innovative steam cleaning system that eliminates dirt and unwanted odors from residential and office spaces. Its services include general cleaning, post-construction cleaning, whole house/condo cleaning, carpet/bed/sofa steam shampooing, and pest control treatment.
Serviceable areas: Metro Manila
Contact information: (0998) 853-8505 | (0995) 889-1864 | jriomc38@gmail.com

Gawin.ph
Gawin.ph[6] is not a cleaning service provider—rather, it's an online platform that allows you to connect with different home cleaning services (as well as others like home repair and plumbing) available in your area and hire the right vendor for your specific needs.
House cleaning rates: Varies per service provider; starts at PHP 750 per 3 hours
Contact information: (02) 271-1868 | support@gawin.ph
Note: Gawin is still operational and accepts bookings despite the implementation of the enhanced community quarantine. However, requests for booking may be accommodated starting April 15, 2020 once the quarantine order is lifted.
Happy Helpers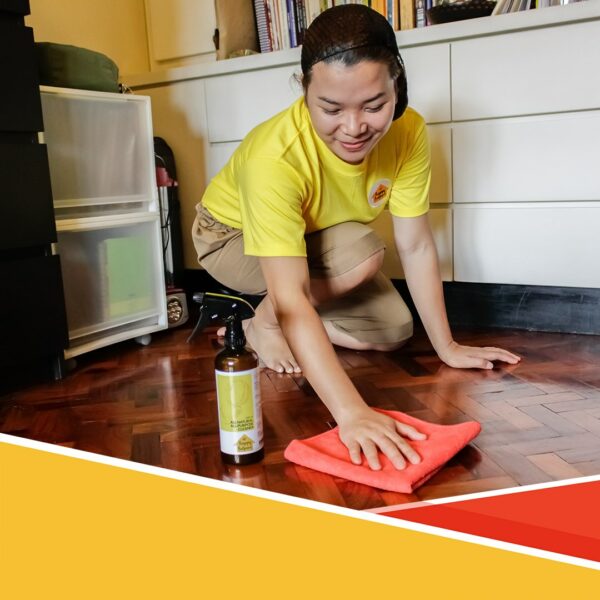 Need an extra pair of hands for keeping your home clean? Happy Helpers[7] would be happy to help. It's a social enterprise that helps mothers earn extra income by helping other mothers clean their homes.
Happy Helpers' range of cleaning services include deep clean, post-construction cleaning, move-in/out cleaning, subscription/regular cleaning, upholstery cleaning, and express cleaning.
Serviceable areas: Mostly in Makati and Taguig, as well as other cities in Metro Manila
House cleaning rates: Starting at PHP 550 for 2 hours
Contact information: (02) 541-7432 | (0956) 744-5415 | (0918) 450-0024 | info@happyhelpers.ph
Rainbow Cleaners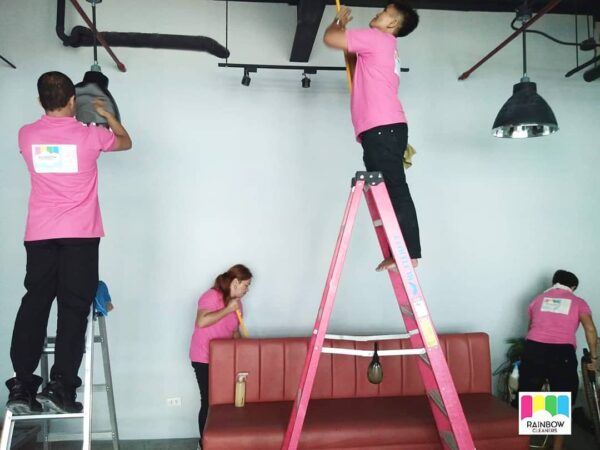 Rainbow Cleaners' professional commercial and home cleaning services focus on achieving a healthy indoor environment and improved air quality through green cleaning solutions. The company's hydro vacuum machine and natural cleaners can reduce 99.997% of indoor dust. Its housekeepers are TESDA-certified.
Rainbow Cleaners[8] offers the following cleaning services:
General cleaning - Removal of dust mites, molds, and dust through periodic cleaning
Tenancy cleaning (for landlords with tenants that are moving in - Total disinfection and beautification, including polishing of flooring and steaming of bathroom tiles
Housekeeping - A three-hour maid service available in daily and monthly rates
Post-construction cleaning - Total dust removal and minimizing of paint odor
Upholstery shampoo - Deep cleaning of sofas, carpets, or office chairs
Serviceable areas: Bonifacio Global City, Makati, Mandaluyong, Ortigas, Pasig, and San Juan
House cleaning rates: Starting at PHP 45 per sqm
Contact information: (02) 8838-6182 | (0917) 584-4564 | pam.petinez@primecare.com.ph
Note: Rainbow Cleaners' cleaning services are suspended until April 14, 2020 due to COVID-19. However, it will accommodate bookings for April 15 onwards.
Sweep Inspirations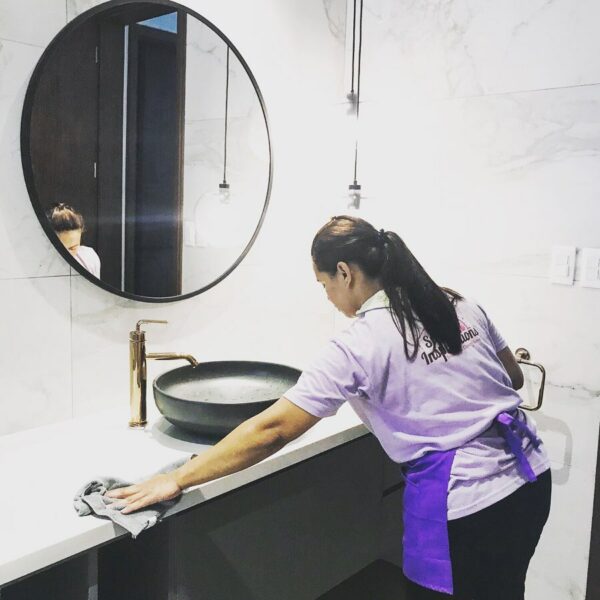 For more than 10 years, Sweep Inspirations[9] has been providing cleaning services to homes in Metro Manila and nearby provinces.
Its services include the following:
General cleaning - Thorough and deep home cleaning
Post-construction/renovation cleaning - Detailed cleaning and sanitization to make a space ready for move-in
Upholstery vacuuming and cleaning (for upholstery, carpets, and mattresses) - Includes deep vacuuming for dirt and dust removal, shampooing for minor stain removal, and steam cleaning to eliminate dust mites and bacteria
Serviceable areas: Metro Manila, Bulacan, Cavite, Laguna, Rizal, and more
House cleaning rates: Starting at PHP 1,300 per hour
Contact information: (0917) 813-9490 | sweep.inspirations@gmail.com
Final Thoughts
For a minimal fee, you can save time and energy when you book home cleaning services instead of doing the tedious job by yourself. Not only that, but you're also helping others earn additional income by paying them to clean your house.

Sources: