Losing your job is already stressful. What more if you're suddenly out of work during a pandemic?
This is a financially challenging time for many Filipinos. Currently, 7.3 million people are jobless. Unemployment in the Philippines has been rising during the COVID-19 crisis, hitting a record-high of 17.7% in April 2020[1]. There are also 13 million Filipinos who are still employed but are forced to work reduced hours or temporarily stop working altogether.
If you're in a similar situation, you're likely worried about many things—how to make ends meet, how to deal with piling bills and debts, how to find a new job, and so on.
But you can stay on top of your finances, whether you've been laid-off or furloughed[2]. Know what you should do after a job loss, so you can still provide for yourself and your family.
8 Tips to Recover from Unemployment in the Philippines
1. Know the Benefits You May Receive from the Employer
Upon breaking the news of your termination, your boss or HR officer should've discussed with you in detail the benefits you'll receive from the company. If your employer doesn't provide the information on your severance package, check your employee handbook for the benefits for laid-off employees.
Government-mandated Unemployment Benefits
Under the Labor Code[3], employees terminated for authorized causes (e.g., redundancy, retrenchment to prevent losses, etc.) are entitled to receive the following benefits:
Separation pay - Equivalent to one-half-month or one-month pay (based on latest salary rate) per year of service, depending on the cause of termination
Pro-rated 13th month pay - Proportionate to how long you've worked during the current year or 1/12 of total basic salary earned during the period worked
Company-Sponsored Benefits
Find out whether your HMO or health insurance plan paid by the company will continue, and if so, for how long. Also, you may be paid for your unused vacation and/or sick leaves that are convertible to cash.
Read more: Planning to Resign? Consider These Financial Factors Before You Quit Your Job
2. Avail of Unemployment Benefits from the Government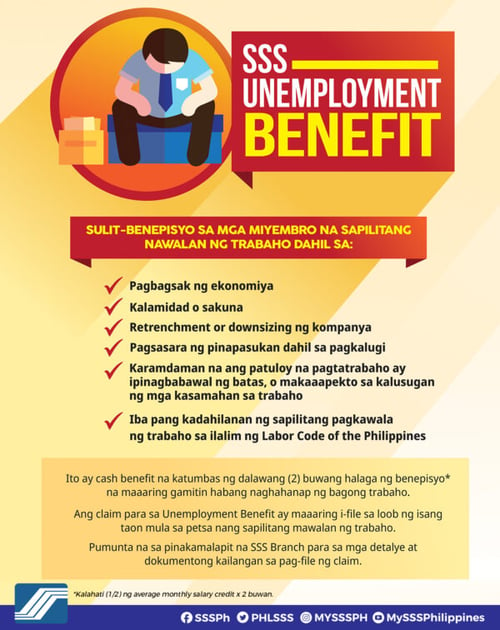 Take advantage of government benefits to tide you over until you land a similarly paying job. Check if you qualify for any financial assistance from the national government for displaced workers affected by the COVID-19 crisis.
Here are the different government benefits available to unemployed Filipinos:
SSS Unemployment Benefits - Cash benefit of up to PHP 20,000 based on your monthly salary credit
SSS Salary Loan - Average or twice the average of latest posted 12 monthly salary credits
Pag-IBIG Multi-purpose Loan - Up to 80% of total accumulated savings
SSS or Pag-IBIG Calamity Loan - Up to PHP 20,000 depending on the member's posted monthly contribution (for SSS member-borrowers) / Up to 80% of total accumulated savings (for Pag-IBIG member-borrowers)
Your local government unit might be providing financial or employment support to its unemployed and underemployed constituents. Contact your barangay/city/municipal hall to inquire about it.
Read more: Unemployment Benefits and Other COVID-19 Government Assistance Schemes
3. Have a Financial Reality Check
So that you don't stress too much about money, it helps to see the full picture of your personal finances. Assess your financial situation to know if you have enough to get by while you're out of work and to make adjustments to your budget accordingly.
Review and list down on a spreadsheet everything you earn, spend, and owe.
Income Sources
What and how much do you expect to receive in the coming months? Take stock of your different sources of income. These could include your unemployment benefits, separation pay, earnings from a side gig or business, or salary of your working spouse.
Expenses
What do you usually spend on and how much does each cost you? These could include food, groceries, medicines, rent or mortgage, utility bills, credit card bills, debt payments, insurance premiums, and so on.
Group your expenses into two categories: essentials and non-essentials. Arrange the items on the list of your essential expenses in order of decreasing importance.
For each of your bills and debts, indicate the biller's or lender's name, due date, total balance, and minimum payment.
Savings
How much have you saved? Review your emergency fund and savings accounts to know if your savings can last during your unemployment. Ideally, you have at least three months' worth of living expenses stashed in a bank account.
4. Negotiate Your Debt Payments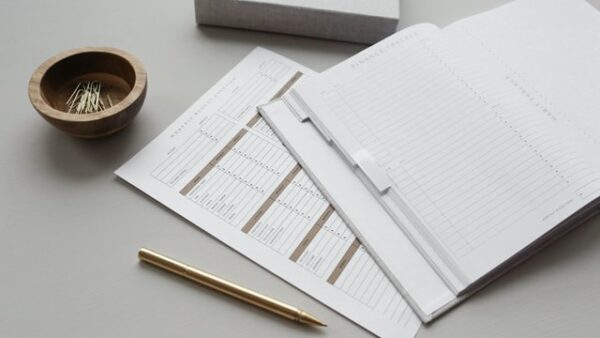 Unfortunately, the 30-day mandatory grace period for loan payments has ended after the lifting of the modified enhanced community quarantine in the entire country on June 1, 2020. This means your monthly amortizations or repayments resume on your next due date.
But you can do something about it if you've lost your job and can't pay your debts. Reach out to your lenders to see if they can provide some temporary relief.
Banks and other lenders understand the financial challenges borrowers are going through, especially those who are unemployed due to the COVID-19 pandemic. So don't be embarrassed to explain your situation and ask for any payment options available to help ease your burden.
The lender may agree to lower the interest you're paying, extended your loan term, or defer your monthly payments for a certain period. Or you may be offered a loan restructuring or refinancing scheme.
Read more: Drowning in Debt? How to Eliminate the Common Types of Debt
5. Cut Back on Unnecessary Spending
Income loss or reduction due to unemployment calls for some belt-tightening measures. No one knows how long the pandemic will last, so take a long hard look at your spending and decide which expenses you can cut back on. This will make room in your budget for critical expenses like food, medicines, groceries, and shelter.
Consider these strategies to reduce your non-essential expenses and save money:
Plan your grocery list carefully.
Make home-cooked meals daily to reduce ordering food delivery or takeout.
Unsubscribe from streaming services you aren't using much.
Limit your online purchases to just the essentials.
Instead of paying for a haircut or buying milk tea and other stuff, just DIY them at home.
Delay any big purchase (e.g., appliance, gadget, furniture, etc.) you're planning.
6. Spend Your Unemployment Benefits Wisely
When you receive cash aid from the government or your separation pay, it suddenly feels like you have too much cash. The temptation to splurge is just too hard to resist. But if you don't control your spending, you'll be in a worse financial mess.
Since you're no longer earning a regular income, you have to handle your money carefully.
Here are some ideas to put your unemployment benefits to good use:
Cover your basic needs and bills.
Pay down your debts.
Start an emergency fund or increase your existing savings.
Use the money as capital for starting a business.
Invest in stocks, mutual funds, VUL insurance, or bonds for your long-term goals.
7. Start Your Job Hunt Immediately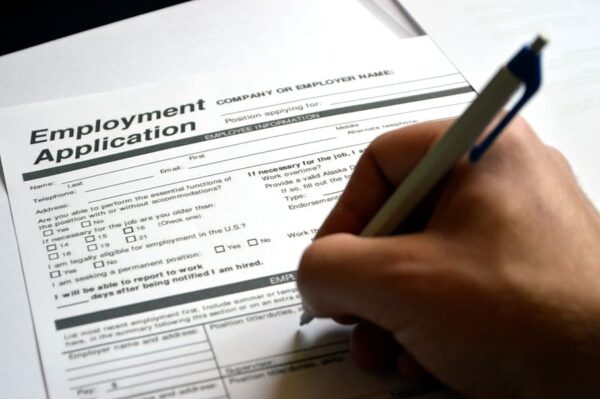 With unemployment in the Philippines reaching an all-time high, more companies are laying off workers. But that shouldn't discourage you from finding new work. Even during the crisis, companies are still hiring, which means you can land a job.
Don't wait until the pandemic is over before you start looking for job prospects. Potential employers may notice a long gap in your work history and this may hurt your chance of being hired.
Update your resume and LinkedIn profile. Ask your former colleagues to write a recommendation for you on LinkedIn—this will help boost your employability.
Another way to improve your odds of getting hired is to upgrade your skills. Use your free time to invest in yourself. Take online courses relevant to your next job prospect. There are free online courses offered by TESDA and other websites for online education.
Now is also the time to reach out to your personal and professional networks. Let your relatives, friends, and previous employers know that you're looking for job opportunities. Don't be embarrassed to seek their help in connecting you with companies that are hiring people in your field.
Read more: 12 Profitable Work from Home Online Jobs for Filipinos
8. Find New Income Sources
Your savings and separation pay will get quickly drained if you don't have something to get you through while you have no permanent work yet.
There are many income opportunities to explore. You can take freelance or temporary part-time jobs available online, such as online tutoring and writing. You might also want to start an online business, such as selling on e-commerce sites like Lazada and Shopee.
Consider signing up as a partner of courier companies to provide services that are in demand during the pandemic, such as delivery and personal shopper/pabili services.
Final Thoughts
While it's tough to survive unemployment in the Philippines, you'll get through these trying times. As long as you manage your money well, you can recover and come out stronger after the crisis. Who knows, your job loss may lead to something even better, like getting a better job or employer, finding a new career, or launching a successful business.
Sources: