The COVID-19 pandemic has changed the way Filipinos do grocery shopping. What used to be an activity that could be done in one hour now usually takes three to four hours. Some shoppers hoard stuff; others make do with what little is left.
This is why it's important to have a grocery list on hand before heading to the supermarket. A complete and organized list of groceries to buy makes shopping a lot more efficient and less stressful. You won't be frantically calling up your mom or wife about what else you should put into your cart. With a grocery list, you're also limiting your trips to the supermarket and exposure to the Coronavirus.
Just as important are the items you decide to buy. When making your grocery list, keep these goals in mind: eating nutritious foods, minimizing food waste, saving money, and being considerate of other shoppers.
Know if you are at risk for COVID-19 with our Coronavirus Self Assessment tool. Click here.
Grocery List Essentials: What to Buy During the COVID-19 Pandemic
1. Canned Goods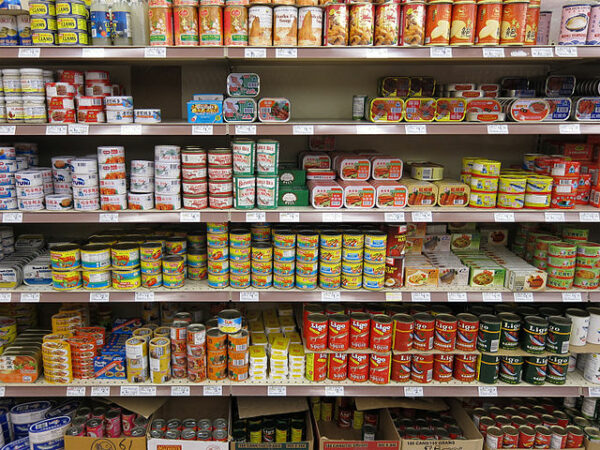 Canned goods are the best foods to stock up on during a crisis because they last up to two or three years. They're convenient, too. You can eat straight from the can, especially when you can't cook because you're running low on gas or there's a power shortage.
Go for healthier canned fish such as sardines and tuna flakes that are rich in protein and omega-3 fatty acids.
Just remember that—per DTI guidelines—you can buy only up to five regular-sized cans or three big cans of locally produced sardines per type and per brand. If you're buying canned meat, you can get up to 10 cans of canned pork and 10 cans of canned beef per transaction.
2. Grains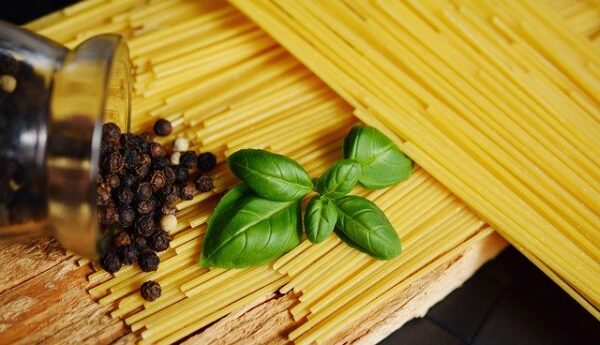 Of course, Pinoys can't live without rice. You need carbs for energy.
Make sure you have enough stock of rice and dried pasta. They can last very long if stored in a dry place and in airtight containers.
Pasta is a versatile food item. You can create a variety of pasta dishes with ingredients other than the usual tomato sauce, such as canned tuna, sardines, tuyo, and more. Even with simple ones like olive oil and garlic, you can be your own chef with your version of aglio e olio.
Read more: Shopping in the Time of COVID-19: 26 Online Grocery Stores with Delivery Services
3. Dried Foods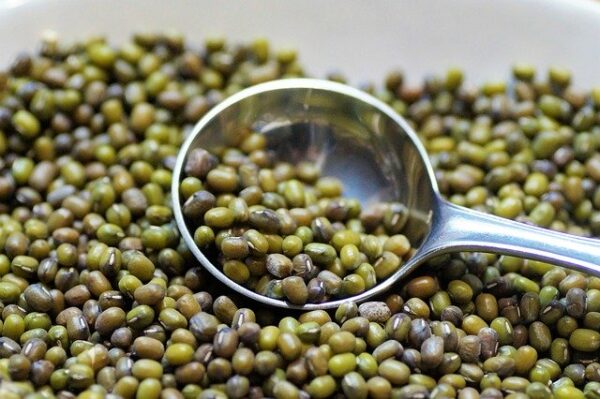 Dried food items can be stored for months or years, as long as they're kept in clean and moisture-free containers. They're rich in nutrients, too.
Consider adding beans and legumes to your grocery list. Monggo, black beans, and lentils are good sources of protein, fiber, iron, potassium, and other nutrients. They're also filling and easy to cook.
Tuyo, daing, danggit, dilis, and other dried fish are affordable Pinoy delicacies. This is why they get easily sold out in supermarkets. Because of this, the DTI limits the purchase of dried fish to six packs per transaction.
4. Long-Lasting Fresh Fruits and Vegetables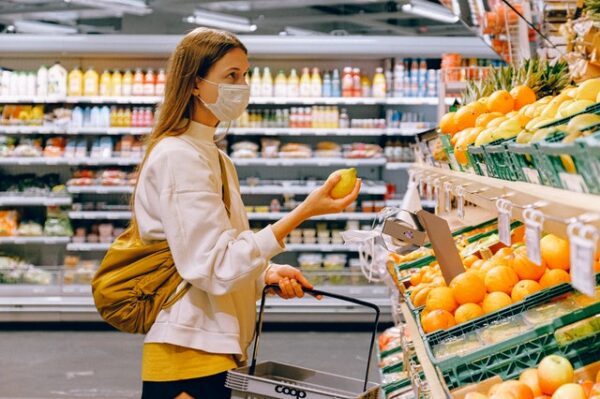 To stay healthy during a pandemic, you need a variety of fresh fruits and veggies in your diet. Don't be afraid to include them in your grocery list.
But with the lockdown being implemented and possibly extended, it's a challenge to pick the right fresh produce. It would be a waste to buy too many of them and end up with rotten or wilted ones after just a few days.
A good strategy is to choose those with long shelf life or ones you can freeze. Then buy just the quantities or amounts you can consume until your next supermarket run.
Here's a list of some fresh fruits and vegetables that last the longest and their shelf life:
Apples - Five to seven days at room temperature; three weeks to four months when refrigerated
Citrus fruits (oranges, lemons, limes, etc.) - Two weeks when refrigerated
Potatoes - Two weeks to four months at room temperature
Sweet potatoes (kamote) - Two to five weeks at room temperature; two to three months when refrigerated
Squash - One to three months, whether refrigerated or not
Carrots - A few weeks to a few months at room temperature
Cabbage - One week to two months (wrapped in plastic) when refrigerated
Garlic and onions - One to two months at room temperature
For everything else, shop at the frozen fruit and vegetable section.
After grocery shopping, use your fresh produce within the first week. Use your frozen supplies only when the fresh ones have been used up.
Related: 8 Healthy Food Items You Should Put On Your Grocery List

5. Frozen Foods
Pre-packed frozen foods, when stored in the freezer, can last for a long time. They're also as nutritious as their fresh counterparts.
You have plenty of options for frozen foods in supermarkets:
Fruits - Strawberries and mixed berries are the common frozen fruits sold in grocery stores. Add them to smoothies, desserts, and cereals for vitamin C-rich snacks.
Vegetables - Frozen broccoli, green peas, and mixed veggies can be added to stir-fries, soups, pasta, or salad. They can also be stand-alone dishes—just steam or sauté them.
Meat and poultry - Chicken, ground pork/beef, and other meat cuts freeze well and are safe to eat even when stored for a long time.
Seafood - Bangus, cream dory, salmon fillets, squid rings, shrimp, and other frozen seafood are longer lasting and easier to cook than fresh seafood. Since they're already peeled, cleaned, and/or marinated, using frozen seafood cuts your cooking time.
6. Cooking Essentials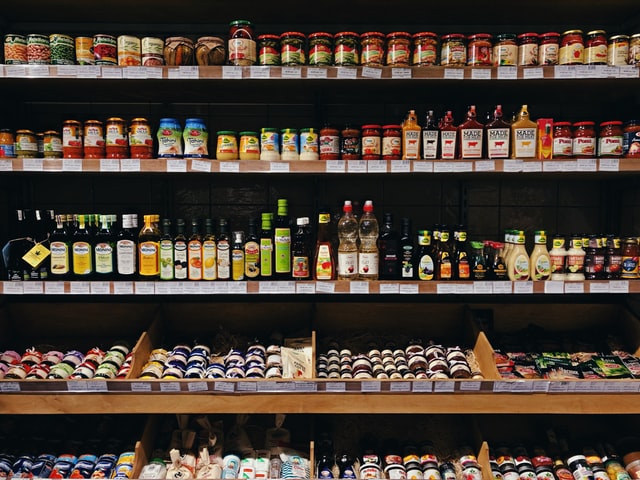 You might be itching to fill your supply of cinnamon, oregano, basil, and other herbs and spices. But if you're trying to limit your budget and time spent at the supermarket, it's important to stick to the basics.
The following condiments and other cooking essentials—which are both versatile and long-lasting—are a must-have in your grocery list:
Cooking oil - Canola, coconut, vegetable, corn, and olive oils typically last for at least one year out of the fridge.
Soy sauce - Toyo is a staple ingredient for adobo, bistek, stir-fries, and many other dishes. Stored at room temperature, soy sauce doesn't go bad within six months from purchase.
Vinegar - A natural preservative, vinegar not only adds flavor to dishes but also keeps them from spoiling fast. Any type of vinegar has an indefinite shelf life.
Fish sauce - Once opened, patis lasts for up to six months. So plan the amount you're going to buy based on how much you'll actually use.
Tomato sauce - A versatile ingredient, this sauce can be used for pasta, menudo, afritada, kaldereta, mechado, pork/beef giniling, and other tomato-based dishes. Once opened, tomato sauce lasts for only up to 10 days in the refrigerator, so don't buy too much of it.
Again, take note of the DTI's restrictions on such cooking products. You can buy up to four packs or bottles of cooking oil. As for locally produced soy sauce, fish sauce, and vinegar, the limit is two packs or bottles of each condiment type.
7. Snacks and Breakfast Items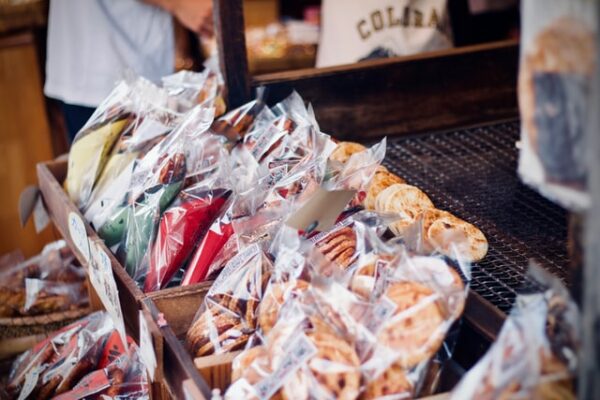 Make sure you won't go hungry while on self-quarantine. Whether for staving off mid-day hunger or when you're too lazy to prepare breakfast, here are some filling, energy-boosting, and long-lasting snacks you should stock up on:
Crackers, biscuits, and cookies
Peanut butter - Rich in healthy fats and proteins; pairs well with bread, crackers, banana, and apples
Granola bars - Great as pre-workout or post-workout snacks at home
Popcorn - This healthy, low-calorie snack is perfect to munch on while binge-watching on Netflix. Choose the healthier corn kernels instead of the microwavable variety.
Instant oatmeal - Filling and healthy breakfast or snack; pairs well with fresh fruits, nuts, or peanut butter.
8. Comfort Foods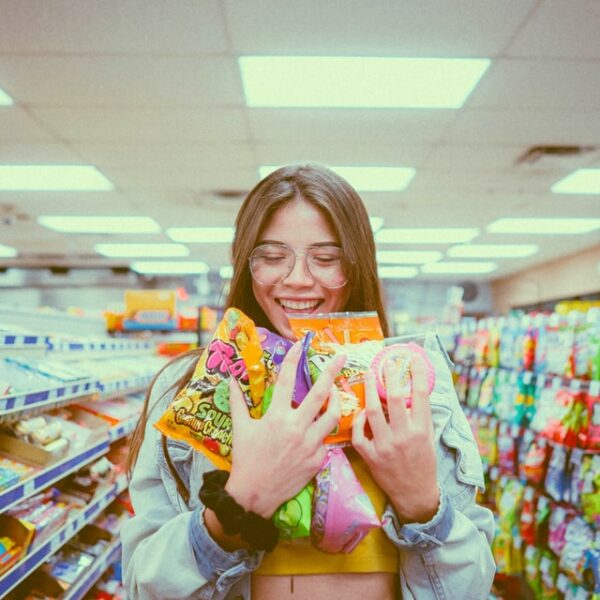 It's normal to get stressed and lonely while staying at home for several weeks. So don't deprive yourself of your favorite comfort food, be it ice cream, chocolates, or any sweets. Just eat in moderation and don't overindulge.
9. Baby Foods and Baby Care Products
If you have an infant, stock up on baby formula and other essentials like diapers and baby wipes good for at least two weeks.
10. Pet Foods
Don't forget the food supplies of your furbabies at home! Be sure to get both dry and wet food options, so your pets won't get hungry should their preference change.
11. Beverages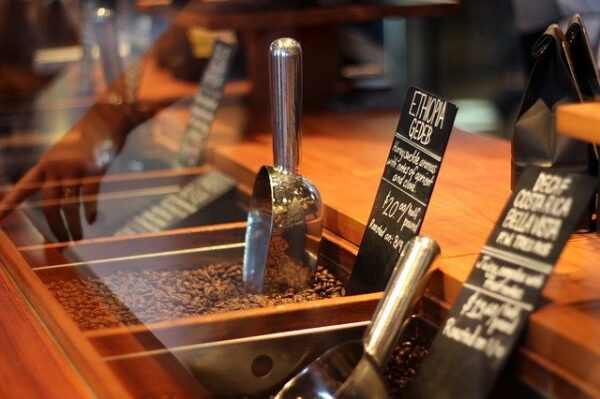 Staying hydrated is as important as having enough food. If you get your drinking water from the supermarket, be sure to store at least one gallon (or 3-4 liters) per person per day for at least three to seven days.
The DTI limits the sale of mineral water to 10 small bottles, eight medium bottles, five large bottles, and two extra-large bottles of any brand. It's more convenient and practical to order your drinking water from the nearest water refilling station.
If you're working from home during the quarantine period, you should have your own supply of coffee and/or tea for now.
If you'll buy instant coffee in sachets, you can get only up to two bundles per brand from the shelf. There's no quantity limit on ground and whole coffee beans.
12. Toiletries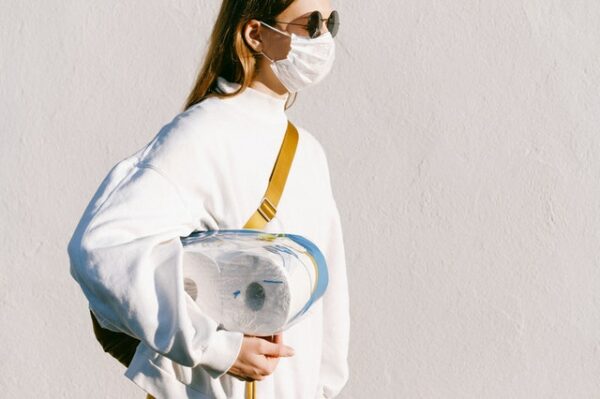 More than ever, personal hygiene—especially frequent hand washing—is a must to protect yourself against the Coronavirus infection.
Here are the personal care essentials to include in your grocery list (plus the DTI's limits on each purchase):
Bath soap - Five individual bars or one pack
70% isopropyl/ethyl alcohol - Two pieces regardless of volume
Hand sanitizer - Two pieces regardless of size
Facial wash - No limit
Shampoo - No limit
Toothpaste - Four tubes
Toilet paper - 10 pieces or one pack
Menstrual and feminine hygiene products (feminine wash, pantyliners, sanitary napkins/tampons, etc.)
13. Home Cleaning Products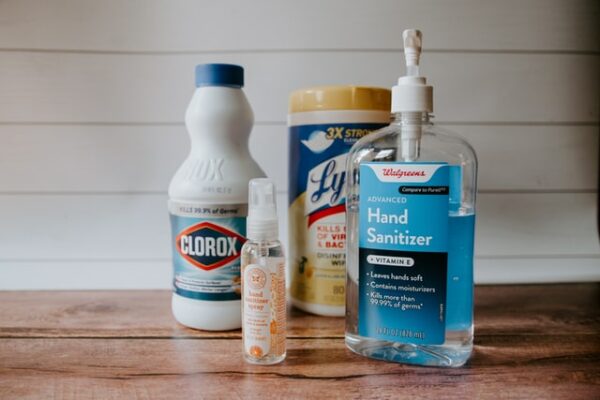 Keep your home free of viruses and germs in this time of COVID-19. Have enough supply of household disinfectants, bleach, dishwashing soap or liquid, and other cleaning supplies.
If you're buying detergent powder, you can get only up to two boxes or two sachet bundles. For disinfecting liquids, the purchase limit is two pieces regardless of size.
14. Medicines and Medical Supplies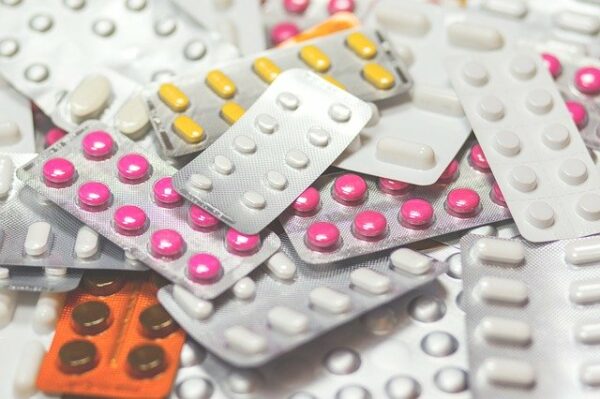 The quarantine period is the worst time to run out of your needed medicines. Thus, it's important to have an advanced supply of medications. The American Red Cross recommends keeping at least one month's supply for prescription and over-the-counter medicines.
When buying from the pharmacy, add these items to your grocery list:
Face masks (limited to just five pieces per purchase)
Multivitamins
Paracetamol
Cough and cold medicines
Throat lozenges
Pain relievers
Thermometer
Any prescription medicines for anyone who needs them at home
Related: 9 Online Drugstores in the Philippines for Medicine Delivery and Pickup
6 Tips for Creating Your Grocery List
1. Take Stock of What You Have and Don't
Make an inventory of all your supplies at home, including medicines. If you have enough of them to get you through a couple of weeks, you probably don't have to buy groceries now. Otherwise, create a grocery list consisting of items you need for the next two weeks.
2. Create a Two-Week Meal Plan
During the community quarantine, you have no choice but to cook your meals. Come up with a 14-day menu of dishes with common, long-shelf-life ingredients.
List down all the ingredients you need. This ensures your grocery list will be complete, and you won't have to return to the supermarket to get the items you forgot to buy.
3. Buy Only What You Need
In this time of crisis, the urge to hoard is strong. People are panic buying as if they're preparing for a zombie apocalypse.
Overbuying is really not necessary. The Department of Trade and Industry (DTI) has assured consumers of a sufficient supply of food, alcohol, and disinfectants in supermarkets[1].
When coming up with your grocery list, include only items that are enough for everyone in your household for a week or two.
Consider the needs of others, especially those whose limited budgets can buy groceries good for only a few days. Panic buying creates a temporary shortage on the supermarket shelves. By purchasing more than you reasonably need, you're depriving others of food and other essentials.
Also, be mindful of the quantity limits set by the DTI's Anti-Hoarding and Anti-Panic Buying Directive[2]. For example, buying more than two pieces of rubbing alcohol is not allowed in supermarkets.
4. Choose Non-Perishable and Shelf-Stable Foods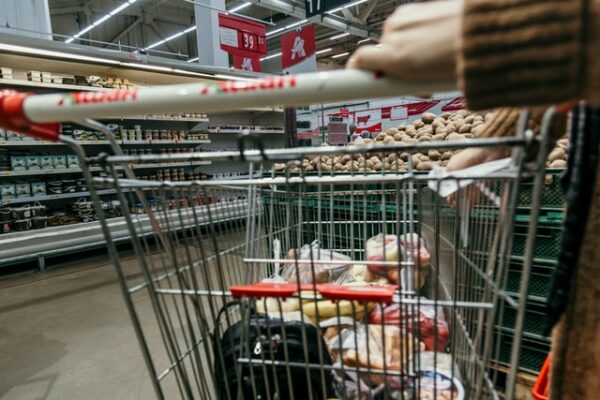 Aside from having a meal plan good for two weeks, it also helps to include more non-perishable and long-shelf-life food items in your grocery list.
This way, you'll limit your trips to the grocery store and exposure to the Coronavirus. Better yet, order your groceries online. Plenty of online grocery stores offer door-to-door delivery services so that shoppers don't have to leave their home and still get their needed supplies.
Canned goods and frozen foods are the most practical items to buy during a lockdown because they last longer than fresh produce. Food items that freeze well such as bread will last long in the freezer.
5. Prioritize Nutrition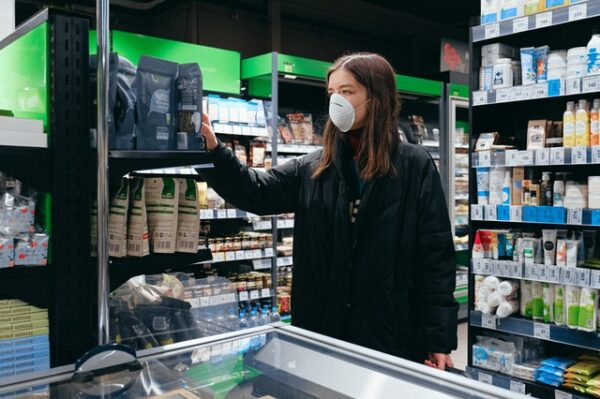 Processed foods are readily available and easy to cook. But they're not the healthiest choices during a public health crisis. What you need to protect yourself against COVID-19 is to eat foods with nutrients that boost immunity. As much as possible, buy fruits, vegetables, and protein sources such as chicken, eggs, lean meat, and fish.
6. Arrange the Items According to Aisle
Organize your grocery list by arranging the items according to the aisle where they're located. This makes shopping faster and less confusing, especially when another family member will buy groceries.
Final Thoughts
Once you've completed your list, you're now ready to battle it out at the supermarket (or wait for the delivery if you'll order online). Take proper precautions[3]. Never leave home without wearing a mask, practice social distancing, and use a hand sanitizer or rubbing alcohol when entering or leaving the store. And when you get home, don't forget to wash your hands for at least 20 seconds.
Sources: