Infected or not, Filipinos are grappling with the impact of the COVID-19 pandemic in one way or another. The public health crisis has disrupted the lives of many. From simple inconveniences like getting stuck in one's home to more serious problems like the increased risk of COVID-19 infection and loss of income, every day has been a challenge for most.
To help Filipinos recover from the loss of economic opportunities due to the pandemic, the government continues to provide unemployment benefits, financial aid, and other forms of assistance. We compiled them into one place so you know which ones you can avail and benefit from.
COVID-19 Government Assistance in the Philippines
Free Medical Consultation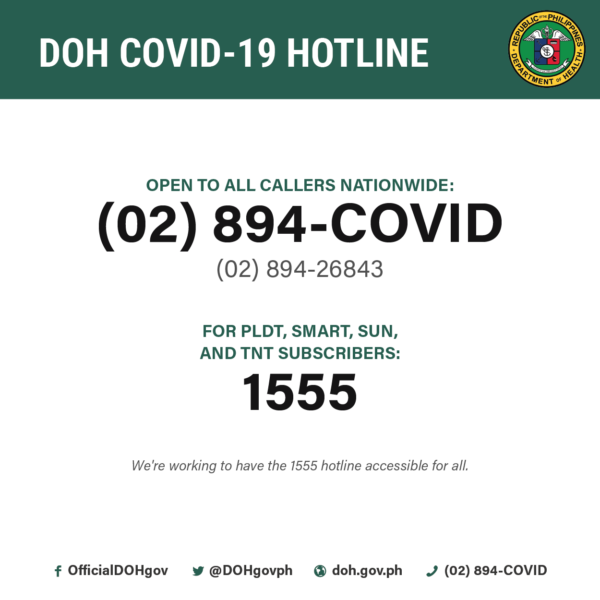 Do you or any family member have possible COVID-19 symptoms? Call any of the following DOH COVID-19 emergency hotlines[1] to ask about your condition:
DOH COVID-19 Hotline: (02) 8 952-6843
For PLDT, Smart, Sun, and TNT subscribers: 1555
This free service is available 24/7 for questions from people who suspect they might be infected with COVID-19. Through this emergency hotline, DOH also accommodates requests from those with symptoms and/or known exposure to positive cases and/or patients under investigation (PUIs).
Requests are forwarded to the COVID-19 Emergency Operations Center and other relevant agencies, which will provide an immediate response.
Related articles:
PhilHealth Coverage for COVID-19 Patients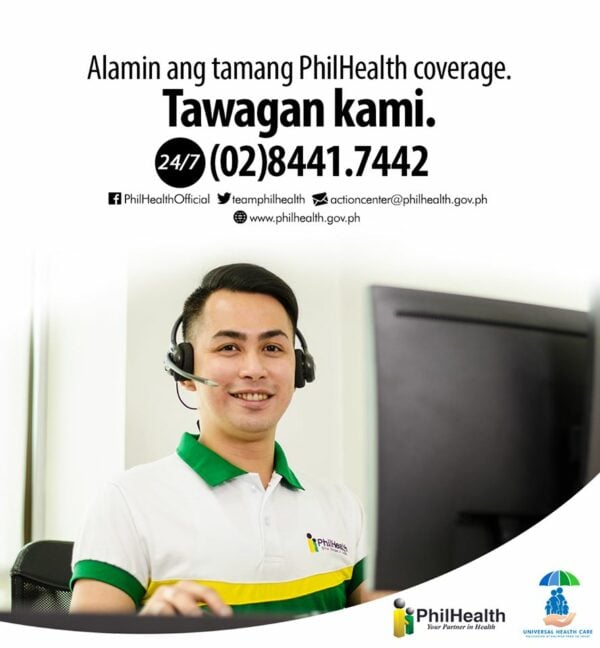 PhilHealth covers COVID-19 testing and hospitalization for its members up to a certain amount based on its case rates for COVID patients.
Non-members can also make a claim for PhilHealth benefits by submitting an accomplished PhilHealth Membership Registration Form (PMRF)[2] in addition to the requirements for COVID-19 claims.
Read more:
COVID-19 Emergency Financial Assistance from the Government
Up to P4,000 Cash Aid for Low-Income Families
Spearheaded by the DILG and the DSWD, a government financial assistance of PHP 1,000 per individual, with a maximum of PHP 4,000 per family, will be provided to residents affected by the ECQ in NCR, Bulacan, Cavite, Laguna, and Rizal or the "NCR Plus area."[3]
For this cash assistance program, President Rodrigo Duterte has approved the release of PHP 22.9 billion to affected Filipinos.
Who Can Receive the Financial Assistance?
LGUs will receive a complete list of previous beneficiaries of the Social Amelioration Program (SAP). They'll use this to determine who will receive cash assistance in their localities. The LGUs will post the names of approved individuals in the barangay or district before the distribution of the cash assistance.
SSS Salary Loan
Despite the pandemic, the SSS still accepts and processes salary loan applications from its members. This is good news, especially if the pandemic affected your source of income and you need extra money to cover your living and medical expenses.
You can apply for an SSS salary loan online through your My.SSS account. If you don't have a My.SSS account, you may also leave your documents at any designated SSS drop box.
SSS Calamity Loan
Active members can apply for an SSS calamity loan of up to PHP 20,000 depending on their posted monthly contributions. Those with an existing SSS salary loan can also avail of the calamity loan, as long as they've been making timely loan repayments.
Members can apply for a calamity loan online or through designated drop boxes in SSS branches.

GSIS Calamity Loan
Meanwhile, active GSIS members and pensioners can also avail of a new COVID-19 emergency loan program.[4] They can file their loan applications until June 21, 2021.
However, members who have previously availed of the COVID-19 emergency loan no longer qualify. But they can still apply if they took out an emergency loan for a different reason (e.g., the 2020 Taal Volcano eruption).
Under the new loan program, members can borrow up to PHP 20,000. Qualified borrowers with existing emergency loans can borrow up to PHP 40,000.
How to Apply for GSIS Emergency Loan
Download, print, and fill out the GSIS Emergency Loan (Active Member) Application Form or the GSIS Emergency Loan (Pensioner) Application Form.[5]
Drop the accomplished form at designated GSIS drop boxes. Or you may also apply at any GSIS Wireless Automated Processing System (GWAPS) kiosk.
Pag-IBIG Multi-Purpose and Calamity Loans
The Pag-IBIG Fund is still processing loan applications filed before and during the enhanced community quarantine. This means members can borrow up to 80% of their total accumulated savings with the Fund through a salary or calamity loan.
Who Can Apply for a Pag-IBIG Loan?
Members with an existing Pag-IBIG multi-purpose loan (MPL) may still apply for another MPL if they've made at least six monthly repayments to the first MPL account.
You can apply for a Pag-IBIG calamity loan (whether you have an existing MPL or not) if you live or work in an area placed under the enhanced community quarantine and have at least 24 posted monthly contributions.
How to Apply for a Pag-IBIG Short-Term Loan Online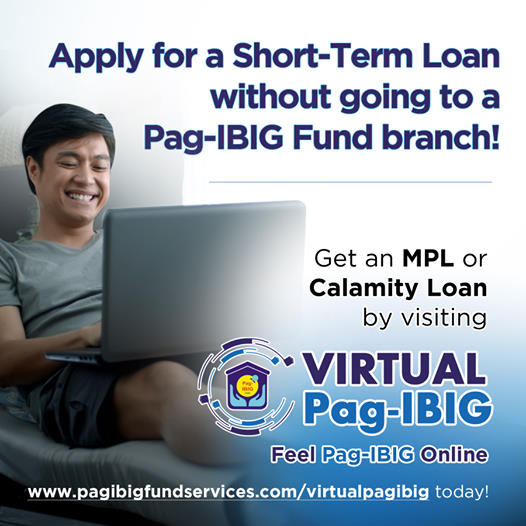 Getting a multi-purpose loan or calamity loan from the Pag-IBIG Fund is now easier, thanks to the Virtual Pag-IBIG online service. You can apply for a Pag-IBIG loan from home even without a Virtual Pag-IBIG account.
Check out this guide to learn the specifics of a Pag-IBIG multi-purpose/calamity loan application.
Read more: COVID-19 Business Recovery and Continuity Guide for Filipino Entrepreneurs
Unemployment Benefits for Affected Workers
SSS Unemployment Benefit
Got laid off after your company shut down during the pandemic? You can avail of COVID-19 government assistance through the SSS unemployment benefit.
Who Can Apply?
This unemployment insurance provides cash aid to covered employees, including OFWs and kasambahays, who are involuntarily separated from their jobs for any of the following reasons:
Redundancy
Retrenchment
Business closure or cessation of operation
Installation of labor-saving devices
Illness
How Much is the SSS Unemployment Benefit?
The SSS will pay qualified members a cash benefit worth half of their average monthly salary credit for up to two months.
According to the Department of Finance (DOF), the average unemployment benefit for qualified SSS members is around PHP 11,000, and the maximum amount is PHP 20,000.
How to Apply for SSS Unemployment Benefit
Because of the community quarantine, members must submit the requirements using the no-contact drop box system in any SSS branch. SSS offices are open from Mondays to Fridays, 9 a.m. to 4 p.m. You may file a claim within one year of the job termination.
Moreover, there's a more convenient way to file an unemployment benefit claim. Just log on to your My.SSS account and click on "Apply for Unemployment Benefits Claim" under the E-Services tab.
Provide all the required information and submit the application. When you receive an email from SSS, reply and attach the following requirements.
Original and photocopy of the member's primary valid ID or two secondary IDs
Certification of involuntary separation from the Department of Labor and Employment (for local workers) or Philippine Overseas Labor Office (for OFWs)
If approved, SSS members will receive their unemployment benefits through their UMID card enrolled as ATM or their UnionBank Quick Card account.
How to Apply for Certification of Involuntary Separation
To get a certification from the DOLE or POLO, applicants must present a valid ID and a copy of the notice of termination issued by the employer. If the latter is not available, you may opt to submit a notarized affidavit of termination of employment.
Laid-off workers in the Philippines can apply for the DOLE certification[6] at the DOLE field office. They may also proceed to the provincial office in the area where they live or where their former employer's office is located.
Some DOLE regional offices, such as in NCR and Cagayan Valley, allow filing an online request for a Certificate of Involuntary Separation through their respective local website.
OFWs can apply for the certification at the Philippine Overseas Labor Office in the area where their former employers operate or reside. Alternatively, they can file their application at the DOLE field or provincial office nearest their home in the Philippines.
DOLE CAMP: P5,000 Cash Aid for Local Workers
The government will pay lump-sum cash assistance of PHP 5,000 to workers affected by the COVID-19 pandemic through the DOLE's COVID Adjustment Measures Program (CAMP).
The DOLE will provide financial assistance to formal and informal sector workers affected by the enhanced community quarantine (ECQ) in Metro Manila and four other neighboring provinces.[7]
Who Can Apply for the DOLE CAMP?
These employees are covered regardless of employment status—whether new hire, probationary, permanent, or contractual. This is one of the important features of this COVID-19 government assistance program.
The financial assistance from the government is given only to workers with temporary income reduction or loss as a result of the community quarantine. Employees still receiving their full salary and benefits, even if they're working from home, are exempted.
How to Apply for DOLE CAMP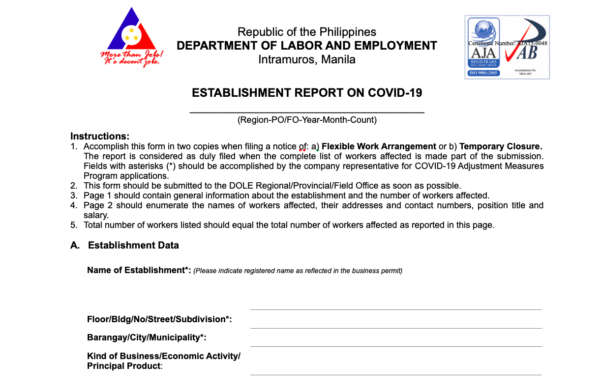 Affected companies are responsible for filing an application for the cash aid for their employees. Below are the requirements to prepare:
DOLE Cash Assistance Requirements and Process:
Employers should submit an Establishment Report on COVID-19 (downloadable from the DOLE website)[8] and company payroll for the month before implementing work-from-home policies or temporary closure.
Requirements can be submitted through email to the DOLE regional/provincial/field office in the employer's area.
Every application will undergo evaluation. Within three working days, the DOLE office will issue to the employer either a notice of approval or denial through email.
Within two weeks after issuing the notice of approval, the financial aid will be credited to the beneficiaries' payroll accounts through bank transfer.
What If the Employer Refuses to Apply?
The DOLE advises qualified employees whose employers refuse to apply for cash assistance to report them to the agency and provide the company details. The Labor Department will then contact and urge the companies to submit the application.
Temporary Jobs for Informal Workers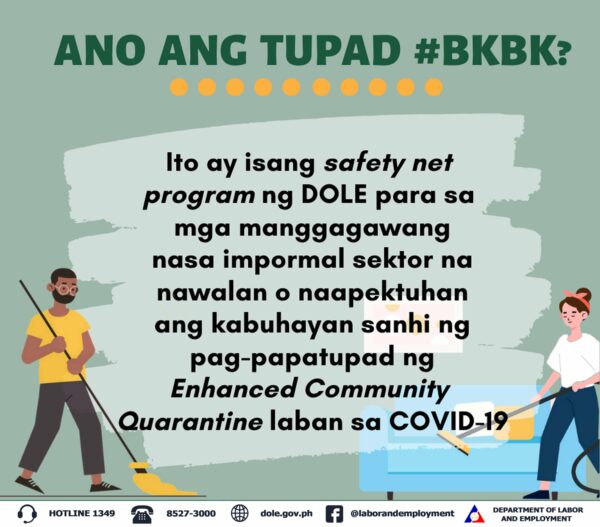 The DOLE is also providing alternative jobs to informal sector workers through the Tulong Pangkabuhayan sa Ating Disadvantaged/Displaced Workers (TUPAD), the government's emergency employment program.[9]
Under the program, beneficiaries will work for the government, performing tasks like contact tracing or disinfecting homes and roads. Beneficiaries will receive the daily minimum wage together with personal accident insurance and tools needed for the job.
Who Can Join the DOLE TUPAD Program?
Qualified for the TUPAD program are underemployed, self-employed, and displaced marginalized workers whose source of livelihood has been affected by the enhanced community quarantine.
These informal workers include jeepney/tricycle/taxi drivers, fruit and vegetable vendors,
In addition, formal workers are also welcome to apply for the temporary employment program.
How to Apply for DOLE TUPAD Program
Since this temporary employment program has been implemented in barangays before the outbreak, the application process will be easy and quick, according to the DOLE.
Simply approach your barangay officials and let them know you're interested in joining the program. They will then include your name in the list of beneficiaries, which will be forwarded to the nearest DOLE regional or field office along with supporting documents.
Cash Aid and Repatriation for OFWs
The DOLE has assured continuous assistance to overseas Filipino workers (OFWs) who were displaced or have lost their jobs due to the COVID-19 pandemic.[10]
Furthermore, OFWs who are still abroad may also make a repatriation request so that DOLE can arrange for their return to the Philippines.
Once they're repatriated, returning OFWs will also receive assistance in the form of transportation arrangements back to their home provinces through the national government's Hatid-Tulong Program.
How to Apply for OFW Financial Assistance from Government
To avail of the program, overseas Filipinos must contact the POLO in their host country. OFWs who are currently in the Philippines must visit the nearest OWWA regional office.
OFWs just need to submit their agency-issued certificate of employment. This will help evaluate if they're qualified for the cash assistance.
Read more: OFW Repatriation Guide in the New Normal
Final Thoughts
The unemployment benefits and other forms of COVID-19 government assistance listed above are provided to affected sectors nationwide. For financial assistance from the government specific to your city, municipality, or province, contact your LGU for information.
Get a Personal Loan for Your Urgent Cash Needs
Need cash to get you through a financial emergency? Worry not because there are good loan providers where you can borrow to cover your urgent cash need. Here are some of the best personal loans in the Philippines to consider. Apply for a loan through Moneymax today!
Personal Loan Provider

Features

EasyRFC Multi-Purpose Loan


Fast approval time in as fast as 24 hours
High loan amount of up to ₱150,000
Payment term of up to 12 months

Approval within five banking days
High loan amount of up to ₱2 million
Flexible payment terms of up to 36 months

TALA Personal Loan




Fast approval time in as fast as 24 hours
Quick cash loan up to ₱15,000
24/7 application using an Android phone
Sources: