The coronavirus disease 2019 (COVID-19) outbreak has caught the world off guard. With the rising number of confirmed cases and deaths worldwide, the pandemic disease[1] has triggered much confusion and uncertainty—feelings we certainly aren't comfortable with.
Having health insurance coverage (should you or a loved one gets infected with the dreaded disease) for COVID-19 is reassuring in this tough time.
Does your health insurance policy cover coronavirus, you might be wondering. It depends on the provider's decision, and whether or not your policy was issued with pandemic/epidemic exclusion. If your health insurance policy does not cover pandemic diseases like COVID-19, then your hospital expenses won't be covered—unless your insurer has waived its exclusion on pandemics.
PhilHealth Coverage for COVID-19
The good news is that PhilHealth has got you covered. PhilHealth provides health insurance coverage[2] for coronavirus cases in the Philippines to patients admitted starting January 30, 2020.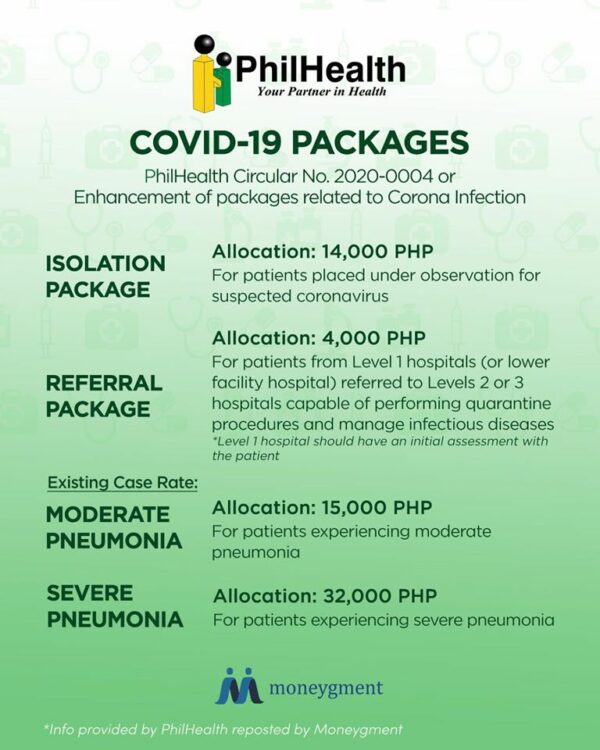 PhilHealth Benefits for COVID-19 Patients
1. Free COVID-19 Testing
PhilHealth will cover COVID-19 tests in hospitals for people seeking treatment of the viral disease, according to Cabinet Secretary Karlo Nograles[3]. This benefit is on top of the PhilHealth coverage for quarantine and hospitalization costs.
This means tests for patients with a suspected case of COVID-19 are free—they don't have to pay for the testing fee.
2. Isolation Package
Benefit amount: PHP 14,000 (PHP 1,000 for each day of quarantine)
PhilHealth members and dependents who are required to be isolated due to coronavirus symptoms may avail of the isolation package at accredited Level 2 and 3 hospitals.
Eligible for this PhilHealth package are the following:
Patients Under Investigation (PUIs) placed under observation for suspected coronavirus and admitted for quarantine
PUIs who tested negative for COVID-19
Coronavirus-positive patients with mild symptoms
3. Referral Package
Benefit amount: PHP 4,000
Not all hospitals in the Philippines have the capacity to manage infectious diseases like COVID-19 and perform quarantine procedures. This is why it's likely that the first hospital patients go to would refer them to a more capable hospital.
In such a case, the PhilHealth member may claim the referral package, which covers the costs of initial management, stabilization, and transfer of PUIs to the referred hospital.
Read more: Unemployment Benefits and Other COVID-19 Government Assistance Schemes
4. Existing Case Rate Package
Benefit amount: Varies per medical condition
Instead of claiming the isolation package, COVID-19 patients diagnosed with diseases like pneumonia may avail of PhilHealth's existing medical case rate package[4].
For example, here are the case rate amounts for certain medical conditions:
Moderate-risk pneumonia - PHP 15,000
High-risk/Severe pneumonia - PHP 32,000
Adult respiratory distress syndrome - PHP 32,000
5. No Balance Billing
Poor and elderly patients qualify for the No Balance Billing Policy, which is applicable to COVID-19 claims. This means they don't have to pay anything in excess of their PhilHealth coverage when after confinement in public hospitals.
How to Make a Claim for Coronavirus
Submit the following requirements to the hospital before the patient's discharge:
Accomplished PhilHealth Claim Signature Form
Accomplished PhilHealth Claim Forms 1, 2, and 4
Statement of Account (SOA)
Photocopy of tests and results for COVID-19
For non-members: PhilHealth Membership Registration Form (PMRF)
Got questions about PhilHealth coverage for COVID-19? You can reach PhilHealth through the following official channels:
SMS: (0917) 898-74442
Action Center: (02) 8441-7442
Email: actioncenter@philhealth.gov.ph
Facebook: @PhilHealthofficial
Twitter: @teamphilhealth
Companies with Health Insurance Coverage for COVID-19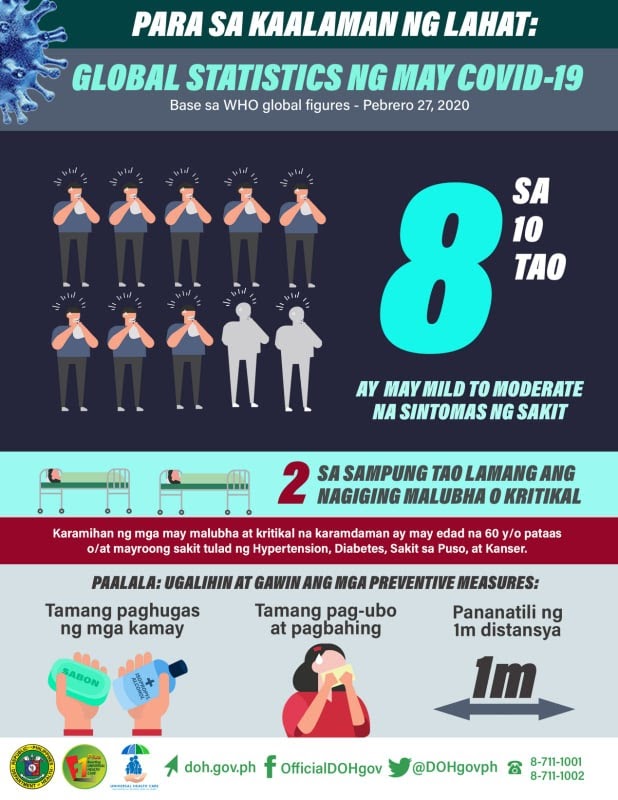 After the World Health Organization (WHO) declared COVID-19 a pandemic, some health maintenance organizations (HMOs) and life insurance companies in the Philippines have updated their respective health insurance plans to include coverage for the novel coronavirus disease.
If you have a health insurance policy with any of the insurers below, you're covered for COVID-19 as long as your policy is active, and you're updated with your premium payments.
Read more: What You Need to Know About COVID-19 Vaccines in the Philippines
Allianz PNB Life
The Philippine National Bank's insurance arm, Allianz PNB Life, now also provides coronavirus coverage to their policyholders.
Allianz PNB Life Plans

Type of Benefit

Insurance Coverage

Allianz Well, Allianz Compass
Hospitalization Benefit

Covered for in-patient hospitalization due to COVID-19
Covered for unlimited telemedicine consultation and expert medical opinion

Daily Hospital Income Benefit
Hospitalization Benefit
Covered for in-patient hospitalization due to COVID-19
Accidental Death and Dismemberment
Accident Benefit
Coverage relates to accidents and injuries whether related to COVID-19 or not.
Allianz Easy Health
Critical Illness Benefit
Coverage for complications that will arise due to COVID-19 and will meet the criteria for Whole Person Impairment
Whole Life, Term Endowment, Unit-Linked Plans
Death Benefit
Covered for deaths due to COVID-19
Coverage for COVID-19 for Allianz plans are subject to terms and conditions. For more information contact Allianz PNB Life through the numbers below:
Allianz PNB Life HOTLINE: 8818–4357 (HELP)
Allianz PNB Life TRUNKLINE: 8818–5433 (LIFE)
AXA Life
AXA insurance policyholders may claim hospitalization and other benefits for cases related to COVID-19. The specific coverage[5] depends on the policy availed from AXA Life.
AXA Life Insurance Plans

Health Insurance Coverage

Exclusion

All life insurance policies
Death benefits
N/A
Global Health Access policies previously issued with the epidemic/pandemic exclusion

Treatments and hospitalization until June 30, 2020
Compulsory quarantine-related medical expenses (for confirmed COVID-19 cases only)

COVID-19 infection acquired through travel to restricted countries where a travel ban has been issued prior to travel date
Health eXentials
Care Rider and Daily Hospital Income benefit (whether related to COVID-19 or not)
N/A
Health Max, Health eXentials, Health Start, Shield Rider and Critical Conditions Rider
Critical Illness benefit (whether related to COVID-19 or not)
N/A
To know more about AXA's health insurance coverage for coronavirus, email your questions to customer.service@axa.com.ph.
FWD Insurance
FWD Insurance provides an additional lump sum medical benefit worth PHP 100,000 to its existing policyholders who are confirmed with COVID-19. Upon the death of the insured, beneficiaries will receive a funeral benefit worth PHP 50,000.
This special health insurance coverage for COVID-19[6], which is offered at no cost, takes effect from March 9 to April 15, 2020.
Who are qualified for this COVID-19 health insurance coverage?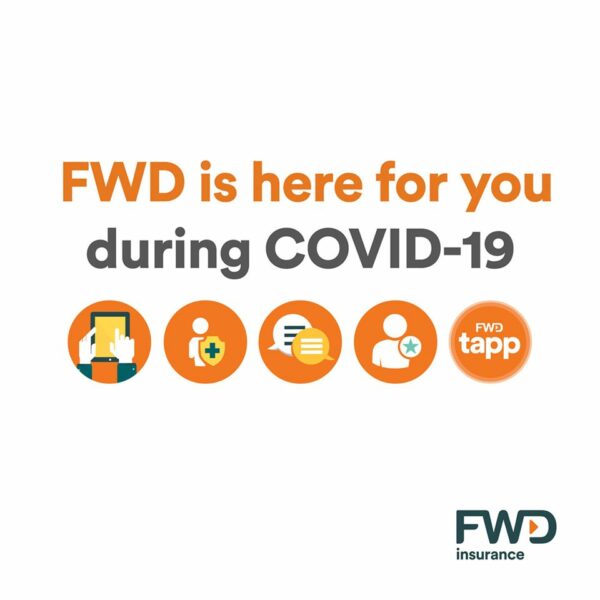 Qualified for the additional benefits are FWD Insurance clients whose life insurance policies are issued on or before February 29, 2020, except for group insurance plans
To file a claim for the additional medical benefit, a client must present proof of COVID-19 diagnosis from a recognized local or international medical authority. After submitting the document, FWD Insurance will pay the medical benefit after at least two days.
Those claiming for the funeral benefit must present a death certificate indicating that the policyholder died due to COVID-19.
FWD Insurance accepts digital copies of the documents beyond 30 days.
FWD Insurance Contact Details:
24/7 Customer Connect Hotline at (02)-8 888-8388.
Manulife
Hospitalization or treatment of COVID-19 is covered for Manulife policyholders [7]. The life insurance company accepts claims filed by covered clients due to coronavirus.
Moreover, Manulife waives the 30-day notice period and the 90-day deadline for completion of requirements for COVID-19 claims from March 10 to June 30, 2020.
Manulife Insurance Contact Details:
Manulife Customer Care Hotline: (02) 8884-7000
Email: phcustomercare@manulife.com
Maxicare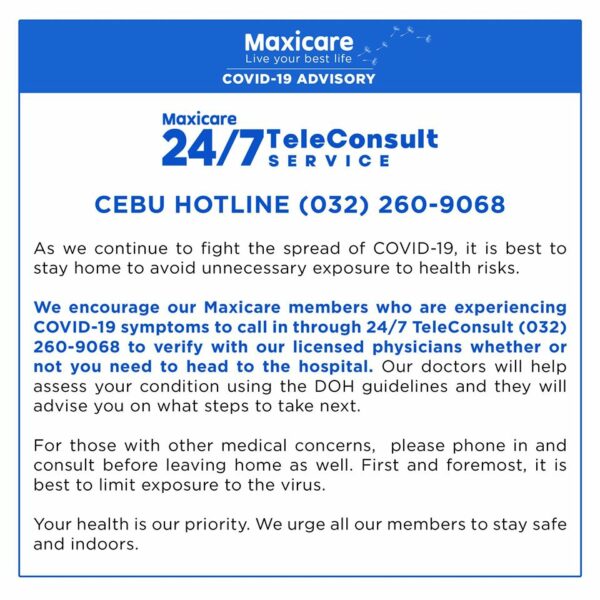 Maxicare covers the COVID-19 testing and treatment[8] for policyholders who are either PUIs, Persons Under Monitoring (PUMs), or diagnosed with COVID-19.
For more information, contact Maxicare through the following channels:
Maxicare 24/7 TeleConsult Hotline: (02) 8582-1980 for questions related to COVID-19 symptoms.
Maxicare Customer Care Hotliness: (02) 7798-7777 and (02) 7798-7770.
MediCard
MediCard provides health insurance coverage[9] to its clients who receive medical care at an accredited clinic or hospital due to COVID-19. This includes room and board costs worth up to the member's room plan or Regular Private Plan, whichever is higher. It also covers extra costs for Personal Protective Equipment of up to PHP 1,000 daily.
Pacific Cross
Pacific Cross has announced that it would cover COVID-19 for both its medical and travel plans. This special health insurance coverage[10] is reviewed daily, so expect changes to the coverage and exclusions.
Pacific Cross Contact Details:
Email: client_services@pacificcross.com.ph.
Pru Life UK
Pru Life UK is the first life insurance provider in the Philippines to provide coverage for existing policyholders who are confined due to COVID-19[11]. The coverage period is February 20 to April 20, 2020.
Patients admitted for at least 12 hours up to 10 days can get an additional hospital benefit of PHP 1,000 daily if their Pru Life insurance policy was issued on or before January 31, 2020, and is bundled with the Hospital Income Rider.
Pru Life UK Contact Details:
Pru Life Customer Helpdesk: (02) 8887-5433 (within Metro Manila) or 1-800-10-7785465 (toll-free outside Metro Manila)
Sun Life
In case of confinement due to COVID-19, Sun Life clients with a Sun FirstAid/Plus policy or any life insurance policy with the Hospital Income Benefit Rider are paid a benefit to cover their hospital bills[12].
To learn more about the coverage, contact your Sun Life agent or the customer service hotline at (02) 8849-9888.
Back to the main article: If I Get COVID-19, How Much Do I Need to Pay?
Final Thoughts
The COVID-19 situation in the Philippines and worldwide is very unpredictable. Of course, you don't want to take any chances. Review your health insurance policy and check with your provider if it covers the pandemic disease and what benefits you can claim in case you need to. HMOs and life insurance companies constantly change their guidelines regarding their coverage for COVID-19, so keep yourself updated.

Sources: