Many Filipinos cannot afford hospitalization, what with the expensive healthcare cost in the Philippines. Amid the COVID-19 pandemic, it's no surprise that people fear the cost of hospitalization more than the coronavirus itself.
As of this writing, the total number of COVID-19 cases in the Philippines is over two million.[1] Worldwide, there are about 218.4 million cases and over 4.5 million deaths in 221 countries and territories.[2] The rising number of positive cases and deaths in the country makes every Filipino worry about COVID-19 hospitalization cost in the Philippines.
Nobody wants to become part of the statistics. But the invisible enemy is unpredictable, so you want to be prepared for the worst. Somehow, it helps to know how much you'll have to spend should you or a loved one get treated for COVID-19.
How Much Does COVID-19 Treatment Cost in the Philippines?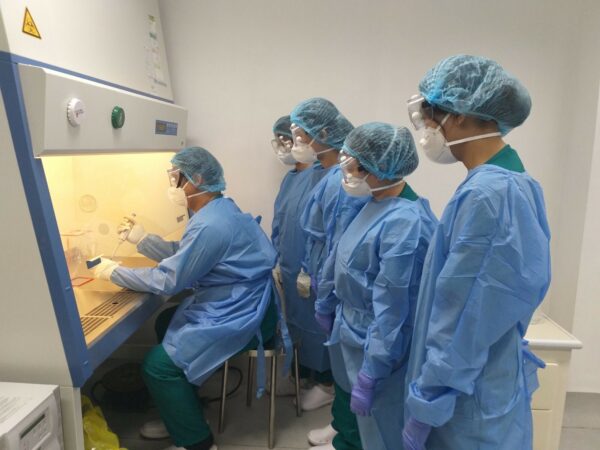 A COVID-19 patient's hospitalization cost in the Philippines will vary depending on the severity of the condition, the hospital where the patient is admitted, confinement duration, and other factors.
If news reports are any indication, the cost of COVID-19 treatment in the Philippines can cost a fortune. We're talking about at least a million pesos here.
Take the case of a 60-year-old patient whose hospital bill reached PHP 1.4 million[3] in only one week. The patient was admitted to a high-end private hospital in Alabang, Muntinlupa after getting rejected by other hospitals because they're already at full capacity.
How Much is the COVID Hospital Bill in the Philippines?
In an interview with Philippine Entertainment Portal (PEP.ph), a family member of a recovered COVID-19 patient disclosed the fees charged by a private hospital in Metro Manila.[4] With a moderate case (no underlying medical condition), the patient was billed a total of PHP 1.1 million for his 18-day confinement.
The major expenses consisted of the following:
Pharmaceutical products (tablets, syringes, etc) - PHP 305,636.06
Laboratory tests - PHP 178,820
Emergency room use (including medication and use of machines) - PHP 176,945
Ventilator use - PHP 123,665
Room and board (4-day ICU + 5-day regular isolation room) - PHP 55,700
Meanwhile, the patient paid nothing for the first COVID-19 testing and ambulance service, which was provided for free by the local government.
YouTube vlogger Eric Martinez[5] also shared a detailed breakdown of their COVID hospital bill in the Philippines when his father got sick in August 2020. He was confined for 12 days at a private hospital in Quezon City but was not intubated. Still, their total hospital bill was a whopping PHP 879,100.
According to him, the biggest expense was the Central Sterile Supply (PPE, masks, boots, gloves), which cost PHP 250,000. They also spent PHP 112,000 on Remdesivir, an antiviral medication used for COVID-19 treatment.
In the case of 56-year-old patient Julieta Alunan,[6] a bulk of her bill was spent on doctor's fees, which ranged around PHP 300,000, depending on the specialization. More money was spent on laboratory tests, intubation, ventilator, and respirator. Alunan's total bill for her 15-day confinement in a private hospital reached PHP 1.312 million.
Meanwhile, a study[7] was conducted on the hospitalization expenses of COVID-19 patients with PhilHealth coverage who were confined at the University of the Philippines-Philippine General Hospital (UP-PGH). The research revealed that total hospital expenses ranged from PHP 15,000 to PHP 200,000. Most expenses incurred were for personal protective equipment (PPE), laboratory, and pharmacy bills.
Read more:
What COVID Treatment Cost Will PhilHealth Shoulder?
The full cost of a COVID-19 treatment is too much for ordinary Filipinos to bear, especially those without insurance coverage. Fortunately, under the Universal Healthcare Act, all Filipino citizens confined in any PhilHealth-accredited public or private hospital due to COVID-19 are entitled to financial support from the government. PhilHealth coverage for COVID-19 is mandated by the Bayanihan to Heal as One Act (Republic Act 11469).
PhilHealth COVID-19 Hospital Coverage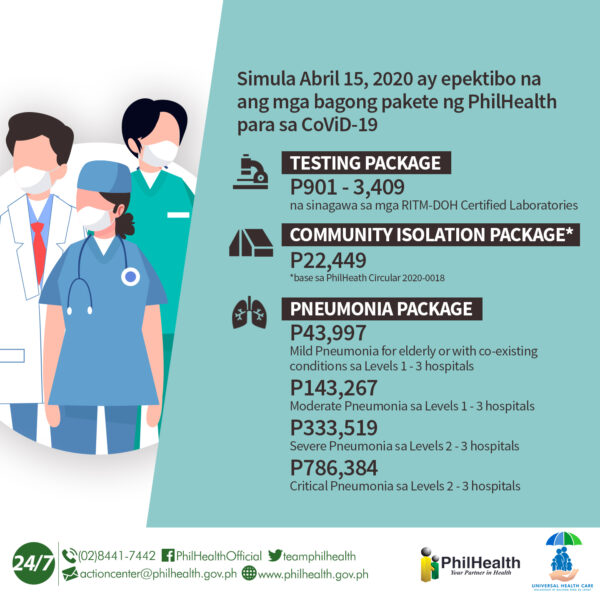 PhilHealth is still providing financial assistance to COVID-19 patients, though the benefits are different now. A case rate package, which took effect on April 15, 2020, provides benefit amounts depending on the severity of the patient's case.
Current PhilHealth Case Rates for COVID-19 Patients
COVID-19 testing - PHP 901 - PHP 3,409
Community isolation - PHP 22,449
Mild pneumonia (elderly) - PHP 43,997
Moderate pneumonia - PHP 143,267
Severe pneumonia - PHP 333,519
Critical pneumonia - PHP 786,384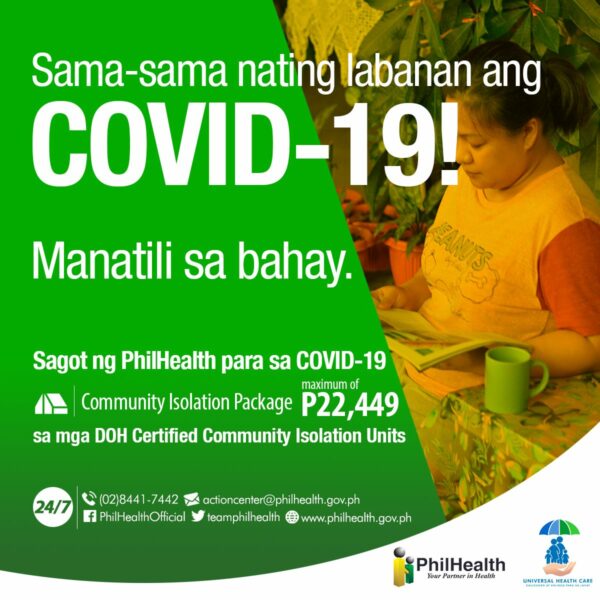 PhilHealth COVID-19 Home Isolation Coverage
As COVID-19 cases surge, hospitals in the country are more likely to reach maximum capacity. More patients now prefer home isolation. The good news is that PhilHealth recently released its COVID-19 Home Isolation Benefit Package (CHIBP).[8] Instead of worrying about COVID-19 hospitalization costs in the Philippines, patients can now apply for the benefits package from Philhealth.
Who is Qualified for the COVID-19 Home Isolation Benefit?
All members of the National Health Insurance Program (NHIP)
Filipinos not yet registered under the NHIP are automatically covered, provided that they complete and submit an accomplished PhilHealth Member Registration Form (PMRF) for the issuance of the PIN upon vailing of the benefits package.
Beneficiaries who passed both the clinical and social criteria
Patients in surge areas identified by the Inter-Agency Task Force IATF) for the Management of Emerging Infectious Diseases
What are the Eligibility Criteria for the COVID-19 Home Isolation Package?
To be eligible for the home isolation benefit package, patients are required to fill out the Assessment Checklist Of Clinical And Social Criteria For Covid-19 Home I Isolation Benefit Package.
Beneficiaries should check if they are experiencing the following symptoms:
Clinical Criteria:
Part 1. Signs and symptoms
Fever
Cough
Colds
Muscle pain
Body weakness
Shortness of breath
Chest pain
Diarrhea
Loss of taste/ smell
If you experience shortness of breath, chest pain, or other symptoms of severe COVID-19, don't proceed with the checklist and see a doctor immediately.

Part 2. History of Illness/ Health Risk Factors
Immune suppressed (such as HIV, cancer, and Tuberculosis)
Has risk factors of severe COVID-19 (obesity, over 60 years of age, pregnancy, smoker)
Has comorbidities (such as hypertension, heart disease, diabetes, and chronic kidney disease)
Needs supportive care (like oxygen, antibiotics, intravenous hydration)
If you suffered two or more of the illness or health risk factors above, then you won't be allowed to undergo home isolation. If you've picked one from the options above, then you need to consult your doctor first before applying for home isolation. However, if you don't have any of the risk factors, then, proceed to check the second set of criteria below.
Social Criteria for Home Isolation:
You have your room.
You have a separate toilet.
The house/room has sufficient airflow or ventilation.
You have a family member to take care of you.
You have a landline, cellphone or laptop to be used for teleconsultation.
If you don't have access to any of the following home isolation criteria above, then you're not eligible for home isolation.
What are the Benefits of the COVID-19 Home Isolation Package?
Reimbursement rate of PHP 5, 917 per claim
Home isolation kit containing the following:

One 70% alcohol
Five pieces face mask
One digital thermometer
One pulse oximeter
Drugs and medicines

24/7 daily monitoring of clinical and patient support while for transfer supportive are by a nurse may be done through teleconsultation
Patient education on how to use oximeter, proper use and doses of drugs and medicines, infection control, and other topics as needed
Waste disposal and infection control
FAQS on COVID-19 Home Isolation Benefit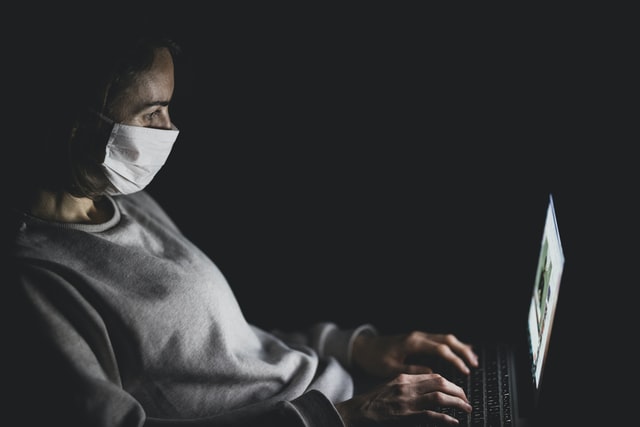 1. Can I submit my claim directly to PhilHealth?
No. Beneficiaries are not allowed to submit claims. Claims should be submitted through PhilHealth-accredited facilities.
2. How do I receive the payments for my claims?
Payments shall be received through the PhilHealth-accredited facilities
3. How do I undergo the assessment for the COVID-19 Home Isolation Benefit Package?
Initial assessments should be done by a physician through face-to-face consultations. After getting the physician's recommendation, patients should undergo an evaluation conducted by any member of the Barangay Health Emergency Response Teams (BHERTs).
4. What medicines should I receive while on home quarantine?
You should receive the following as part of the PhilHealth benefit package:
18 pcs Paracetamol (500 mg)
12 pcs Lagundi Tablets or equivalent
6 sachets ORS
10 pcs Ascorbic Acid
10 pcs Vitamin D
Zinc
5. How long should my home isolation take?
Patients shall undergo 10 days of home isolation. If the patient needs to be transferred to a higher facility, the PhilHealth accredited facility can file for a claim even if the home isolation is less than 10 days.
6. When should I file a claim with the PhilHealth-accredited facility?
PhilHealth will process all the claims within 60 calendar days after receiving all the requirements.
7. I don't have any COVID-19 symptoms. Can I still apply for the COVID-19 Home Isolation Benefit?
Yes. All patients who are confirmed asymptomatic and with mild cases needing isolation can apply for the benefits package.
8. What are the requirements to process a home isolation benefits claim?
Claim Signature Form (CSF)
Copy of the positive RT-PCR result;
Clearance from the Assessment Checklist of Clinical and Social Criteria forCOVID 19 Home Isolation Benefit Package;
Certification of COVID-19 Home Isolation or a duly signed acknowledgment receipt;
Au authorization and Consent to Participate in Teleconsultation
Accomplished monitoring sheet signed by the home isolation team
9. How often do I need to be monitored during home isolation?
Patients in home isolation should be monitored twice a day—once in the morning and once in the afternoon or evening.
Related article: 6 Pabili Service Apps to Download So You Can Shop from Home
What Will Your Health Insurance Cover?
Some insurance policies don't cover diseases declared an "epidemic" or "pandemic" by the Department of Health (DOH). However, several health insurance providers have waived this exclusion and will pay for certain benefits to COVID-19 infected policyholders.
You can definitely save on COVID-19 treatment costs in the Philippines if you have an insurance policy, whether from an HMO or life insurance company. Check with your insurance provider if testing, hospitalization, or COVID-19 treatment expenses are covered, or if you can boost your coverage to include COVID-19.
Read more:
What Will You Pay Out of Pocket If You Get COVID-19?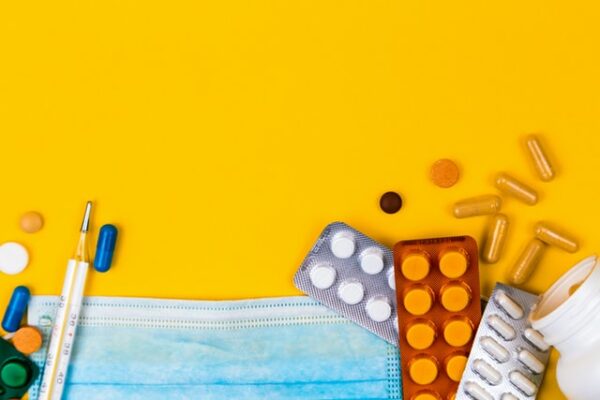 COVID-19 Hospitalization Cost in the Philippines
How much would be the hospital bill of a COVID-19 patient in the Philippines? Again, this will depend on the severity of the symptoms and on the hospital where the patient is admitted. PhilHealth's COVID-19 hospital coverage has a cap, too. After deducting PhilHealth benefits from the total hospital bill, the patient will still need to settle the balance.
If your personal insurance policy covers COVID-19 treatment, then you'll be shelling out a lower amount. Or you may not have to pay anything at all if your insurance coverage is enough to pay for the balance.
Temporary Tent Accommodations
With the surge of COVID-19 cases in NCR and nearby provinces, hospitals are over capacity. As a result, hospitals have set up temporary tent accommodations or waiting areas right in their emergency rooms for patients waiting for an available bed.
Patients are already being billed as much as PHP 1,000 per hour to stay at these temporary accommodations. However, under existing rules, emergency room (ER) services are not shouldered by PhilHealth.
COVID-19 Home Care Programs
If you wish to quarantine at home, The Medical City has a COVID-19 home care program for people who are:
COVID-19 positive or suspected to be COVID-19 positive
experiencing mild to moderate COVID-19 symptoms
undergoing home quarantine or self-isolation
waiting for their swab test results
The home care program aims to closely monitor their health conditions and guide them to recovery at home under the supervision of a physician. It includes home infection control, daily monitoring, and diagnostic services.
Home Care Program A (PHP 13,000)
This is a 3-day program recommended for people who went to any emergency department or facility and were advised to self-isolate while waiting for their COVID-19 test results.
Home Care Program B (PHP 65,000)
This a 10-day program for COVID-19 positive patients who require close monitoring while they complete their mandatory quarantine period. Aside from the COVID Laboratory Panel, an accredited physician will also make an onsite visit to the patient.
Home Care Program C (PHP 33,900)
This 3-day program is for those who need an RT-PCR test but are unable to go to the hospital. It includes the COVID Laboratory Panel and RT-PCR Test.
You can avail of The Medical City's COVID-19 Remote Care Program[9] by contacting its hospitals in South Luzon, Clark, and Pangasinan.
Final Thoughts
The COVID-19 hospitalization cost in the Philippines isn't the only expense patients and their family have to deal with. Aside from financial loss due to medical expenses, patients also lose the opportunity to earn income for at least 14 days or until they fully recover.
Whether or not your insurance company or PhilHealth will provide COVID-19 hospital coverage, you don't want to be in that dreaded situation. Living under the community quarantine is stressful as it is. What more if you get COVID-19?
You'll not only add financial burden to your family if your symptoms are severe but also cause them stress and anxiety. There's also the risk of spreading the virus to your community if you're asymptomatic and often leave your home.
Now that you know how expensive the COVID-19 hospitalization cost in the Philippines can get, take all the necessary precautions and just stay at home. You and your loved ones can survive this pandemic. Never go out without your face masks and face shields on, wash your hands properly, and practice social distancing all the time.

Sources: