Planning to come back home during the coronavirus pandemic? Brace yourself for an entirely different homecoming experience.
OFW repatriation in the time of COVID-19 is a whole new ball game. No bunch of relatives excited for your return will pick you up at the airport. Instead, government frontliners in hazmat suits will welcome you upon arrival.
Airport procedures on your arrival day will be longer and more complicated than before. You won't be allowed to go home to your family until you complete the mandatory testing and quarantine for returning Filipinos.
Much of the stress and anxiety stranded OFWs are having right now comes from not knowing what to expect when they get repatriated back to the Philippines. Here's an OFW repatriation guide to help you manage your expectations, make your arrival more bearable, and return home safely.
Read more: The New Normal Guidelines in the Philippines
OFW Repatriation Pre-Departure Checklist
Before flying back to the Philippines, here's what you must do to ensure your repatriation will go smoothly.
1. Request an OFW Repatriation Flight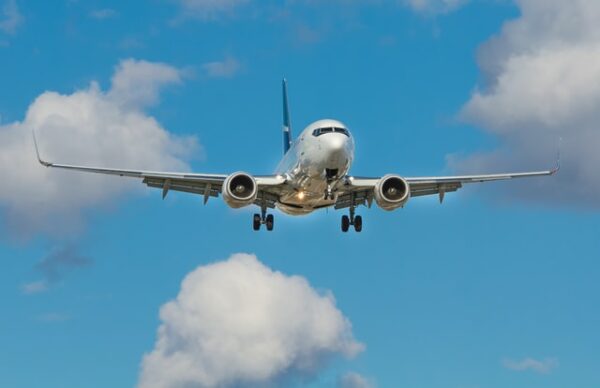 First things first: You must secure an OFW repatriation flight, and you'll need the government's help with that.
The Philippine Embassy, Consulate, or POLO (Philippine Overseas Labor Office) is responsible for coordinating with airlines to arrange OFW repatriation flights.
Find out how you can register in the embassy to make a repatriation request. You might have received a survey asking if you're interested in being repatriated. Check the website, Facebook/Twitter account, and other official communication channels of the embassy in your host country. If you can't find specific information on OFW repatriation, contact the embassy directly to inquire.
Flights to the Philippines are limited, so be flexible with your departure schedule. When you've booked a flight, expect multiple delays and cancellations, too. A recently repatriated OFW shared that his flight got delayed for more than two weeks[1]. The first flight was canceled because of the Philippine government's directive that OFW repatriation flights must be operated by a Philippine-owned airline. The flight was pushed further due to passenger arrival quotas in Manila.
Also, if you booked a flight to Manila, it could be diverted to Clark or Cebu instead. Re-routing happens because of factors like limited COVID-19 testing slots in Manila.
2. Book Your Quarantine Accommodation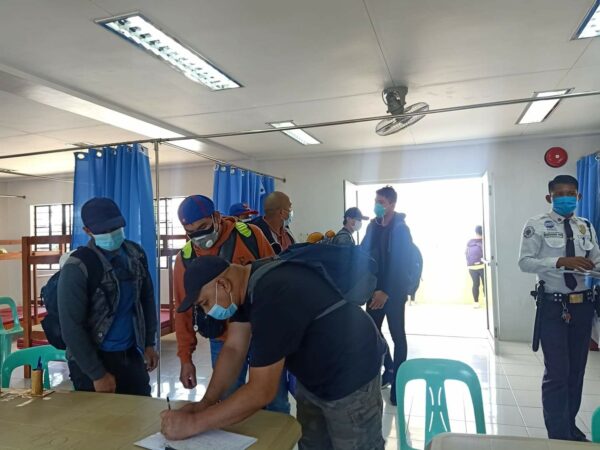 Upon arrival in the Philippines, returning OFWs (both land-based and sea-based) are required to be quarantined in a government-designated facility or a hotel accredited by the Department of Health (DOH) while waiting for their swab test results.
Although OFWs can avail of free accommodation in government isolation facilities upon arrival at the airport, you have the option to pay for your own quarantine accommodation, if you can afford it.
Passengers flying from countries like the UK and the US are required to present a confirmed hotel reservation for at least two-night stay upon check-in at the airport. In such a case, you have no choice but to book your own quarantine hotel in the Philippines before your flight.
Choose from DOH-accredited hotels where you prefer to be quarantined. For the updated list of quarantine hotels, check the Bureau of Quarantine (BoQ) website[2]. Because accredited hotels get fully booked quickly, book your accommodation as soon as your OFW repatriation flight schedule is confirmed.
3. Register in the e-CIF System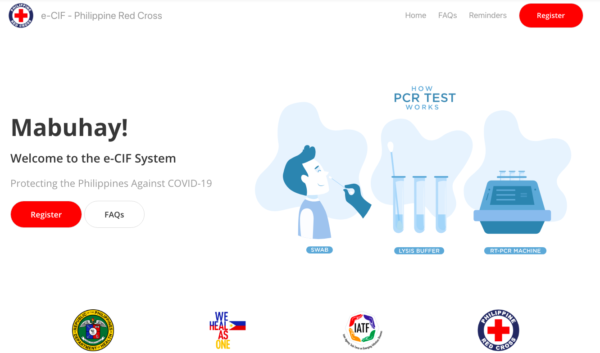 This is one task in your pre-departure to-do list you shouldn't forget. Everyone traveling to the Philippines—including returning OFWs—is required to fill out the electronic Case Investigation Form (e-CIF) of the Philippine Red Cross before their arrival to the country.
To control the spread of COVID-19 in the Philippines, the e-CIF system ensures that everyone entering the country will be tested. You won't be allowed to pass through immigration during your departure if you don't register in the system.
e-CIF registration can only be done online. To prevent delay during check-in, complete the online form one to three days before your flight.
e-CIF Registration Steps for OFW Repatriation
On the e-CIF website (e-cif.redcross.org.ph), click the Register button.
Enter the required details. While completing the online form, refer to your passport to ensure you're providing correct and complete information. Any mistake can lead to delays in receiving your COVID-19 test results.
Upload a clear photo of the bio page of your passport.
Click the Submit button.
Check your email for a confirmation message with your personal QR code.
Print or save the QR code on your smartphone. You'll present this code to the airline's check-in counter on your departure.
Read more: Running List of COVID-19 Testing Centers in Metro Manila
4. Register in OASIS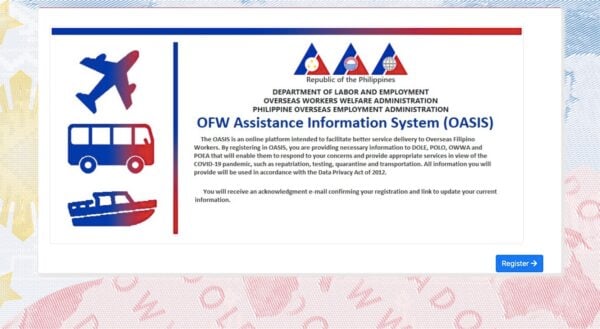 For an organized and efficient OFW repatriation, the Department of Labor and Employment (DOLE) encourages OFWs to register online in the OFW Assistance Information System (OASIS).
The OASIS allows the government to track, identify, and classify returning OFWs, so the concerned agencies can provide faster assistance and better prepare for their testing, accommodation, and transport to their respective hotels and homes.
You can register in this system either online or manually.
OASIS Online Registration Steps
Visit the OASIS website at oasis.owwa.gov.ph and click the Register button.
Fill out the online form.
Upload a photo of your valid ID, preferably your passport's bio page.
Check the box at the bottom of the form and then click the Submit button.
Check your email for a message confirming your successful OASIS registration with a link for updating your information.
OASIS Manual Registration Steps
If you can't register online, you can fill out an OASIS form manually. Here's how:
Download and print the OASIS form at the DOLE website[5].
Fill out the manual form.
Submit the accomplished form to an authorized DOLE/POLO/OWWA/POEA staff.
Read more: OWWA Benefits Guide: 8 Ways to Maximize Your OWWA Membership
Arrival Procedures for Returning OFWs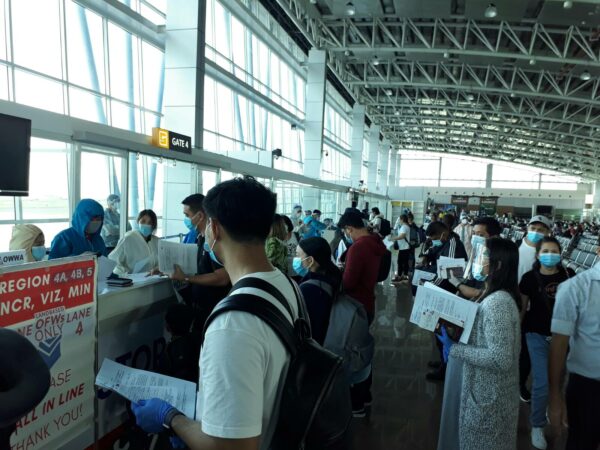 Everyone entering the Philippines during the pandemic goes through the government's special screening and verification protocols at the airport.
Here's what you can expect to happen from the moment you land at the airport to when you're brought to your quarantine facility.
1. Fill Out Different Forms
Before passengers can exit the airplane, flight attendants will distribute the yellow BoQ health declaration form (among other forms related to COVID-19) for everybody to fill out.
As you make your way out of the plane, your body temperature (along with other passengers) will be checked through thermal scanning.
Rather than going straight to the immigration counters, returning overseas Filipinos are ushered to a designated receiving area (called One-Stop Shop at NAIA Terminals 1, 2, and 3) where two additional forms are distributed: the Bureau of Immigration Arrival Card and the IATF Declaration Form. A quarantine official from the government will guide you through filling out these forms.
2. Attend the Mandatory Quarantine Briefing
Officials from the Philippine Coast Guard (PCG) and Office for Transportation Security (OTS) will conduct a briefing to inform arriving passengers on the process of the One-Stop Shop. The OFW quarantine procedures will also be explained. Listen carefully to the instructions on what you need to go through at the airport.
3. Go Through Verification Procedures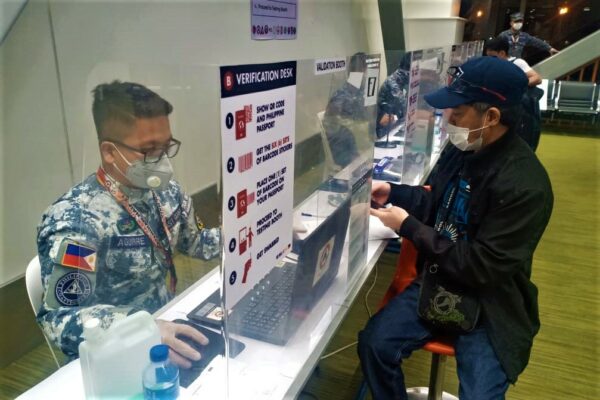 After the briefing, present your passport and QR code at the verification counter. You'll be interviewed quickly about your records. Your data will also be encoded to facilitate contract tracing in case one of the OFWs in your repatriation batch eventually tests positive for COVID-19.
If you arrive at NAIA, you'll be given six barcode stickers. Stick one of them onto the back of your passport.
4. Get Swabbed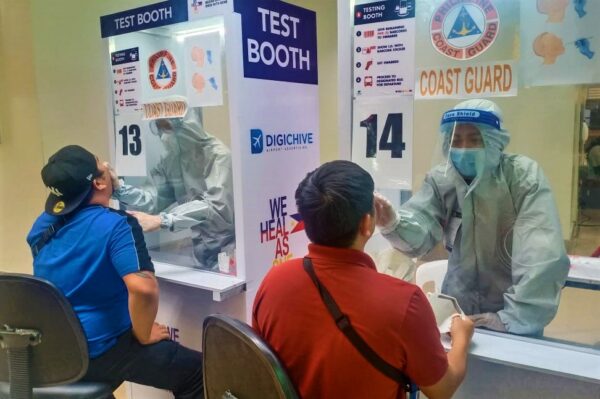 All returning Filipinos are required to undergo a COVID-19 RT-PCR (real-time polymerase chain reaction) or swab test at the airport. After the verification process, you'll be directed to one of the swab testing booths. Take a seat, submit your accomplished IATF Declaration Form, and hand over the remaining five barcode stickers to the swabber. Show the sticker on your passport, too.
Follow the swabbing instructions carefully. This procedure, which takes around 5 to 10 minutes, involves taking a swab sample from the nostrils and throat. Swabbing will cause temporary discomfort, but it isn't painful.
When you're done, the bottom portion of your IATF form will be given to you—this will be your proof that you've taken the PCR test.
Read more: Swab Test and Rapid Test Price: COVID-19 Testing Guide
5. Undergo Immigration Clearance
After getting swabbed, head immediately to the immigration counter and follow the normal procedure. Present your passport, arrival card, and the IATF form.
After checking your travel documents, the immigration officer will then take your arrival photo. You'll have to lower your face mask (and remove your face shield or goggles, if you're wearing one) during the picture-taking.
As soon as you're cleared at the immigration, proceed to the baggage claim area to get your luggage.
6. Know Your Assigned OFW Quarantine Facility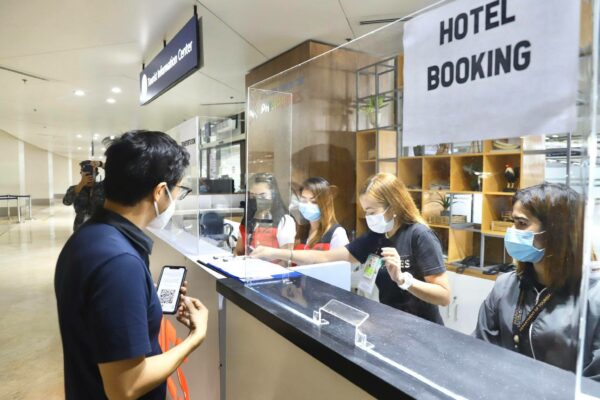 To know your quarantine facility assignment, approach the Overseas Workers Welfare Administration or OWWA help desk (if you're a land-based OFW) or your manning agency's help desk (if you're a seafarer). You'll be given your assigned hotel or quarantine facility. They will also facilitate the transportation to your assigned hotel.
If you've already booked a quarantine accommodation before your flight, inform the personnel at the help desk about it. Present your confirmed hotel reservation, the details of which will be recorded.
Afterward, you'll be led out of the airport terminal and asked to wait for the PCG bus that will take you to the quarantine hotel. Expect a long waiting time at this point.
OFW Quarantine Guidelines
Once you get to the hotel, you'll go through the check-in procedure. You'll spend the mandatory quarantine there until you receive a negative COVID-19 test result.
Quarantine Protocols for Returning OFWs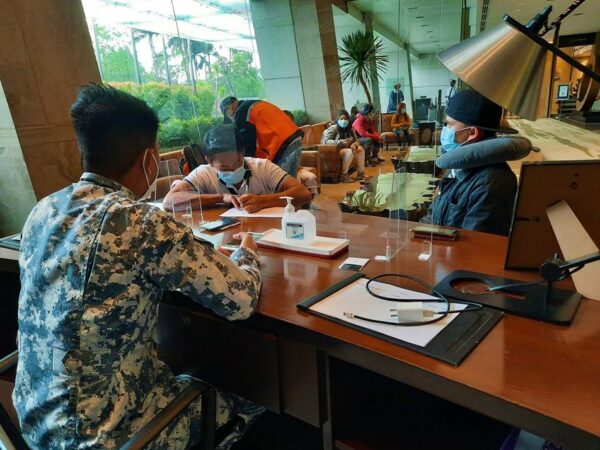 Here are the quarantine rules OFWs should keep in mind:
Only one person should stay per room.
Quarantine facilities have houseparents and roving nurses who regularly monitor the health of guests and provide any necessary medical assistance.
If you tested negative for COVID-19, you'll be issued a quarantine certificate. Once you secure this certificate, you can leave the facility and complete the rest of the mandatory 14-day quarantine at home (or at a local quarantine facility if required by your LGU).
If you tested positive, you'll be transferred to a designated hospital for proper medical care until recovery.
Quarantined OFWs are not allowed to leave their room until their quarantine certificate is released. Food will be delivered to each room.
For your concerns and questions, call the 24-hour help desk in the hotel where you're staying, or the helpline 1158 or 143.
Related: If I Get COVID-19, How Much Do I Need to Pay?
How to Verify Your COVID-19 Test Results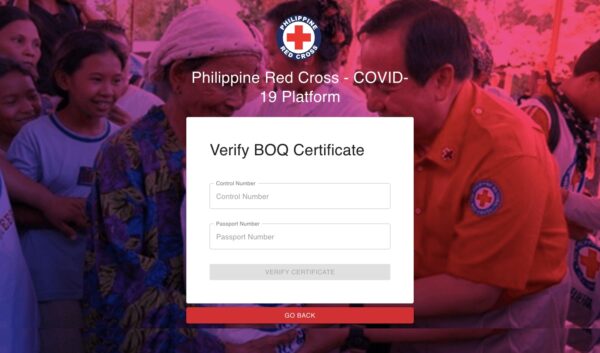 Your swab test result will be sent via email and text within 72 hours. If you haven't received it after five days or longer, you can verify your results online. Here's how:
Access the BOQ Certificate Verification Platform at redcross.com.ph/verify.
In the Control Number field, enter your laboratory ID.
Enter your passport number in the corresponding field.
Click the Verify Certificate button.

If the result is "Patient has tested negative for SARS-CoV-2," take a screenshot of it. Show the screenshot to the PCG personnel assigned to your quarantine facility for your travel arrangement back home.
If the result is "Patient Not Found," it means that your test results are not available yet.
You may also view the list of negative RT-PCR test results through the following online channels[7]:
PCG website (On the homepage, scroll down to find the link to the negative test results.)
PCG Facebook page
OWWA Quarantine Operations Facebook page
How to Get a Quarantine Certificate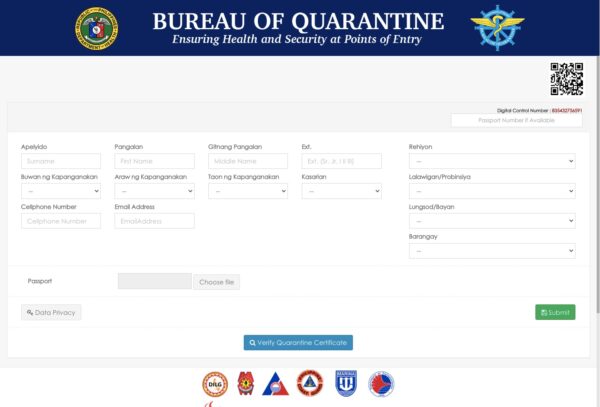 Go to the BOQ Verification System at quarantinecertificate.com.
Fill out the online form.
Upload an image of your passport bio page.
Click the Submit button.
Click the Verify Quarantine Certificate button.
Select your birth date from the calendar, enter your surname, and click on "Go Search."

If your results are available, your quarantine certificate will be displayed. Download the document and print it.
If "Quarantine Certificate on Process" appears on your screen, it means that your test results are not available yet.
How to Get a Ride Back Home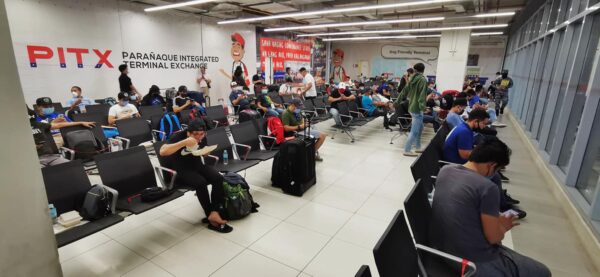 You can move out of the quarantine facility after meeting two conditions:
You tested negative for COVID-19 and you have proof of it.
Your quarantine certificate has been issued to you.
Only then can you arrange for transportation from the quarantine facility to your city or town. Coordinate with any BOQ, OWWA, or PCG personnel at the hotel where you're staying and present the screenshot of your negative COVID-19 test result or the copy of your quarantine certificate for verification. They'll facilitate your transport back to your hometown.
If you're staying at a hotel provided by OWWA, you may sign up for the agency's Uwian Na program through its dedicated website or mobile app[9]. Sign up for the program so that OWWA can organize your travel back home.
How Much Do COVID-19 Testing and Quarantine Cost for Returning OFWs?
The costs of swab testing, quarantine accommodation (including meals), and transportation are shouldered by the OWWA for land-based OFWs and by the Maritime Industry Authority (MARINA) and/or local manning agency for seafarers. This is part of the government's OFW repatriation program.
This means returning OFWs won't have to pay for such expenses when they arrive in the Philippines.
However, if you choose your own accredited quarantine hotel, you'll have to pay for your own accommodation and food. Depending on when your test results will be released, you might have to make day-to-day extensions with the hotel.
Final Thoughts
The government's OFW repatriation and quarantine protocols might change from time to time, so it's best to check with concerned agencies for updates before your flight, upon your arrival, and during your quarantine.
You may contact the following hotlines when you need help or have questions and concerns:
For OFW repatriation assistance and other related concerns: OWWA hotline 1348, which is available 24/7 including holidays (Dial 0632-1348 if you're abroad.)
Questions regarding airport arrival procedures: One-Stop Shop hotline +63 9161019964
Inquiries regarding COVID-19 test results: PCG Task Force Bayanihan Hotline at (0917) 842-4980 (Globe) / (0998) 589-3982 (Smart) / (02) 527-8481 local 6295/6402
(Photos from OWWA Quarantine Operations and Philippine Coast Guard Facebook pages)

Sources: