The crypto market has been relatively quiet the past few weeks since the bear market (market that has lost more than 20% in a given year[1]). The latest updates you'll find are price dips of Bitcoin and alternative coins or altcoins. The last downturn began in 2018, and investors say this could last for two years.[2]
Still, this doesn't mean crypto investors shouldn't be optimistic. It's a good time to explore and learn more about cryptocurrency. For example, Ethereum, which has gained the attention of crypto enthusiasts and traders alike in the past years.
If you're interested in buying Ethereum, this guide will teach you the basics of this altcoin. We'll also cover some of the other things that make Ethereum so intriguing for investors and users, and how to buy your first Ethereum, among others.
What is Ethereum?

Ethereum is a decentralized blockchain platform that runs smart contracts. These contracts are programmable and can be used to run decentralized applications (dApps).
Ethereum was proposed in 2013 by Vitalik Buterin, and it went live in 2015. It's the second-largest cryptocurrency by market capitalization after Bitcoin and has a native currency called Ether (ETH). Transactions on the Ethereum network are processed by miners, who are rewarded with ETH.
Ethereum is unique in that it allows for the development of decentralized applications or dApps. These dApps are different from traditional apps because a single entity does not control them. Instead, they are run on a decentralized network of computers, making them more resistant to censorship and fraud.
How Does Ethereum Work?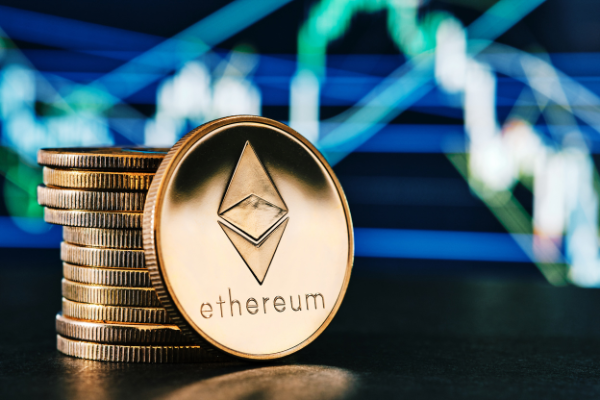 Like earlier mentioned, Ethereum is a decentralized platform that runs smart contracts. What does that mean exactly?
A smart contract is a contract written in code that's stored on the Ethereum blockchain. The code is executed by the network of nodes that make up the Ethereum network. Once a smart contract is deployed to the Ethereum network, it can't be changed. This immutability is one of the key characteristics that makes Ethereum smart contracts so secure.
And since smart contracts are also decentralized, they're not controlled by any single entity. This decentralization makes Ethereum smart contracts resistant to fraud and censorship.
In order to run a smart contract on Ethereum, you need to use a special programming language called Solidity.
Solidity allows you to create contracts that can be executed on the Ethereum blockchain. The code for a contract is stored on the blockchain, and it's executed whenever someone tries to interact with the contract.
This means that contracts can be used to securely store data or run applications without the need for a third party. As you can see, Ethereum is a powerful and versatile platform with a wide range of potential applications.
How Much Does It Cost to Buy 1 Ethereum?
As of this writing, the ETH price to PH peso is around ₱63,000. The price of Ethereum rose to an all-time high above $4,800 late in 2021 (around ₱263,000). If you're thinking of buying this altcoin now, it's already a bargain compared to its all time high ETH value.
However, as crypto coins are highly volatile, you'll never know if this will be its lowest bear market. So make sure you only invest the money you're willing to lose.
How to Buy Ethereum in the Philippines
Maybe you've been following the crypto markets and you're ready to take the plunge. Or maybe a friend told you about Ethereum and you're curious to learn more. Whatever it is, you need to set up a digital wallet first to store your Ethereum.
There are many different types of crypto wallets out there. You can go with crypto wallets like Coins.PH and Abra because you can easily top up your account.
Read more:
How to Buy Ethereum on Coins.PH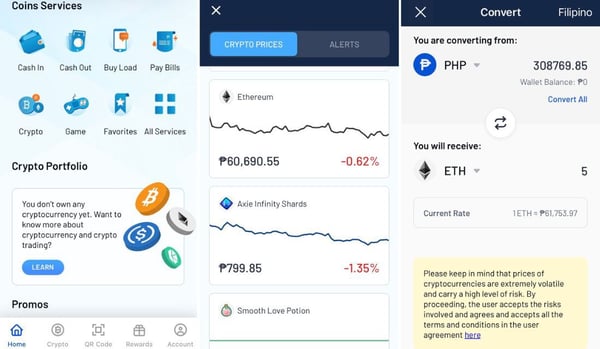 Buying Ethereum using Coins.PH is a quick and easy way to get started with this popular cryptocurrency. Once you've set up your wallet, you'll need to fund it with fiat currency like Philippine Peso or US Dollar or another cryptocurrency like Bitcoin. Here's a quick rundown on how to buy Ethereum on Coins.PH.
To buy Ethereum using Coins.PH, you'll first need to create an account and deposit funds into your Peso wallet.
Once you have Pesos in your wallet, you can then exchange them for Ethereum. To do this, go to Crypto > Ethereum and then tap Buy.
Enter the amount of Ethereum you wish to purchase, and then confirm the transaction. Just tap Slide to Convert.
Your Ethereum will then be deposited to your Ethereum wallet.
You can then use your Ethereum to buy goods and services, or send it to other Ethereum addresses.
Read more: MyEtherWallet: What It is and How to Use It
How to Buy Ethereum on Binance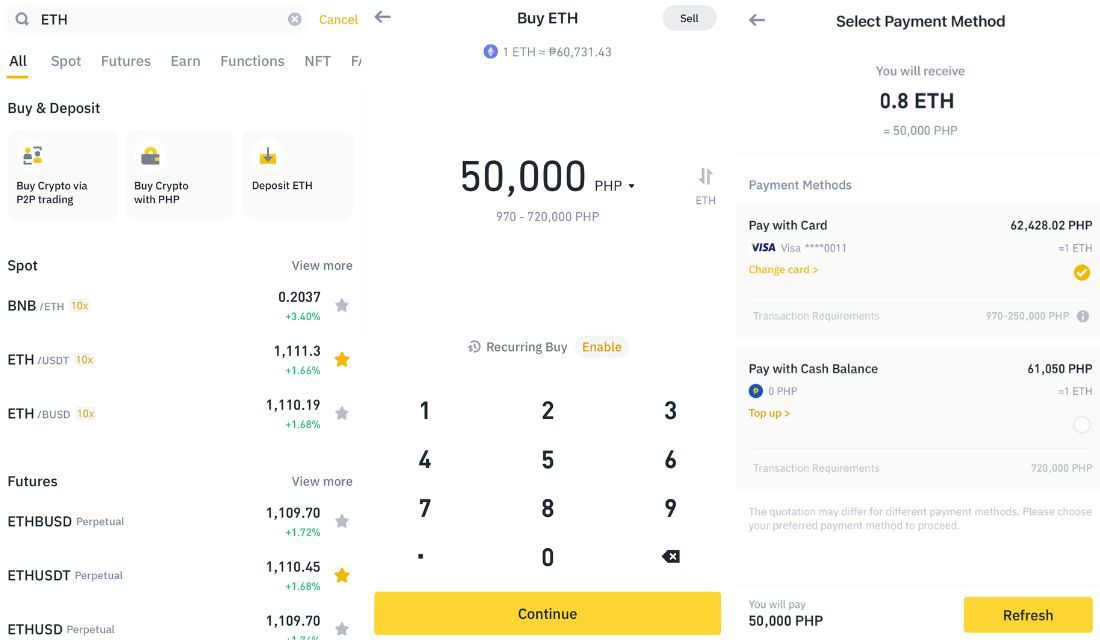 If you want to trade cryptocurrencies, you may also buy Ethereum on Binance. Create a Binance account and go through the verification process before you buy Ethereum. Here's a quick guide below assuming you're topping up using a debit or credit card.
Launch your Binance app and search the coin ETH in the search bar.
Tap the Buy Crypto with PHP.
Enter the amount of Ethereum you want to buy.
Then tap continue.
Choose the card you want to use and tap Confirm.
Agree to the Share Account Details and tap Confirm once again. Binance will charge your card afterwards.
You can now start trading or just store your Ethereum in your Binance account.
Note: Buying Ethereum on crypto exchange platforms like Binance requires a verification process if you're a new user. Ensure you go through it so you can link your cards and bank account.
Read more: Compare the Best Cryptocurrency Trading Platforms in the Philippines!
Is Ethereum a Good Investment?
If you're considering investing in Ethereum, you're not alone. Ethereum is the second largest cryptocurrency by market capitalization, and it has seen explosive growth in recent years.
But is Ethereum a good investment? That's a difficult question to answer as there are a number of factors to consider. One thing to keep in mind is that the technology behind it works, but its price in the crypto market isn't exempted from volatility.
However, Ethereum does offer certain advantages over other cryptocurrencies. For one, it has a more robust infrastructure than many other cryptocurrencies. In addition, Ethereum is backed by a large and active community of developers, which gives it additional stability.
Lastly, Ethereum has proven to be popular with businesses and organizations such as Amazon Web Services, BNP Paribas, Citigroup, and Google[4] just to name a few, which could mean increased demand for its technology in the future.
Ultimately, whether or not Ethereum is a good investment depends on your personal financial situation and your investment goals. However, Ethereum does offer some compelling benefits that make it worth considering for many investors.
Final Thoughts
So, there you have it. Ethereum is a popular cryptocurrency that you can buy on most exchanges and crypto wallets. It works much like Bitcoin, but there are some key differences.
If you're thinking of investing in Ethereum, be sure to do your research first and understand the risks involved. And as always, if you want to be involved in the cryptocurrency world, keep reading and always stay up to date with the latest developments.

Sources:
DISCLAIMER: Information published on this blog or elsewhere on www.moneymax.ph should be used for general information purposes only and does not constitute investment advice, performance data or any solicitation or recommendation that any security, investment product, transaction or investment strategy is suitable for any specific person. This material does not take into account your financial situation, risk tolerance level, investment experience or objectives; all of which are unique to you. Before acting on information on this blog, we suggest consulting an independent professional to advise you on the risks of any decision and the extent of any exposure to loss.