According to the Philippine Statistics Authority (PSA), the Philippines has an estimated number of 1.77 million OFWs.[1] With this figure alone, you can easily say that a lot of families in the country receive dollars, yen, dinars, and wons regularly. Our country also has a lot of freelancers working for foreign companies, so they're earning in foreign currency, too.
Whether you're receiving OFW remittances or getting paid by international clients, chances are you've also kept the money because you're waiting for the value of its peso equivalent to increase. You might be planning to have it exchanged when the right time comes.
But getting the most out of your foreign currency doesn't stop there. You also need to have it exchanged at the best money changer in the Philippines with good rates. The same rule applies if you're exchanging your pesos with another currency.
With that, we've come up with a list of the country's top currency exchange centers, whether you're wondering where to exchange dollar to peso, where to exchange peso to dollar, where to buy dollars in the Philippines, or where to exchange dirhams to peso in the Philippines. These money changers offer reasonable foreign exchange rates, convenience, and safe transactions.
What is the Best Money Changer in the Philippines?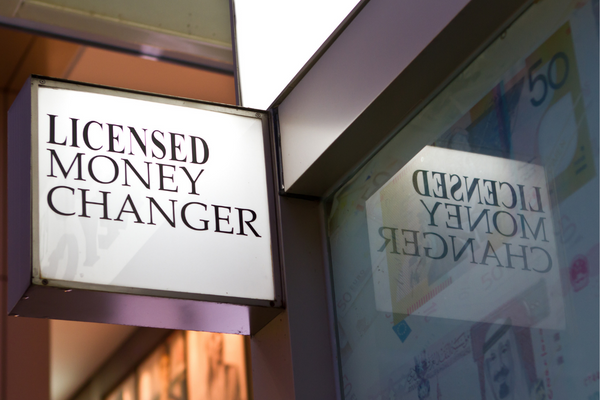 Say you've just flown in from the U.S. The very first thing you need to do is look for the best exchange rate of the dollar currency to peso.
The money exchange booths in the airport offer unparalleled convenience. But you may want to think twice, as their rates are usually expensive. If you're not in a hurry, you can always scour the city for the best money changer.
If you're staying or living in NCR, the best places to change dollars to PHP are located in Makati and Mabini Street in Ermita, Manila. This is because these places are home to many expats. You may find that exchange rates of dollar to peso are higher than what's offered by banks.
Here are some of the top money changers you may want to check out.
💸 Czarina Foreign Exchange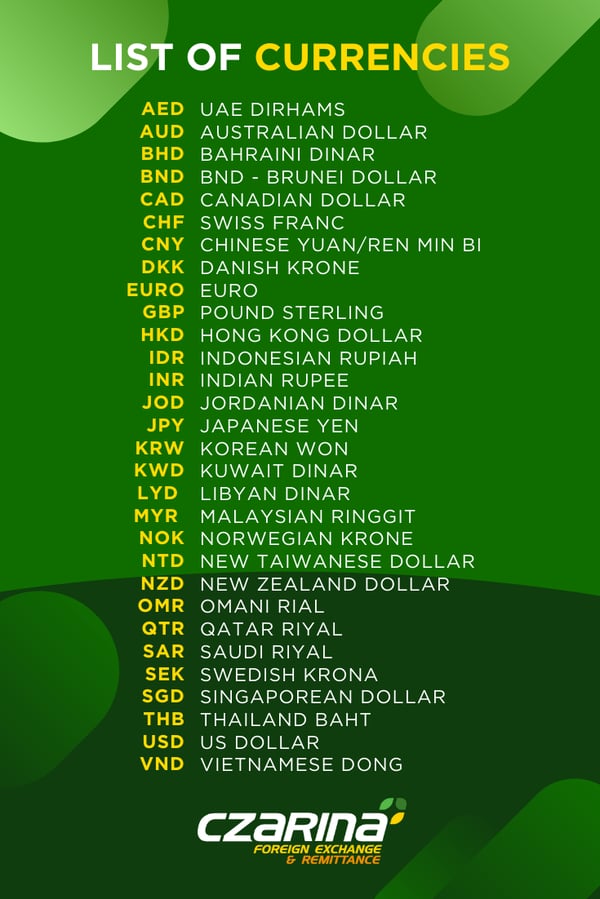 Czarina, established in 1978, is one of the best money changers in the Philippines. The shop trades major currencies, such as the euro, US dollar, Japanese yen, Hong Kong dollar, Australian dollar, Singapore dollar, Canadian dollar, and Chinese yuan, among others. It doesn't charge a commission and its services are all offered in real-time.
Czarina Operating Hours:
Most Philippine branches: Monday to Friday, from 10 a.m. to 7 p.m.
Most Hong Kong stores: Monday to Saturday, from 8

a.m. to 5 p.m.
Czarina Branches:
Pasig City: Estancia Mall, Capitol Commons
Muntinlupa City: Alabang Town Center
Baguio City: Pines Arcade Building, Session Road
Taguig City: Uptown Mall, Bonifacio Global City
Rizal: Q Plaza Commercial Complex, Cainta
Makati:

Glorietta 4, Ayala Center
Makati Cinema Square, Chino Roces Avenue
Liberty Center Building, Salcedo Village
Picasso Residences, Salcedo Village

Quezon City:

New Farmers Plaza, Araneta Center, Cubao
Ali Mall, Araneta Center, Cubao
Fairview Terraces, Novaliches
Ever Gotesco Mall, Commonwealth Avenue
Robinsons Magnolia, Aurora Boulevard
Czarina also operates in Hong Kong. Currently, there are five branches in high-traffic districts and neighborhoods, such as Central.
💸 Tivoli Money Exchange
Founded in 1983, Tivoli is very well an institution in the foreign exchange industry.[2] This money changer in the Philippines trades major currencies, such as the euro, US dollar, Japanese yen, Hong Kong dollar, Chinese yuan, Singapore dollar, Canadian dollar, Saudi riyal, and UAE dirham, among others.
Tivoli stands out from its competitors since it now engages in cryptocurrency. The shop facilitates over-the-counter trading and withdrawals of most major cryptocurrencies through its BSP-accredited virtual currency exchange partners. Accepted cryptos include Bitcoin, Tether, Ethereum, Binance Coin, XRP, Dogecoin, Polkadot, Cardano, and more.
Tivoli Branches and Operating Hours:
Makati City: Glorietta 2, Ayala Center - Monday to Friday, 10 a.m. to 6 p.m.
Quezon City: TriNoma - Monday to Sunday, 10 a.m. to 6 p.m.
Parañaque City: Okada Manila- Monday to Sunday, 24 hours
Read more:
💸 LuLu Exchange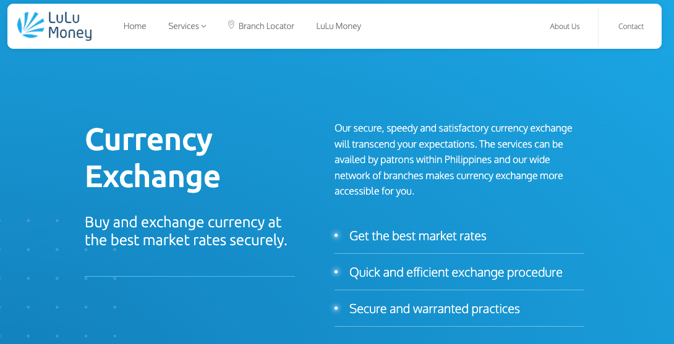 Established in 2008, LuLu Exchange is a reputable global foreign exchange business that operates in the country. As a money changer in the Philippines, it prides itself on providing quick, secure, and satisfactory exchange services and offering the best market rates.
On top of its money-changing services, LuLu Exchange offers remittances and forex trading as well.
LuLu Exchange mainly operates inside airports. Although it's best to avoid airports when exchanging money as mentioned, this money changer is worth checking out because of its convenience and rates. You can also find LuLu Exchange in malls.
LuLu Operating Hours:
Open 24 hours at airports
LuLu Exchange Branches
Pasay City: Ninoy Aquino International Airport (Terminal 1, Terminal 2, and Terminal 3)
Parañaque City: Ayala Malls Manila Bay, Diosdado Macapagal Boulevard
Las Piñas City: Robinsons Place Mall
Pampanga: Clark International Airport
Cebu: Robinsons Galleria
💸 Naila's Money Changer
Need to know the exchange rate for yen to peso today? How much is 100 riyal to Philippine peso? Head over to Naila's to find out. This money changer along Mabini Street in Malate is considered one of the best money changers in Manila for its currency conversion rates.
Other than the US dollar, Japanese yen, British pound, and Kuwait dinar, it also offers exchange services for less typical currencies, such as Norwegian krone, Danish krone, South African rand, Brazilian real, Indian rupee, Pakistani rupee, and Peruvian sol.
Naila's Money Changer Operating Hours:
8 a.m. to 8 p.m.
Naila's Money Changer Location:
1741 A. Mabini Street, Malate, Manila
💸 Moonlight Money Changer
Don't let the unassuming and homely exteriors of this money changer in the Philippines fool you. Considered one of the best providers of competitive rates in Manila, Moonlight is also known for its customer-friendly service, a reason why lots of foreigners flock to this shop.
Moonlight Money Changer Location:
1190 A. Mabini St, Ermita, Manila
Read more: Financial Planning for Overseas Filipino Workers
Best Remittance Centers with Money Exchange Services in the Philippines
If you don't have easy access to the shops listed above, you can still have your foreign currency exchanged at remittance centers. These places let you hit two birds with one stone—you can claim your foreign currency-based remittance and have it changed to peso without having to go elsewhere. Now, that's what we call convenience!
💸 Cebuana Lhuillier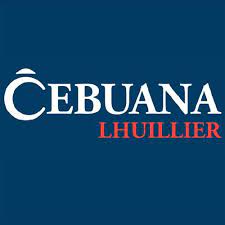 You may buy or sell US dollars in select Cebuana Lhuillier and Pera Padala branches nationwide. If you're living in Metro Manila, you can exchange dollars to PHP at the following Cebuana Lhuillier branches:
Marikina 3
Shaw Boulevard
Vito Cruz
JAKA Plaza
Isetann Recto
Malabon 8
Pasay Road
Karuhatan
Pritil
Roces Avenue
💸 M Lhuillier
If you're receiving remittance in foreign exchange at M Lhuillier, you can have it converted into peso right then and there. This remittance center offers some of the best foreign exchange rates in the Philippines for currencies such as the US dollar, Euro, British Pound, and Japanese yen.
💸 Palawan Pawnshop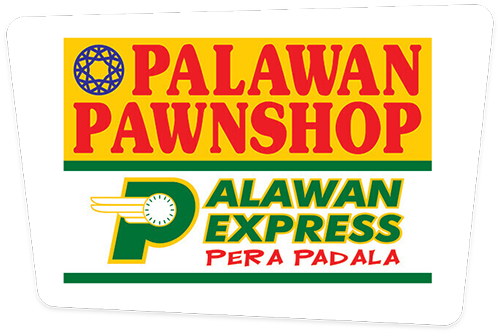 Palawan Pawnshop's currencies for peso exchange not only sell major currencies, such as the US dollar, Singapore dollar, Australian dollar, or Hong Kong dollar. This money changer in the Philippines also sells Swiss franc, Chinese yuan, UAE dirham, New Taiwan dollar, and New Zealand dollar.
Buying foreign banknotes is a different matter, though. For purchase transactions, you'll have to make a reservation. You also need to make a non-refundable down payment of ₱1,000 for the transaction to push through.
If you have a transaction amounting ₱10,000 and below, you can authorize a person through a letter to process the said transaction. However, if the transaction is worth ₱100,000 and above, Palawan Pawnshop may request further validation, such as supporting documents.[4]
💸 Villarica Pawnshop
Just like other modern pawnshops in the country, Villarica Pawnshop not only offers pawning services, bills payment, and cash withdrawals. It also operates as a money changer in the Philippines. It offers high exchange rates of any foreign currency, such as USD to PHP, at any Villarica branch.[5]
Among the currencies that you can exchange here include euro, Japanese yen, Australian dollar, British pound, Canadian dollar, Singaporean dollar, and Hong Kong dollar.
Read more: How to Use Smart Padala: A Guide for New Users and Agents in the Philippines

Best Banks with Foreign Exchange Services
Some banks double as money changers in the Philippines. However, keep in mind that some banks have more stringent rules in place compared to money changers and remittance centers.
For one, the bank will offer the foreign currency exchange service only if you have an account with them. Moreover, you're only allowed to transact with the branch where you opened your account. You'll also be required to bring a couple of documents, such as your passport or any valid government ID, passport, and TIN ID.
💸 Philippine National Bank
PNB buys and sells foreign currencies against the PHP or other foreign currencies. Its good working relationships with other banks allow it to purchase and sell large volumes of currencies at market prices. As such, PNB is able to offer its clients one of the best exchange rates in the Philippines.
Among the currencies available for exchange at PNB are the euro, US dollar, Australian dollar, Canadian dollar, Hong Kong dollar, Singapore dollar, and British pound. Need rates for converting non-US dollar to another non-US dollar? PNB can provide that upon request.
💸 Bank of the Philippine Islands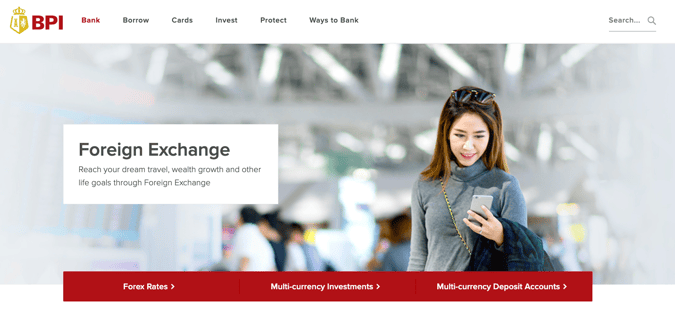 BPI is another good bank for exchanging currencies. Aside from buying and selling widely traded foreign monies, its Forex solutions also include foreign currency time deposits and multi-currency investments.
BPI currently deals with the following currencies: US dollar, Euro, Australian dollar, Canadian dollar, British pound, Singapore dollar, Hong Kong dollar, Japanese yen, Chinese yuan, and Swiss franc.
Planning to convert your dollars to PHP peso today? If you have an account with BPI, you can easily convert your US dollar to Philippine peso online. You can do so by simply transferring your dollars from your BPI US dollar account to your BPI peso account.
💸 Security Bank
Do you have a Security Bank branch near you? If so, pay a visit and get your foreign money exchanged. Its list of exchangeable currencies is almost the same as that of BPI, but Security Bank also buys and sells Korean won.
Security Bank allows you to make 24/7 foreign exchange transactions online in real-time through the Security Bank Secured Platform for Online Trade (SB SPOT). To access it, you need the following:
A Security Bank online account
Enrolled and active US dollar and PH peso accounts in your online account
A maintaining balance worth $500
Other documents required by Security Bank
Foreign Exchange Shops and Counters in Malls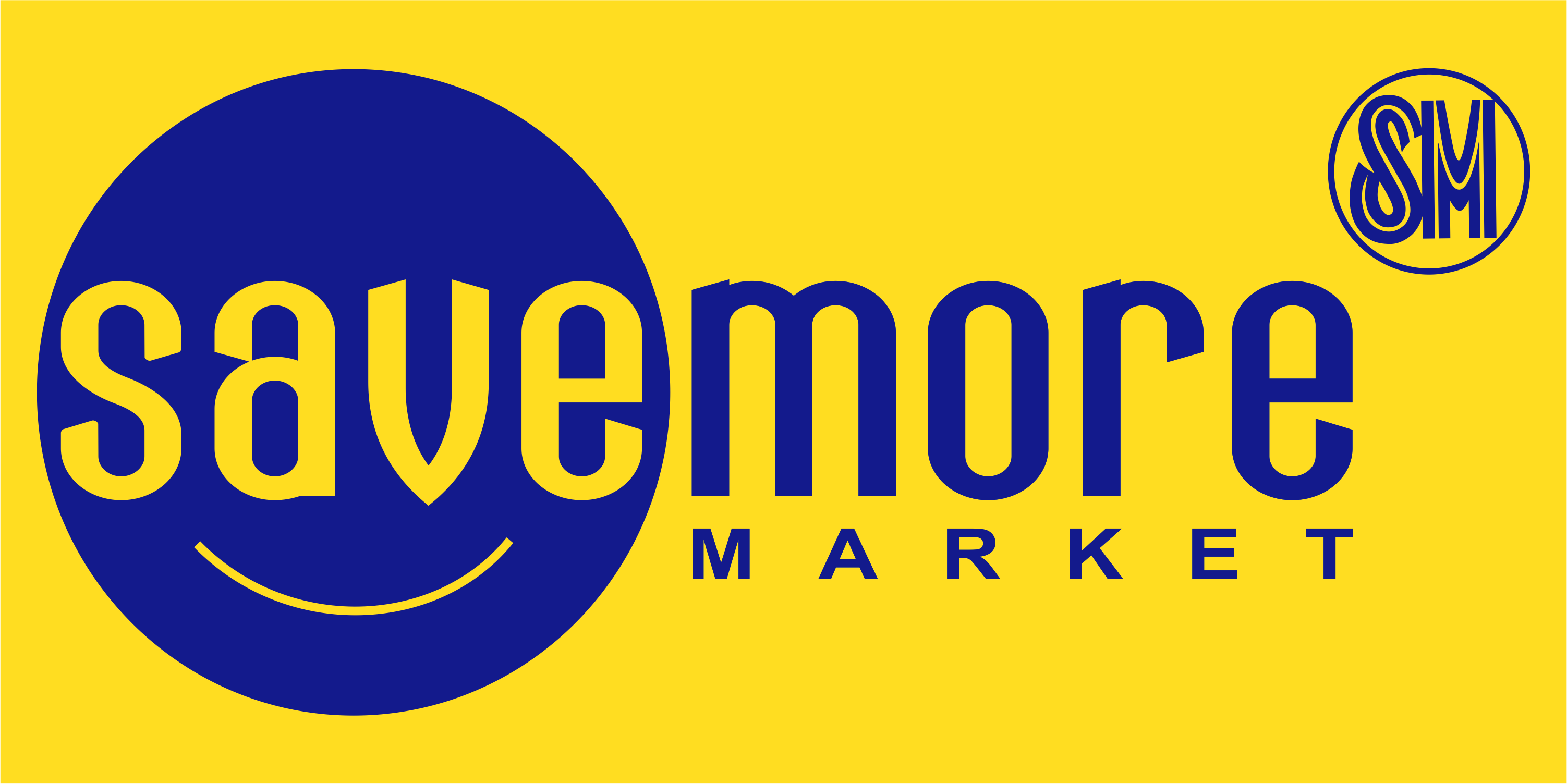 Major malls like SM and Robinsons have money exchange counters in their department stores (and in SM Hypermarket and Savemore as well) where shoppers can do their forex transactions. These malls are among the most convenient and safest places to exchange money in the Philippines. Their foreign exchange rates are reasonable, too.
However, these currency exchange services don't entertain peso-to-dollar exchange. Forex counters in malls only convert dollar to peso, though they also accept currencies other than the USD. You can sell THB, HKD, SGD, EUR, JPY, and AUD, among other currencies in such malls.
Tips for Choosing the Best Money Changer in the Philippines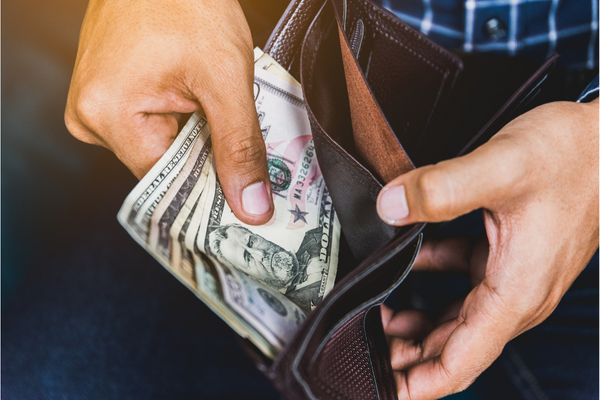 We've compiled some useful tips to make foreign currency exchange easier, more efficient, and more practical for you.
1. Avoid Changing Money at the Airport
As you've read above, rates at money-changing stations at airports have higher rates than you'll find at money changers and banks outside. Airport money changers charge more because of high operating costs, such as expensive monthly rent and extended operating hours.
As much as possible, exchange some cash at the airport only if you need money for commuting upon arriving in the Philippines or in your foreign destination country.
To save time and effort, look for money changers online before you arrive in the country. Don't forget to read reviews to avoid getting scammed.
2. If Possible, Avoid Paying Commission
Foreign exchange businesses earn money by selling foreign dollars at a higher rate. But other than that, they make money by charging customers a commission. Before you have your money changed, ask the shop if they're charging such a fee.
If they charge a commission, try somewhere else, especially if you're not in a hurry. You can always find a commission-free money changer, such as Czarina Foreign Exchange.
3. Compare Rates Before You Exchange Money
Just because the finance news says the exchange rate is at this specified amount doesn't mean all the money changers in the country will offer that value. Before you exchange your money, shop around for favorable exchange rates. That way, you can maximize the value of your foreign currency.
In Pinoy Peso Hero Episode 5, Moneymax discusses common questions about the peso-dollar exchange rate and its impact on the economy and individuals. Investment advocate Aya Laraya shares and explains the basic dynamics of the exchange rate. You might learn facts about the exchange rate most Filipinos are not aware of!
4. Use Your Judgment
While shopping for forex shops with good offers, you'll come across one that offers rates that seem too good to be true. It might be just that, especially if the shop looks shady.
Use your good judgment and avoid such shops. If you want to make sure that a shop is safe, secure, and trusted, you can check out the list of Bangko Sentral ng Pilipinas-registered money service businesses.[6]
Final Thoughts
The presence of thousands of money changers in the country proves that commerce in the Philippines is pretty strong and that Filipinos are global citizens. But keep in mind that not all foreign exchange centers are created equal. For reliable services, you can visit the shops listed above.
However, don't discount small forex businesses, as they may also have reasonable rates and high-quality service. Just do your due diligence to find the best money changer in the Philippines.
Foreign exchange rates fluctuate from time to time and vary per money exchange center on any given day. Even different branches of a money changer have different rates. To find the best or highest currency rate that will give you the most value, check and compare the exchange rate of dollar to peso, or other currencies for that matter.
Keep yourself updated on the latest exchange rates and the factors that affect global currency trades. Read the news and follow some banks' social media pages for updates.

Sources: