In a few months, the baby bump that keeps on surprising you with kicks and pops will finally be getting out of your womb. Although you're scared at the thought of giving birth, you're excited and happy that a new member of the family is coming.
And you're ready! You know how much it costs to raise a child in the Philippines. And you've already started with your ipon challenge to buy your baby essentials. But with stricter measures against the increased cases of the new COVID-19 variant,[1] it's better to start looking for baby stores in the Philippines online where you can get newborn essentials safely.
We're joining you in this mommy milestone, so we've prepared this list of the best online baby shops where mommies can buy baby essentials without leaving home.
Online Baby Store in the Philippines: 7 Best Options for Expecting Parents
1. Edamama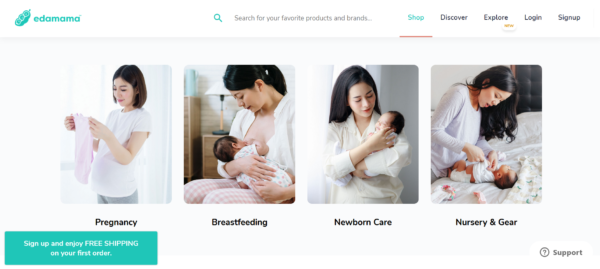 If you're looking for a baby store in the Philippines with the best deals for kids of all ages, then head to Edamama.[2] Built by mamas, aspiring mamas, and kids-at-heart, Edamama is a collective effort of a diverse group of individuals to help parents make better decisions.
What You'll Love About Edamama
Edamama caters to mommies and kids of all ages. You'll find products not just for pregnancy but also for newborn care and breastfeeding, as well as nursery and baby gear. Take advantage of rainy day sales and discounts of up to 35%. At Edamama, you don't need to shop elsewhere for affordable baby diapers, toys, and other baby stuff.
What Makes Edamama Stand Out
Edamama is a retail online shop that also offers free learning activities or children ages 1 to 12 years old. You can avail of a 3-day free trial class for your child at Playworks or at Word Work every Tuesday or Thursday from 2 to 3 p.m.
Related articles:
2. Babymama.ph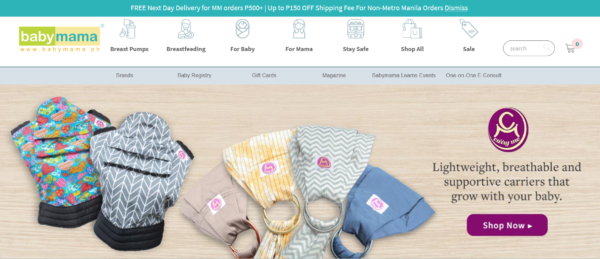 Babymama.ph[3] was established by a mama herself. Having first-hand experience in raising a child and understanding the need for quality baby products, the owner came up with the idea of a website for mothers searching for the best baby essentials.
What You'll Love About Babymama
From breast pumps to breastfeeding products, Babymama is a one-stop online shop for both baby and mommy needs. The shop has a wide range of products which are mainly sourced from local and overseas suppliers. You'll enjoy choosing from the 300+ plus products for your baby safety needs alone, or the 700+ options for diapering purposes. Babymama also offers free delivery for a minimum order of PHP 500.
What Makes Babymama Stand Out
Aside from baby products, you can also purchase one-on-one e-consult services from its roster of licensed physicians. For a minimum consultation fee of PHP 900, you can get the advice of a pediatrician, OB-GYN, or psychologist regarding your pregnancy or your baby's condition.
Read more: Signs You're Financially Ready for a Baby
3. Urban Essentials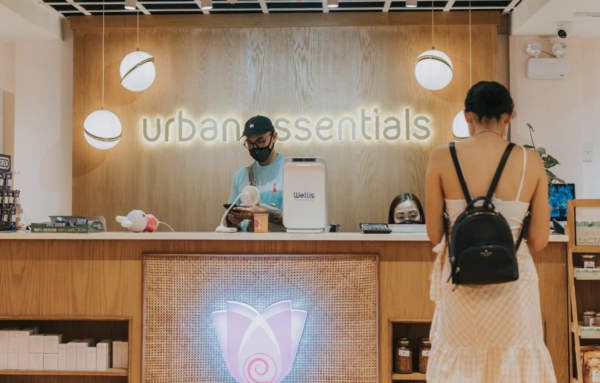 With more than 60,000 followers on Facebook and Instagram, Urban Essentials is every woman's comfort hub when it comes to essentials for herself and even for the whole family.
What You'll Love About Urban Essentials
Mommies looking forward to getting back in shape can choose from postpartum wearables including compression garments, suspenders, and hip and belly shapers. You can also shop for things that daddies will love, like massage guns, utility carts, and men's bath essentials.
If you live outside Metro Manila, worry not because you can still get baby essentials from this online baby store in the Philippines, as it ships to the provinces via LBC Express.
What Makes Urban Essentials Stand Out
Urban Essentials regularly publishes blog posts[4] that educate parents on health and other parenting concerns. Some of the interesting topics Urban Essentials has shared include posts on postpartum hair loss, finger joint pain, and vitamin B complex.
4. Milk & Honey

Milk & Honey is an online baby store in the Philippines established to help busy moms order, pay, and track their orders easily. Initially a website for all stages of parenting and pregnancy, Milk & Honey has evolved into an online shop that sells beauty and self-care products, food and supplements, clothing and accessories, and even party needs.
What You'll Love About Milk and Honey
Milk & Honey is celebrating its 6th anniversary, and customers can enjoy up to 50% discount until August 15, 2021.
What Makes Milk and Honey Stand Out
Milk & Honey has an online bookstore[5] that sells baby journals, as well as kiddie and parenting books. You can also buy hard-to-find books here for as low as PHP 630.

5. Kidoozi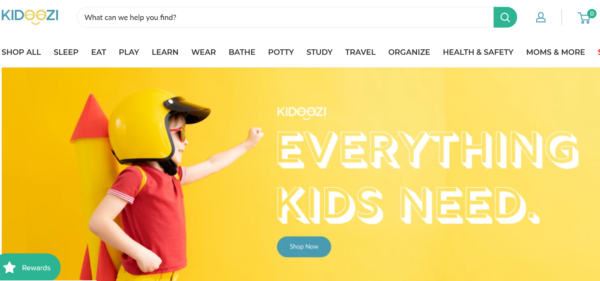 Kidoozi was conceptualized by two millennial moms who want to make online shopping for baby needs and kids stuff a relaxing experience for parents. This baby store in the Philippines offers products for children 0 to12 years old. Shop for all your children's sleep, play, study, travel, and bathing needs at Kidoozi.
What You'll Love About Kidoozi
Kidoozi's shop categories are uniquely divided to cater to the different activities of your child. Parents will love its user-friendly interface that leads shoppers easily to the products they're looking for.
What Makes Kidoozi Stand Out
Kidoozi is packed with well-known brands[6] so that you don't need to visit other shops for your needs. From brands like BabyHood and Bebcare, to Braun and Bubblescope, you have so many options for your little ones.
6. Tiny Buds Baby
Tiny Buds Baby is an online baby store in the Philippines that advocates for all-natural essentials for children. The baby shop aims to help mommies make the right choice when buying stuff for their precious ones.
What You'll Love About Tiny Buds Baby
It's one of the few online baby stores in the Philippines that offer products that are gentle for babies, safe for the whole family, made with all-natural ingredients, and friendly to the environment. The Tiny Buds Baby website also has a child-friendly interface to woo young kids to help moms with their online shopping.
What Makes Tiny Buds Baby Stand Out
Tiny Buds Baby has a collection of stories with interactive characters to help parents teach positive values to their children. Moms shopping with young kids can introduce them to Twiga and learn how to say thank you, or to Chabee[7], the hungry panda, and learn about the importance of honesty.
7. Babycloset.ph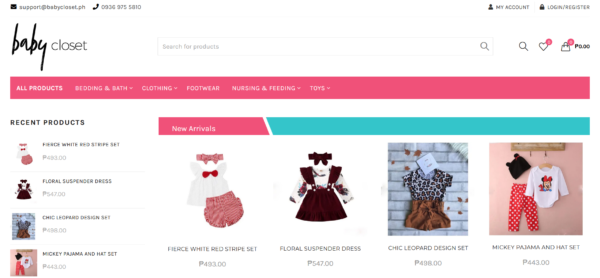 Babycloset.ph is an online baby store in the Philippines that goes beyond the standard products. A family-run business, Babycloset.ph is your one-stop-shop for unique products for your baby, as well as essentials, gear, clothes, and footwear.
What You'll Love About Babycloset.ph
It's a shop for mommies who love novelty baby items and unique products and designs. Here, you can find a three-piece deer costume set for only PHP 630 or a Mickey Mouse onesie with suspenders for only PHP 574. You can also dress up your little girl with a Little Miss Pumpkin wear for only PHP 518.
What Makes Babycloset.ph Stand Out
After giving birth, you'd probably want to find other ways of earning money while taking care of your newborn. Well, here's some good news for you: Babycloset.ph has a reseller program. Get an 8% discount on products and be updated with the latest promos.[8]
Read more: The Pros & Cons of a Working vs. Stay-at-Home Mom
Some Baby Essentials Shopping Tips for Mommies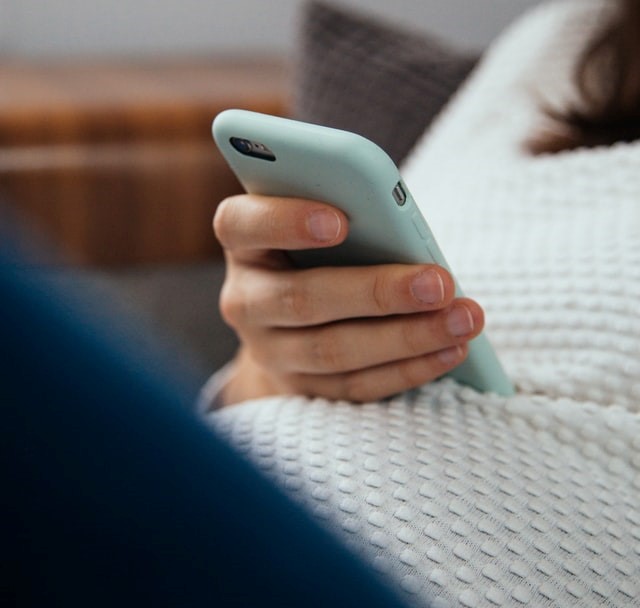 We know you've been waiting for this chance to buy stuff for your baby. The excitement is real, and we feel you. But before you do, here are a few reminders.
1. Declutter
Stash away clothes or toys that your baby won't need until it's 10 years old. Do the same with your wardrobe. Imagine Marie Kondo asking you, "Does it spark joy?" So if a piece of clothing no longer sparks joy in you (or no longer fits), you can let it go. Make sure your closet and drawers only contain what you and your baby will need.
2. Shop Around
This is your chance to scout for sales and discounts! All these online baby stores offer something unique for you and your baby, so take your time browsing. Take advantage of discounts, too, when you use your credit card or e-wallets to pay for your purchases.
3. Buy Only What You Need
Don't be a victim of impulse buying. Always prioritize essentials over luxury, but without compromising quality.
4. Barter or Borrow
Barter pages have mushroomed online during the quarantine. Check for baby essentials being bartered there. Negotiate with other essentials, like a sack of rice or a few house plants.
If you have relatives who have kids, you can ask for their old cribs or baby walkers and just refurbish them. Explore opportunities to save on baby stuff.
5. Buy Things One at a Time
You might have saved a lot of money for your pregnancy, but you don't need to buy everything all at once. Remember, babies grow at an alarmingly fast rate. You don't want to spend so much on something that your newborn will outgrow in just a few weeks.
Read more: Saving Tricks for Housewives
Final Thoughts
Modern nanays like you have learned many money-saving tips and budgeting hacks. But you'll always want quality products for your children. Getting their essentials at the best baby store in the Philippines is one way to ensure you're only giving them the best.
You can choose a baby store in Manila to grab the best deals near you. Or you can check out these baby stores on our list and have your purchases shipped straight to you anywhere you may be in the country!

Sources: