Saving money is as easy as spending it. Said no one ever. This is probably why Filipinos are trying different fun and creative ways to save, or even coming up with their own ipon challenges.
When you take on a money-saving challenge, you'll hit two birds with one stone. First, you achieve your financial goal for the year—be it saving up for a trip abroad, destination wedding, down payment for a home or car purchase, or capital for starting a small business. Second, you develop financial discipline and the habit of saving.
Seems like a tall order, huh? But guess what: if everybody else can do it, so can you!
Looking to challenge yourself to consistently save a certain amount this year? Take a look at these ipon challenges and pick the one that suits you best.
What is a Saving Challenge?
An ipon challenge is a strategy that involves sticking to a money-saving activity for the entire year. Unlike the typical act of saving money, ipon challenges are done regularly, deliberately, and strategically, helping you stay on track with your savings target and meet your money goal.
7 Ipon Challenges to Start in 2022
52-Week Money Challenge
How much you can save in a year: PHP 1,378 to PHP 137,800
What is 52-Week Ipon Challenge?
The 52-week money challenge involves saving in increments weekly, starting from the first week of the year up to the last.
Why Should You Try It?
This ipon challenge is popular among Filipinos for a good reason. The amount to save increases as the weeks go by, motivating you to meet your saving target by the end of the year. It's also flexible—you can start small (for as low as one peso) or big depending on how much you can afford to save every week.
The hardest part is saving money during the last few months of the year when the amounts get higher and the holiday season (aka the season of spending) kicks in. For instance, if you're saving in increments of PHP 100 weekly, you'll need to save around PHP 5,000 on the last four weeks of the year. Such a huge amount, right? But if you can fight the temptation to splurge, then this money challenge won't be too much of a challenge.
How to Do This Ipon Challenge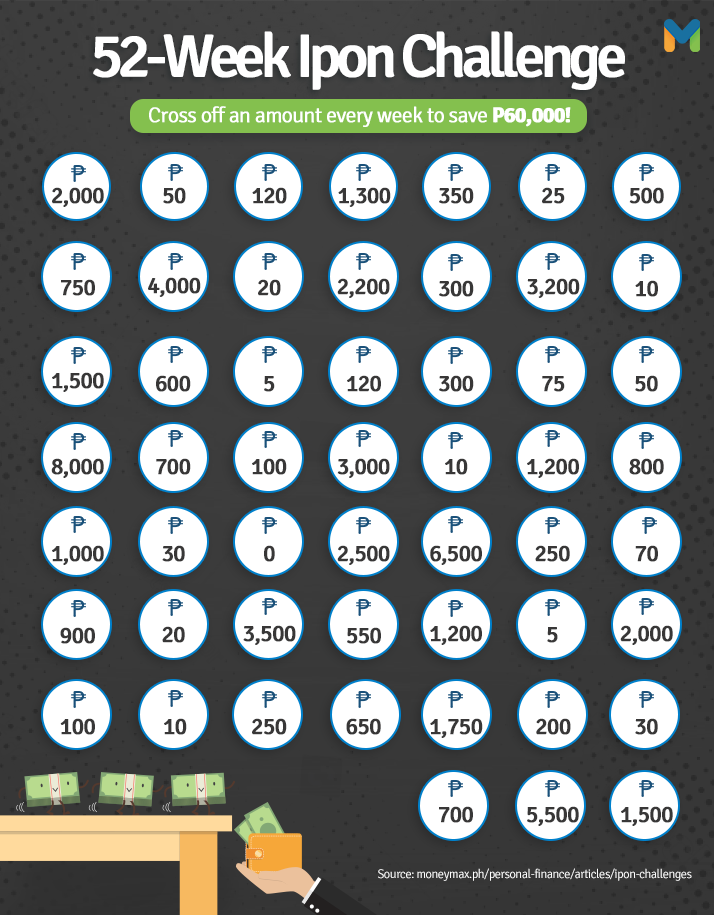 The 52-week money challenge can be intimidating for anyone who hates math. But not to worry, Moneymax has an ipon challenge printable chart you can use as a template to help you save as much as PHP 60,000 in a year! If you wish to save more, just add more money to your savings.
Click on the image above and save it on your phone or computer. You can even print a copy and post it on your wall, so you won't forget your weekly savings!
Twice-a-Month Money Challenge
How much you can save in a year: PHP 15,000 to PHP 150,000
What is Twice-a-Month Ipon Challenge?
The twice-a-month saving challenge entails saving in increments of PHP 50 to PHP 500 every payday (The increment can be higher depending on your salary).
Why Should You Try It?
If saving every week sounds more like a burden rather than a fun and encouraging activity, then you might want to try this bimonthly money challenge.
It's simpler to implement than the 52-week money challenge because you part with your money less often (24 weeks versus 52 weeks). Also, it's easier on the budget if you receive your salary twice a month and thus budget it for half a month.
What could be more convenient than saving every payday? Definitely one of the easiest ipon challenges to try.
Read more: Tired of Living Paycheck to Paycheck? 4 Tips to End Your Petsa de Peligro Blues
12-Month Saving Challenge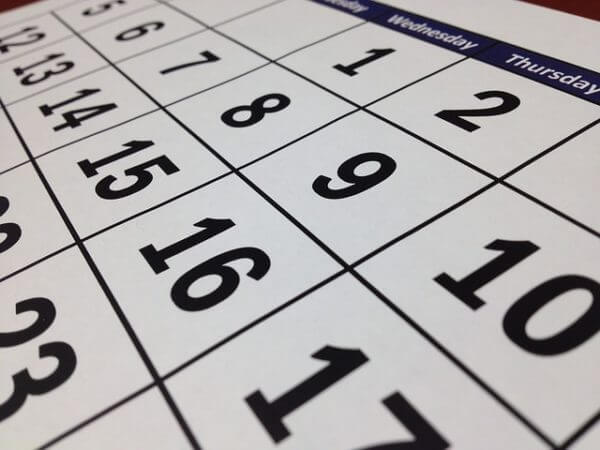 How much you can save in a year: Depends on your monthly income
What is 12-Month Ipon Challenge and Why Should You Try It?
Personal finance coach Alvin Tabañag proposes an income-based money saving challenge,[1] which is a more practical and sustainable alternative to the 52-week money challenge. This money-saving hack takes into account one's monthly income in determining the amount to save.
How to Do This Ipon Challenge
To start, set a base amount that you can commit to saving every month (It can be zero if you don't earn much) and add it to the percentage of your monthly salary, beginning with 1% in January, that increases in increments of 1% until you reach 12% by December.
Ipon challenge template for 12 months:
Monthly savings = Base amount + [Month % x Monthly income]
For example, you're earning PHP 20,000 per month, and you set your base amount to 0. In January, your total savings should be PHP 200 (0 + [1% x 20,000]). In February, it will be PHP 400 (0 + [12% x 20,000]). And so on, until you finish your money-saving challenge in December.
365-Day Money Challenge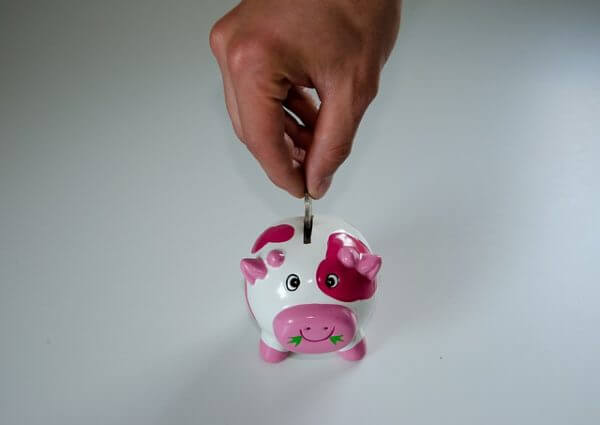 How much you can save in a year: Depends on how much you can save daily
If the ipon challenges listed above look too complicated for you, a simpler approach to saving is to stash away a fixed amount every day. The savings amount should be what you can afford to save daily. It can be as small as PHP 10 (which earns you approximately PHP 3,650 by December) or PHP 100 (for a total of around PHP 36,500).
No need to remember numbers and do complex calculations. Just set an alarm on your mobile phone to remind yourself to set aside some coins or bills every day.
Related article: 22 Savings Account in the Philippines with No Maintaining Balance
50-Peso Ipon Challenge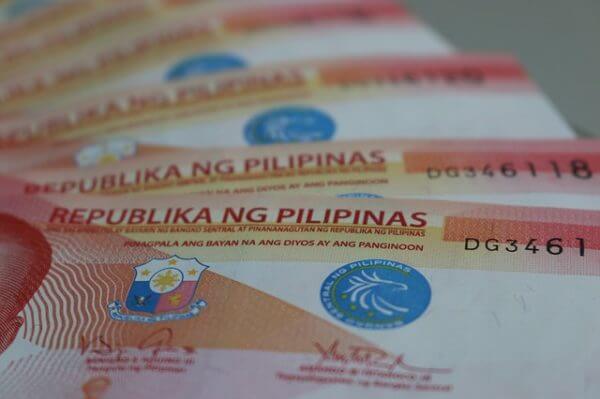 How much you can save in a year: At least PHP 2,600 if you do it once a week or PHP 18,250 if you save daily
Commit yourself to put a 50-peso bill in your alkansya every week or day. This will make saving money a natural habit for you.
If you want to maximize your savings, you can put away all your 50-peso bills each time you get them, like when you receive change or get paid. You'll be surprised at how much total savings you'll get by the end of the year.
Loose Change Saving Challenge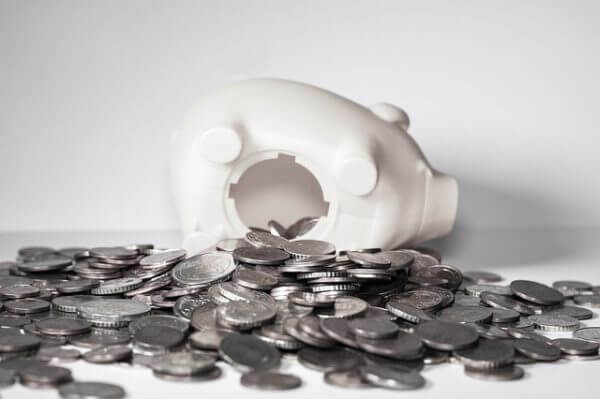 How much you can save in a year: Depends on how many coins you can collect during the whole year
How about putting in a jar every spare change you receive and coins scattered around your home? This money-saving hack may be too easy that kids can even do it. The loose change challenge won't accumulate as much money as the other ipon challenges, but it will definitely motivate you to save.
Final Thoughts
Before you say "Challenge accepted," make sure to decide which method you think is doable and you're most comfortable with. Feel free to adjust your savings amount according to what your budget allows. After all, these ipon challenges are simply a way to train yourself to save.
Also, make sure to put your money in a secure place, whether it's the old-fashioned alkansya or an interest-earning bank account.
Lastly, when you've succeeded in reaching your savings goal by the end of the year, consider putting your savings in investment vehicles that earn higher interests than traditional bank accounts.

Source: [1] The 12-month saving challenge (Tabanag, Rappler, 2015)