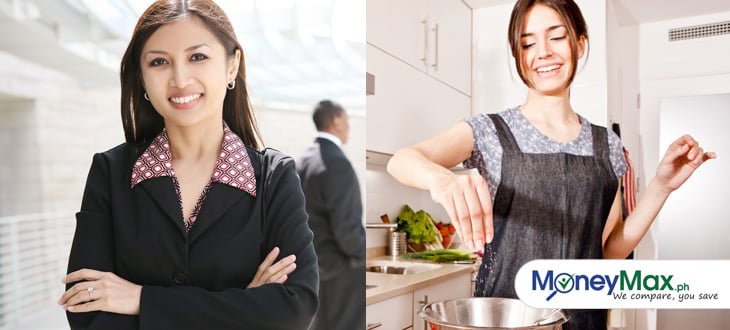 There are different types of mothers in the world. Some may be touchy caring, some may not seem to care more than traditional, and some show their love by working too hard and almost always not around. Nevertheless, every mom is considered amazing in everything she does for her children.
Here are scenarios from the never-ending battle between working moms and stay-at-home moms:
Working Mom
There's an unwritten rule that women today should study hard to land a decent work to earn good money while pursuing a vibrant career; marry a good-looking, well-off man, produce healthy babies, raise them in full potential and above all that, still be awesome in the process. Where's the pressure?
Most of the time, people judge her of self-centeredness – prioritizing her career over personally taking care of the kids. If all things are perfect for a certain woman, she will surely take a vacation from work or even stop working, stay at home and be with her children all the while so she could take better care of them, hands-on - but that's not the case for everyone. Most mothers just need to work for more income channels in the household. Because of that, having a full-time job is much more of a necessity because of financial hurdles and not a choice for most mothers.
Time is the most important and complex part of being a working mom. If she is into the 9-6 kind of job, spending quality time with her kids before and after work is golden. Before sitting in the office desk, she has to make sure that within the quality time are other responsibilities while she is away with her child
Read More: Planning to be a Parent? Here's How Much You Might Spend on Raising a Child
Stay-at-Home Mom
Being at home as a housewife is especially hard if you don't have someone to help you like your mom, an in-law or a maid – all the more if you have more than one kid to look after. Being a mom is full-time job itself without earning as much money when you pursue a career. But above all that is the joy of being a hands-on parent.
One of the downsides of being a stay-at-home mom is that because she does everything at home – from dishes to laundry to cooking and taking care of the kid the whole day. She tends not to enjoy things and sometimes be grumpy about it. Every task has become less enjoyable and routinary and worst, a literal chore to finish. But what these women do all day is vital to their personal and child's identity that doesn't deserve to be trashed.
Even if both parents work, finance-related issues are vital, what more if there's only one income stream - which is usually the husband. The threat of losing his job or any change to his income is crucial and will take a domino-effect.
Read more:Financial Tips for Moms, from Moms: Learn from These Mommy Bloggers in the Philippines
Bottom line
Whether working or staying at home, all moms just want nothing but the best for their child. In the end, what all moms have income is the things they do on how they spend a 24-hour day.
Are you a working mom or a stay-at-home mom? What's your story?
People who read this also liked: Saving Tricks for Housewives