Mothers, indeed, are the masters of multitasking. A day in the life of your average mom can include a little bit of everything: going to the market, helping out on school projects, and balancing the household finances.
Although mothers are in charge of many daily tasks, there are mommy influencers in the Philippines who still find time to share their thoughts and stories so that others can relate to and learn from their experiences. These mommy influencers in the country inspire, challenge, teach, and empathize with Filipino moms.
In this article, we shine the spotlight on the most popular mom bloggers, vloggers, and TikTok and Instagram influencers in the Philippines that you can start following.
Mommy Influencers in the Philippines to Follow in 2023
These remarkable women are making waves online, helping other moms with their practical tips on managing money, households, careers, and more. No matter how busy these mommy bloggers in the Philippines are, they don't forget to treat themselves and explore life outside their roles as moms and homemakers.
Bloggers
👉 Ginger Arboleda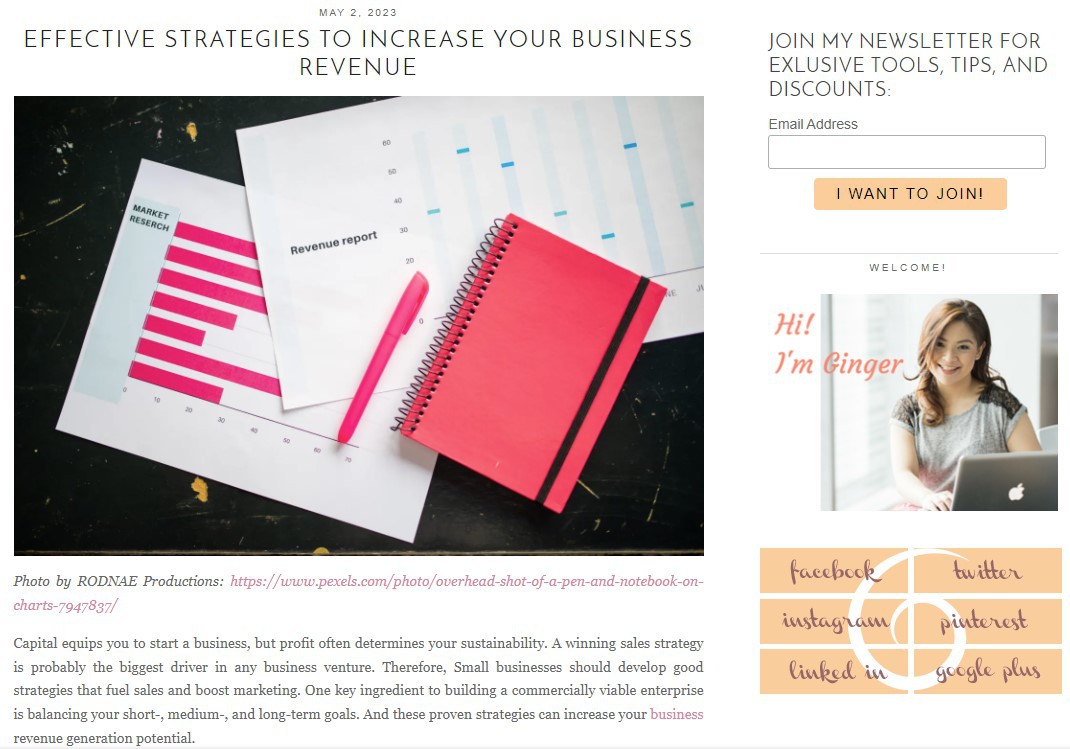 Website: mommyginger.com
Owned and managed by Ginger Arboleda, the co-founder of tech startup Taxumo, Mommy Ginger is a blog about being a mom and entrepreneur. Here, she shares tips on how to become a start-up founder and full-fledged entrepreneur.
In her recent blog posts, Mommy Ginger shares practical business revenue strategies, gentle parenting tips, and even hair and beauty tips for breastfeeding moms. Subscribe to her blog for advice about raising kids, managing a household, and being a successful career momma.
👉 Kaye Figuracion
Website: www.kfiguracion.com
Kaye started blogging with the I Love Keisha blog, later rebranded as K Fguracion. The blog shares Kaye's experiences as a homemaker, wife, and parent. Kaye tells stories about social engagements, foodie expeditions, and her motherhood quests through her mommy blog.
Something you can learn from her blog? Teach your kids about money. Children who learn about money at home will better understand its value, especially the relationship between saving and spending.
👉 Berlin Domingo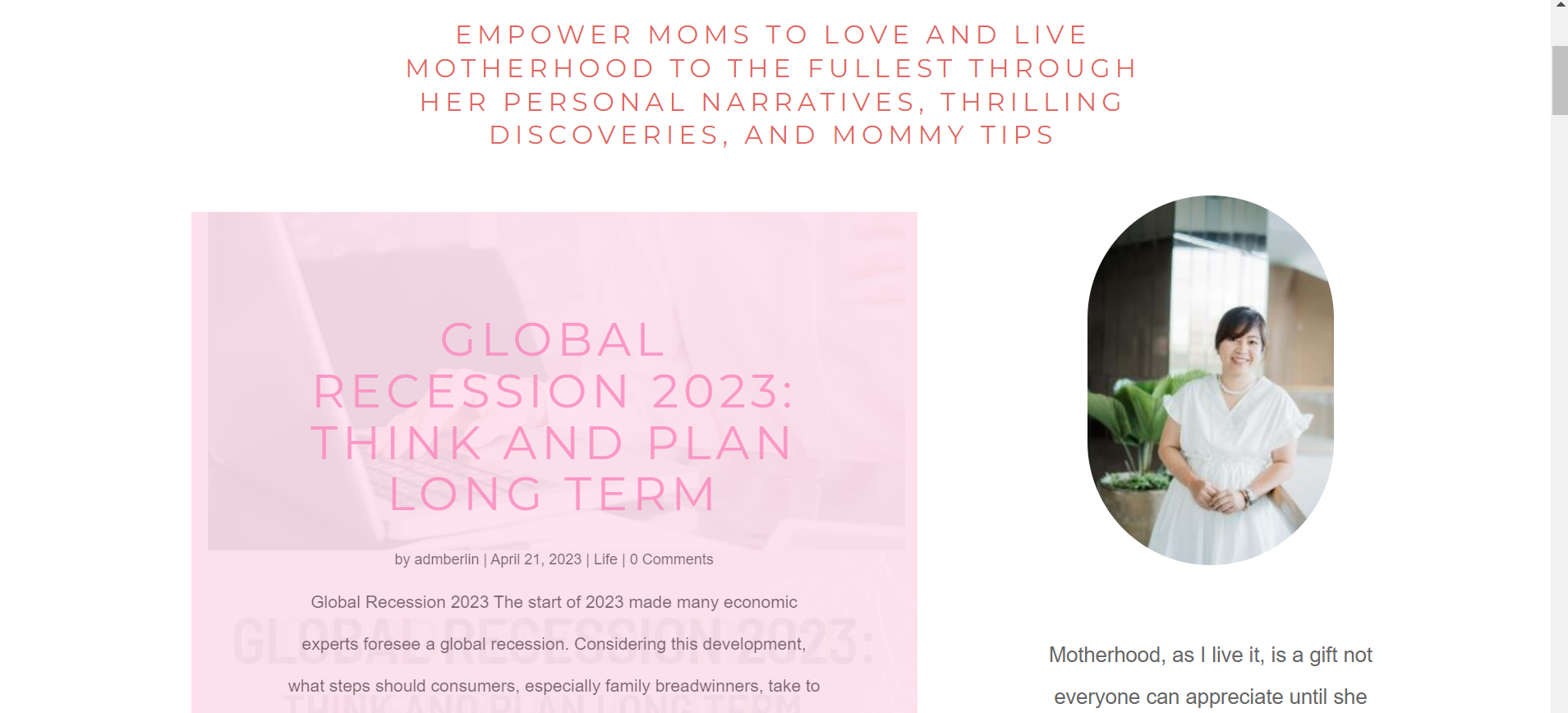 Website: momiberlin.com
Berlin Domingo discovered the blogging space in 2016. She launched Momi Berlin, a blog that seeks to empower mothers to the fullest through her tips, experiences, and stories.
All the articles published on the Momi Berlin blog are categorized into Live, Love, Life, and Like. Live tackles home and health. Love speaks about her kids, while Life highlights Berlin's sweet successes. Likes lists down the mommy blogger's favorites.
👉 Peachy Adarne
Website: www.mommypeach.com
MommyPeach.com is a little corner on the web where Peachy Adarne blogs about her kids, parenting, and her life as a mom and wife. She started her mommy blog because she needed a way to share other aspects of her life.
Check out Mommy Peach's blog for parenting advice, mommy life tips, travel stories, product features, and beauty finds.
👉 Khaye Macalinao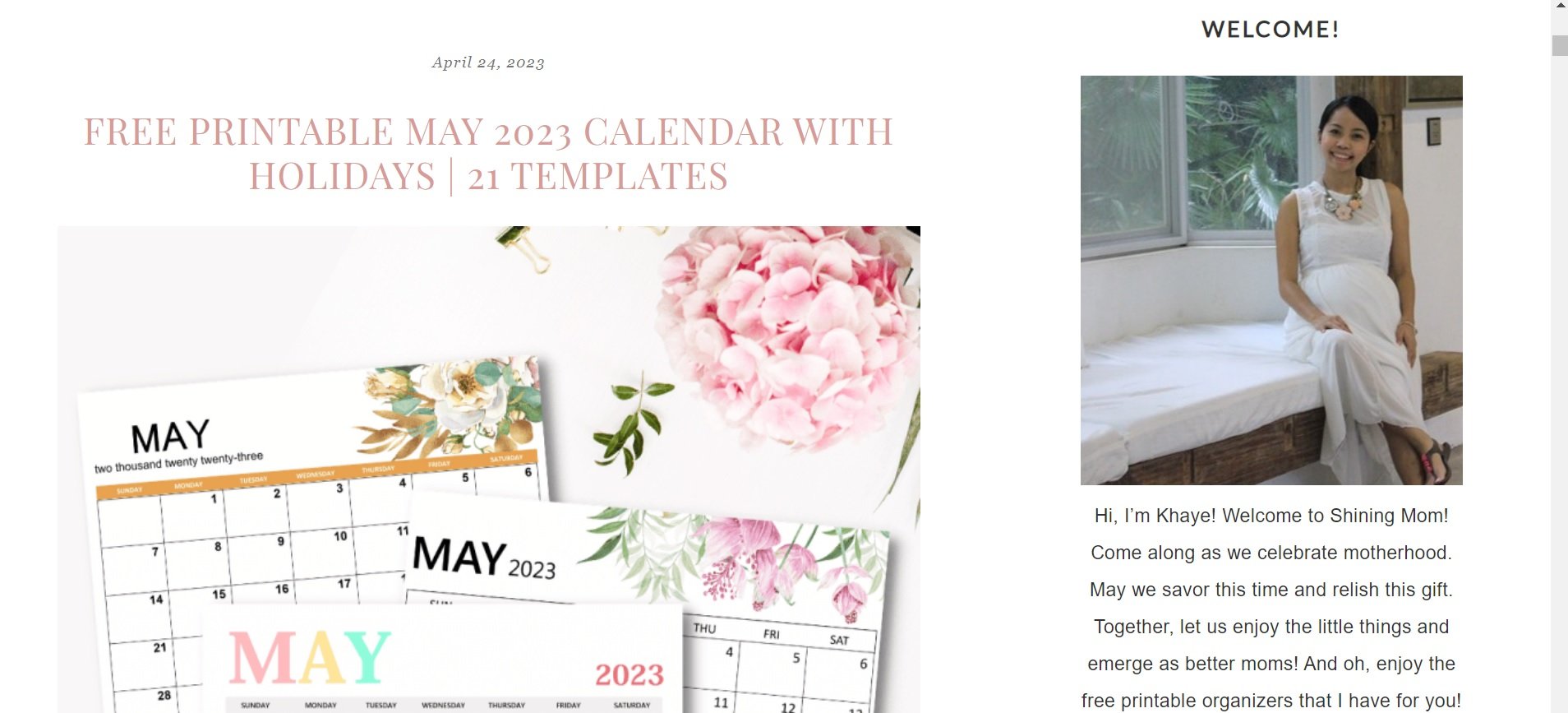 Website: www.shiningmom.com
The Shining Mom blog started after Khaye Macalinao became a mom in 2011. Her stories and inspirations on mothering began to leak from her lips and fingertips when she gave birth to their first baby. Since she wanted to document all those lovely little things, she started the Shining Mom blog.
Now, she shares heartwarming motherhood stories and creative endeavors, such as DIY projects and craft activities for kids. To help families stay organized and keep their budgets on track, she also shares free printables such as budget binders, daily chore charts, meal planners, calendars, and more!
👉 Marie Bulatao
Website: www.mommyunwired.com
Mommy Unwired was launched in August 2012 on a tiny netbook in Marie Bulatao's kitchen. Her goal back then was small: finding and sharing her 'movie moments.'
Her blog is about extraordinary mommy moments and dealing with tantrums and teenage angst. Whenever she writes about the extraordinary in the seemingly ordinary—like those tight hugs from your family—she believes she's seeing all of life's beauty and possibilities and sharing them with the world.
Since Marie is also a CPA, she also dishes out advice on personal finance and taxation. The best lessons you can learn from her blog?
Brewing your coffee at home can help you save around ₱3,000 a month. You don't need to buy every beauty product with rave reviews online. And every time you get your paycheck or any kind of income, record it and set aside at least 10% of it in the bank.
Read more: Best and Worst Places to Put Your Emergency Fund in the Philippines
👉 Maui Flores
Website: www.the24hourmommy.com
Maui Flores believes that moms are forever on call 24/7, even when they have other jobs. Thus the name of the site.
For stories and tips about parenting, marriage, family, personal finance, and even home and gardening, just head to Maui's blog.
👉 Mommy Fleur
Website: mommyfleur.com
Mommy Fleur's blog started in 2010 and is all about her adventures as a wife, first-time mother, career woman, and shopaholic. It reflects the thoughts and concerns of a first-time mom balancing her career with her domestic responsibilities.
In her blog posts in the past year, Mommy Fleur also started sharing more about her healing journey and overcoming the challenges of anxiety and depression one day at a time, in the hopes of helping other women going through the same thing.
👉 Louise Fandino
Website: www.mommypracticality.com
Louise Fandino started formally blogging under Mommy Practicality in July 2012. Little by little, her humble online home accumulated life stories that others found helpful and valuable. It grew steadily through the support of her family, friends, and followers.
When asked why she started blogging, she said, "I'm a mom and a practical one (hence, the name Mommy Practicality). I love inspiring and helping other people. I want to give back to the Lord. I want to be a source of both inspiration and information."
Some important things you can learn from her blog? Monetize your passion, invest your earnings, and always remember to give back.
👉 Levy Martinez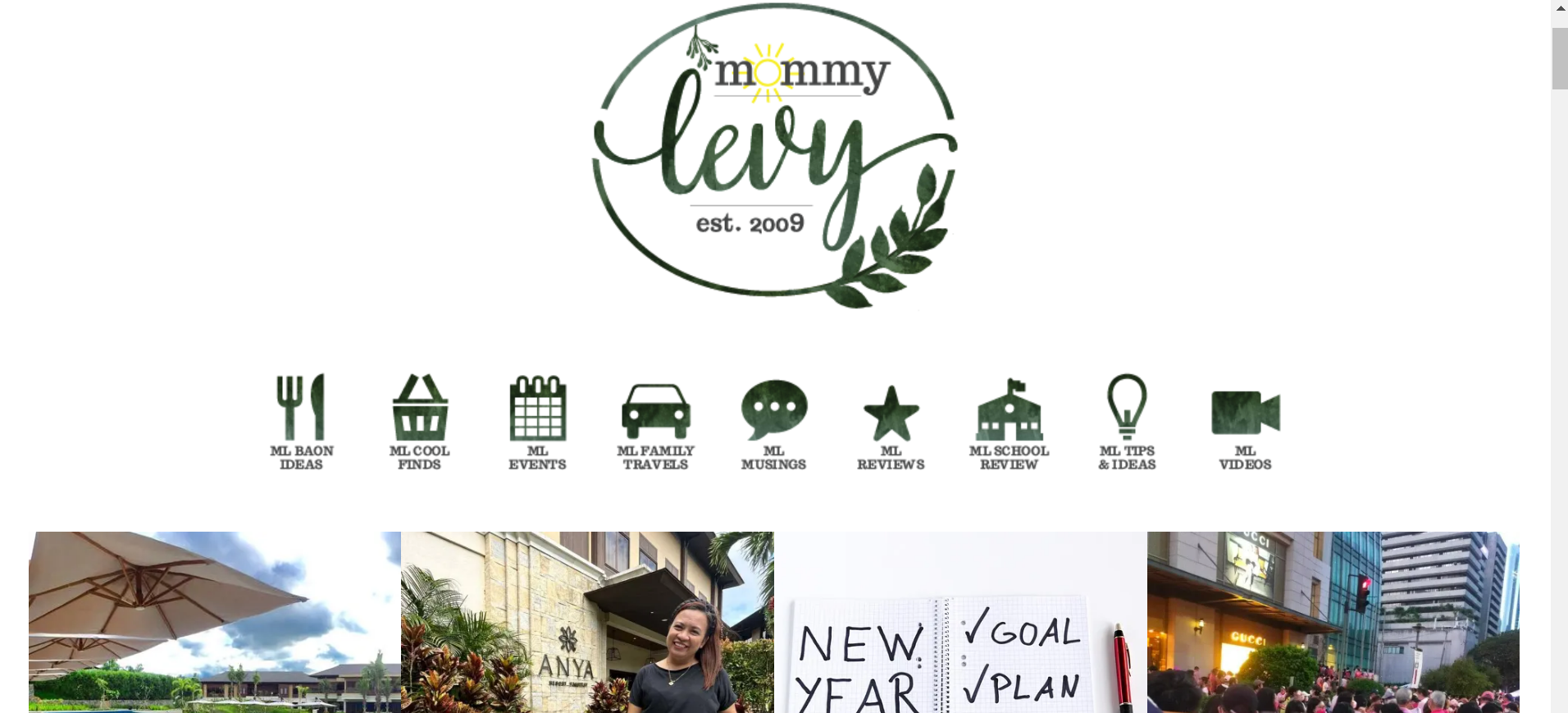 Website: mommylevy.com
Levy Martinez's blog began in 2009 when she decided to be a stay-at-home mom because it was hard to hire a yaya that she could trust. She blogged to share her life as a homemaker and interact with other moms. Over the years, Mommy Levy focused on writing about parenting, kids, and home and living.
If you're a mom, you'll enjoy reading about Mommy Levi's experiences as a creative and practical mom.
👉 Kimberley Reyes
Website: momonduty.com
Mom on Duty started in 2008 as a travel blog through which Kimberley Reyes documented her trips around the Philippines and abroad. When she married and became a mom, she started writing about her trips with her family.
Once in a while, she also shares stories about being a wife of a fire officer and as a mompreneur running her virtual assistant agency.
Related reading: Meet Your Money Gurus: 22 Financial Influencers to Follow in 2023

Vloggers
👉 Toni Gonzaga
YouTube: @ToniGonzagaStudio
Subscribers: 6.63 million
Before foraying into the world of YouTube, Toni Gonzaga was an actress, singer, and host. Now, she also has an online show where she talks to people from all walks of life.
Mommy Toni's vlogs are a "safe space where all stories are valid and heard." Aside from speaking with moms and other women with meaningful or inspiring stories, Toni shares her thoughts about life, love, faith, and even about what's happening in her personal life.
👉 Kryz Uy
YouTube: @kryzzzie
Subscribers: 1.33 million
Content creator Krystle Gail Uy, more popularly known as Kryz, started as a blogger in 2009 and wrote fashion and personal stories. In the same year, Kryz launched her YouTube channel[2] to share honest advice with other women like a best friend, older sister, or mentor would.
Fast forward to 2023, and Kryz is now wife to Slater Young, engineer and entrepreneur, and mom to two young boys—Scottie, two, and Sevi, who will turn one this May.
With over a million subscribers, she's also among the most famous mommy vloggers in the Philippines. Check out her vlogs to catch a peek at her life as a working mom, get a tip or two on how she raises her kids, and virtually hang out at their beautiful house, which they call the Skypod.
👉 Candy Pangilinan
YouTube: @candivalacious
Subscribers: 1.28 million
Actress and comedienne Candy Pangilinan has long been active on both the big and small screen. She also makes this list of mom YouTubers to follow this 2023.
She can crack you up with her quips and sense of humor in her vlogs. But more importantly, she also inspires and teaches valuable lessons with her stories and day-to-day experiences as a mom to a child with ADHD. Thanks to mom Candy and Quentin, this YouTube channel[3] overflows with positive vibes.
👉 Andi Manzano

YouTube: @andimanzano
Subscribers: 150,000
As one of the many mom influencers on YouTube, Andi Manzano certainly has her hands full. Apart from being a host, radio DJ, entrepreneur, and content creator, Andi is a hands-on mom to her two young daughters, Olivia and Amelia. And as of writing, this mommy Youtuber is only a few days away from giving birth to her third daughter.
You'll also enjoy watching Andi as a wife, big sister to her four siblings, daughter, and daughter-in-law. She loves to share their family's big and small moments on her YouTube channel,[4] and you'll be inspired by her gentle parenting and strong faith.
👉 Mommy Haidee
YouTube: @Mommyhaideevlogs
Subscribers: 709,000
Are you looking for more relatable Filipino mommy vloggers? Check out Mommy Haidee Vlogs,[5] which features the mom-and-daughter team of Haidee and Hazel.
Haidee is the cool mom/best friend to her straight-As daughter. Their stories and adventures thoroughly entertain their followers, whether they're traveling to a foreign country, doing a shopping haul, enjoying a meal, or pranking each other.
Mommy Haidee's vlogs are proof that you can be your child's best friend and that a mother-child relationship need not be so serious all the time.
TikTok Influencers
👉 Mommy Diaries
TikTok: @mommydiariesph
Followers: 381,600
Ciara Magallanes is one of the many mom influencers on TikTok who will educate and entertain you. As a wife and mother of two, she effortlessly dishes out practical life and parenting advice. You can also learn much about homeschooling, breastfeeding, and caring for infants and toddlers.
Ciara believes that to raise happy and healthy children, you must discipline them with intention. She's also big on sharing meaningful talks with her kids and listening to their feelings. Comment on her TikToks if you have a question―she's always happy to answer!
👉 Mommy Bilbil Vlogs
TikTok: mommybilbilvlogsfbpage
Followers: 195,900
Donna Anches is the woman behind Mommy Bilbil Vlogs on Tiktok.[6] She's one of the mom TikTok influencers in the Philippines who uploads mini vlogs about her life as a wife to a police officer and a mom to a young daughter. She's also one of the popular mom influencers on Facebook, as she reposts her TikToks there.
Her TikTok following grew because of her simple but relatable day-to-day vlogs with humorous voiceovers, which usually feature their life in Baguio with her little family and supportive community.
Instagram Influencers
👉 Joy Mendoza
Instagram: @joytmendoza
Followers: 100,000
Joy Mendoza makes everything look easy. She's a blogger, author, host, content creator, wife, and mom. But as you'll learn from what she shares on Instagram, her life isn't perfect. Still, she's one of the Instagram mommy influencers you must follow in 2023.
Be inspired by her failures and triumphs, and discover God's grace in her journey through parenthood, married life, and ministry. You can also learn about her children's homeschooling experience if this is something you're considering for your kids.
👉 Celine Cornejo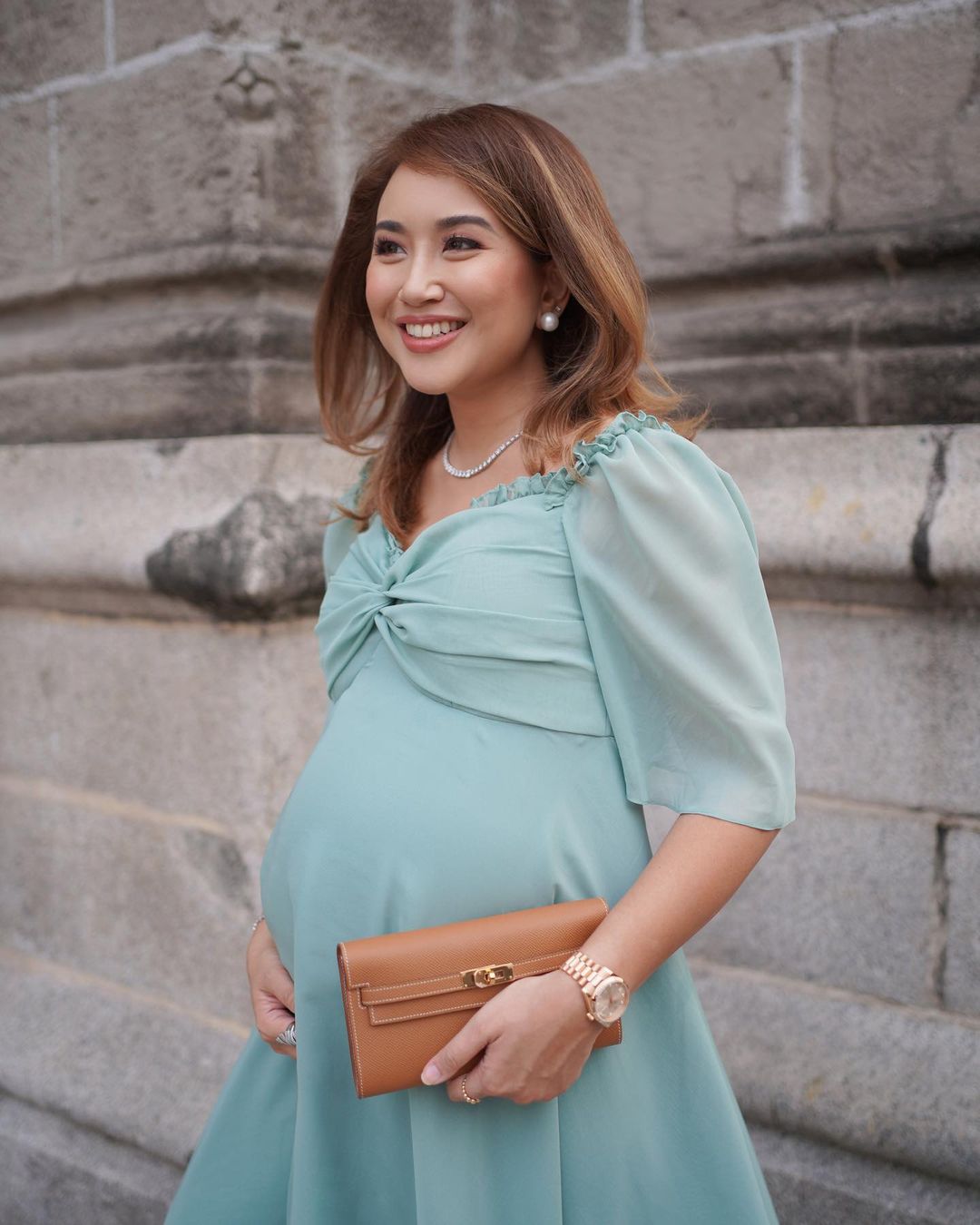 Instagram: @teachercelineph
Followers: 68,700
Another mommy influencer in the Philippines that's worth the follow is Celine Cornejo. She wears many hats, and she wears them well: wife, mom, kiddie party host, commercial and print ad model, and preschool teacher.
She uses her Instagram platform to connect with parents and share parenting tips and learn-by-playing techniques for kids. Her content will spark ideas on making learning fun for your kids and how you can be the parents your kids love.
Final Thoughts
Social media has opened many opportunities for everyone to share and learn. Mommy online personalities have been gradually growing in number, proving that sharing life experiences and unique stories can help you get through your struggles and be the best version of yourself.
So check out these blogs and TikTok, YouTube, and Instagram accounts to find an ally or a kindred spirit in these mommy influencers in the Philippines!

Sources: