Mothers truly are the masters of multitasking. A day in the life of your average mom can include a little bit of everything: going to the market, helping out on school projects, balancing the household finances, you name it.
Although mothers are in-charge of a multitude of daily tasks at home and at work, there are mommy bloggers in the Philippines who still find time to share their thoughts and stories, so others can relate and learn from their experiences.
With millions of bloggers in the country, it's good to know that mommy blogs in the Philippines inspire, challenge, teach, and empathize with Filipino moms.
Today, we shine the spotlight on very special women making waves online. They help out other moms by sharing some practical tips for managing a household. Learn the secrets of top mommy bloggers in the Philippines on how to master parenting and budgeting without breaking the bank!
Top Budget-Savvy Mommy Bloggers in the Philippines
Denise Rayala of Royal Domesticity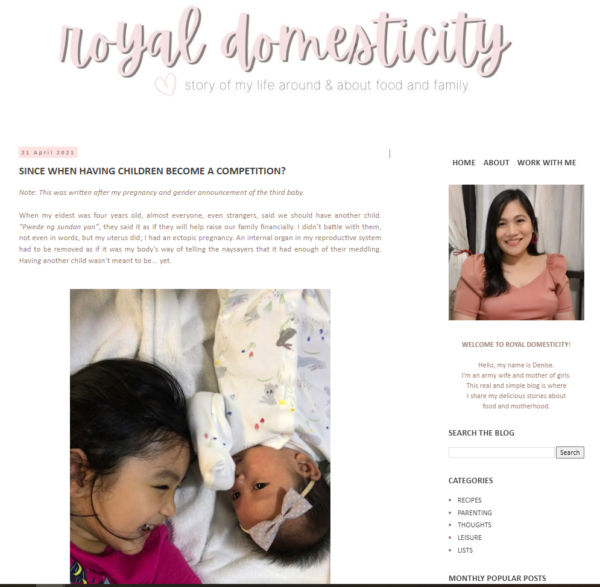 Denise Rayala started Royal Domesticity[1] to share her experiences on everything about her delightful and simple family life. Her mommy blog has become a full-grown virtual version of her family life, as Denise talks about their daughter Sophia—the heart and soul of her blogging. Sometimes, Denise also shares her experiences as a wife to a Philippine Army officer.
Best Lesson from This Blog: Be Grateful for What You Have
Each year, Denise chooses a word to represent her life in a year, and one of those words that stood out in 2019 is gratitude. For Denise, being contented with what you have is the secret to happiness, especially in this day and age of "show-cial media" when people showcase their expensive possessions on Facebook and Instagram.
Related articles:
Gracie of Tipid Mommy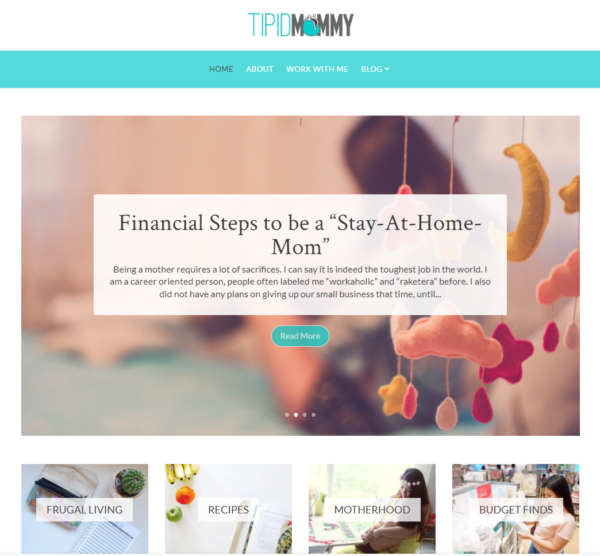 Tipid Mommy[2] aims to inspire women, especially mothers to live a joyful life within their budget. Gracie of Tipid Mommy is one of mommy bloggers in the Philippine who advocate for frugal living and simplicity. She started blogging to share her good and bad experiences with money management and the lessons she learned from them. One of her ultimate life dreams is financial freedom.
Best Lesson from This Blog: Control Your Money and Don't Let It Control You
For years, Gracie and her husband have taken control of their finances after the lessons they learned from wrong business decisions, losing their savings, and getting into debt.
Tipid Mommy is Gracie's platform to share her financial progress, failures, and real stories while inspiring mothers to live within their means, make practical choices, and inspire parents to be a good example of stewardship at home.
Ginger Arboleda of Mommy Ginger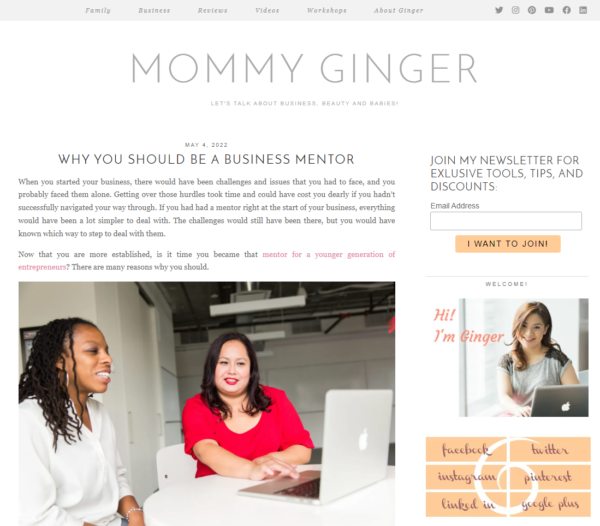 Mommy Ginger[3] is a blog about being a mom and entrepreneur. Owned and managed by Ginger or Ginji, Mommy Ginger shares tips on how to be a start-up founder and full-fledged entrepreneur. Ginger co-founded Taxumo, a tech startup that spurs economic growth and helps MSMEs, freelancers, and professionals to handle tax compliance more easily.
Best Lesson from This Blog: Never Compare Your Life with Others
In one of her blogs, Mommy Ginger shares how she looks through social networking sites and discovers how others own the newest iPhone models or have a huge stock portfolio. According to her, it's tempting to compare yourself to others and ask when it's going to be your turn to have such luxuries.
Mommy Ginger says our lives are different. She writes that whenever she gets tempted to buy something, she asks herself: "Will this be something that she really needs in her life? If you stress yourself out on the journey getting there, is it really worth it?"
Kaye Figuracion of KFiguracion.com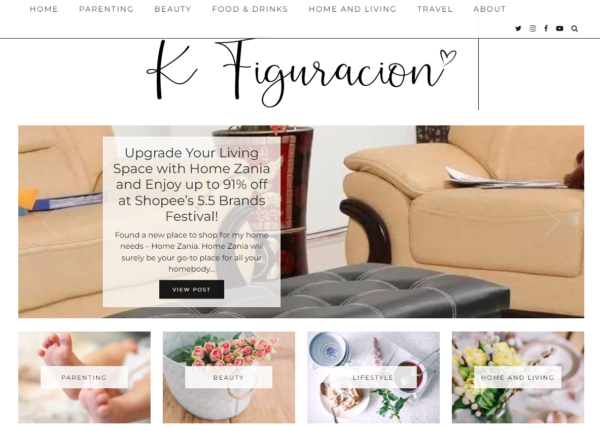 Kaye started blogging with the I Love Keisha blog, which was later rebranded as K Fguracion.[4] The blog shares Kaye's experiences as a homemaker, wife, and parent. From product reviews to shopping adventures, Kaye tells stories about social engagements, foodie expeditions, and her entire motherhood quests through her mommy blog.
Best Lesson from This Blog: Teach Your Kids About Money
For Kaye, money is a tricky topic that parents should teach their kids. Children who learn about money at home will have an understanding of its value, especially the relationship between saving and spending.
Kaye says parents should lead by example. Seeing parents splurge on a new gadget won't help kids understand the value of hard-earned money.
Berlin Domingo of Momi Berlin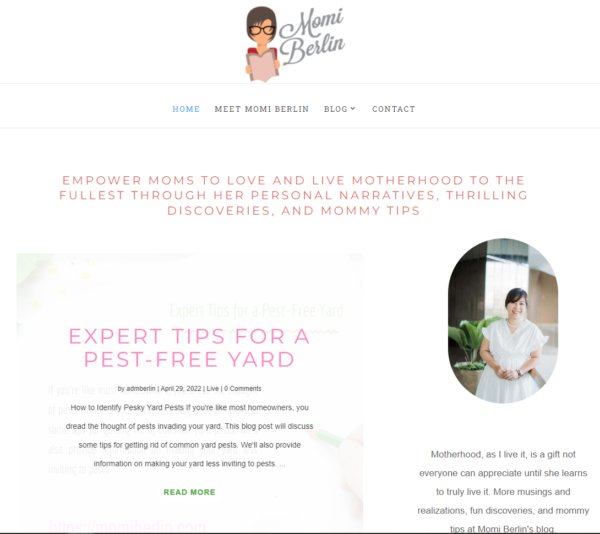 Berlin Domingo discovered the blogging space in 2016. She launched Momi Berlin,[5] a blog that seeks to empower mothers to the fullest through Berlin's tips, experiences, and stories.
All the articles published on the Momi Berlin blog are categorized into Live, Love, Life, Like, and Link. Love speaks about her kids, Life highlights Berlin's sweet success, Live tackles home and health, and Likes lists down the mommy blogger's favorites.
Best Lesson from This Blog: Turn Your Passion Into Profit
Momi Berlin writes that creating a profit from our passion doesn't need to be just one thing. We can actually combine different interests to come up with a unique business idea.
Peachy Adarne of Mommy Peach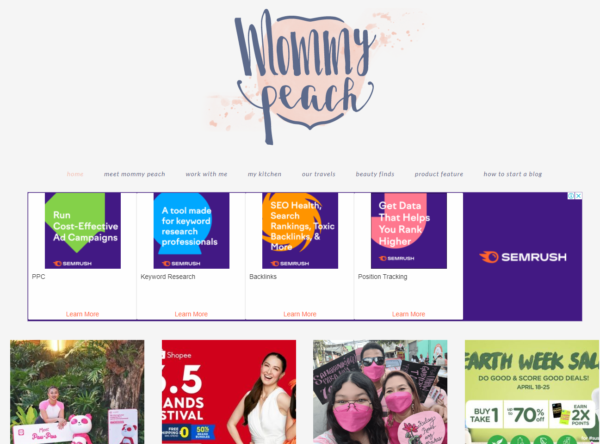 MommyPeach.com[6] is a little corner on the web where Peachy Adarne blogs about her kids, parenting, and her life as a mom and wife. She already has a food blog, but she started her mommy blog because she figured she needed another blog where she can share other aspects of her life as well.
Best Lesson from This Blog: Control Your Spending on Food
Mommy Peach thinks people these days are so used to eating out and buying take-out food (even coffee!). For her, learning to cook at home and bringing lunch to school or work will save you a lot of money because preparing meals at home is cheaper. It's healthier, too, because you know what goes into your food.
Khaye Macalinao of Shining Mom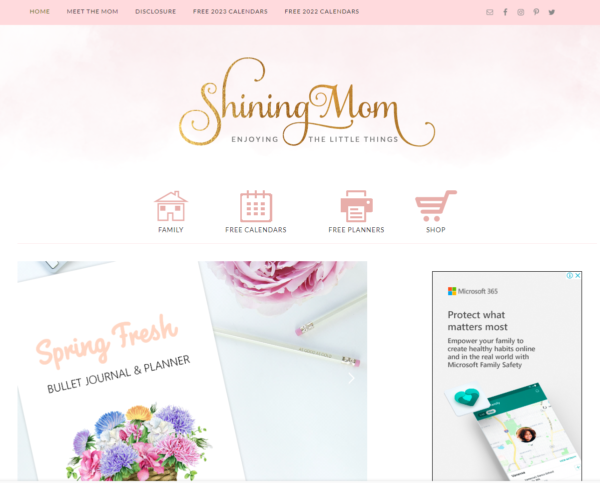 The Shining Mom blog[7] started shortly after Khaye Macalinao became a mom in 2011. Her stories and inspirations on mothering started to leak from her lips and fingertips ever since she gave birth to their first baby. Since she wanted to document all those lovely little things, she started the Shining Mom blog.
Over the years, the mom blog has somehow evolved. Now, she shares not only heartwarming motherhood stories but also other creative things, such as DIY projects and craft activities for kids. To help families stay organized and to keep their budgets on track, she also shares free printables such as budget binders, daily chore charts, meal planners, and more!
Best Lesson from This Blog: Breastfeed Your Baby
Breastfeeding is still the best for babies. Don't spend thousands on formula milk! Those with babies at home should start breastfeeding and let them enjoy all the health benefits of breastmilk!
Read more:

Marie Bulatao of Mommy Unwired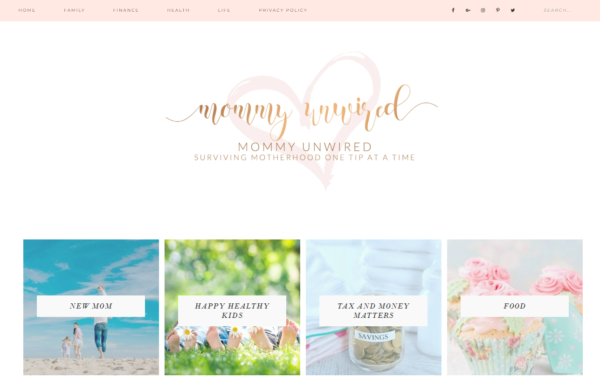 Mommy Unwired[8] is about awesome mommy moments as Marie Bulatao deals with tantrums, wonderful moments, and teenage angst. Since she is a CPA, she has also been dishing out advice on personal finance and taxation.
Mommy Unwired was launched on August 4, 2012, on a tiny netbook on Marie's kitchen table (yes, while she's cooking dinner for her family). Her goal back then was pretty small and still is today: to find and share my movie moments."
While it's true that unlike in the movies, sparks don't fly every 5 minutes and life-changing epiphanies don't happen all the time, she still believes that magical moments happen to us and all around us all the time.
Every time she writes about the extraordinary in the seemingly ordinary—like those tight hugs from your family—she believes that she's seeing all of life's beauty and possibilities and sharing it with the world.
Best Lesson from This Blog: Make a Budget and Stick to It
Most moms make a budget, but they fail to stick to it. Write everything down! Make a list of all your cash outflows and inflows. Every time you get your paycheck or any kind of income, record it and set aside at least 10% of it in the bank. Every time you spend your money, including swiping your credit card, you record it. Then, review everything at the end of the week.
You'll discover that if you just cut on your daily Starbucks fix and brew coffee at home (or maybe you have a free one in the office), you would've saved around ₱3,000 a month. If you're used to your taxi or Grab rides, discover routes where you'll pay less.
Cut on your beauty addictions, too. One BB or CC cream can last for over two months. You don't need to buy every beauty product with rave reviews on the internet.
Buy your veggies and meat at the market. They're fresher and cheaper than the groceries. Knowing all the sources and uses of your money will go a long way toward making a budget plan that you'll stick to.
Maui Flores of The 24-Hour Mommy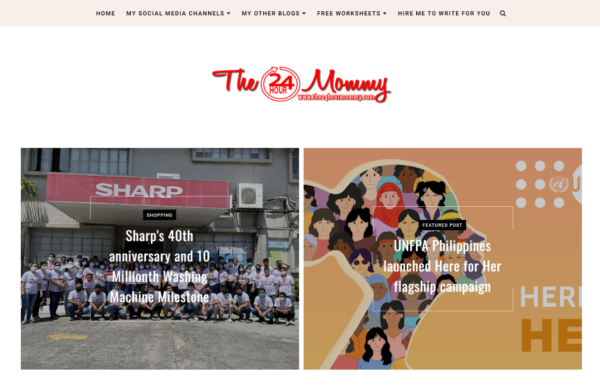 The 24HourMommy.com[9] started in 2008, as Maui Flores felt the need to migrate her parenting-related write-ups to a separate blog. She believes that moms are forever on call 24/7, even when they have other jobs. Thus the name of the site.
Best Lesson from this Blog: Prioritize Your Needs
Maui and her husband live by the principle of sticking only to what you need. The wants can wait for a windfall, and they should be really justified. Monthly combined income is divided into the following: 10% church tithes, 20% savings and investments, and 70% monthly expenses.
Mommy Fleur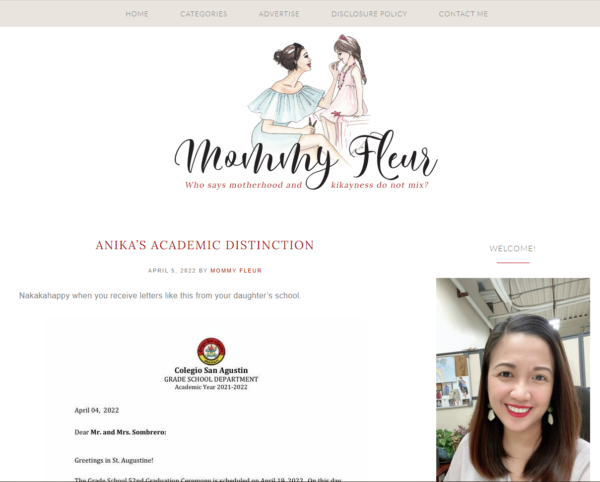 Mommy Fleur's blog[10] started when she was ordered to bed rest for the remaining four months of her pregnancy in 2010. Her mom blog is all about her adventures as a wife, first-time mother, career woman, and shopaholic. It reflects the thoughts and concerns of a first-time mom who's balancing her career with her domestic responsibilities.
Best Lesson from This Blog: Invest in Your Kids' Education
If there's one thing that Mommy Fleur has no second thoughts on spending on, it's her daughter's education. Don't scrimp on your child's education. Send them to the best school that you can afford.
See also: Planning to be a Parent? Here's How Much You Might Spend on Raising a Child
Louise Fandino of Mommy Practicality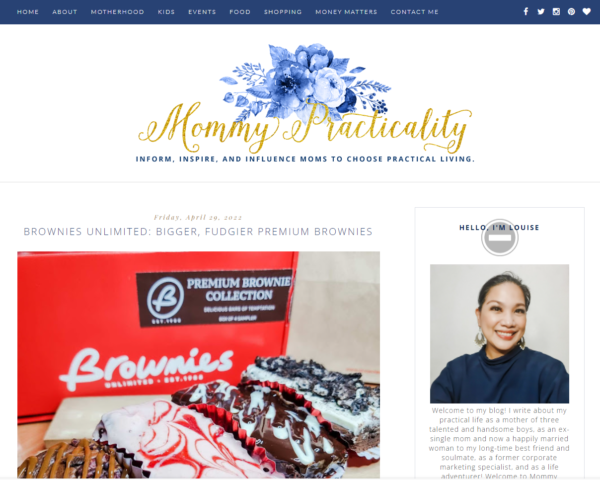 Louise Fandino started formally blogging under Mommy Practicality[11] in July 2012. But long before that (like elementary days), she always loved writing poems and life events in a journal.
Before starting and picking the blog's name, she prayed hard for it. She also asked herself these questions: "Who am I really? What do I stand for? What is my mission for blogging?"
Her answers: "I'm a mom and a practical one (hence, the name Mommy Practicality). I love inspiring and helping other people. I want to give back to the Lord. I want to be a source of both inspiration and information."
Little by little, her humble online home accumulated writings of her life stories that other people found useful and valuable. She is happy about how it has grown steadily through the support of her family, friends, and followers.
Best Lesson from This Blog: Never Forget to Give Back
"Monetize your passion, invest your earnings, and never forget to give back."
Louise always tells that to family and friends. It's not enough that one has an 8-5 job and gets paid semi-monthly, (unless you're the CEO or a key-level executive), especially if you have kids to feed and send to school.
You still have to work on making the family's budget work for you. How? By looking for other revenue streams. The best way to do that is to do what you love and get paid for it.
Look into your inner strengths, interests, expertise, talents, and passion. What is it that you love doing? Offer that product or service to others and monetize it. When you achieve that point when you have extra income, don't elevate your lifestyle, save and invest. Make your money grow.
Louise invested in mutual funds. She also pulled out her children's trust funds and invested them, got herself a Variable Life Insurance, a memorial, and a burial plan (it's an investment too!). She maintains an emergency fund in a savings account. She also makes sure to set aside a charity fund for family or friends who may need help from her someday.
When you have additional earnings, always remember to give back to others in need as a way of giving thanks to the Lord who's been blessing you with everything you have.
Levy Martinez of Mommy Levy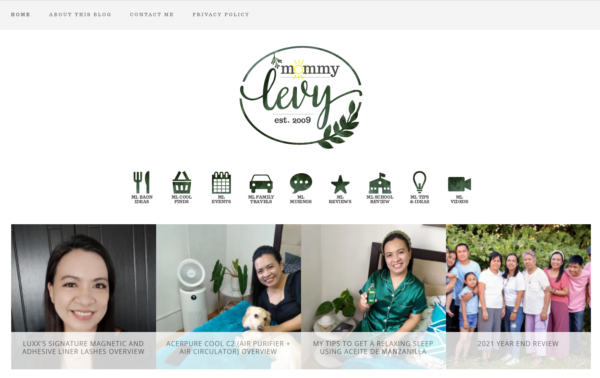 Levy Martinez's blog[12] began in 2009 with the title: "Living Life to the Fullest." She started it when she decided to be a stay-at-home mom to take care of her son because she found it hard to look for a yaya that she can trust.
She found blogging to be her online diary to tell the story of what's happening in her life as a homemaker. She just wants to interact and share her experience with other moms out there.
In 2013, she decided to change her name to Mommy Levy and focus on writing articles about parenting, kids, and home and living.
Best Lesson from This Blog: Be Creative and Practical
Mommy Levy wants to be remembered as a practical mom. Based on her experience, she learned that not all branded items have better quality and not all affordable items easily break. You just need to look around.
Levy also wants moms out there to learn how to DIY to save some money, especially in creating kids' costumes at school. She finds it a waste of money buying a costume for one-time use only. There are a lot of ideas on Pinterest that you can do easily. You just need to be creative.
Kimberley Reyes of Mom on Duty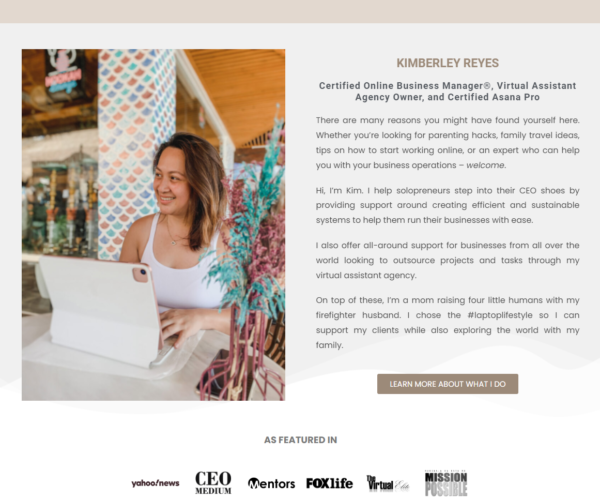 Mom on Duty[13] was originally "Coffee With Kim." It started in 2008 as a travel blog documenting her trips around the Philippines and eventually abroad. When Kimberley Reyes got married and became a mom, she decided to rebrand it to Mom on Duty. She still writes about her travels in Mom on Duty. This time, though, these are about trips with her family. Stories about being a wife of a fire officer and a mompreneur are also shared.
Best Lesson from This Blog: Budgeting Works Wonders
"Create a budget and stick to it." It's simple advice, but it works wonders!
Pehpot Pineda of Mommy Pehpot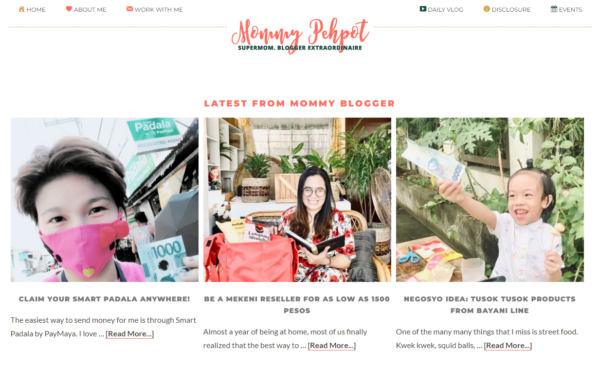 Pehpot Pineda started her blog[14] in 2008 out of the need to earn extra. She was staying at home even before she got married, so she never really had the chance to go outside and find a real job.
The blog was conceptualized to earn from Google AdSense and from sponsored posts. She did earn a few cents from her blog, but she realized that being able to reach out to other moms and fellow Filipinos is far more rewarding.
Her blog now provides tips and some tutorials for newbie mommy bloggers in the Philippines. There are also guides and notes on parenting, schooling, and some family matters. What she enjoys the most, though, is writing about topics that are informative and helpful to moms like her.
Best Lesson from This Blog: Plan Your Household Expenses
As a mother of four, Pehpot has learned that the best weapon when it comes to budgeting is planning. You have to plan everything that involves money. Make a list and stick with it.
She spends time planning. In fact, when you see her planner, you'd think she's a Math teacher because of too many numbers scribbled on it. Days before payday, she's already planning her family expenses. She writes down everything and makes sure that everything is accounted for. Planning really helps her keep up with their expenses.
Final Thoughts
Social media has opened a lot of opportunities for everyone to share and learn. Mommy bloggers in the Philippines have been gradually growing in number, proving that sharing life experiences and unique stories can help you get through your own struggles and be the best versions of yourself. Check out these mom blogs and find an ally in mommy influencers in the Philippines.

Sources: