Are you planning to add "becoming a business owner" to your list of accomplishments this year? If you're already an entrepreneur, are you ready to grow your business by becoming a franchisee?
If yes, check out these upcoming trade shows and franchise expos in the Philippines this 2023 and beyond. They offer an excellent opportunity for anyone looking for potential franchise businesses, suppliers, and service providers. Joining these business events allows you to learn about effectively managing your business and increasing productivity and profit.
What is a Business Expo?
A business expo is a small or large-scale event where companies in a specific industry come together to demonstrate or showcase their product offerings or services. Also called expositions, trade shows, or trade fairs, business expos allow companies to promote new business developments as well.
Business expos are often held at hotels, convention centers, or anywhere that can accommodate a big crowd in a professional setting. In a business expo, you'll often see many exhibitor booths set up by participating companies and businesses. This makes it a suitable location for partnering with other companies, welcoming visitors, finding new customers and clients, and making new business connections.
You can also attend online business expos where you can join webinars, live classes or demonstrations, and question-and-answer panels.
6 Trade Shows and Franchise Expos in the Philippines

for 2023
Gear up for these franchise events and trade fairs in the Philippines in the next few weeks. All the information you need is listed below.
📌 Iloilo Foods and Beverage Exposition

Date: July 13 to 16, 2023
Location: Iloilo Convention Center
Entrance fee: Free
Be part of the first-ever Iloilo Foods and Beverage Exposition this July. Champion the region's best and most innovative F&B products to the rest of the Philippines and the world.
Organized by Worldbex Services International, the Iloilo Foods and Beverages Expo (IFBEX)[1] is patterned after the iconic business events in the Philippines in 2022 and the previous years, like the Manila Foods and Beverages Expo (MAFBEX) and Cebu Food and Beverages Expo (CEFBEX).
If you're planning to enter the F&B business or want to network with top-notch exhibitors and industry players, don't miss one of the biggest food franchise expos in the Philippines this 2023!
📌

World Food Expo 2023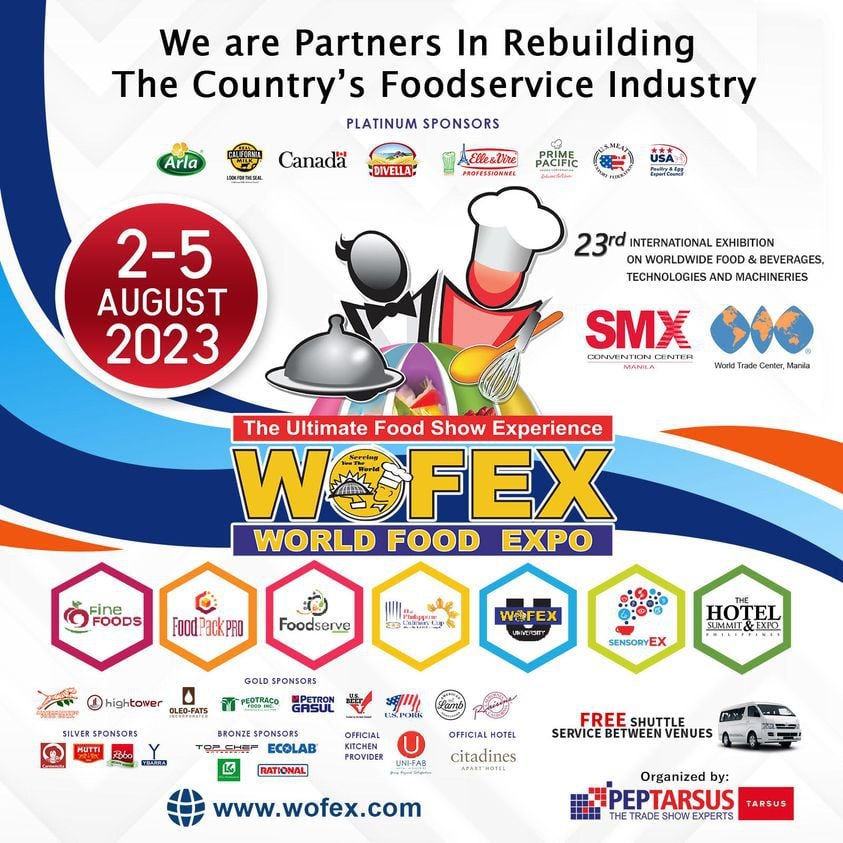 Date: August 2 to 5, 2023
Location: World Trade Center and SMX Convention Center
Entrance fee: ₱200
The World Food Expo has been around for decades. 2023 marks its 23rd year of holding one of the biggest and most awaited F&B expos and trade shows.
The 2023 World Food Expo,[2] happening on August 2 to 5, will be held simultaneously at the World Trade Center and the SMX Convention Center. Aside from live demos and talks about trade prospects beneficial to buyers and sellers, you can sign up for various seminars through WOFEX University.[3]
Learn more about the basics of restaurant operations, such as food costing. Explore how to effectively manage food waste for your food establishment's sustainable development goals. Elevate your brand and grow your business by learning about branding strategies, techniques, and best practices.
For budding bakers or anyone who just wants to learn how to set up a desserts business, WOFEX University will also offer hands-on workshops on specialty bread and desserts, creative mini desserts in a glass, and quick chocolate desserts. Workshop fees range from ₱560 to ₱2,500.
See also:
📌 Hotel & Foodservice Suppliers Show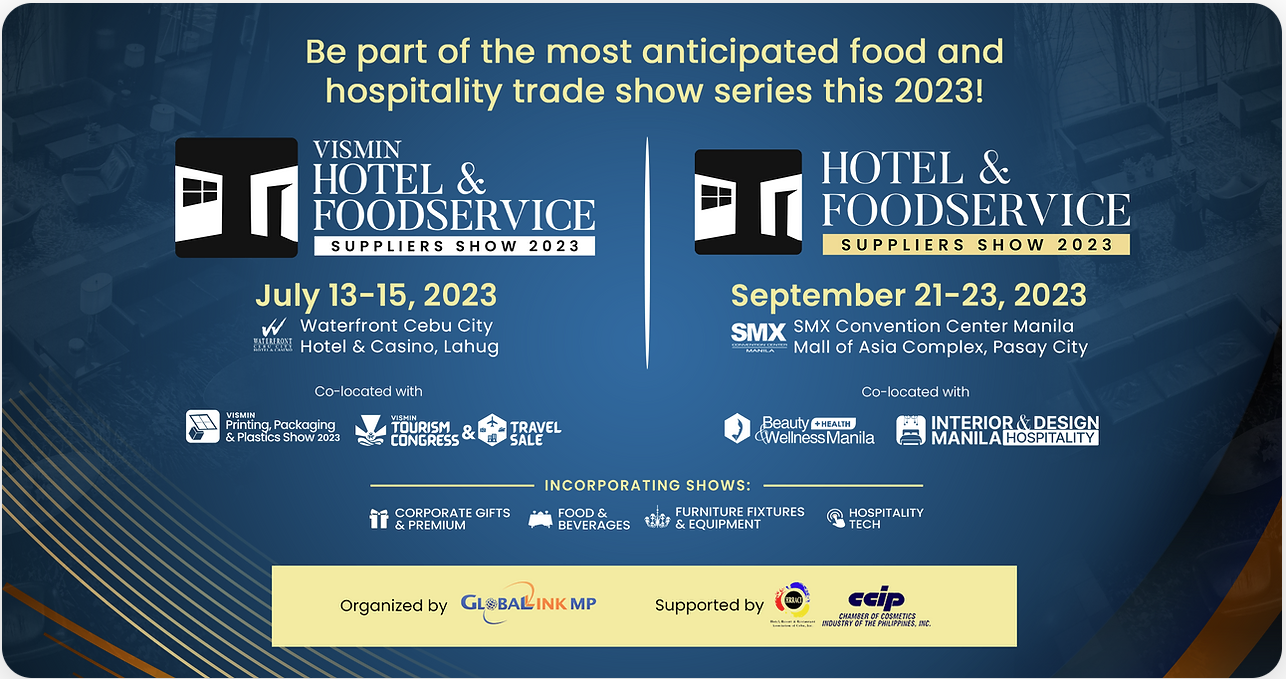 Date: September 21 to 23, 2023

Location: SMX Convention Center

Entrance fee: To be announced
With over 3,500 sqm of exhibition space, over 200 exhibitors, and an estimated 10,000 visitors, the Hotel & Foodservice Suppliers Show[4] is another trade show you shouldn't miss.
Formerly the Hotel Suppliers Show, it has been one of the most prestigious sourcing events in the Philippines for restaurants, hotels, resorts, and leisure establishments since 2010.
Grab this chance to network with industry experts, leaders, and decision-makers. Learn the latest trends and innovations and discover new products and services so you can get an edge over your competitors.
If you're planning to become an exhibitor, take advantage of the best platform to form new connections and partnerships in the food service and hospitality industries. More importantly, promote your product and services to the right audience.
📌 International Franchise Expo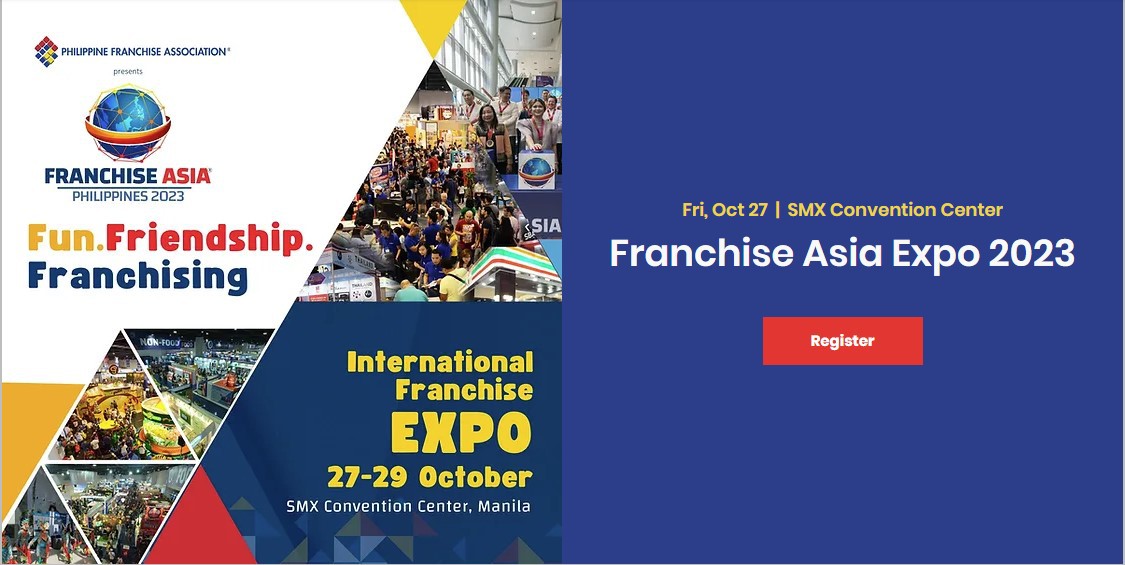 Date: October 27 to 29, 2023
Location: SMX Convention Center, Pasay City
Entrance fee: Free
Are you ready to take your franchise business to the next level, or are you planning to franchise your business? Clear your calendar and make your way to the SMX Convention Center this October 27 to 29, 2023, for the International Franchise Expo.[5]
This SMX franchise expo in 2023 is a one-stop shop for over 500 local and international food, retail, and service brands. Grab the opportunity to meet with top growth partners and suppliers and explore various franchise opportunities at different investment levels.
There will also be seminars and learning sessions for prospective franchisees and aspiring franchisors. So don't miss this 2023 international franchise expo in the Philippines this coming October!
Related articles:
📌Cake Fiesta Manila 2023

Date: November 16 to 19, 2023

Location: SMX Convention Center

Entrance fee: Starts at ₱200
A wise person once said, "Life is too short to say no to cake." It would certainly be unwise to miss the first international cake show in the Philippines!
If you're an aspiring baker or cake designer, Cake Fiesta Manila is happening on November 16 to 19, 2023, at the SMX Convention Center.[6] Top cake artists from around the world will share their expertise in baking and cake decorating, and you can sign up for various demos and workshops.
Witness Cake Wars, the Philippines' first-ever live cake decorating competition, or join the hands-on cake decorating sessions. You can even bring home your own cake creations.
Read more: Why You Should Open a Bakery: Tips to Get Your Business Off the Ground
📌14th Philippine SME Business Expo 2024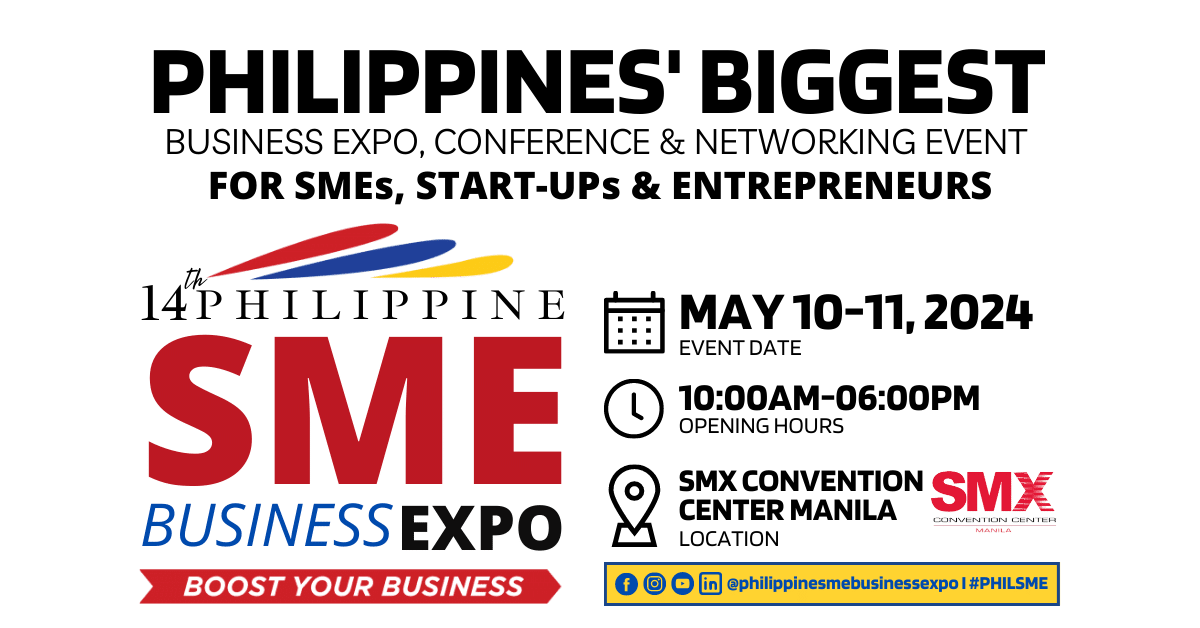 Date: May 10 to 11, 2024

Location: SMX Convention Center

Entrance fee: To be announced
Solopreneurs and SME or startup owners, explore new business opportunities and network with other passionate business owners in this much-awaited business expo. Scale your business by finding new business solutions providers.
That's two days of networking—with around 8,000 attendees, 120 exhibitors, 30 keynotes and presentations, and 180 business solutions—at the 14th Philippine SME Business Expo, happening in 2024. Don't miss out on the latest developments in the world of SMEs!
Read more of our business guides here:
Final Thoughts
Take advantage of these trade shows and franchise expos in the Philippines this 2023 and 2024. Aside from talks and seminars with impressive panels of industry leaders, you can meet fellow aspiring franchisees and entrepreneurs and match with franchisors and business enablers.
Once you're ready to launch your own business, consider using a personal loan to fund it. Check out some personal loan options below and apply through Moneymax:
Personal Loan Provider

Minimum Loan Amount

Maximum Loan Amount

Minimum Annual Income

Approval Time

Metrobank

₱20,000

₱1 million

₱350,000

7 days

BPI



₱

20,000

₱2 million

₱

300,000

5 to 7 banking days

EasyRFC

₱

10,000

₱150,000

₱

120,000

As fast as 24 hours

Maybank



₱

50,000

₱1 million

₱

300,000

Apply online in just a few clicks

RCBC



₱

50,000

₱1 million

₱

360,000

5 to 7 banking days

SB Finance




₱30,000

₱2 million

₱180,000

5 banking days

CIMB



₱

30,000

₱1 million

₱

180,000

24 hours

HSBC



₱

30,000

₱500,000 or 3x gross monthly salary, whichever is lower

₱

168,000

5 to 7 banking days

CTBC



₱2

0,000

₱1 million

₱

180,000

3 to 5 banking days
Sources: