If you're still using pen and paper or a spreadsheet to manage your finances or track your business performance, it's time to switch to a mobile app that can help you manage your money better.
In this Lista App review, find out how this fast-growing financial management app in the Philippines can help you stay on top of your personal or business finances in just a few taps.
Lista App Review: What is Lista PH

?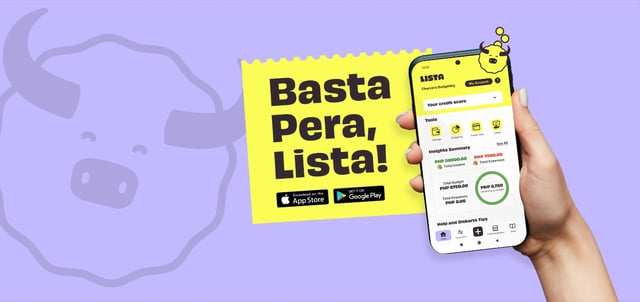 Lista is a free financial management app launched in the Philippines in September 2021. It provides Filipinos with purpose-driven solutions for their personal and business finances.[1]
Since its launch, there have been 1.4 million Lista app downloads in the Philippines as of this writing.
Initially, Lista was targeted toward MSMEs. After discovering that most of its app users were looking for better ways to make the most out of their salaries and improve their spending patterns, Lista started introducing unique personal finance features tailor-made for Filipinos, starting with its budgeting feature.
With this money tracker and financial management app, you can get a big-picture view of your finances, from budgeting, tracking your expenses, and receiving customer payments to paying off debt.
Lista's automatic calculations also help users grow their savings, earn more, and achieve their financial goals faster.
Related: 7 Financial Goals to Aspire to Before You Turn 30
❓ Is

Lista PH

Safe?
Yes, Lista PH is a safe and secure financial management app. In April 2023, Lista PH passed the Vulnerability Assessment and Penetration Testing (VAPT) by Secuna Software Technologies Inc., a Department of Information and Communications Technology-accredited VAPT testing provider.
VAPT testing validates the security of mobile apps against malicious attacks and data breaches and spots any weaknesses or security-related defects.
It means that Lista PH meets industry standards. Users' financial data are private, safe, and secure against malware or fraud, whether online or offline.
Moreover, the Lista app is registered with and certified by the National Privacy Commission.
❓ Who is the

Lista App

Best For?
Anyone can use the Lista app. But small business owners, stay-at-home parents, and digitally savvy adults who want to keep track of their income and expenses will find it most useful.
Why Should You Use the

Lista App in the Philippines?
The Lista app offers many features to help you manage your money better. Its key features include expense management, creating a budget, tracking utang or debt from friends and family members, and checking your credit score from different credit bureaus.
✅ Planned Spending Made Easy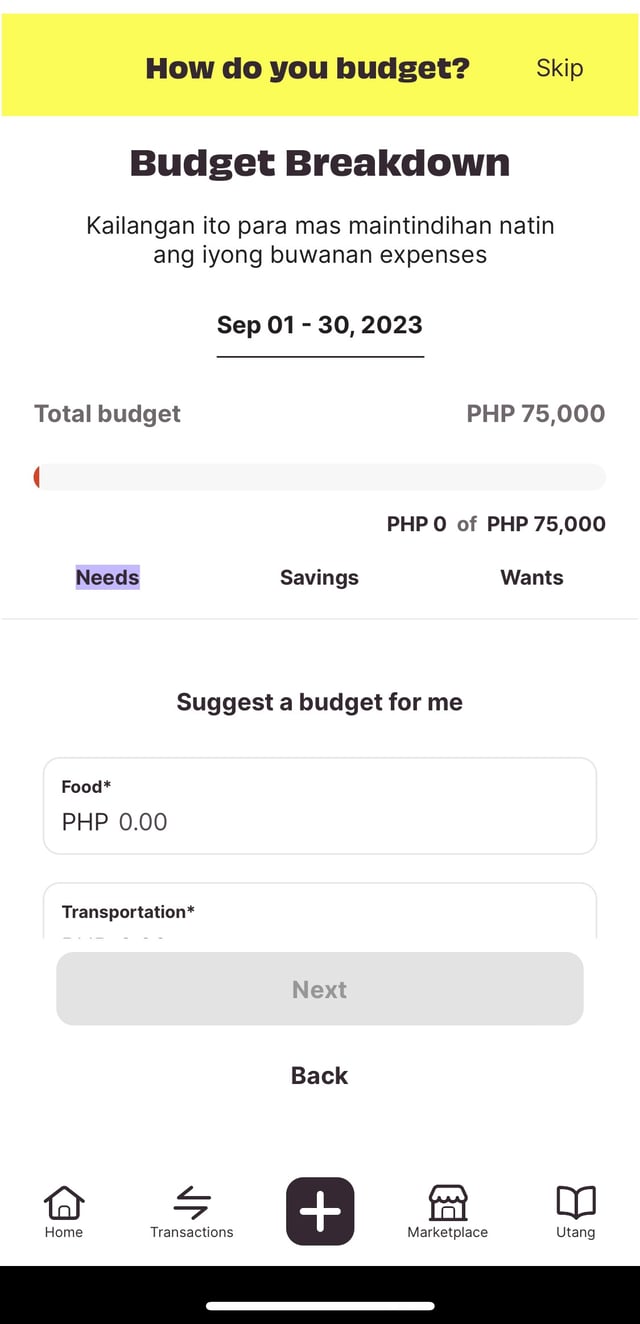 This app feature helps you create a personalized budget by suggesting a 70-20-10 method: 70% of your money goes to expenses, 20% to savings, and 10% to wants.
To get started, you'll need to answer a few questions on when you usually set a budget (weekly, every 15th and 30th of the month, or monthly) and how much your total budget is for your expenses.
It simplifies creating a budget, so you won't have to overthink or make it more complicated. You can budget your money effectively in line with your priorities.
Read more:
✅ Convenient Expense and Income Tracking
The Lista app makes accounting easy and convenient because you can list all the money coming in and out using only your smartphone. It's a powerful yet straightforward expense tracker to help you monitor your monthly spending and income by category.
Here's how to use Lista's Expense and Income Tracking feature:
Tap Transactions on the main dashboard.
Tap the red Money Out button to track your expenses or Money In to track your income.
For Money Out, you have the option to scan the receipt.
Toggle the Paid or Unpaid button.
Log the date and time, and key in the amount.
Choose from the options under the Expense or Income Category. You can also add a note for your reference.
Read more: How to Spend Money Wisely When You're Trying to Save
✅ Curated Credit Card Offers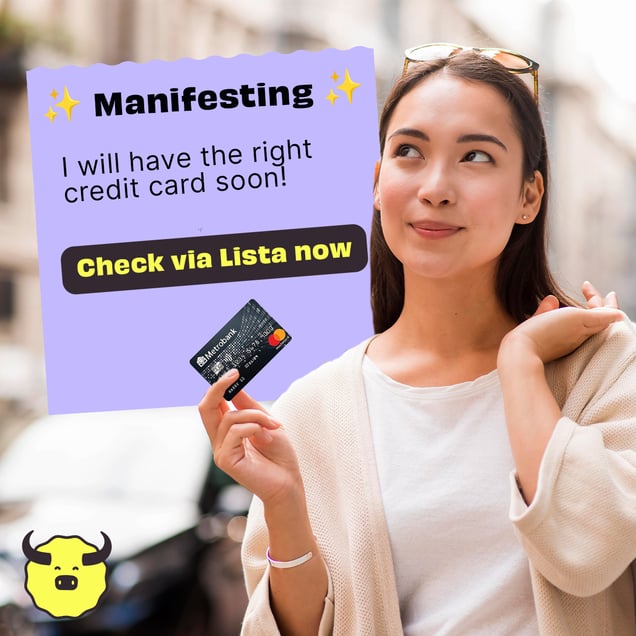 Lista PH also simplifies the process of choosing and applying for credit cards. You can view curated credit card options on the app based on your financial background.
Compare credit cards to choose the best one that fits your needs and lifestyle by scrolling through your options. Then click the Easy Apply button to get your preferred card. It's that easy!
Here are some of the best credit cards you can apply for online:
Credit Card
Best For
Key Features

UnionBank Rewards Credit Card

Rewards

1 point per ₱30 spend
3x points for shopping and dining in the Philippines and overseas
Non-expiring points can be redeemed for cash credits, gadgets, and more

Metrobank World Mastercard®

Dining

Up to 50% off on dining deals
1 rewards point for every ₱20 spend
2x rewards points for every ₱20 international spend

HSBC Platinum Visa Rebate

Travel

5% cashback on travel transactions
Free travel insurance
6% rebate on the first Caltex fuel purchase plus a 3% fuel rebate all year round

Security Bank Complete Cashback Mastercard

Cashback

5% cashback on groceries
4% on fuel
3% on utilities
2% on dining
1% on shopping

BPI Rewards Card

Beginners

Low income requirement of

₱15,000

Low annual fee of ₱1,550 (waived for the first year)

Petron BPI Card

Fuel Purchases and Auto Services

3% fuel rebate at participating Petron stations nationwide
Free ₱200 fuel voucher for first-time cardholders

UnionBank Lazada Credit Card

Online Shopping

₱6 Lazada Credits per ₱200 spend at Lazada, ₱1 Lazada Credit per ₱200 spend elsewhere
Welcome gift: ₱5,000 Lazada Wallet Credits
Free monthly shipping of up to ₱50
Free discount vouchers worth ₱500
✅ Easy Access to Your Credit Score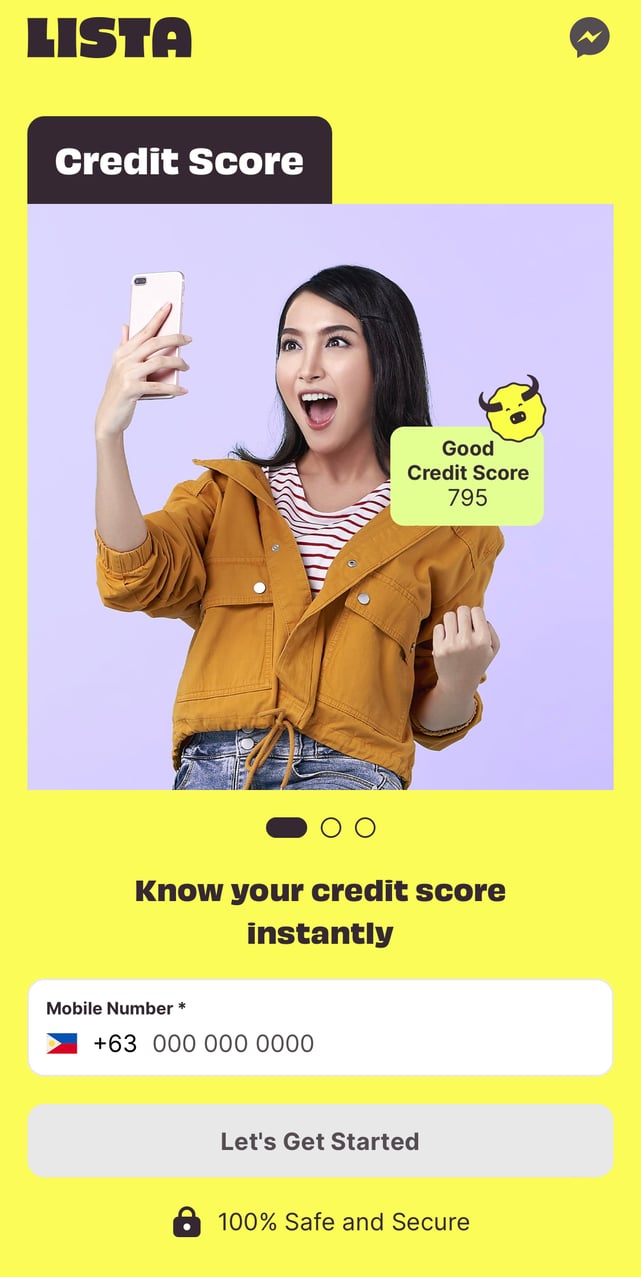 One of the most valuable features of the Lista app is its built-in access to up-to-date credit scores, which provides better credit insights to users.
Lista PH has partnered with CIBI Information, Inc., the country's leading credit bureau, to provide users with their credit score for just ₱199 per request.
You can easily make a credit score request in just a few minutes. Here's how to check your credit score on the Lista app:
Prepare a valid ID and tap Credit Score on the home screen.
Follow the instructions or prompts.
There will also be a Liveness Check before you submit your details and documents for verification.
Tap Check My Score to finish your application.
Knowing your credit score gives you a better picture of your financial situation. Lista will also give you tips on maintaining or improving your credit score, so you can get approved for future loans or credit card applications.
✅ Hassle-Free Payment Reminders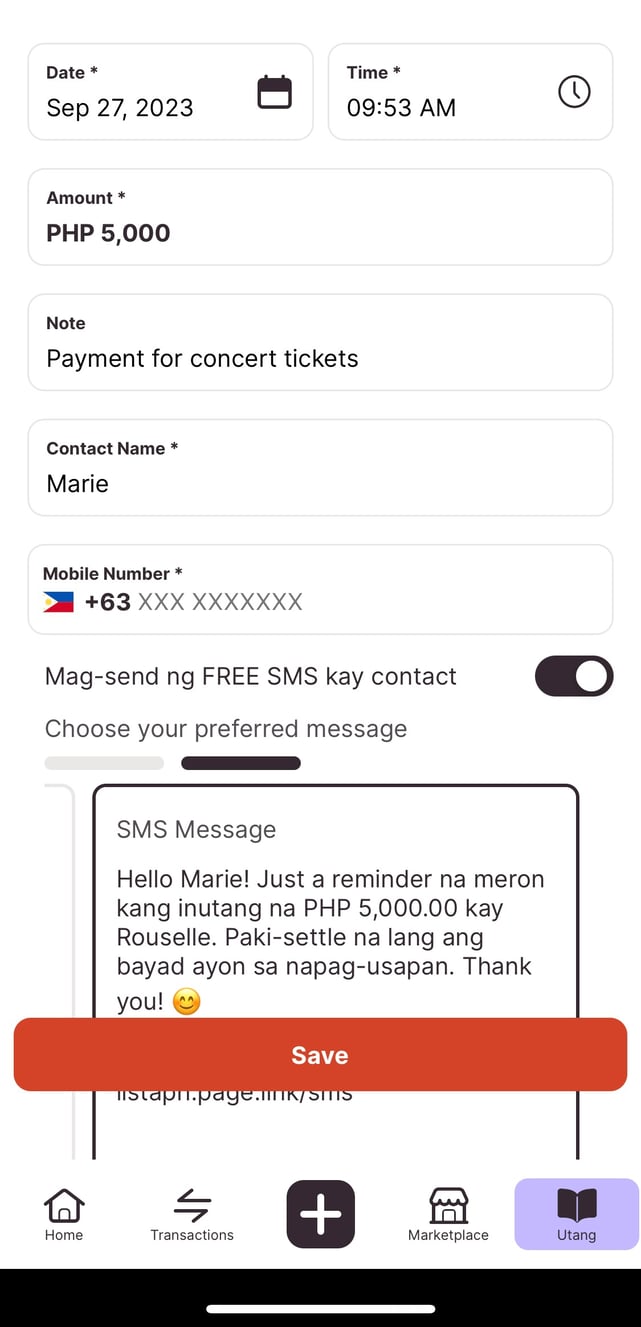 Skip the awkwardness of sending a message to friends or family members to follow up on their debt repayment. This feature also works when you borrow money from them.
You can list the debt on the app and set payment reminders and due dates. There's also the helpful option to send free debt reminders via text message, Messenger, or Viber.
Lista App Review: Is It Worth Using?
Lista is a simple, free-to-download, and valuable financial management app that caters to all Filipinos who want to improve the way they handle their finances.
It's loaded with features that address the pain points of personal finance management minus the complicated steps and technical jargon. Its budget maker, expense tracker, and debt reminder features are all easy to use.
Lista is also accessible because it's mainly in the Filipino language. You can also access the app offline. This is a huge plus for Filipinos who don't have an internet connection but want a financial management app they can use anytime, anywhere.
You also have access to a more convenient and faster way to get your credit score. However, since the credit score feature is relatively new and still in its beta version, expect some hiccups when requesting your credit score.
The good thing is that Lista's customer service team is just a message away. They promptly answer questions and provide help to fix any problems you may encounter using the app.
Read more: 5 Financial Management Apps to Help You Stay on Top of Your Finances
Final Thoughts
What started as an app for small business owners evolved into a financial management app with more personalized features for individuals in the Philippines.
Hopefully, this Lista app review will encourage you to download[2] and start using the financial management platform. This way, you can get a complete overview of your finances and help you make better financial decisions.

Sources: