Loans have gained a bad rap over the years, partly due to the misconceptions about them. Some people insist that loans are inherently bad—but the truth is that they can ease your financial woes and help you achieve your goals.
Loans can be incredibly helpful if you know how to manage them. As with any other money-related product, the key is exercising financial discipline.
If you're in need of a loan, taking one out today is easier than before. Traditionally, people gravitated toward banks when looking to purchase loan products. However, because of the strict requirements and processes imposed by formal lending institutions, consumers demanded a hassle-free alternative that's more apt for the digital world: online loan platforms.
Online loan providers exist to serve people who have no access to formal banking services and other financial products. They're designed to provide quick cash assistance in times of emergency. When managed correctly, loans can even help you achieve financial independence.
Check out the following Digido loan review to see if and how Digido can support your financial needs.
What is Digido Loan

?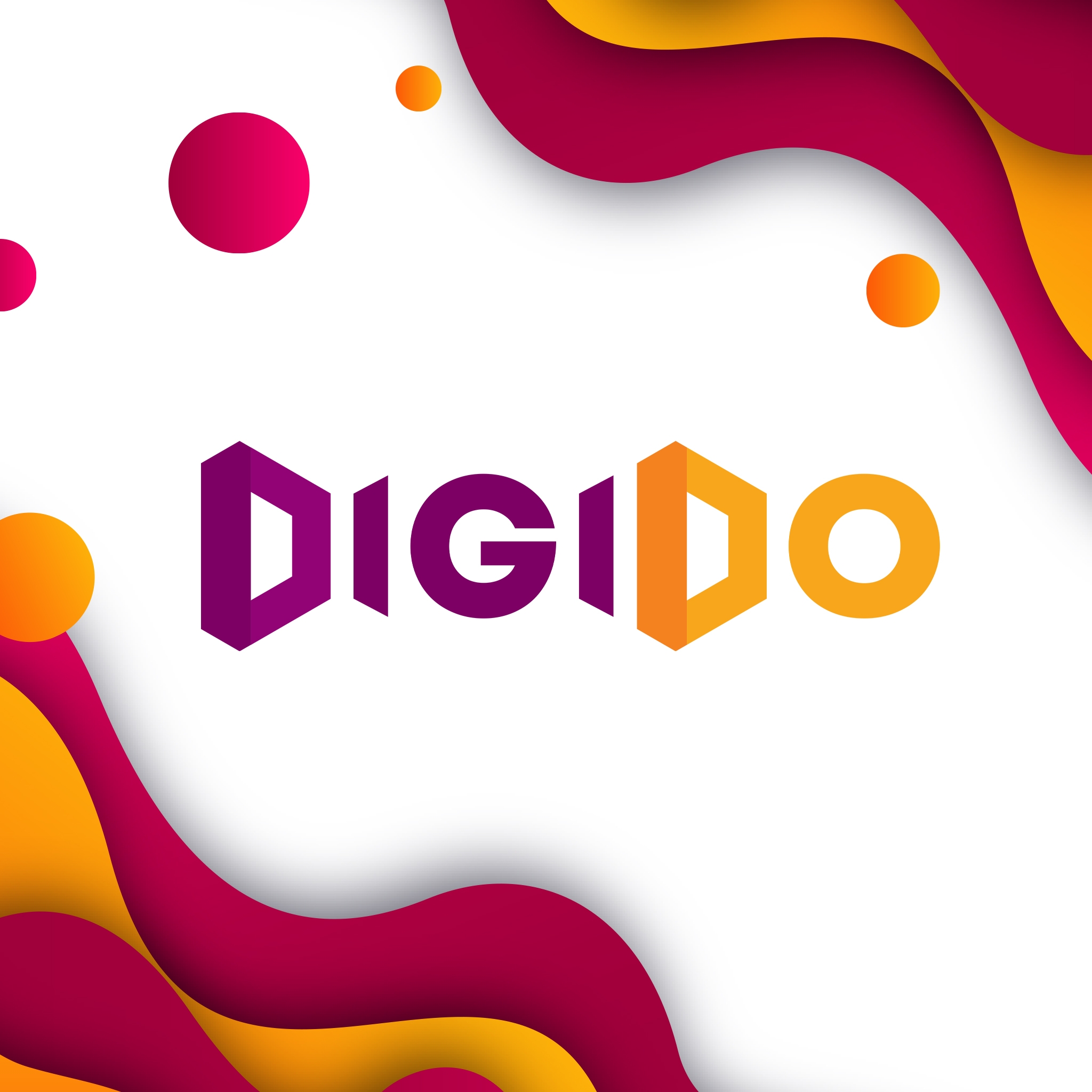 Digido, previously named Robocash, is a licensed online lender in the Philippines that offers easy-to-access loan solutions to underbanked but digital-savvy Filipino consumers. Its loan products can be accessed from its website[1] and mobile application.[2] [3]
The Digido loan app shares many common features with other cash loan providers like ACOM, Cashalo, JuanHand, and UnaCash. But what sets it apart from the rest is its fully automated online lending portal that leverages the precision of digital technology and removes human error and bias from the loan assessment process.
That's right​​—unlike its counterparts, Digido Loan has a streamlined loan approval system, which means that you can expect fair and justifiable outcomes for your loan applications.
Is Digido Loan Legit

?
Yes, the Digido loan app is legit. Digido is registered with the Securities and Exchange Commission (SEC), with Registration No. CS202003056 and Certificate of Authority No. 1272. To verify this information, you may also visit the official SEC website.[4]
Moreover, Digido has a physical location that enforcement authorities can visit if necessary: Digido Finance Corp., Units P107003R, P107007R, P107008R, Level 7 Cyberpark Tower 1, 60 Gen. Aguinaldo Ave., Cubao, Quezon City, Philippines 1109.
Why Choose Digido for Your Loan Needs?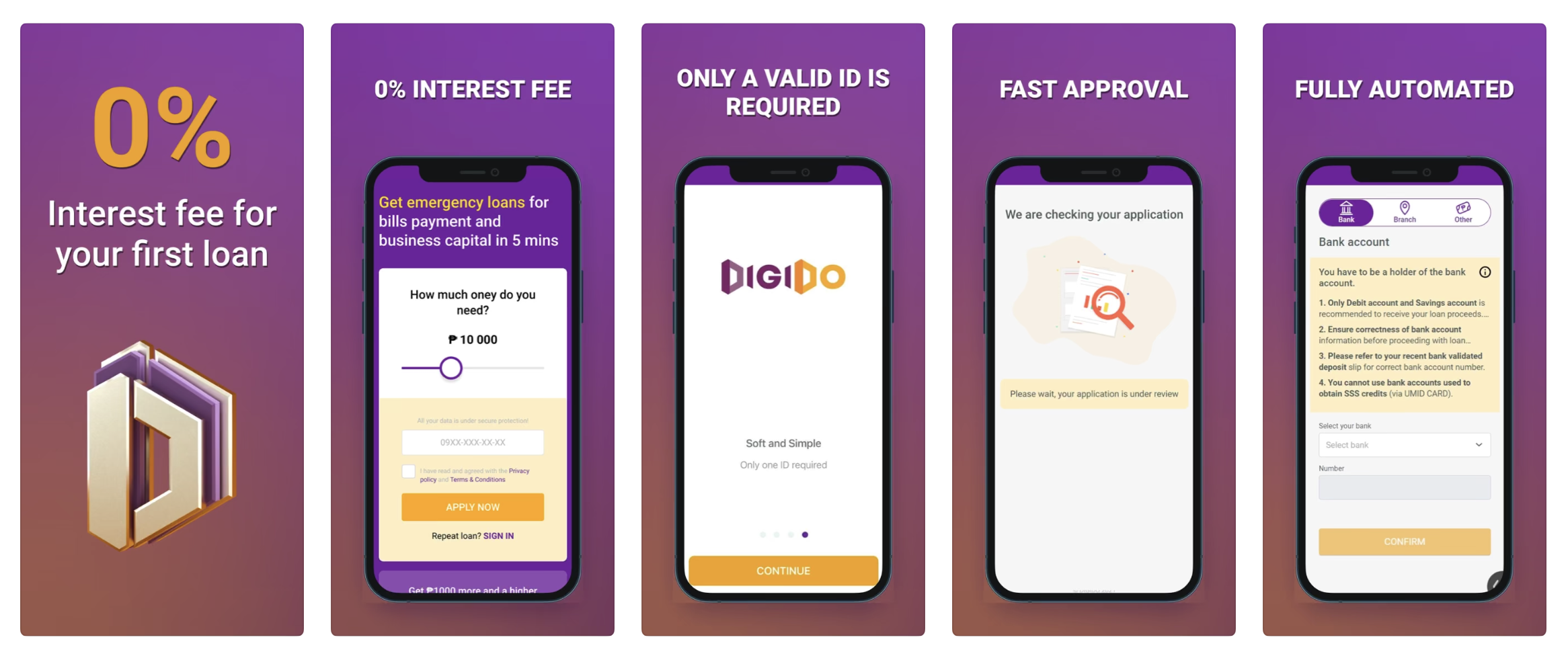 Is Digido the right loan provider for you? Here are some of the features and benefits of using the Digido loan app:
✔️ Online Application and Approval
Digido is an online lending tool, which means that you can avail of its loan products and services anytime and anywhere—with just the use of your mobile device.
From your initial Digido loan application all the way to disbursement and repayment, you don't have to get out of the house just to complete a transaction. Everything is available online, so you can expect the loan application process to be fast and convenient.
✔️ Minimal Documentation Required
Say goodbye to tedious documentation processes when taking out a loan. With Digido, getting access to much-needed funds is easy. Requirements are minimal—if you have a valid ID, proof of income, and a working mobile number, you're practically good to go.
There's no need for guarantors, collaterals, bank accounts, guarantee deposits, or flawless credit records. As long as you can provide the bare minimum to prove your creditworthiness, you can take out a Digido cash loan to cover any financial need.
✔️ Flexible Loan Amount and Loan Terms
Digido loan terms are flexible at three, four, five, and six months. The loan amount is also decent, ranging from ₱1,000 to ₱25,000.
Specifically, if you're a first-time borrower, you can apply for a loan amount anywhere between ₱1,000 and ₱10,000. The more you use Digido, the higher your loan amount gets, eventually entitling you to a Digido maximum loan of ₱25,000.
Use the Digido loan calculator to choose the right loan amount and duration that best fit your needs. Just take note that Digido's eligibility criteria and loan requirements may vary depending on the loan amount and duration.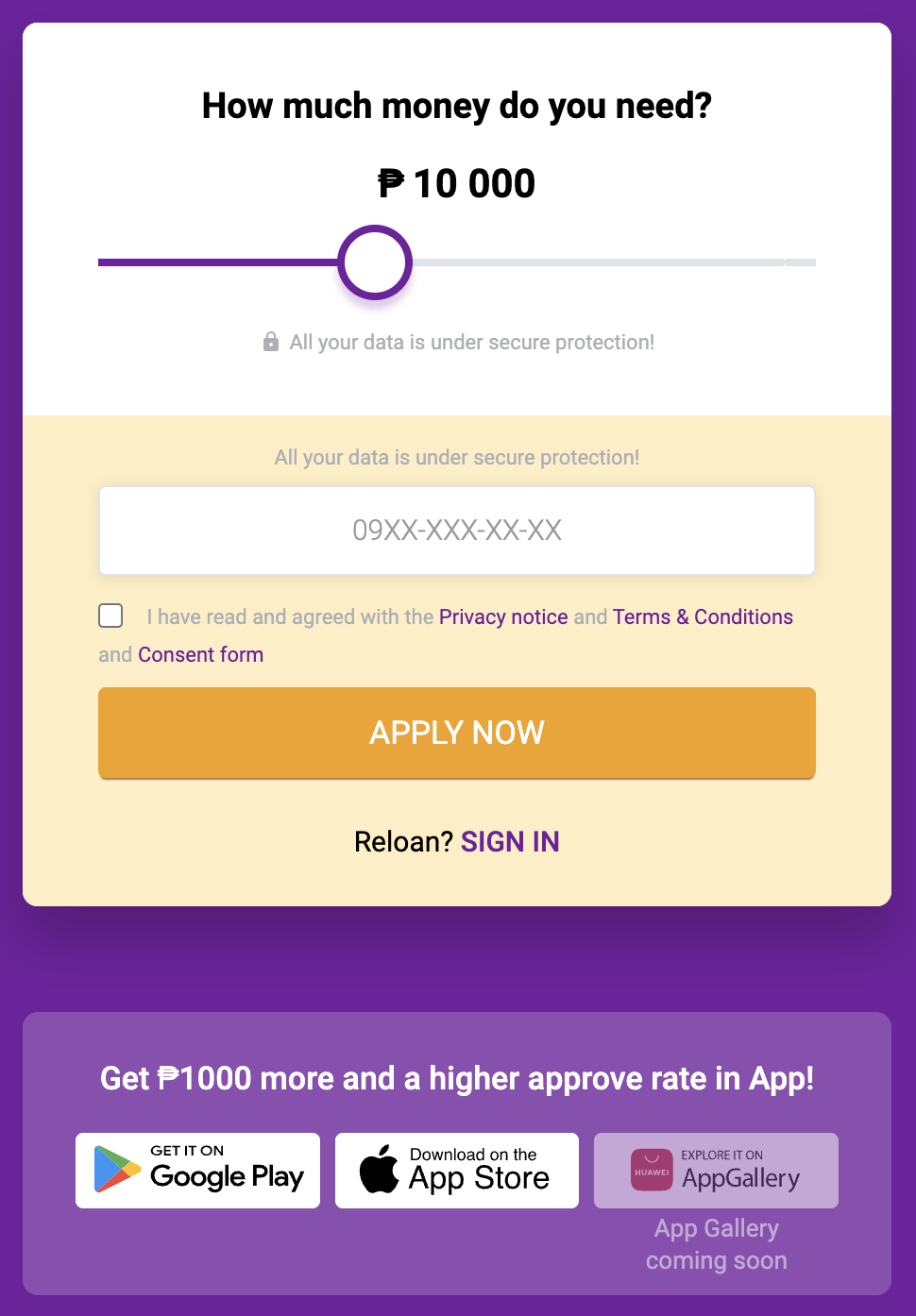 The calculator will show any necessary adjustment as well as compute the exact repayment amount for your specific loan plan. Make sure to use the calculator before applying for a loan so that you can get a more concrete understanding of your loan terms.
✔️ Reasonable Interest Rates
Digido interest rates vary depending on the loan amount and duration. Typically, they clock in at 11.9% monthly. However, for first-time borrowers, the Digido loan interest rate is 0%—that's a good enough reason to consider this lender for your financial needs.
✔️ No Hidden Charges
Another good thing about the Digido loan is that it's pretty straightforward. What you see is what you get—Digido claims to have no interest fees, commissions, and hidden charges. Everything is disclosed upfront to make you fully aware of your financial responsibilities and empower you to successfully take control of your finances.
✔️ Fully Automated Loan Platform and Process
What differentiates Digido from other online loan providers is its fully automated loan platform. Because everything is standardized and streamlined, you can take out a Digido online loan seamlessly without having to disclose your financial data to a banking professional.
Digido's automated lending system does all the work—from evaluating your loan to transferring your funds instantaneously. This way, you can be sure that any personal or sensitive data is handled confidentially and securely within the platform.
✔️ Quick Loan Approval
The application process for a Digido cash loan happens in a span of minutes. If you add to that the time it takes to assess and approve your application, plus the time between approval and disbursement, you have a total of just a few hours for the whole process.
You can send in your application and receive the loaned amount all in one day. Its immediate availability makes this loan option really convenient during emergencies.
✔️ Convenient Repayment Options
Making a Digido loan payment is easy. You have plenty of options—from going to a remittance center to simply using digital banking to complete a transaction. Among Digido's affiliated partners are BPI, Metrobank, Security Bank, 7-Eleven, Bayad Center, and Coins.ph. The full list is further down below.
✔️ Perks and Promotions
Digido offers great perks and promotions for both first-time borrowers and repeat customers. For your Digido first loan, you're entitled to a 0% interest rate for seven days as long as you provide sufficient proof of identity and income.
For your subsequent loans, you can increase your loan ceiling from ₱10,000 to ₱25,000. Also, there's no need for you to provide further documentation starting on your Digido second loan. As a repeat customer, you're eligible for automatic loan approval.
✔️ Great Customer Service
Digido banking professionals employ a customer-centric approach when doing business. Recognizing that many customers need help in using online loan applications, these professionals work behind the scenes to dispel any confusion and inconvenience during the loan application process and ensure a positive customer journey from start to finish.
Digido Loan Review

: What Are Users Actually Saying About Digido?
Digido loan reviews online span the spectrum from positive to negative—or, in online review lingo, from one to five stars. Different users have different opinions on the app.
Apple Store has more than 7,000 ratings for Digido, with an average score of 4.5 out of 5 stars. On the other hand, Google Play Store has over 35,000 ratings, with an average of 4.6 stars out of 5.
These numbers are still pretty decent, but some of the published comments are more telling of users' actual experiences. Below are some of the reviews users have left about the Digido loan app.
👉Loan Disbursement for First-Timers Is Fast

Some users have validated Digido's claim that its loan disbursement process is fast. As long as you're eligible and can provide the minimum set of documents required to take out a loan, you're all set. You can get your loan proceeds without delay.
👉 Reloaning Can Be Difficult
While many have claimed that applying for a first loan with Digido is foolproof, getting a second loan is apparently trickier. Based on a few users' experiences, getting approved for a reloan takes more time. A user's previous loan record with Digido is likely a big factor, but even those with allegedly spotless records claim to have experienced the same issue.
👉 Interest Rates Can Be Quite High

There are many Digido online loan reviews that voice their opinion about Digido's loan rates being exorbitantly high.
Still, this is hardly an issue with Digido as both the website and the app publish the interest rates through the loan calculator. Users are made aware of the interest rates they might incur before sending in their loan applications.
👉 There Are Hidden Charges
Some users have claimed that they didn't receive the entirety of their loan proceeds. Apparently, processing fees were deducted from the disbursed amount.
Some were also surprised to find that they had to pay more than they thought they were supposed to—and it was all because of the daily interests, which the users claimed were hidden charges.
In response to those comments, Digido claimed that everything was disclosed in the loan contract. Digido also encouraged users to settle their balances way ahead of the due date to avoid higher fees.
Since Digido and other similar loan providers won't explicitly advertise the terms and conditions of using their loan products, it's up to you, the user, to ensure that you've read and understood the fine print before signing the contract. Make sure to review everything before you provide your consent—don't just rely on the big, bold words written on official marketing collaterals.
👉 Quality of Customer Service Varies
Many users have commended Digido's customer service. According to reviews, Digido's representatives are generally polite and helpful.
Still, there are also reviews claiming that Digido's customer care professionals are rude, intrusive, and unhelpful. Some representatives provide canned and repetitive answers when asked about certain issues. There are also those who allegedly harass customers by repeatedly calling even during ungodly hours and speaking in an unkind tone.
Digido has responded by assuring customers that its agents are trained professionals who uphold high customer service standards.
Related reading: Ask Moneymax: What to Do When You're Threatened by Lenders? SLAP!
👉 Personal Data May Be at Risk of Being Compromised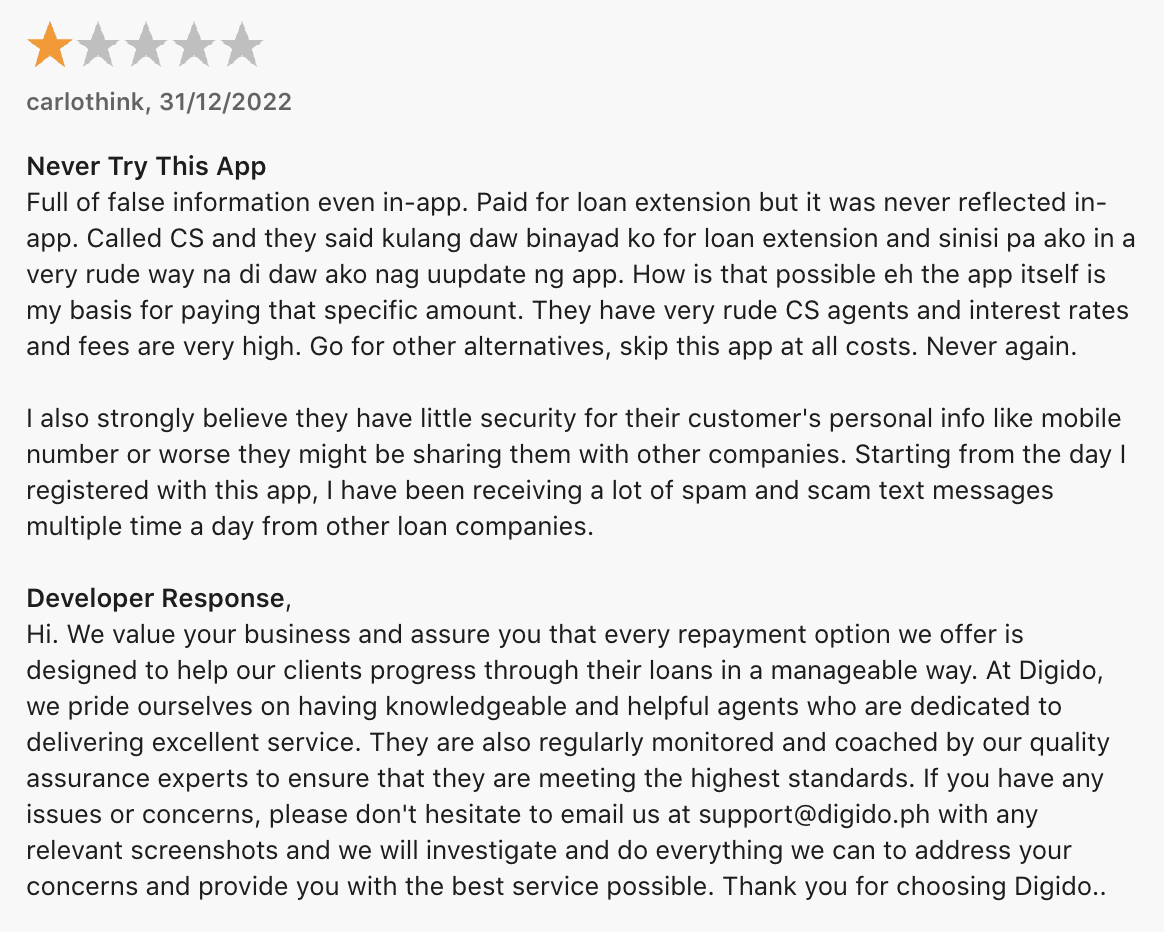 According to a few Digido loan app reviews, there might be a possibility of users' personal data being mismanaged by Digido. This is because some users claimed that, after installing the app, they started receiving spam calls and messages from random sources.
What Are the Requirements for a Digido Loan?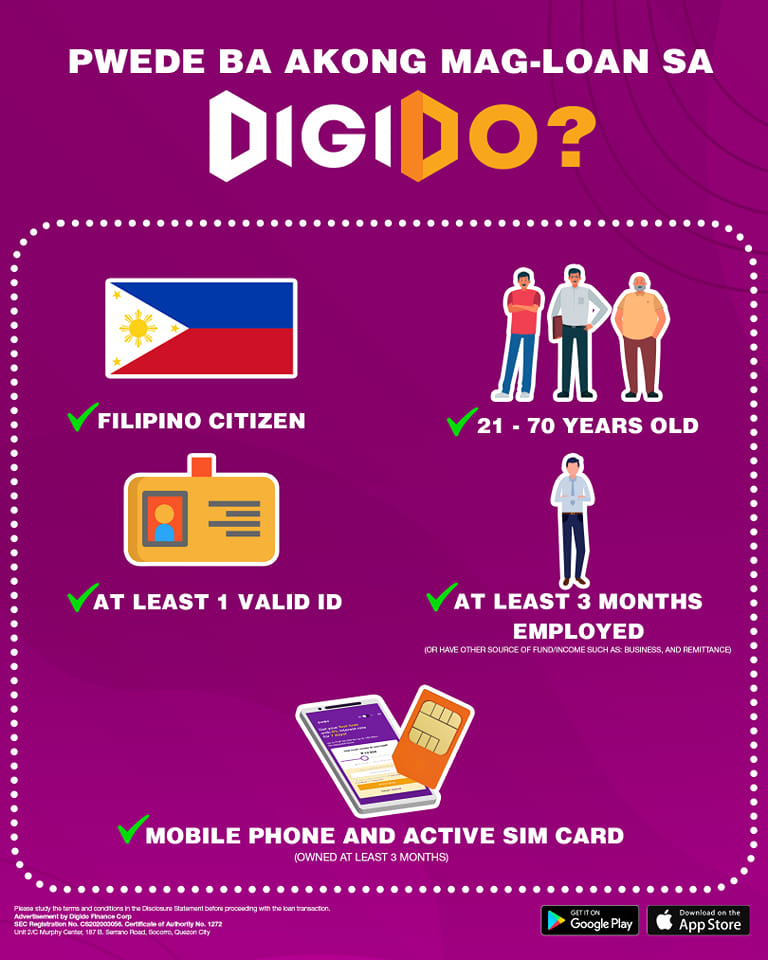 Ready to take out a loan with Digido? Digido loan requirements are notably minimal. To be eligible, you must meet the following criteria:
Filipino citizen
21 to 70 years old
With proof of identity (government-issued)
With proof of income
With a working mobile connection
Although not required, providing supporting documents like your certificate of employment, company ID, income tax return, and pay slips will increase your chances of getting approved.
How to Apply for a Loan with Digido
If you're already convinced that Digido can support your financial needs, the only thing left to do is learn how to apply for a Digido loan. Below is a step-by-step guide on how to loan in Digido.
📌 How to Apply Through the Mobile App
Follow these steps to apply for a Digido loan through the mobile app:
Download the Digido loan app from the Apple Store or the Google Play Store.
Open the app and indicate your preferred loan amount.
Enter your mobile number.
Review the privacy policy, terms and conditions, and consent form. Check the consent box if you agree to the terms.
Click the Apply Now button to fill out the rest of the account creation form.
Confirm your mobile number by entering the confirmation code sent to your device.
Upload a valid government-issued ID and other supporting documents.
Indicate how you want the loan proceeds to be disbursed.
Wait for the automated system to assess and approve your application.
If approved, you will be asked to confirm the loan contract by entering another confirmation code sent to your device.
The loan will be transferred to you in real time based on your preferred disbursement method.
📌 How to Apply Through the Website
Applying through the website follows the same steps as applying through the mobile app. Just go to the website and use the loan calculator[1] to enter your preferred loan amount, then follow the rest of the steps as indicated in the previous subsection.
Just take note that using the mobile app is more recommended as it gives you access to extra funds up to ₱1,000. The approval rate is also higher when you use the app.
How to Pay Your Digido Loan
To repay your loan, simply use a Digido-affiliated payment channel. You have the option to complete your payment online or over the counter.
Not sure where to pay your Digido loan? Below are some of Digido's partner payment gateways.[5]
💸 Banks (Online and Over the Counter)
AUB
BDO
Bank of Commerce
BPI
Chinabank
EastWest
UBX
Landbank
Maybank
Metrobank
PNB
PSBank
RCBC
RobinsonsBank
RuralNet Banks and Coops
Security Bank
UnionBank
UCPB
💸 Remittance Partners and Payment Centers
7-Eleven
Bayad Center
Cebuana Lhuillier
Coins.ph
ECPay
LBC
M Lhuillier
SM Department Counter
Final Thoughts
Hopefully, this Digido loan review has given you enough information to decide whether or not this app is for you. Weigh in the pros and cons before making a final call.
And remember that loans themselves are not inherently bad—as a financial product, they serve a purpose. Loans can be of great help when used and managed the right way.
If you wish to explore other online loan platforms, you can compare your options and apply easily through Moneymax.
| Personal Loan | Minimum Loan Amount | Maximum Loan Amount | Monthly Add-on Rate | Minimum Annual Income | Approval Time |
| --- | --- | --- | --- | --- | --- |
| UNO Digital Bank Personal Loan | | | | | |
| Metrobank Personal Loan | | | | | |
| UnionBank Personal Loan | | | | | |
| BPI Personal Loan | | | | | |
| RFC Loan | | | | | |
| Tonik Flex Loan | | | | | |
| Tonik Quick Loan | | | | | As fast as 1 hour |
| Tonik Big Loan | | | | | 7 days |
| Tala Loan | | | | | 24 hours |
| HSBC Personal Loan | | | | | |
| CIMB Personal Loan | | | | | |
| Maybank Personal Loan | | | | | |
| RCBC Bank Personal Loan | | | | | |
| SB Finance Personal Loan | | | | | |
| CTBC Bank Personal Loan | | | | | |
| PSBank Personal Loan | | | | | |
Sources: