Traveling lets you see the beauty of the world. It offers a way to escape the demands and stresses of life, even for a little while. It's always a wonderful experience.
This endeavor, however, comes with a price tag. From booking flights to reserving rooms, every step requires you to open your wallet. But there's a way to save money without sacrificing the quality of your vacation: attending travel expos.
A travel expo is an event that brings together different travel suppliers, from airlines and hotels to tour operators and even restaurants. These exhibitors usually offer special rates on their products and services, allowing you to save big on your travel expenses. Occasionally, there are some contests where attendees can win prizes like free trips.
If you want to make your dream vacay happen this year, drop by the top travel expos this 2023. Read on to learn more.
Travel Expo 2023: Top Fairs to Attend
If you missed the event organized by the Philippine Travel Agencies Association (PTAA Travel Tour Expo 2023) last February, there are still many tourism trade shows coming your way this year. Here are some of them:
✈️ Philippine Travel Mart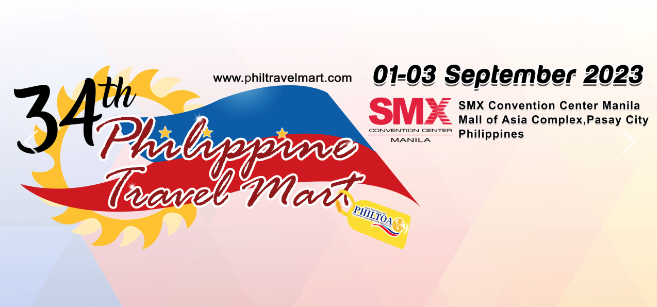 Date: September 1 to 3, 2023
Location: SMX Convention Center, Mall of Asia Complex, Pasay City
Entrance fee: Likely around ₱40 to ₱50 based on last year's event
This 34-year-old convention engages over 200 exhibitors, ranging from travel agencies and hotels to theme parks and airlines.[1] You'll find various tour packages for Southeast Asian destinations such as Bali, Siem Reap, and Ho Chi Minh. There are also packages for China, Japan, and Korea.
It shouldn't be difficult to navigate this travel expo for 2023, as it's divided into the following zones:
Yellow zone – Entertainment products
Blue zone – Beach, cruise, and marine sports
Green zone – Cultural and farm tourism
Pink zone – Healthy, wellness, and culinary offerings
✈️ Travel Madness Expo

Date: June 30 to July 2, 2023
Location: SMX Convention Center, Mall of Asia Complex, Pasay City
Entrance fee: To be announced
Now on its 10th year, this SMX travel expo for 2023 is set to showcase different deals and packages from reputable exhibitors. To give you some perspective, Travel Madness Expo[2] worked with the following partners last year: Philippine Airlines, Cebu Pacific, Turkish Airlines, Emirates, BPI, Sabre, and the Taiwanese government.
✈️ World Travel Expo Year 7

Date: November 15 to 19, 2023 (more dates below)
Location: World Trade Center, Pasay City (more locations below)
Entrance fee: Likely ₱80 based on last year's event
Another exciting travel expo for 2023, World Travel Expo 7 surprises would-be tourists with its partnership with RCBC. This collaboration is expected to encourage people to travel with ease through RCBC credit cards.
World Travel Expo will also launch travel fairs across the Philippines this 2023. Here are the locations and dates:
June 16 to 28, 2023 – SMX Convention Center, Clark, Pampanga
July 14 to 16, 2023 – SMX Convention Center, Bacolod City
August 10 to 12, 2023 – Ayala Center, Cebu
September 15 to 17, 2023 – SMX Convention Center, Davao City
October 6 to 8, 2023 – KCC Mall De Zamboanga Convention Center
✈️ DRT Show Philippines

Date: August 18 to 20, 2023
Location: SMX Convention Center, Mall of Asia Complex, Pasay City
Entrance fee: Ranges from ₱100 to ₱650 depending on membership type and inclusions
Love swimming and diving? Then head to the Diving, Resort, and Travel Show or DRT Show. This travel expo for 2023 in the Philippines was founded to provide support for business partners and encourage more people to become passionate divers who care about marine ecology.[4]
As a large diving expo, DRT has events happening in the following locations: Malaysia, Taiwan, India, and China (Shanghai, Guangzhou, Beijing, and Hong Kong). It has partnerships with the Department of Tourism, Marine Wildlife Watch of the Philippines, and Greenpeace.
✈️ Travel and Leisure Expo Davao / Travel and Leisure Expo Iloilo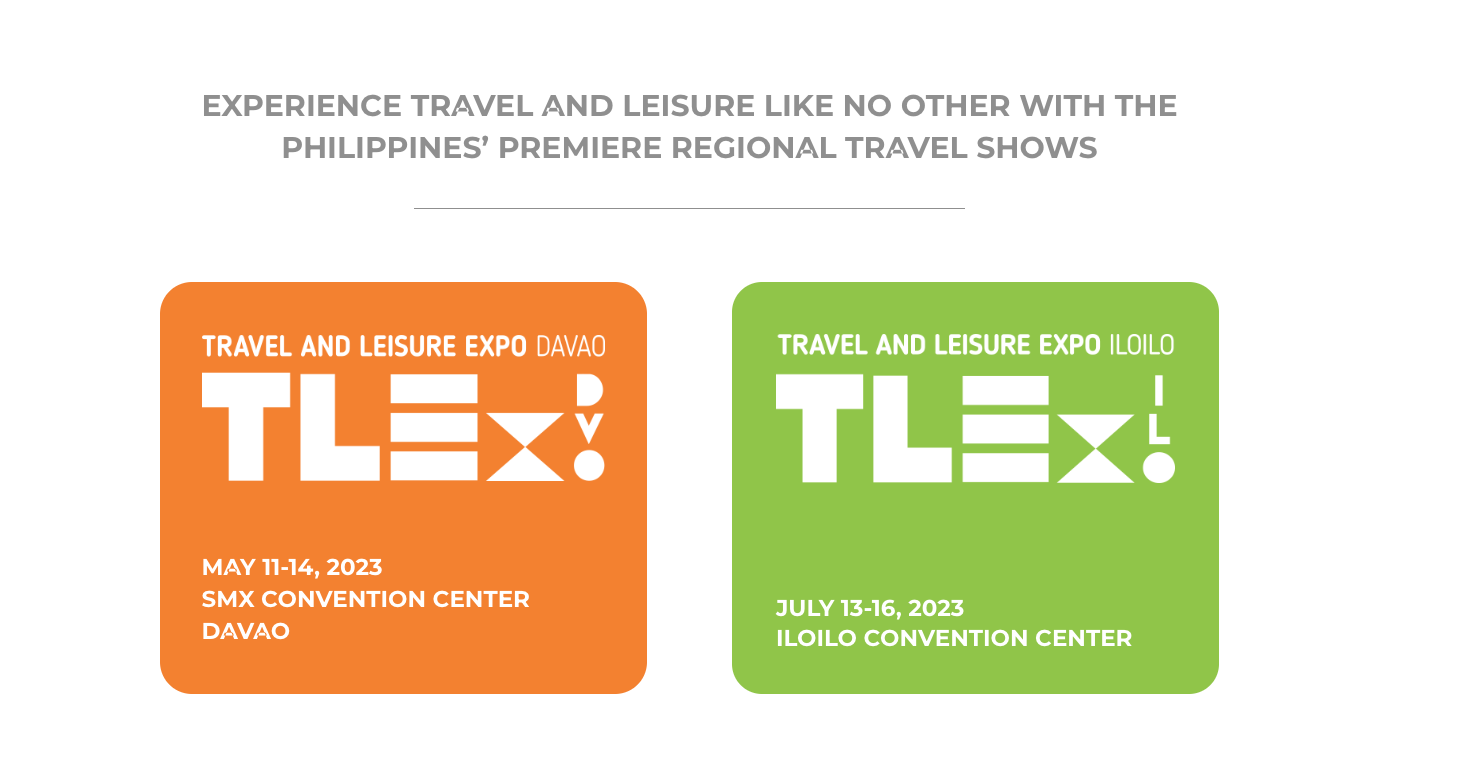 Date: May 11 to 14, 2023 (Davao) / July 13 to 16, 2023 (Iloilo)
Location: SMX Convention Center Davao / Iloilo Convention Center
Entrance fee: No details available
Organized by Worldbex Services International, the Travel and Leisure Expo Davao or TLEX Davao caters to travelers living in Mindanao. This event is supported by some of the biggest names in the tourism industry: Las Casas Filipinas de Acuzar, Malagos Garden Resort, and Red Planet, among others.
This year, Worldbex is also presenting the first edition of TLEX Iloilo.
Five Tips for Choosing the Right Travel Agency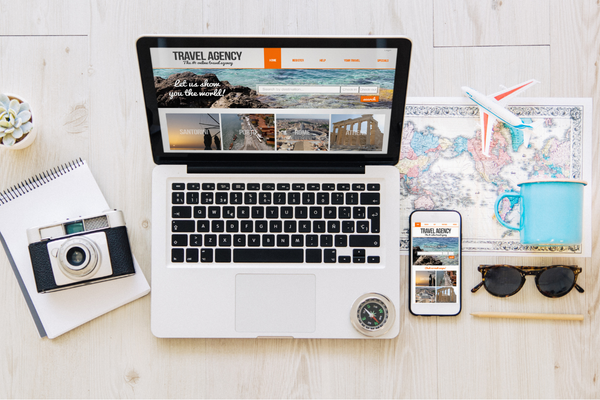 When you attend a travel expo this 2023, you may be overwhelmed by the number of tour operators and agencies offering attractive packages. But don't just go for a travel agency that offers the cheapest services.
Avoid traveler's remorse by picking the right partner. Here are some tips:
Check the legitimacy of the agency – Just because the operator is part of the expo doesn't always mean it's legit. You can check the agency's credibility by looking at its partnerships and affiliations, how long it has been in the industry, and reviews of past clients.
Gauge the agency's problem-solving capabilities – Traveling comes with many unpredictable issues, ranging from canceled flights to unavailable attractions. Ask your prospective tour operator about how it deals with such problems. Its solutions should be telling of its experience in the industry.
Look at the communication channels – Your travel agency should have multiple channels, so you can contact them immediately should the need arise.
Compare prices – Ask different travel agencies about their prices for the same destination and number of days. But don't just look at the price—you should also check the inclusions and the terms.
Check the cancellation policy – Some situations may keep you from traveling on your scheduled date. Ask the travel agency about its cancellation policy. Check how many days before the scheduled departure you can still request a cancellation.
Read more:
Final Thoughts
Who doesn't want to travel and experience new things? It may be a big expense, but there are ways to save money—and finding the best deals at travel expos this 2023 is one of them.
But don't just go in blind. List down all your priorities and objectives. That way, you'll be able to narrow down your options and ultimately make the best decision.

Sources: