It was the height of the COVID-19 pandemic, and she just gave birth to her first child. But Moneymax's Senior SEO Specialist Pierre Angela Salonga and her husband John were still able to build their dream house in Malolos, Bulacan.
Their simple dream home is a beautiful 90-sqm bungalow that sits on a 150-sqm lot in Atlag, Malolos City. Pierre and John opted for a Western-style design with two bedrooms, a one-car garage, and a pocket garden.
It was a scary time to embark on a major financial endeavor. Despite the pandemic, everything just fell into place for Pierre and her family. Read her full interview here about their smart steps to building a house and what it's like to do it in the middle of a pandemic.
Steps to Building a House: How We Built Our Dream House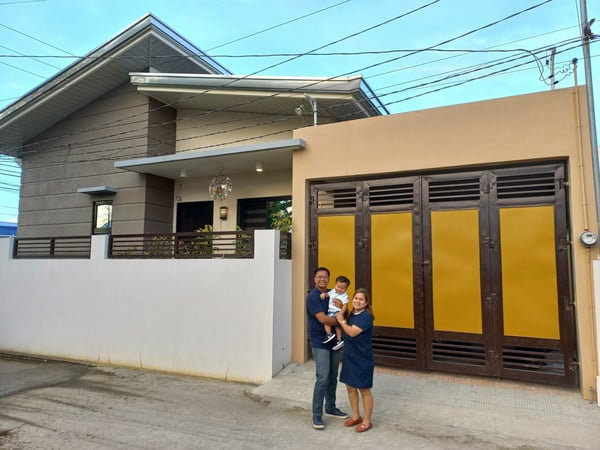 What was your living situation before you moved to your new house?
Before I got pregnant with my son Juan Gabriel, or Gab-Gab, we lived with my parents. Then after I gave birth, we moved to an apartment that my husband's parents were renting out and stayed there until our dream house was finished.
Even if we were living in the apartment rent-free―at my in-laws' insistence―we wanted a place we could call our own. We wanted our own home.
Why did you choose Malolos, Bulacan to build your dream house in?
My husband and I are both from Bulacan. I grew up in Calumpit, and he grew up in Malolos. Our families are here in Bulacan, so it only makes sense to build a house where our families are, too.
Also, my husband inherited this piece of land from his grandfather. After we got married in May 2019, we started the process of transferring ownership from his parents to him.
What was your budget for your house?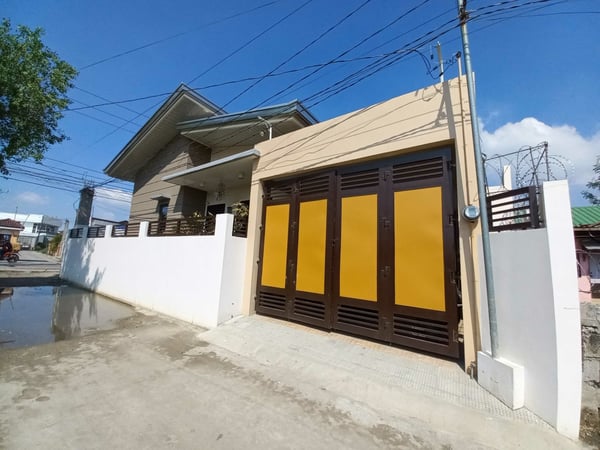 We initially decided on a PHP 1.5 million budget. But we had our specific dream house ideas, so we hired an architect to help us turn those dream house plans to reality. But the cost estimate was beyond our initial budget, and we ended up spending around PHP 2.1 million.
How did you fund your home purchase and construction?
We had around PHP 400,000 set aside for the house. But PHP 200,000 of that, we had to give to our architect as initial payment, so they could start buying the construction materials already. Our architect is actually my uncle, who has his own architectural firm. He's someone I know who can really design my dream house.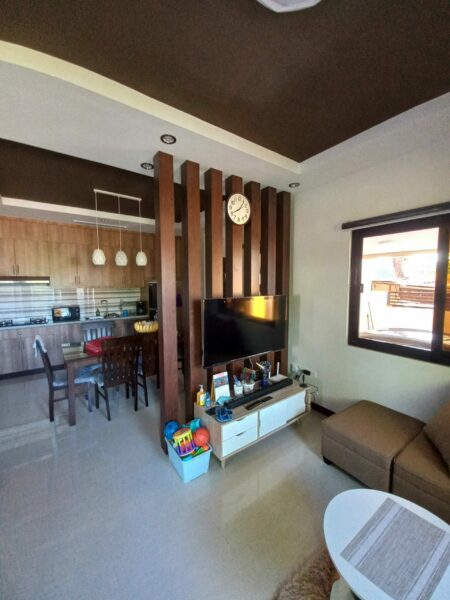 Pierre and John opted for a simple interior that feels open and looks spacious
Since our cash on hand was not enough, John and I decided to apply for a home loan from the banks here in Bulacan.
At first, we really wanted to get a Pag-IBIG housing loan. But John was working in Malaysia at the time. Sending the documents to him, having everything signed, going to the Pag-IBIG office when I had just given birth, and an ongoing pandemic―it was such a hassle, not to mention risky, tiring, and time-consuming.
So we compared several home loans from different banks and went with the one offering the lowest fixed rate for the first year at 5.5%. Our approved loan amount was PHP 2 million with a repayment period of 15 years.
What were the housing loan documents and requirements that you needed to prepare?
Aside from the usual income documents that banks require for loans, the most important requirements were the original copy of the Transfer Title Certificate and the Petition of Cancellation of Encumbrance under Sec. 7 Republic Act 26.[1]
This is because the land title had a Section 7, and our bank no longer requires this. So we need to remove this Section 7 with the help of a lawyer at our RTC.
Aside from these documents, we also submitted a Tax Declaration of Real Property, Certificate of Residency, and Certificate of Occupancy. We also needed valid IDs to get building and sanitation permits. But this was handled by our construction team. This service was already included in the package, which was very convenient on our part.

What was your timeline in building your house, and how long did it actually take?
Our architect and his team told us they could build our dream house in five months. They started construction in October 2020―they cleared and cleaned up the entire area and cut the overgrown grass.
They worked on different areas of the house simultaneously. By the end of October, we already had floors and walls. We could already see the house taking shape. Even if it was raining, the construction crew still worked. There were usually five to 10 workers working on our house.
By mid-January, they were already doing the finishing touches, like painting the house, placing the tiles, attaching the modular cabinets, installing the ACs and window blinds, and putting in the furniture. The house was turned over to us in February 2021.
Our construction team was very hands-on, from the architect and the engineer to the foreman. They finished all the steps to building our house in five months, like they promised. We were assured of high-quality work, and that's what we got!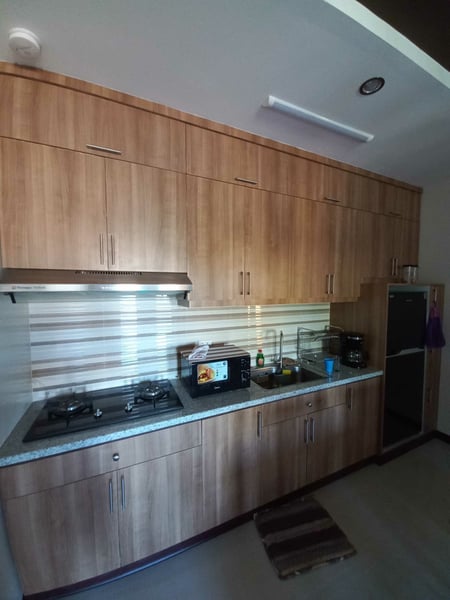 Which step of the home ownership process took up most of your time?
Among all the steps to building and owning a house, the most time-consuming was the back-and-forth trips to the Registry of Deeds to request all the papers needed. There was no online service offered for this. I spent around two to three hours in the queue each time, and it took me more than two weeks to get everything I needed.
But I also found out I have a friend who's working at the Registry of Deeds, so this friend helped me get all the papers needed without lining up anymore.
Another blocker is the filing of the petition for the removal of Section 7 on the land title. Because of the pandemic, it affected the schedule of the court hearings. So this process is ongoing, which means we're still paying for the lawyer's fees and other miscellaneous expenses. We'll also pay another set of fees when the hearing starts.
What do you love about your house? Do you have a favorite room?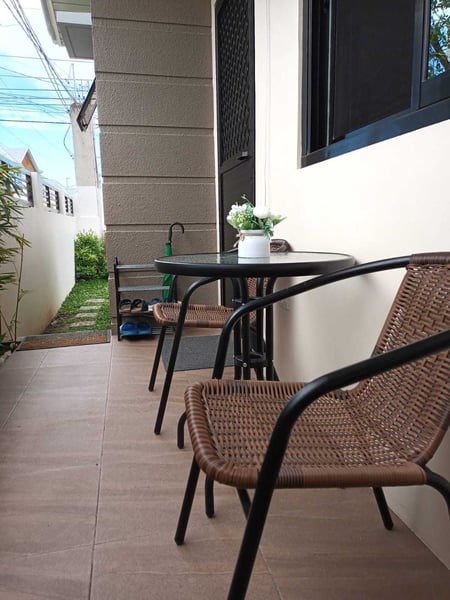 The master's bedroom is my favorite area in the house because it's where we spend most of our time as a family. But I also love having coffee in the morning at our outdoor terrace.
Read more: House Contractor in the Philippines: How They Can Help Build Your Dream Home
What did you learn from your experience of building your house during a pandemic?
You really should know what you're getting into. Understand the risks, and determine which risks you're willing to take. In our case, we went over our budget. We went ahead with the house construction even if there's a pandemic.
But because we knew that this was going to be our dream home—our forever home—we took the risk and applied for a home loan.
Second, hire the right people. Work with experts or professionals who really know what they're doing. This way, you'll avoid making costly mistakes and wasting time. You may end up paying more, but you'll get what you pay for. Everything that we wanted for our house was followed, and the house was finished right on schedule.
Also, compare home loan products from different banks, so you can find the best home loan in terms of interest rates. Our bank released our home loan checks four times, and there had been no delays money-wise.
You also need to be patient, especially when collating all the requirements and transacting at different government offices. There's no shortcut for this. And expect delays because of the quarantine restrictions. Manage your expectations and give some leeway so that you won't be so rushed.
Lastly, always communicate with the construction team so that you're on the same page. They're helping you build your house, so be kind, too. Treat everyone with respect.
If you could do anything differently, what would it be?
There's nothing that I would do differently. Even if we built our house during the pandemic, the timing of everything was just perfect. Everything just sort of fell into place.
It all happened rather quickly, but it happened one by one, step by step: John and I got married; I got pregnant; I gave birth; we decided to finally build our house; and we got approved for a home loan.
It was a scary and uncertain period, pero walang naging aberya. With God's help, we were able to achieve this milestone even during a difficult time. Financially, okay ang income namin ng husband ko before the pandemic, so we were also financially prepared in a way.
The house was almost finished, and we were about to start paying the monthly amortization when I lost my job. Again, I was fortunate enough to find a new job at Moneymax right away. Kaya tuloy-tuloy pa rin ang pagbabayad namin sa bahay.
Now nakaka-isang taon na kami ng pagbabayad. The monthly amortization is a huge amount, but we're happy because we know where our money is going.
What's the best part about being a homeowner?
Having a house that you can really call your own, building it from the ground up, is really the best feeling.
I was only 29 when we started constructing our house, so this is such a big accomplishment for me and my husband. My family and friends share in our happiness and pride that we were able to pull this off in the middle of a pandemic.
My husband also gives me free rein to decorate it as I please. Aside from being a good investment, this house is also our idea of comfortable living.
Final Thoughts
Suffice it to say, Pierre loves every moment she spends in her new house with her husband John and son Gab-Gab. Her construction team truly did a great job building the dream house design she had in mind. This is also because she and John took all the right steps to building a house. When you look at it, the house captures their simplicity as a couple: clean lines, functional furniture, and minimalist decor.
With that, Pierre's ready to make bigger, more colorful, and more unforgettable memories here with all the people she loves.

Source: [1] Republic Act No. 26 Section 7