What is Moneymax to you? It means different things to different people. To customers, it's an online platform for comparing financial products or getting rewarded for their credit card or loan application through the website. To other folks, it's where they learn about personal finance.
From an insider's perspective, it means so much more—especially for those who have built their Moneymax careers for quite some time now.
As Moneymax marks its eighth anniversary in 2022, we celebrate the employees who have been with the company through thick and thin. They're part of Moneymax's growth from being a start-up with a small team of 10 to being the Philippines' largest personal finance marketplace with a 100-strong workforce (and counting!).
Here's a behind-the-scenes look at what it's like to work in the company through the lens of some long-time members of the Moneymax family.
Meet the Pioneer Moneymax Employees
Get to know the employees with the longest Moneymax careers—what they do and what they're passionate about outside of work.
Warlough Madali, 8 years with Moneymax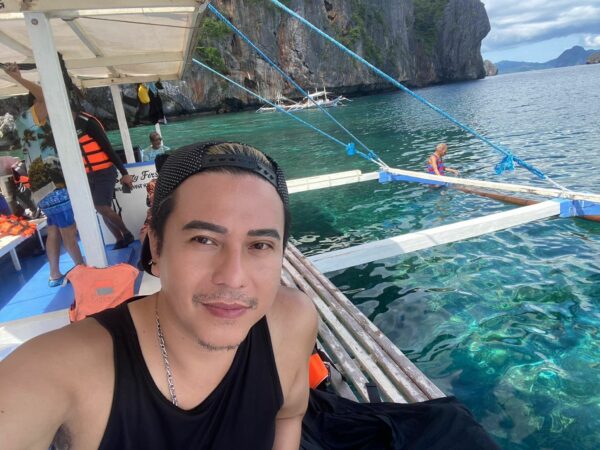 Warlough has been with Moneymax since it was established in the Philippines. As the Telesales Manager, Warlough oversees Moneymax's sales operations for car insurance and banking, ensuring that the company hits its revenue targets. He manages a team of 60 consisting of team leaders, a performance coach, and comparison advisors. That's more than half of Moneymax's entire employee base!
Outside of work, Warlough is passionate about science, specifically astrophysics. "I'm really into discovering the universe and the unseen," he shares. He also loves going to the beach and occasionally cooks his favorite dishes like adobo and kare-kare.
Anz Baldemoro, 7 years with Moneymax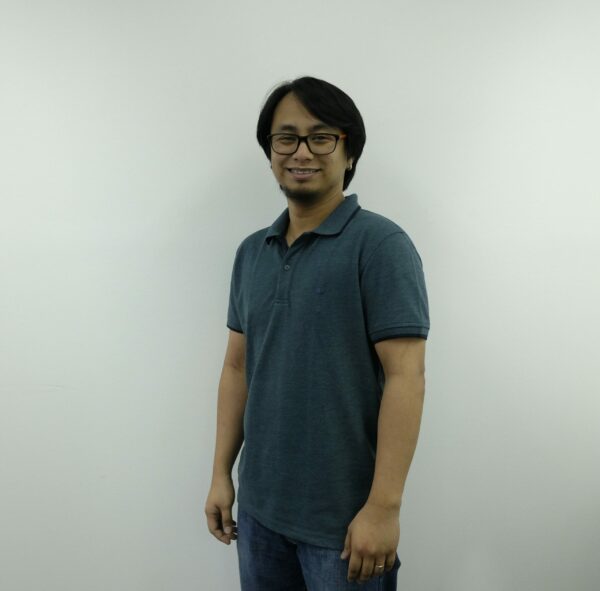 Anz is Moneymax's Back-Office Claims Team Leader. He handles a team of claims specialists who coordinate with car insurance clients and assist them with their claims processing.
Married with two daughters, Anz calls his eldest child a "Moneymax baby," as she was born when her dad joined the company in 2015.
Anz loves to sing and play the guitar. Gifted with a soothing voice, he could very well be Moneymax's resident acoustic crooner, as he sang in some company events before the pandemic.
Curious about Anz's musical talent? Subscribe to his YouTube channel (Anz Hemdell) and follow his TikTok account (@anzhemdell)[1] to watch him perform covers of popular songs!
Maria Iñiego, 7 years with Moneymax
A pioneer of the HR team, Maria started her Moneymax journey as an Office Manager. Now an HR Business Partner, she works with Moneymax employees and the Management team in a wide range of disciplines: leadership and career development, employee retention, performance management, and recognition programs, among many others.
No wonder Maria is one of the most recognizable faces in Moneymax!
Maria is a loving mom to four Persian cats. She's also a spiritual leader and motivational speaker, leading small groups of young adults and sharing with them the word of God, her personal life experiences, and leadership advice.
Sara Victoriano, 7 years with Moneymax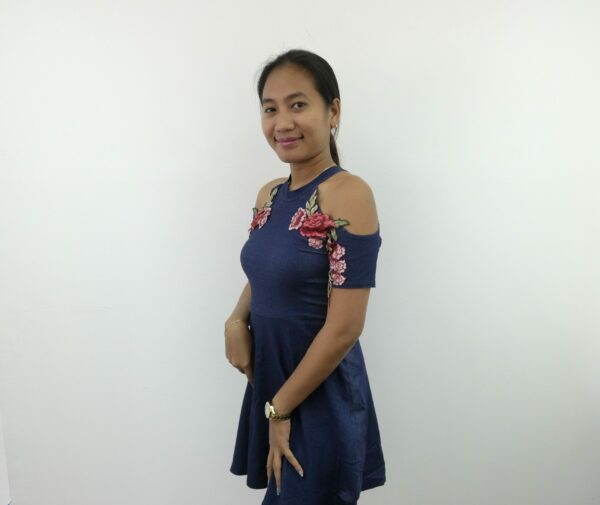 Working in the Finance department, Sara calls and deals with car insurance clients with overdue or almost overdue payments. She's been doing this as a Collection Executive 2 for most of her Moneymax career—a job that she takes pride in.
When she's not working, Sara goes on travel and beach adventures. "Mahilig ako mag-swimming kahit hindi ako marunong lumangoy. Basta may white sand, gusto kong pumunta dun!" she quips.
Danny Gaba, 6 years with Moneymax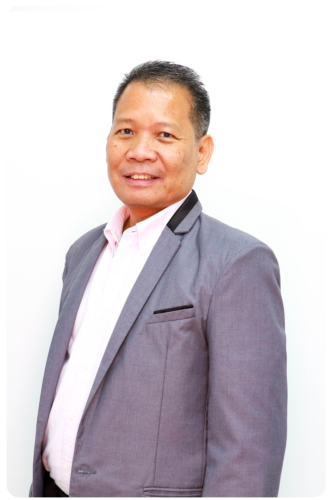 Danny, who has been in the insurance industry for 38 years now, is the President & Soliciting Official of MoneyHero Insurance Brokerage, Inc.*
As the top leader of the company's insurance brokerage business, Danny guides his team on their day-to-day activities to ensure compliance with the Insurance Commission's regulations and to maintain good working relationships with insurance partners.
Fondly called "Papsie" by his colleagues, Danny is a family man in and outside of Moneymax. He's a doting lolo to Daniell, an 11-year-old girl, and Bruno, a 10-year-old Beagle. He's also a proud father to three young professionals: Daryl, a registered nurse; Tristan, an entrepreneur; and Danica, the family dentist who's taking her Dentistry Board review.
"All my kids have already made it in their careers, so I and my wife always find time to date every week. And we have all our time to ourselves now!" the accomplished dad says.
*Note: MoneyHero Insurance Brokerage, Inc. (MHIB), an authorized online broker in the Philippines, is a wholly-owned subsidiary of Moneymax. All insurance brokerage activities referred to in this article are carried out solely by MHIB.
Moneymax Careers Spotlight: Q&A with the Humans of Moneymax
How did your Moneymax career begin?
Started from the ground up
Warlough recalls how he got into Moneymax. "In 2014, Patrick Lynch, then Vice President of CompareAsia Group (now MoneyHero Group*) discovered me on LinkedIn. He contacted me to offer a unique opportunity to work in a start-up company. The role was to join the Sales team, which they were trying to build at that time, offering car insurance to customers."
"We were just four comparison advisors in the team back then. So I started from the ground up. After two months, all of us were promoted to Sales Managers handling our own teams," he adds.
*Note: MoneyHero Group, the parent company of Moneymax, is Greater Southeast Asia's market-leading personal finance aggregation and comparison company operating in five markets: Hong Kong, Singapore, the Philippines, Taiwan, and Malaysia.
A twist of fate
It was a serendipity of sorts for Anz, who never had any idea of what Moneymax was until his then-colleague told him about it. At that time, he was working as a financial advisor in a US-based company that offers loans.
"Pasok ka muna d'yan. Then kung maganda ang company, sunod ako" was his non-committal answer.
But then, as fate would have it, the company he was currently working for closed down in early 2015. Just like any laid-off employee, he immediately looked for jobs. He also reached out to a friend who was working in Moneymax. "Anong meron dyan?" he asked.
Soon after, he found himself working as a Comparison Advisor helping Moneymax clients choose the best insurance provider. Eight months later, he got accepted to the Back Office team even with little knowledge of the business.
"During that time, we didn't have any training. All the information came from our car insurance partners. I studied them and practically trained myself," Anz shares.
See also: 10 Reasons Why Moneymax is a Trusted Personal Finance Platform in the Philippines
Found our true calling
Like Warlough and Anz, Sara started her Moneymax career in the Sales team—her first job ever—where she lasted for only one month. "Hindi ako marunong mag-sales talk at wala akong masyadong experience sa sales," she shares.
But it wasn't the end of her Moneymax journey. She got her second chance when she transferred to the Collections team. That's where Sara found her true calling.
"I feel blessed because I didn't expect to reach seven years in the company. I thought I would just be temporary in Moneymax. When I started, I barely had work experience. I don't even have a college degree. I just kept going hanggang sa nag-improve nang nag-improve ako."
Maria's story is another proof that it's never too early or late to make a career change.
Before joining Moneymax in 2015, she had a few marketing roles after graduating with a Marketing Management degree. Apparently, though, her heart is in human resources management.
As Brian Tracy, a motivational speaker and author, puts it: "It doesn't matter where you're coming from. All that matters is where you're going."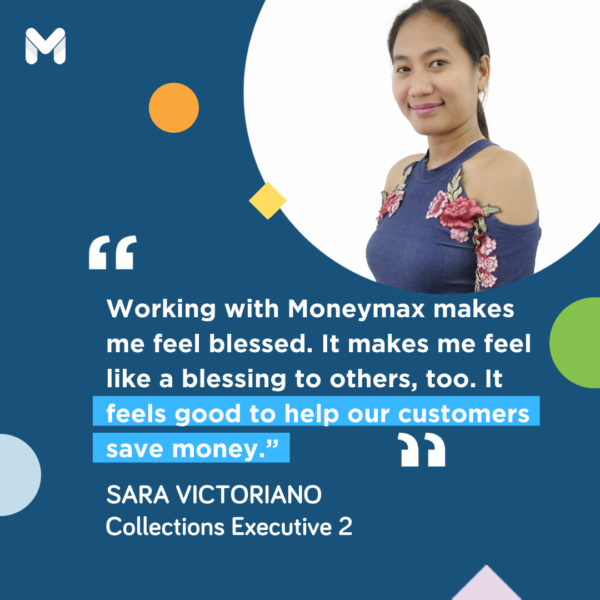 A seasoned veteran
Danny's beginnings with Moneymax are different from the other long-time employees. This industry veteran came with 32 years of insurance brokerage sales and management experience.
"It all started when a headhunter kept on chasing me during the last quarter of 2015. My first job in Moneymax was Soliciting Official & Business Manager. My primary task was to liaise, be compliant with the Insurance Commission, and deal with insurance providers to get the best terms for our clients," he shares.
Danny had his industry expertise backing him up. But his experience as a new employee was not without surprises.
"I was culture shocked when I joined in 2016. The Moneymax office dress code back then was casual shirts and shorts. Some people even sported colored hair," he recalls.
What is the company culture like in Moneymax?
Moneymax is a certified Great Place to Work®, with 83% of employees vouching for it.[2] But what does that mean? Let's hear it from the pioneer employees themselves.
Treated like family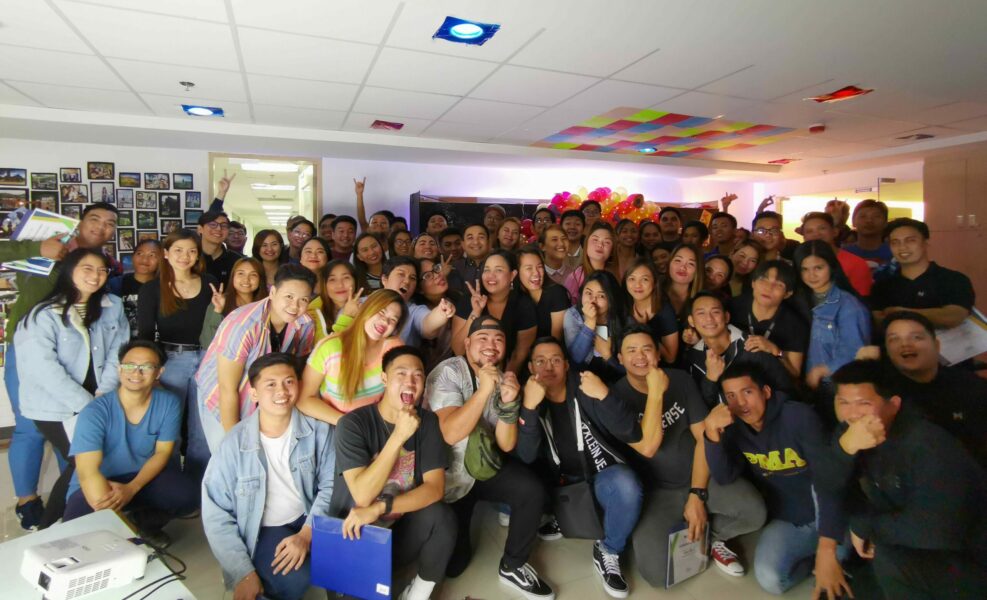 What Anz likes best about the Moneymax culture is the empathy of his manager and colleagues. One time when he got sick, one of the managers insisted that he take his much-needed rest. "Bubugbugin kita 'pag hindi ka nagpahinga," he was even jokingly told.
"Moneymax has become a people-focused workplace. Being asked simple questions like, 'Kumusta ka na? Okay ka pa ba?' means so much to us," says Anz.
Sara likes that Moneymax employees are welcoming to everyone. "I feel welcome here. The people are friendly. We treat each other as family."
Promoting equality and diversity
Moneymax is an equal opportunity employer that adheres to MoneyHero Group's Equal Opportunity, Anti-Harassment, and Anti-Bullying Policy. The company is committed to ensuring that the workplace is free of all forms of discrimination and harassment and that all employees are treated with dignity and respect.
"We promote diversity and inclusion, and we respect and welcome people to work with us regardless of their background and beliefs," says Maria.
Danny and Sara agree, saying that the Management treats employees equally and as an asset.
Warlough, an LGBTQ member himself, considers diversity as the best thing about Moneymax's culture. "The company culture is like no other—it's a merry mix of rigor, bliss, and dysphoria. Our diversity makes us stronger as a team."
Empowered employees
For Danny and Anz, employee empowerment is their favorite about the Moneymax culture.
"We're empowered to think as owners and to look after the interest of the company and our users. We're not merely 9-to-6 employees—we're running a business 24/7 for our co-workers, users, and families," Danny says.
Anz agrees: "The Management empowers us to make decisions. I like that we have a say on areas like our work process and training."
Related article: Financial Comparison Made Easier: Moneymax Improves Digital Experience for Consumers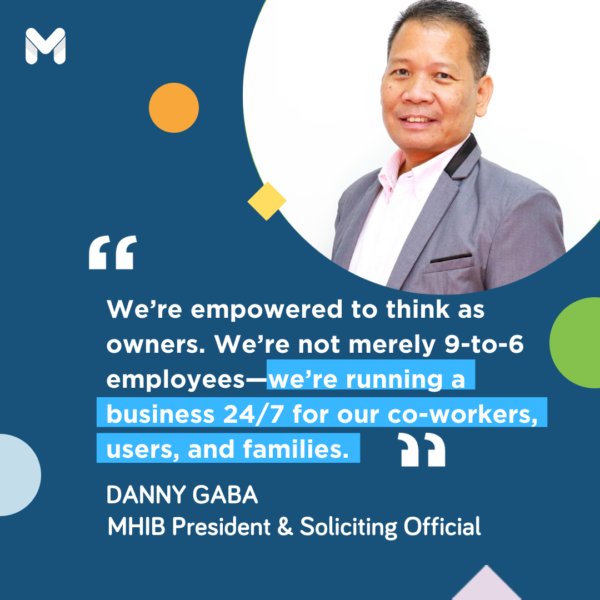 How have you grown personally and professionally with Moneymax?
Elevated our financial lives
Working with Moneymax has significantly improved the way our longest-serving employees manage their finances.
"My financial literacy has greatly improved, and I'm on my way to achieving financial freedom. My eight years with Moneymax have allowed me to travel, invest in properties, put up a business, get insured, and many more," Warlough shares.
Danny has quite the same experience. "In my third year with Moneymax, I learned how to manage my money. I also taught my children how to handle their finances."
"Marami akong natutunan sa finance. Because of my job, I became knowledgeable about car insurance. I also read our Moneymax blog, which helps me learn what I should do with my money. Of course, my salary and incentives have been a huge help," shares Sara.
Maria shares the same thoughts. "Truly, Moneymax helps us lead healthy financial lives by educating us— from simple tipid tips to long-term financial planning."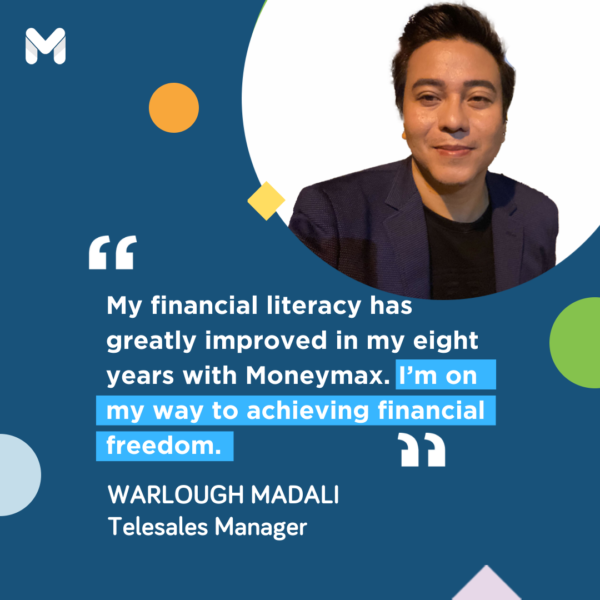 Anz also learned more about insurance and its importance. "By working with Moneymax, I learned how insurance works. Eventually, I got to enjoy studying the products that we offer to our clients."
Although Anz didn't get to pursue his dream job (he and his wife are licensed physical therapists), he's thankful that he got into the financial services industry. Physical therapists in the Philippines earn only an average annual base salary of ₱144,489 (or roughly ₱12,000 per month), based on Payscale data.[3]
"My job helps me sustain my family's needs. Hindi kami nangungutang. It's what really matters," he says.
Accelerated personal and career growth
Having the right work attitude, like curiosity and hunger for learning, has helped in Sara's case. "I started without any knowledge of how things like laptops and the internet work. But I've improved a lot in Moneymax. I can communicate well with our clients now."
Warlough is grateful for the life lessons and career growth opportunities he has gained. "Moneymax taught me the value of loyalty. It's my guiding principle both in my business and personal life. I was given the opportunity to be a leader that produces leaders."
According to Danny, he has grown so fast in his six years with Moneymax. "Personally, it has helped me to be more understanding with my family, especially my children. I learned a lot from working with my colleagues who are mostly in the same age range as my kids (late 20s to mid-30s)."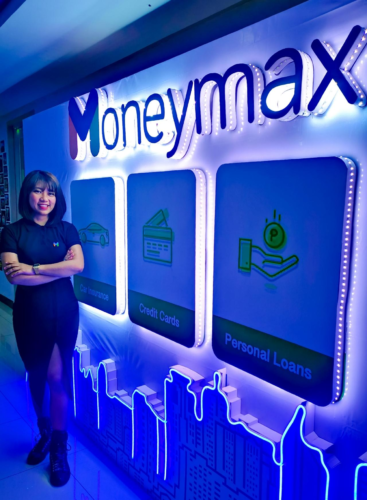 An HR professional herself, Maria appreciates everything she has learned from working at Moneymax. "My HR role allows me to work, collaborate, and learn from different departments across other brands of MoneyHero Group. It inspires me to reach more heights, win together, and become better at what I do."
Anz also says he has learned a lot by collaborating with different people in Moneymax. "Learning and career growth opportunities for employees are here, especially nowadays."
What is your proudest Moneymax moment?
Reconnecting with employees in trying times
Maria will never forget the company's Christmas celebration in 2020. To make the occasion more special despite the COVID-19 crisis, the HR team did house-to-house visits in December, checked in on employees, and distributed Christmas packages from Moneymax. At that time, Moneymax employees had been working from home for nine months due to the COVID-19 lockdown.
"The visits were quick, and the exchanges were short. Some tears were shed, but there were a whole lot of smiles (even behind masked faces)," Maria recalls.
"It was heartwarming to see our employees for the first time since the lockdown started. We hope we made them feel valued even in trying times. Such a simple gesture is one of the precious moments I've ever had in Moneymax," she adds.
Indeed, putting people at the heart of everything we do—one of the company's values—is alive in Moneymax.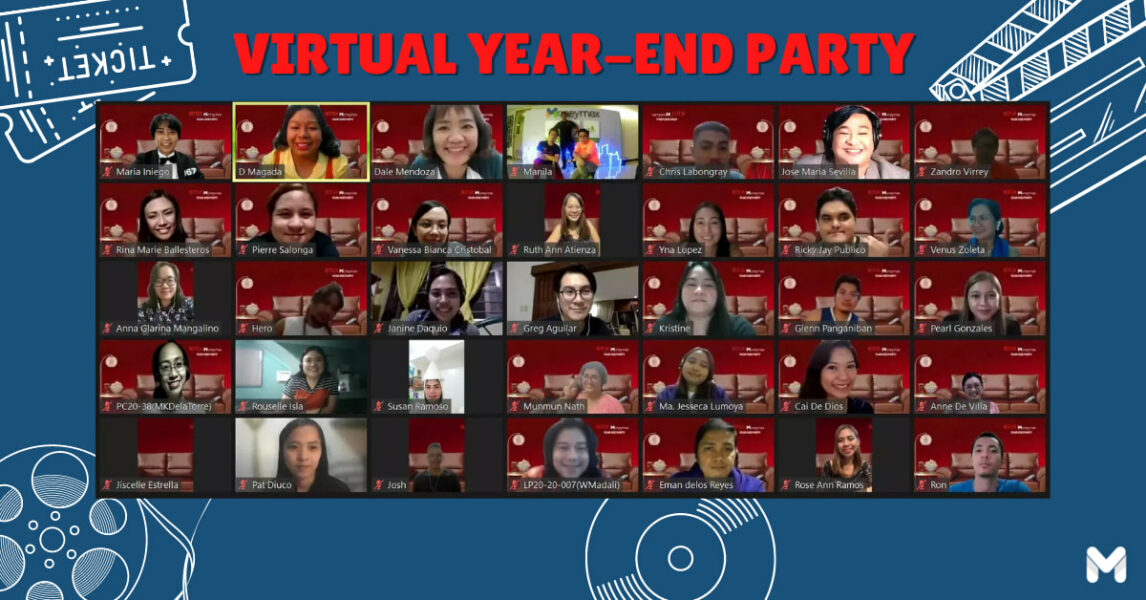 Bought my dream home
While many young adults her age are still dreaming of owning a home, Sara already realized her dream when she was 24. She invested in a property in her hometown in Cebu and has fully paid for it in her second year with Moneymax.
"Katas ng pinaghirapan ko sa Moneymax! I wouldn't be able to achieve my goals if not for this company. I was able to build my dream house. My family is safe there, and that's what matters to me."
Got recognized for my performance
Warlough was promoted to Telesales Manager in 2022. Also, a year before, he was among the first Moneymax employees to win the company's quarterly employee awards. He earned recognition for demonstrating one of the company's core values: Winning is a Team Sport.
The two other MoneyHero values that Moneymax employees live by are Put People at the Heart of Everything We Do and Blaze the Trail.
"It has been my dream to lead an entire sales team. Being recognized on such a prestigious platform is a monumental achievement for me," says Warlough.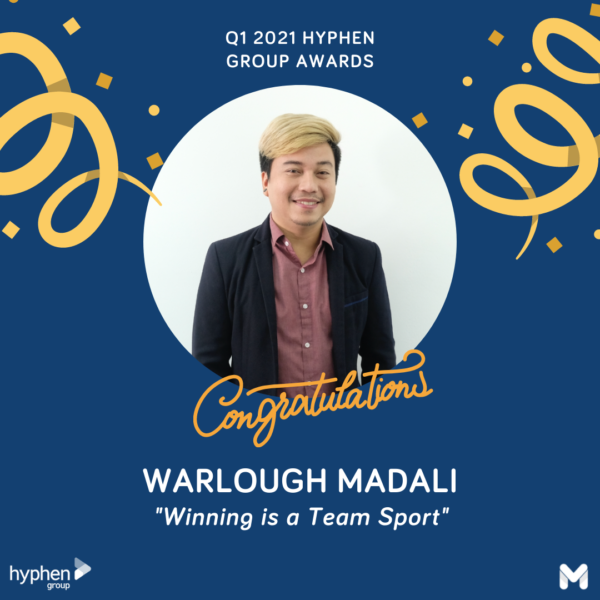 Made a significant business impact
Back in the early years of Moneymax, its back office had no clear-cut process yet, according to Anz. "But now, our process is clear and more organized. I feel proud of having contributed to it. Achieving Moneymax's growth involves teamwork. You don't just do it alone—everyone will help you."
For Danny, his proudest moment happened from 2017 to 2019 when his friends in the insurance industry trusted him and gave support to MHIB. "Through this, we're able to offer the lowest online rate and competitive terms in the market with a huge commission rate."
As a leader, Danny is proud that the Moneymax team is doing very well with very little or even no assistance from him. "I can retire already," he says in jest.

What drives you to stay with the company?
With job hopping being the career trend in the last few years—compounded by the Great Resignation phenomenon during the pandemic—it makes one curious about why these high-performers have chosen to keep working in Moneymax.
But it's not about complacency or staying in their comfort zone, mind you. They have deeper reasons to keep growing with the company.
Sense of belongingness
In Moneymax, you stay not only because you have to earn a living but also because you get that sense of belongingness, according to Warlough. "It gives you a sense of security that you're not alone. It entails love and interpersonal connections. I've felt that many times, especially when I got sick."
Warlough appreciates the great lengths that the company and his colleagues went to when he got sick with COVID-19. He said the company gave additional leave credits, and HR would send fruits or flowers to affected employees.
"HR and Pearl (then Moneymax Co-General Manager) reached out to me to send their thoughts. GM na 'yun ha," shares Warlough. He felt the love indeed.
Sense of fulfillment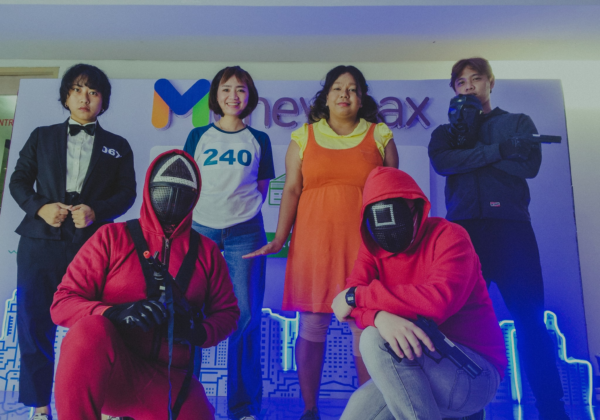 Some employees stay because working with Moneymax gives them satisfaction in their careers. Case in point: Maria, Anz, and Sara.
"Working with Moneymax is fulfilling. It gives me the opportunity to bring people together and touch their lives. I stay with the company because of its culture and people," says Maria.
Anz likes the work environment in the company. "I enjoy working with people around me. I get my training experience with Moneymax, and I'm able to share my knowledge and expertise with my colleagues."
But just like some employees in any company, Anz wondered at one point what it was like to be on the other side of the fence. In his fifth year, he considered moving to a different company. Moneymax's competitors had their business booming back then.
But then Anz chose to stay. It was a decision he certainly didn't regret. Moneymax has achieved tremendous growth, especially in the past year and a half.
"I'm proud of how Moneymax has grown. I believe the company will continue to grow, and I want to be part of it," he shares.
For Sara, her career fulfillment comes from the fact that she has a job that she really enjoys. "I'm thankful na nalagay ako sa gusto kong position."
"Working with Moneymax makes me feel blessed. It makes me feel like a blessing to others, too. It feels good to help our customers save money," she adds.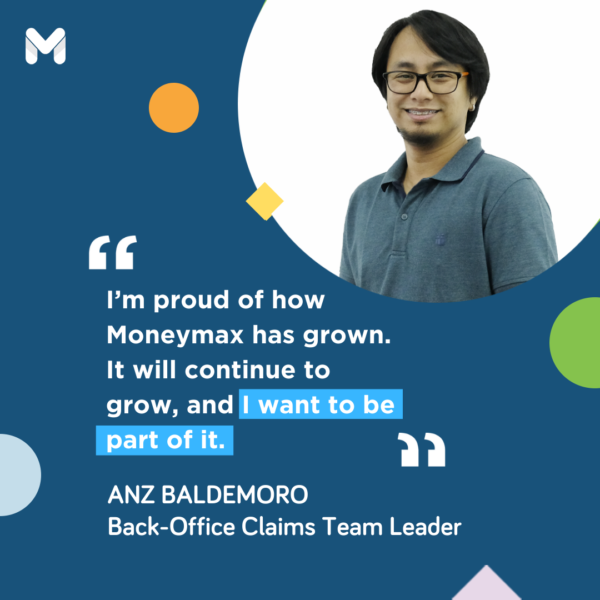 Believing in the business, people, and leadership
Danny believes in the company's business model, employees, and leadership team—it's his greatest motivation to keep going. "The people in Moneymax are all smart. We don't need to tell them what to do, as they're always one step or even two steps ahead."
"We have better leadership and work practices now. I'm happy that we're operating with a broker mindset," he adds.
Positive work culture is another factor that motivates employees like Warlough and Anz to stay in Moneymax.
"We always focus on the good things and solutions rather than problems," says Warlough.
"There's positivity within my team, and it extends outside of the team and within the company. Maganda rin ang patakbo ng Management. It's a win-win situation for everyone," says Anz.
What is your advice to new employees and those who want to join Moneymax?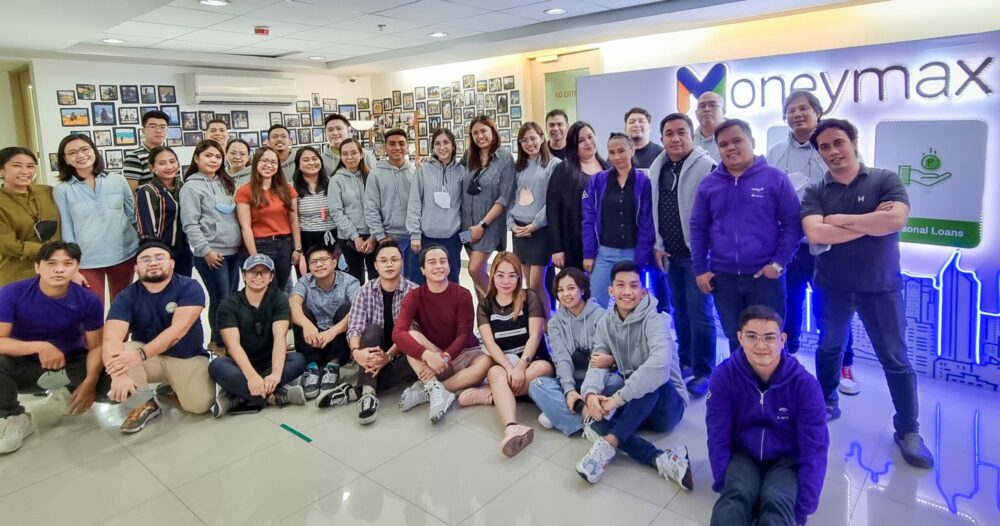 Being the most experienced in the Moneymax team, these employees have some valuable words of wisdom to share.
Have patience
"Be patient with the people you're working with. 'Wag mong intindihin ang sinasabi ng iba. Politics is inevitable in every organization. You're damned if you do and damned if you don't, anyway. So just do what you think is right," says Anz.
"At the same time, be patient with yourself. I started as an agent na walang kaalam-alam, but with tons of patience, I got to grow my knowledge and skills in time," he adds.
Believe in yourself
"Have faith in yourself. Kaya mo 'yan! You won't grow if you always doubt yourself. If you think you can't do it, you can always ask questions," says Sara.
Look on the bright side
Feeling unenthusiastic about your job? Maria, an HR practitioner herself, has three tips to help you break that career rut:
Always start with your why. Ask yourself why you do what you do, stay true to it, and keep it alive.
Be thankful for the highs, and don't just focus on the lows.
See the good in people and help bring out the best in them. Make someone's day today!
Be a sponge
One piece of advice that Danny wants to share with Moneymax newbies is this quote from American entrepreneur and motivational speaker Jim Rohn:
"Be like a sponge when it comes to each new experience. If you want to be able to express it well, you must first be able to absorb it well."
Unleash your potential
"You'll learn a lot if you work with Moneymax. So unleash your potential and go places. Now is the time to join. Not later, not tomorrow!" says Warlough.
Join the Moneymax Team!
Moneymax is hiring! Join the Philippines' largest personal finance platform, Marketing Excellence awardee, and Great Place to Work®-certified organization. Check out our open roles on LinkedIn. Apply now!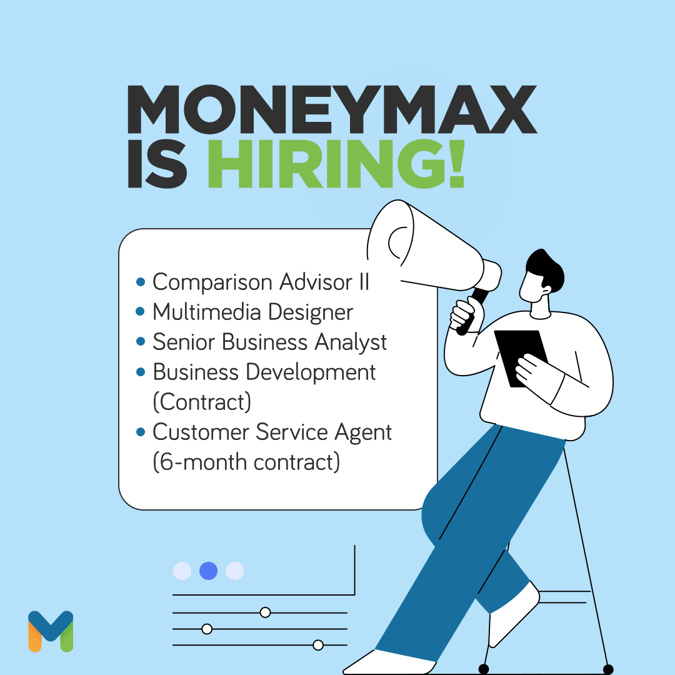 Final Thoughts
Their Moneymax careers and aspirations may be diverse, but our employees share something in common: a growth mindset.[4] They invest in their learning and put their energy into it. Also, they enjoy what they do. That's the secret sauce to their career growth and fulfillment.
May these Moneymax employee stories inspire you to take a long, hard look at your career and take steps to pursue your professional and financial goals.
Related article: Mommymax Speaks: Reminiscing My Fulfilling Journey with Moneymax

Sources: