"Is Moneymax legit or a scam?"
You likely have this in mind while searching online for info about Moneymax. You might have seen our promo ad, read our articles, or heard about us from your family or friends. It's just natural to be curious, which of course led you to this Moneymax Philippines review.
Now hear it straight from us: our business is legitimate—and we're more than just a financial platform. For seven years and counting, we at Moneymax have been staying true to our mission of helping Filipinos lead healthier financial lives through our services and content. In the process, we have earned the trust of over 40 million Filipinos.
Moneymax Philippines Review: 10 Reasons Why Filipinos Trust Us
1. We Make Comparing and Getting Financial Products Easy, Quick, and Free
What is Moneymax?
Moneymax is the country's largest personal finance marketplace, with our website being used by over two million visitors per month. Since Moneymax started operations in 2014, over 40 million Filipinos have benefited from our services.
How Can Moneymax Help You?
Moneymax's free-to-use online platform makes it easy for you to compare and apply for the right financial products online. Such convenient services come very useful at a time when the risk of COVID-19 persists, and making financial transactions at home is still the safest option.
To provide our online customers with a variety of options, Moneymax has partnered with top car insurance, loan, and credit card providers in the Philippines.
In 2021, for instance, we secured partnerships with Malayan and Prudential Guarantee—two of the country's largest non-life insurance companies. Also in the same year, Moneymax welcomed UnionBank to its solid roster of reputable banking partners in the Philippines that include Citibank, HSBC, and RCBC.
So that Moneymax customers can compare more financial products, we have recently added 100+ new partner and products pages to our website.
More options mean better chances of finding the best product for your needs and saving your time and money.
2. Moneymax Customers Receive Exclusive Rewards
Customers who qualify for our promos get rewarded with a welcome gift after applying and getting approved for a credit card or personal loan through the Moneymax website.
We're not talking about ordinary freebies here—definitely not the typical umbrellas, keychains, and similar merch!
In fact, we have given away a lot of high-value gifts such as Apple AirPods, GCash, Nespresso coffee machines, and shopping vouchers, among others, to successful applicants. All welcome gifts are authentic items from legitimate and trusted distributors.
Truly, Moneymax is the marketplace for rewarding financial experiences! Check out what customers say about the free gift they received from Moneymax.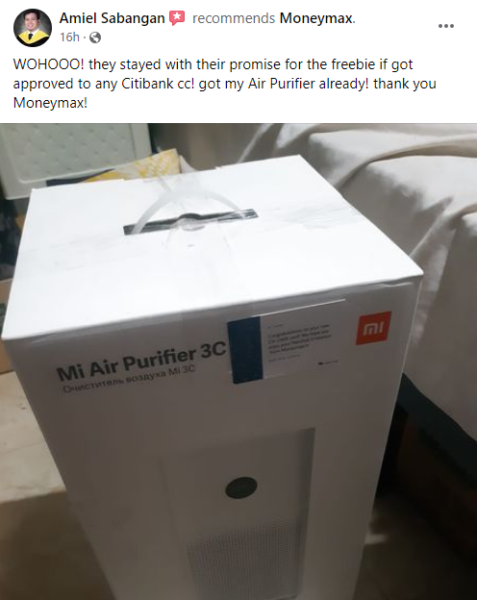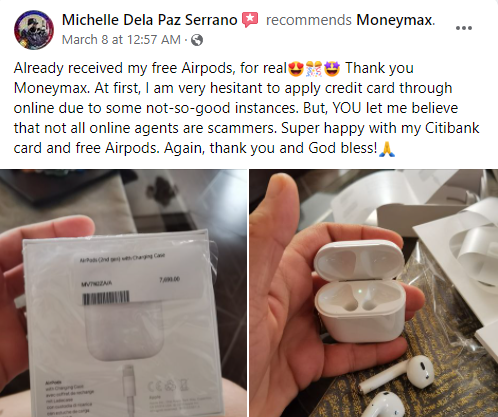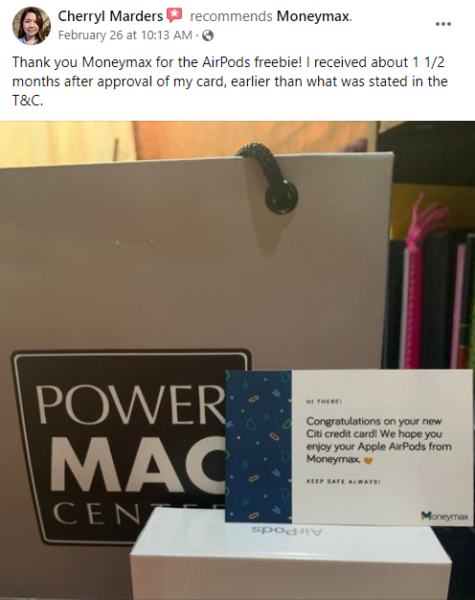 3. We Work with Top Brands, Content Creators, and Media Orgs
So that more Filipinos can get access to financial products, Moneymax has partnered with renowned brands like foodpanda and ShopBack, as well as top personal finance influencers Nicole Alba, Thea Sy Bautista, and DaveLi. We also work with Yahoo! and Involve Asia, two of the leading names in the affiliate marketing industry.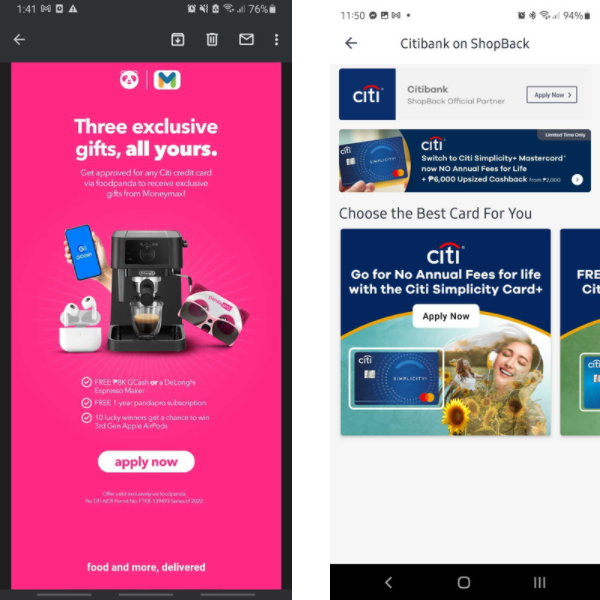 We have maintained our long-time partnerships with leading Philippine media organizations ABS-CBN and The Manila Times to help Filipinos make healthier financial decisions through educational content.
4. Moneymax Provides Comprehensive and Unbiased Personal Finance Content
We empower Filipinos to make the best financial decisions through informative, inspiring, and engaging content on our blog, email, and social media channels.
The Moneymax blog offers a wealth of well-researched but easy-to-understand personal finance articles and guides, which are read by over 1 million visitors every month. We also share our content with our 1+ million email subscribers and 260,000+ social media followers.
We host financial literacy talks and discussions through the Moneymax Lifehax Academy, allowing our audience to ask questions and get answers from industry leaders and experts. In 2021, we organized Facebook live-streaming events to help our audience become financially healthy and resilient in the new normal.
All such initiatives recently earned us recognition twice from the Marketing Excellence Awards. Moneymax won the Bronze Award for Excellence in Content Marketing from the prestigious awards program in 2021 and 2022.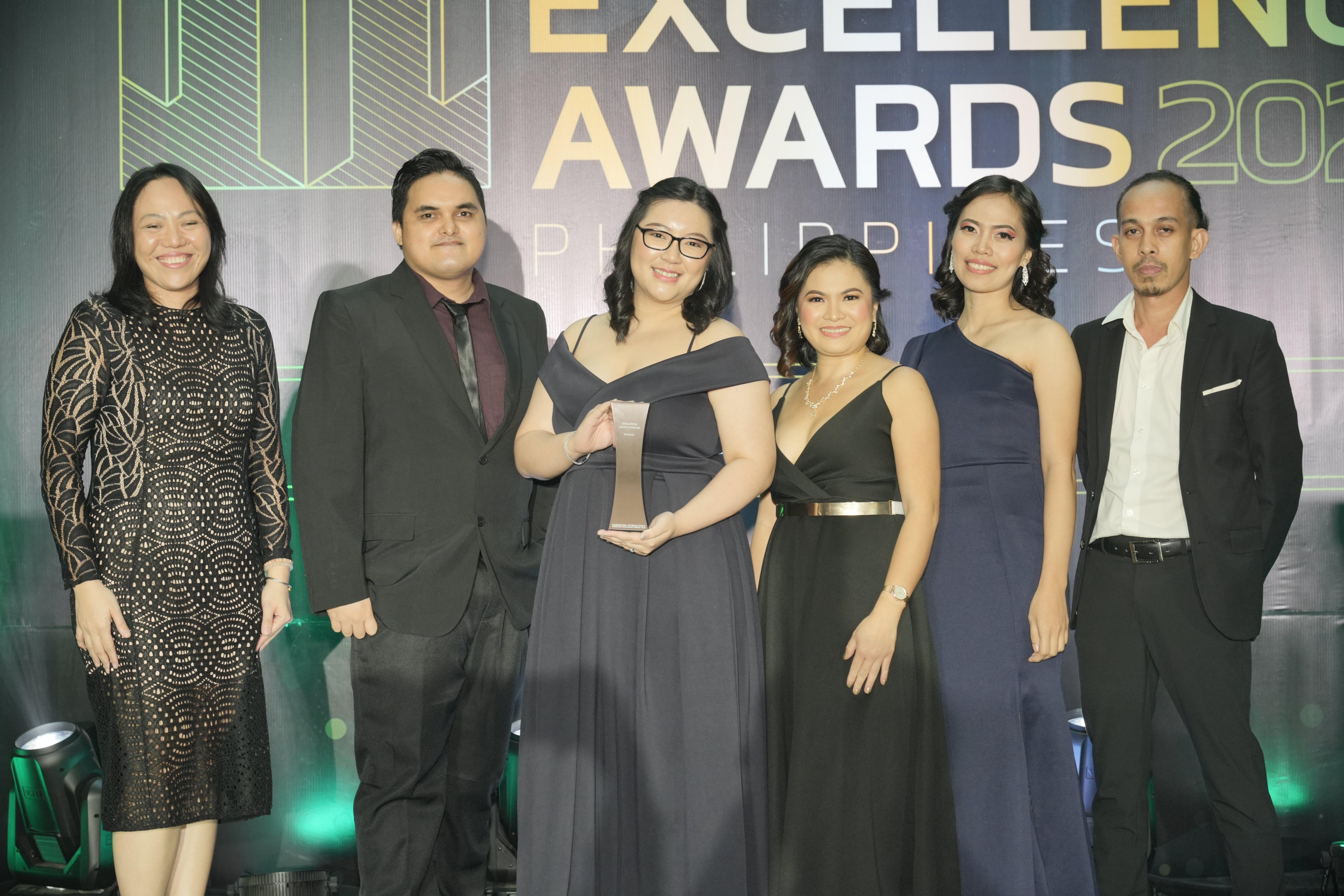 5. We Make Our Customers Happy
At Moneymax, we make sure our clients are more than satisfied with our service from start to finish. But don't just take our word for it. Hear it straight from the people who trust us!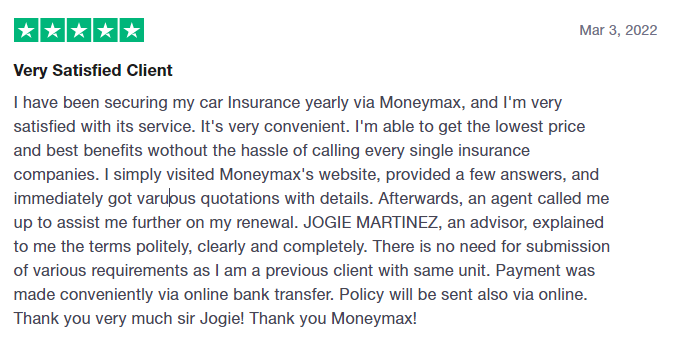 "Over the last seven years, we have received more than a thousand reviews across various platforms, making Moneymax the most well-reviewed financial comparison website in the Philippines," said Moneymax Philippines Co-General Manager Munmun Nath.
On the consumer review platform Trustpilot, Moneymax Philippines customers gave us 4.8 out of 5 stars, with 97% of them giving us an Excellent or Great rating.[1]
Customers commend us for our convenient car insurance process, smooth claim process, and hassle-free credit card application. We also got a Customer Satisfaction Score (CSAT) of 4 out of 5 for claims.
More importantly, Moneymax clients are impressed with our helpful, professional, and knowledgeable customer service representatives.
6. Moneymax is a Certified Great Place to Work

The 100+ Moneymax employees are our reliable partners in carrying out our mission to help Filipinos to build healthier financial lives. And we're proud that 83% of our employees say we are a great place to work![2]
Moneymax employees believe that our Management is competent at running the business, the 2021 Great Place to Work Trust Index Survey found. They also feel good about how they are able to contribute to the community through their job.
Related article: 5 Years of Moneymax with Employee Warlough Madali
7. Moneymax is One of the Leading Players in the Fintech Industry
We are rated a top startup company among other online platforms in the Philippines by the latest StartupRanking list. In 2022, Moneymax ranked third overall among all the startup companies in all of Manila.[3]
Recently, Moneymax made it to BestStartup.Asia's top Southeast Asian startups and companies[4] for exceptional performance in innovation, growth, management, or societal impact. BestStartup.Asia showcases innovations, breakthroughs, and the greatest companies across Asia.
Moneymax was recognized also as one of the rising stars of the fintech sector in the country back in the October 2016 issue of Forbes Magazine PH.[5]
We are a proud member of FinTech Alliance.PH, a self-regulating organization known as one of the leaders in expanding financial technology in the Philippines.
8. We are Part of Greater Southeast Asia's Leading Financial Products Platform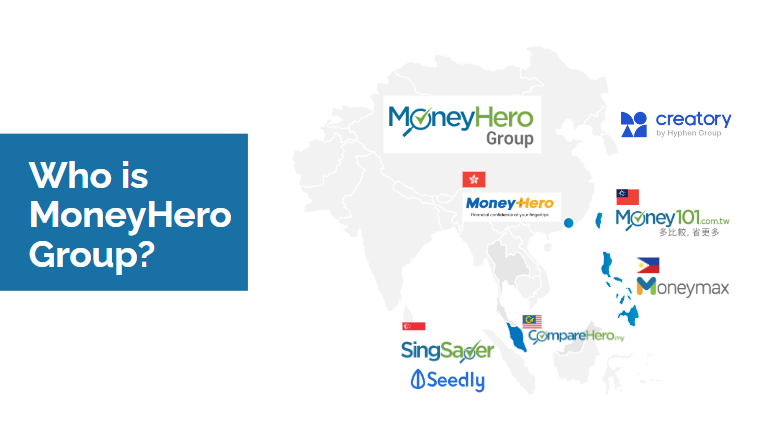 Moneymax is part of MoneyHero Group (formerly known as Hyphen Group or CompareAsia Group),[6] a leading personal finance aggregation and comparison company in Greater Southeast Asia, operating in Singapore, Hong Kong, Taiwan, the Philippines, and Malaysia with respective local market brands.
Also, our parent company reaches around 9.8 million unique users monthly across its five markets and works with over 270 commercial partners.
9. Moneymax is Trusted by Global Financial Institutions
Experian, one of the largest credit bureaus in the United States, invested in Moneymax as part of its partnership with MoneyHero Group.[7] The funding has enabled us to connect more people with the right products and offer them an integrated digital experience.
Our key investors[8] include global financial institutions such as International Finance Corporation or IFC (a member of the World Bank Group),[9] Goldman Sachs Investment Partners, and Alibaba Entrepreneurs Fund.
10. We Comply with Philippine Government Regulations
Moneymax complies with all business, legal, and data security requirements in the Philippines. We are registered with the Securities and Exchange Commission and National Privacy Commission under MoneyGuru Philippines Corporation.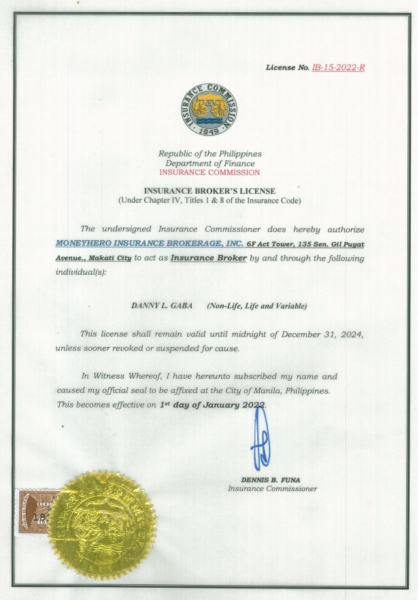 Our subsidiary, MoneyHero Insurance Brokerage, Inc., is authorized to act as an insurance broker in the Philippines. It is a registered online broker with License No. IB-15-2022-R issued by the Insurance Commission.
On top of being a licensed broker, MoneyHero Insurance Brokerage also ranks 9th in the top 10 car insurance brokers in 2020.
Final Thoughts
Moneymax is a trusted marketplace for rewarding financial experience and source of financial information and tips in the Philippines. Still, we strive hard to build and maintain trust with our different stakeholders: customers, partners, and employees—including you!
May this Moneymax Philippines review give you peace of mind knowing that you'll be dealing with a trusted and legit organization.
Got questions or feedback for us? Feel free to connect with Moneymax anytime via our social channels: Facebook, Instagram, LinkedIn, and TikTok. You can also visit our office at 6F ACT Tower, 135 H.V. Dela Costa St., Salcedo Village, Makati City from Mondays to Fridays between 9 a.m. and 6 p.m.
DISCLAIMER: Moneymax is a registered company under the legal name Moneyguru Philippines Corporation (MGPC). Its wholly-owned subsidiary, MoneyHero Insurance Brokerage, Inc. (MHIB), is an authorized insurance broker in the Philippines. MGPC does not carry on an insurance business, and all insurance-brokerage activities referred to on this website are carried out solely by MHIB. Click here for more information.

Sources: