How do you usually shop for a product? If you're like any smart shopper, you don't buy the first item you see on the rack. Rather, you hop from one store to another, checking out prices and scrutinizing features down to the last detail. Of course, you'd want to make sure you'll get the most value for your money.
Shopping for products or services online is no different. You're guaranteed of finding the best deal when you compare prices and offers from different providers. This is where a comparison website comes useful—it helps consumers choose the best option.
Should you use an online comparison platform? What does it do exactly? If you haven't tried using one yet, here are the key facts you must know about comparison websites in the Philippines.
What are Comparison Websites?
A price comparison website or comparison shopping website, simply called a comparison website, is a platform that enables consumers to get and compare prices, quotes, and other relevant data about a product or service from a variety of companies. In just a few clicks, users can find a deal that's tailored to their needs and preferences at the best price.
Comparison websites in the Philippines have been growing in popularity in recent years, as more and more Filipinos use the internet to research goods and services before deciding what to buy.
Among the products and services that Pinoys usually compare online are related to travel (flights, hotels, etc.), real estate (house and lot/condos, and other properties for sale or rent), and personal finance (car insurance, credit cards, loans, etc.).
What Does a Comparison Website Do?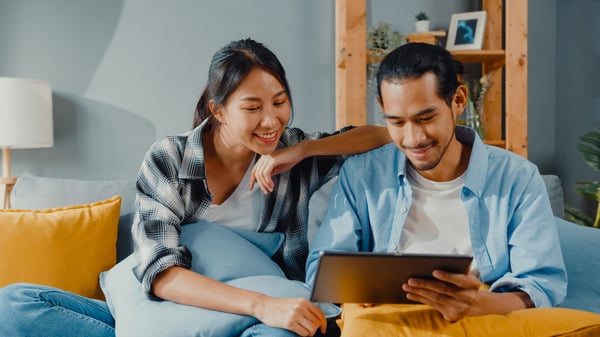 How Comparison Websites Work
Using a comparison website is simpler than it looks. Comparison websites work with a variety of service providers in a particular niche or industry and compile information on their products or services.
When users visit a comparison website to search for what they need, the site asks questions about their preferences and personal details to provide customized results.
Based on the user's information, the comparison site will return a list of quotes or products that match the user's requirements and sort them by price, key features, or popularity. All the options are shown together on one web page, so the user can quickly compare them on screen and choose the one with the best deal.
More Than Just a Place for Comparison Shopping
Some comparison sites serve as a one-stop shop, helping users not just to compare and find the best products but also to get their chosen product in one go.
Case in point: the Moneymax car insurance comparison platform. The comparison website provides different car insurance quotes based on your vehicle details (year, make, model, and variant) and usage. It also lets you choose the type and amount of coverage you want to include in the quotes. You can sort the results by the lowest to highest premium or deductible, as well as view the coverage and price breakdown per result.
Once you've found the best deal on car insurance, just click on the Apply button, and a Moneymax representative will get in touch with you to help you get the best insurance policy at the cheapest price. You'll receive your e-policy within 24 hours after completing your transaction.
Moneymax goes the extra mile for car insurance policyholders by providing them with hassle-free claims processing assistance. It has a dedicated Claims Team that handles claims processing requests of customers who got their policy through Moneymax.
Read more: Moneymax Celebrates 8 Years of Helping Elevate Filipinos' Financial Lives
What are the Advantages of an Online Comparison Platform?
There are different ways you can benefit from using a comparison website before making a purchase. Here are some of them.
✅ Save Money
Saving money is the main reason people visit comparison websites. For instance, you can save as much as 30% on a car insurance policy purchased through Moneymax.
Instead of buying the first product you see online, use a comparison site to view all your options and find the cheapest product that matches your specific criteria and filters.
✅ Make a Well-Informed Purchase Decision
Many Pinoys are confused by the technicalities of finding the best car insurance or credit card deals, personal finance coach Randell Tiongson notes in his blog post.
"Personal finance comparison sites can fill in those knowledge gaps. They empower buyers to compare and make financial decisions based on their own knowledge—and that knowledge is bolstered by information and help options that can educate them on various concepts," according to Tiongson.[1]
Comparison sites provide product details that allow users to make a well-informed choice. For instance, the Moneymax credit card comparison platform lets you find suitable card options for you. You can quickly view each card's features, application requirements, and fees and charges—all of which are important considerations for choosing the best credit card.
✅ Not Missing Out on a Potentially Great Deal
If you search for products only through Google, the first results you see are likely from bigger companies with huge marketing budgets, specifically for SEO. You might miss out on better deals from lesser-known providers that are not as visible on Google.
Comparison websites lay down every option possible, including smaller companies that may have exactly what you need at the lowest price. This ensures you won't regret your purchase, wondering if there's a better deal elsewhere.
Read more: 10 Reasons Why Moneymax is a Trusted Personal Finance Platform in the Philippines
✅ Save Time and Effort
Using a comparison website eliminates the need for calling various companies to request quotes and filling out multiple sets of forms. No need to visit numerous websites to gather information about different products.
Comparison sites in the Philippines have user-friendly designs, making them convenient to use even for first-timers. In just a few minutes, you can gain access to product information from a variety of providers, and compare your options all in one place.
Aside from these time-saving features, Moneymax takes its service a notch higher by helping users get financial products faster. You can submit your credit card or personal loan application and have it fast-tracked through the Moneymax comparison platform.
Read more: Financial Comparison Made Easier: Moneymax Improves Digital Experience for Consumers
✅ Free to Use
Most comparison websites in the Philippines, including Moneymax, don't charge users anything for their service. For instance, if you get car insurance through Moneymax, you won't have to pay any fee or commission on top of your premium.
✅ Independent, Unbiased Information
A common misconception about comparison sites is that they're affiliated with certain companies, so the results they show are biased. That isn't true, especially with Moneymax acting as a third-party service offering impartial and independent information on car insurance, credit cards, and personal loans in the Philippines.
Choose the Right Financial Products: Learn from Our Free Virtual Event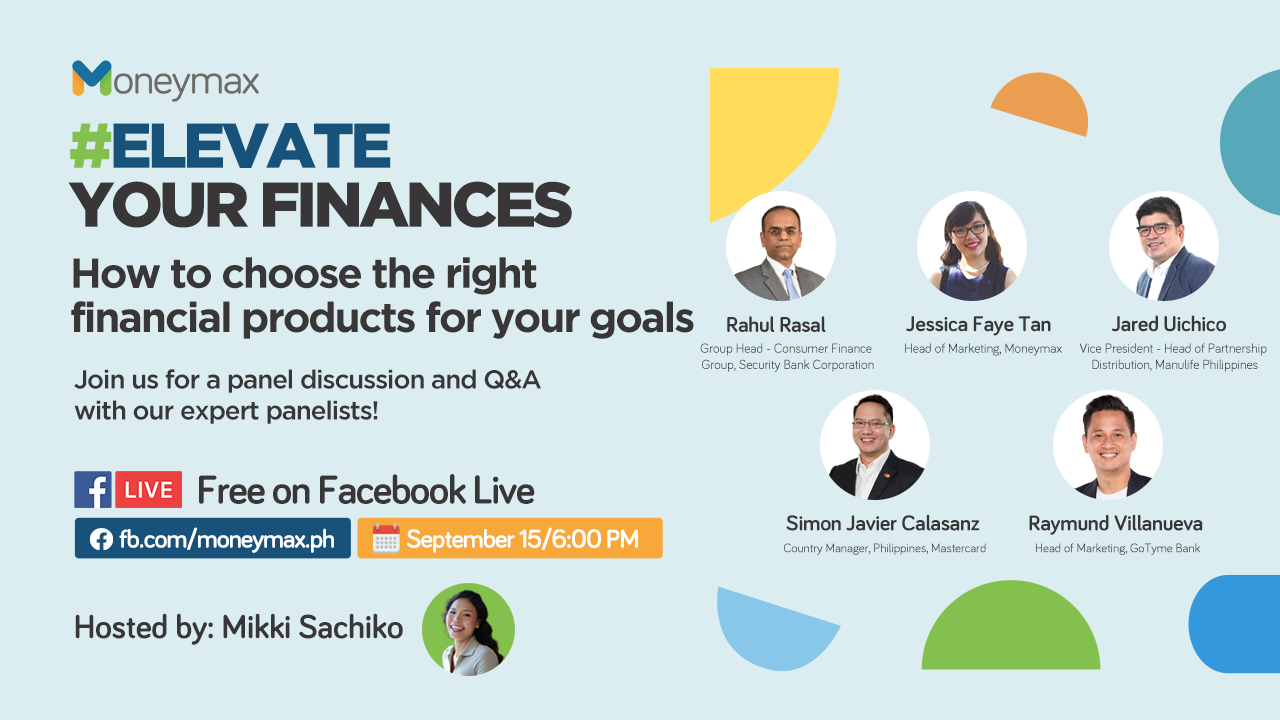 Take your finances to the next level this year! Join our panel discussion on September 15, 2022 at 6 p.m. via Facebook Live. Here, you'll learn about how to choose the right financial products based on your specific goals. You'll get to ask questions and receive answers from key opinion leaders in the finance industry. Get the chance to win exciting prizes and giveaways, too!
This virtual live event is part of Moneymax's #ElevateYourFinances series in celebration of the company's eighth anniversary this 2022.
Registration to the event is open to all and is free of charge. Click this link and sign up now!
What are the Best Comparison Sites in the Philippines?
Based on the latest SimilarWeb data,[2] here are the most popular comparison sites in the Philippines per category. The website looks into the total site visits, visit duration, and other engagement stats in ranking the websites.
Accommodation and hotels: Booking.com, Agoda, Airbnb
Air travel/Flights: Traveloka and Skyscanner
E-commerce and shopping: iPrice.ph and Smartprix
Finance: Moneymax
Real estate: Lamudi, Dot Property, Zillow
Travel and tourism: Booking.com, Agoda, TripAdvisor
How to Easily Compare Financial Products Using Moneymax
🚘 Car Insurance Comparison
As a licensed insurance broker in the Philippines, Moneymax offers end-to-end services to car owners, from comparing and selecting a policy to filing a claim.
Here's how to find the best car insurance coverage for you in just a few minutes with the help of Moneymax's comparison platform:
Get a car insurance quote by providing your car's details. When you're done, click the Get Results button.
Fill out the Personal Information form. Hit Submit.
View the results based on your submitted information. You can sort the quotes from low to high price or low to high deductible.
💳 Credit Card Comparison
Through Moneymax, you can quickly compare a wide variety of credit cards from multiple banks in the Philippines and find one that best suits your needs and preferences. Here's how:
Go to the Moneymax credit card comparison tool.
Select the credit card type you're looking for (Best Deals, Cashback, Rewards, or Show All).
The results will be displayed. You can filter them by selecting your annual income and/or your preferred issuing bank. You may also sort the results by the lowest annual fee, annual income requirement, or interest rate.
Once you've found the perfect card for you, click the Apply Now button to start your credit card application process.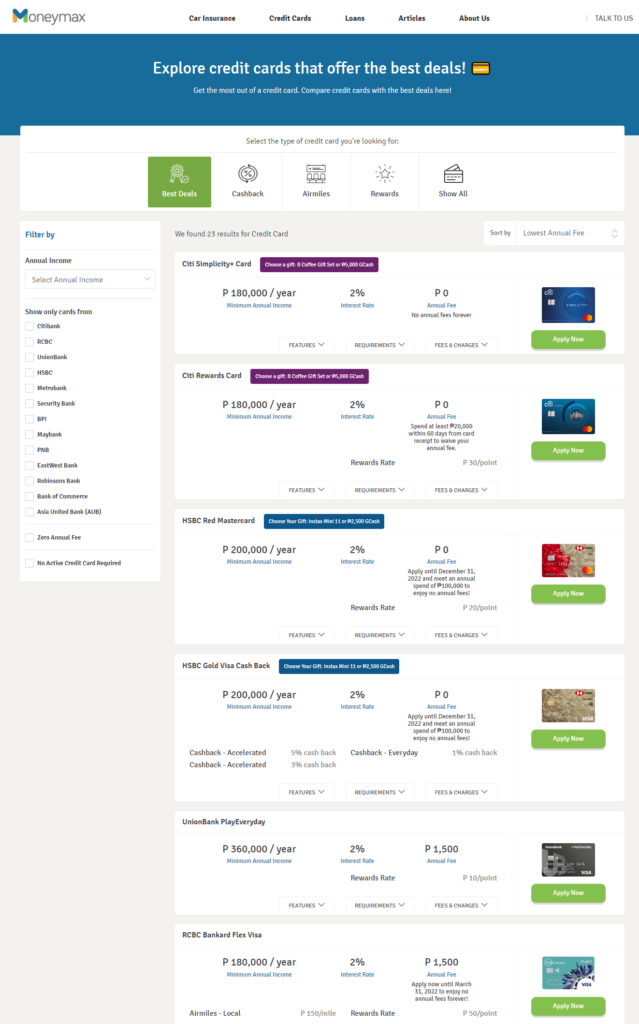 💸 Personal Loan Comparison
Finding the best loan for your cash needs is just a cinch at Moneymax. Here are the quick steps to compare personal loans in the Philippines:
Fill out the online loan application form. Click the Get Results button when you're done.
Check your customized results based on your submitted information. You can sort them by the lowest interest rate, total loan cost, and monthly repayment.
Found the best personal loan for you? Click on "Apply Now" to accomplish your online loan application. If you qualify for the loan, the bank or lender will get in touch with you.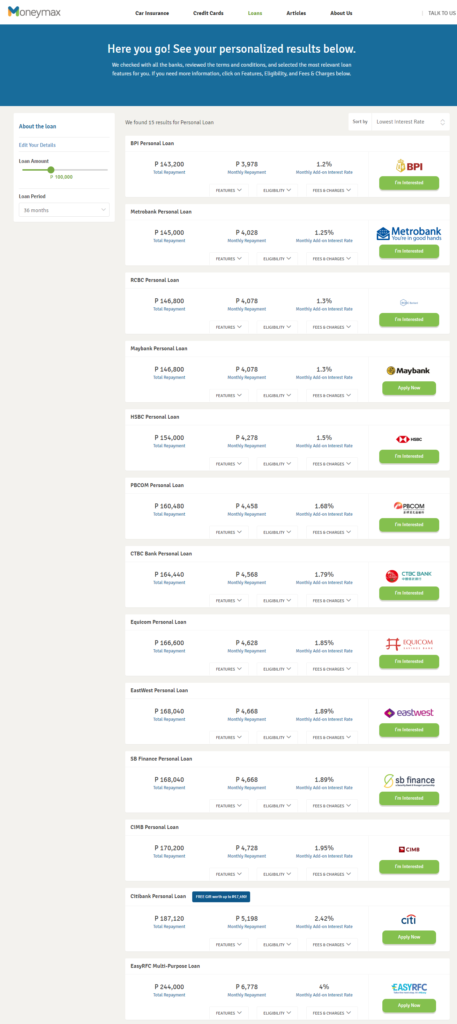 Read more articles about Moneymax:
Final Thoughts
Time and money are crucial resources that shouldn't go to waste because of a wrong buying decision. Take advantage of a comparison website to find the best deals on the products or services you need.

Sources: