The ber months have finally arrived! That means malls will start playing Jose Mari Chan's greatest hits, employees will start receiving their 13th-month pay, and newscasts will start their holiday countdowns. Yes, the holiday cheers aren't hard to miss.
But along with the season comes a lot of stress, especially if you're choosing the best place to celebrate Christmas in the Philippines or abroad.
Where should you go this Christmas with your loved ones? Whether it's for a family reunion, bonding with friends, or a romantic trip with your significant other, here are some of the best Christmas holiday destinations to consider for your upcoming vacation.
Best Places to Celebrate Christmas in the Philippines
Sagada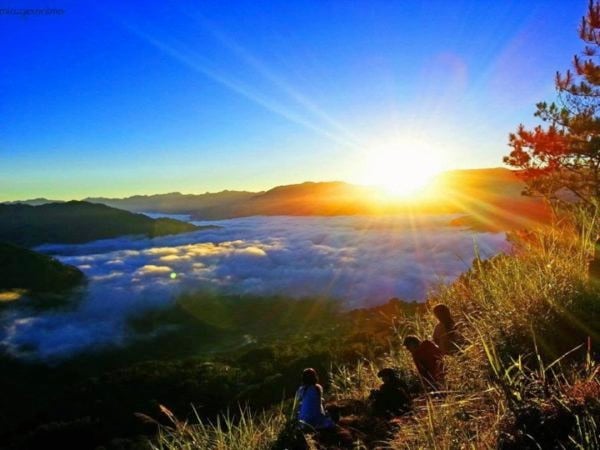 Want to avoid the hustle and bustle of Baguio but still want to enjoy the chilly weather? Head over to its laid-back yet equally charming neighbor: Sagada.
Sagada is the best place to spend Christmas in the Philippines for the soul-searching solo traveler. It offers plenty of activities for anyone who wants to be one with nature.
Explore the caves, rivers, and waterfalls, or see the iconic hanging coffins. For thrill-seekers, go hiking in lush mountains and try rock climbing. And for coffee lovers, take a sip of Sagada's homegrown organic coffee.
Of course, your Sagada trip won't be complete without reveling in the stunning sunrise view at Kiltepan Peak. Just don't forget to respect the culture and tradition of the locals by cleaning up after yourself and not interrupting sacred rituals. If your time and budget permit, you may also want to take a side trip to Bontoc and Banaue.
Cebu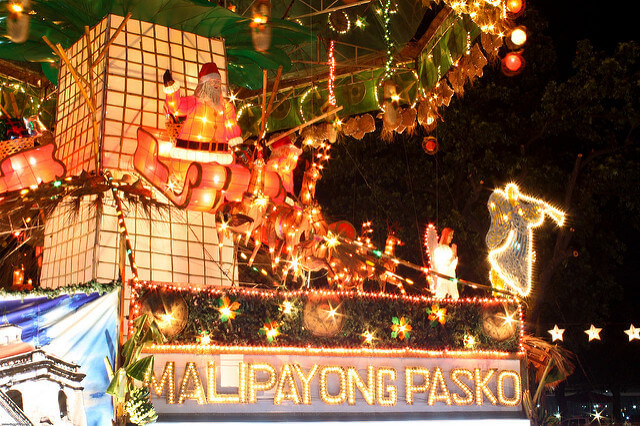 The festive Christmas vibe starts early in Cebu. Giant lanterns, intricate decors, and sparkling lights adorn malls, shops, hotels, and other establishments all over the city as early as September. For this reason, it makes the list of the best places for Christmas vacation in the Philippines.
Beer and music enthusiasts can look forward to attending concerts and other events in Cebu, like Oktoberfest from September to November. And for foodies, time to experience Cebu's famous authentic lechon!
Cagayan de Oro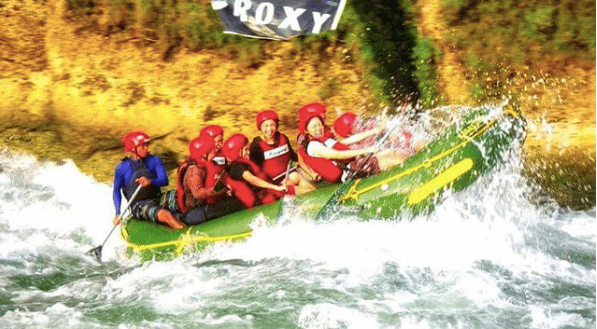 During the happy ber months, adrenaline-pumping water activities in this small city become all the more exciting. It's when the Cagayan de Oro River—the longest and biggest in the Philippines—comes to life.
Whitewater rafting in this river is the most popular activity for tourists in CDO. You can also try river tubing, canoeing, and kayaking with your family and friends!
Siargao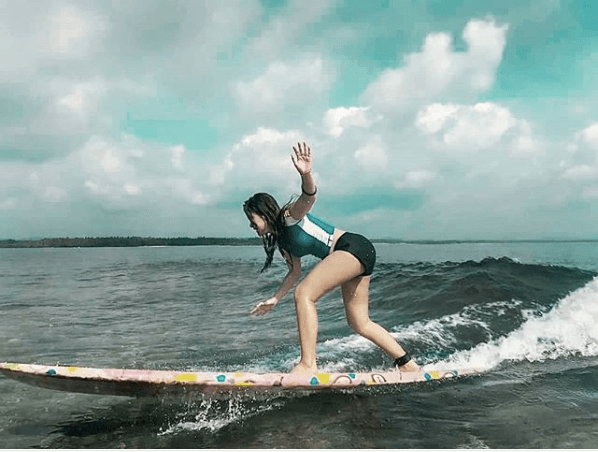 Siargao is the Philippines' ultimate surfing destination, especially in the ber months when the waves are usually higher and more aggressive. What better way to quench your thirst for adventure than by visiting the country's surfing capital?
The island is also a popular alternative to Boracay. Siargao is reminiscent of Boracay's former glory, with its secluded white-sand beaches, turquoise waters, and vibrant nightlife. It also helps that Siargao is now more accessible through direct flights from Manila and Cebu.
Read More: Best Siargao Resorts: Where to Stay in Siargao Based on Your Budget
Baler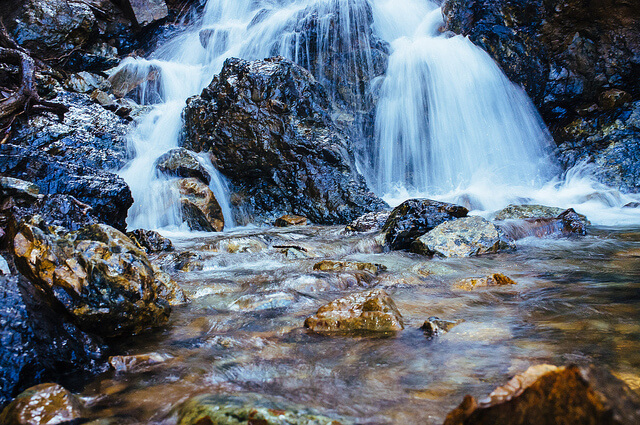 If the South has Siargao, the North has Baler as its famed surf spot. Come ber months, the waves get as high as 9 feet, perfect for both noobs and pros.
Beyond that, Baler has more to offer nature lovers. It's home to breathtaking waterfalls, rock formations, and coves.
The capital of Aurora also boasts a rich Hispanic heritage. On your Baler trip, make sure to visit Museo de Baler, Baler Church, and Doña Aurora Ancestral House for an unforgettable trip down memory lane.
Best Places to Celebrate Christmas in Asia
Thailand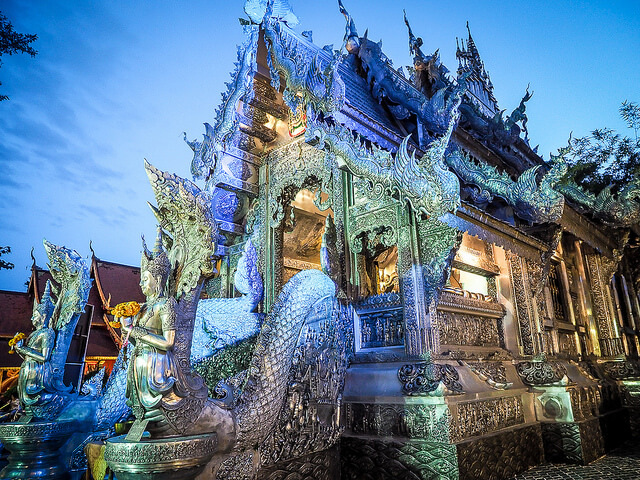 A trip to Thailand is one of the best and cheapest ways to enjoy a unique Asian cultural experience. Visit its majestic temples, ride a tuk-tuk, sample a variety of street foods, and shop 'til you drop at the Chatuchak Market—your travel itinerary will be packed with fun activities!
The best time to visit the Land of Smiles is during autumn, which is the end of summer and the start of the cool season. September and October are the best months to go to the northern city of Chiang Mai, while November and December are great for exploring the capital Bangkok.
Thailand Travel Reminders
You can visit Thailand without a visa and stay for up to 30 days.
You don't need a mandatory quarantine, proof of vaccination, or a negative COVID-19 test result. But airlines and Thai immigration may conduct random checks as part of their COVID-19 prevention requirements.[1]
Read more: Trip to Asia 2023: Cheapest Country to Travel from the Philippines
Taiwan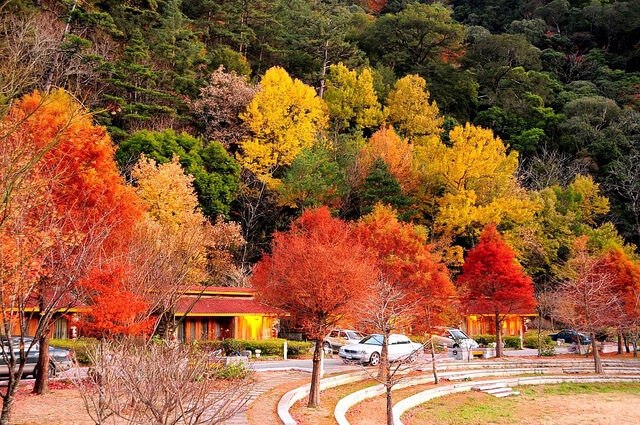 Thanks to Taiwan's visa-free program, more Filipinos can now visit the country. So many wonderful attractions in Taiwan are waiting to be explored. It's also the best place to try dishes like xiao long bao (steamed soup dumplings) and stinky tofu.
A great travel destination during the ber months, Taiwan is best explored in autumn from September to November when it's at its most beautiful and the weather is mild and pleasant with little to no rainfall. This is also an off-peak tourist season, which means the country isn't as overcrowded.
Taiwan Travel Reminders
You can travel to Taiwan visa-free and stay for up to 14 days.
There are no mandatory quarantines for arriving travelers as well.
Related reading: G for SG! Top Singapore Tourist Spots You Have to Visit
South Korea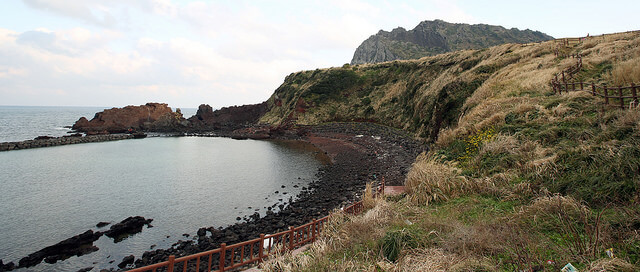 South Korea is great to visit all year round. But if you want to take home postcard-worthy pictures of gorgeous red and orange autumn foliage, time your visit between September and November.
While Seoul is one of the top-of-mind holiday destinations for travelers, there's another way for Filipinos to experience Korea without getting a visa: Jeju Island. Its many natural wonders will leave you in awe.
South Korea Travel Reminders
Want to tick a white Christmas off your bucket list? You can enjoy it in South Korea, especially in the northern provinces. But December in South Korea brings rain, so pack rain gear, too.
You must get a visa to enter Korea, except if you're only visiting Jeju Island.
No more mandatory quarantines, but you must still present a negative COVID-19 test result.
Read more: All Packed, Ready to Go: Best Family Holiday Destinations in the World
Japan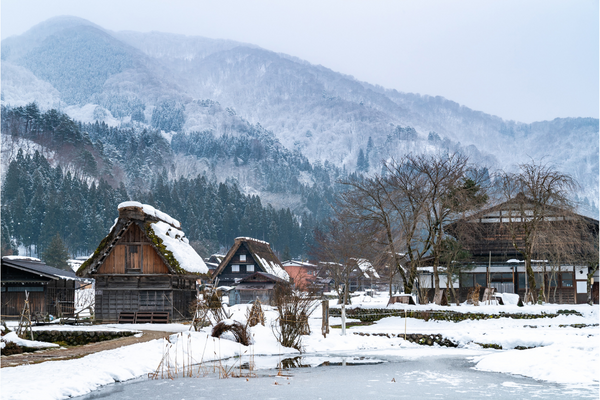 While Christmas isn't a national holiday in Japan, the festive spirit can be seen and felt throughout the whole country. The land of the rising sun is definitely one of the best places to visit at Christmas!
Japan is well-known for its light displays. Big tourist attractions like Osaka's Kaiyukan Aquarium and the Tokyo Station are usually adorned with lights from November until December, so make sure to shoot those videos and snap those pictures to capture the moment.
Visit Christmas markets in Japan, particularly the Tokyo and Sapporo Christmas Markets. The Disney Christmas Spectacle at Tokyo Disneyland is also not to be missed. There are fireworks displays, special Christmas menus, holiday giveaways, and tons of Disney-style Christmas activities for kids and kids at heart to enjoy.
And whether you're headed to Hokkaido or Kyushu, don't forget to try the Japanese Christmas cake. Its light and spongy texture will truly delight your tastebuds.
Japan Travel Reminders
Expect lots of snow in December, especially if you're visiting the northern or coastal parts of Japan. Other parts of the country can be dry and sunny, so pack accordingly.
You need to secure a visa to visit Japan.
You must present your proof of vaccination with at least three vaccination shots or a negative COVID-19 test.
Best Places to Celebrate Christmas in Europe and North America
Germany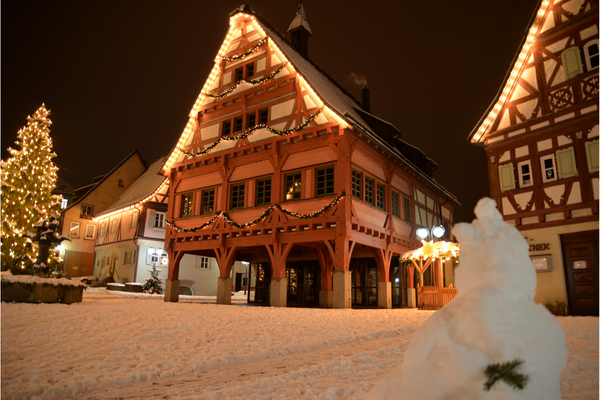 Wondering which Christmas holiday destinations to visit in Europe? We say Germany!
June to December is the best time to visit Germany, with airline ticket prices ranging from ₱60,000 to ₱100,000. Get your visa and passport ready if you want to fly to Germany for an unforgettable and picturesque Christmas celebration.
Head over to Nuremberg, the second largest city in Bavaria, which has one of the most famous Christmas markets in Europe. Fall in love with its large square, surrounded by medieval buildings and illuminated by stars and Christmas lights.
Visit the Christkindlesmrkt in Nuremberg, which sells all kinds of contemporary decor and crafts. Make sure to try the city's famous bratwursts in crusty buns and the lebkuchen, which are spicy gingerbread-like cookies.
Want to see more Christmas markets in Germany? There's nothing more enchanting and beautiful than the Christmas markets in the Black Forest region. It's a major tourist attraction because of its beautiful landscapes and charming villages.
Located in Southwest Germany, Baden-Württemberg is where you can find cabins and farmhouses that look straight out of classic fairy tale books with their rolling landscapes, thick trees, and deep woodlands.
Meanwhile, the university city of Tübingen in Baden-Württemberg transforms into a chocolate village every December during Chocol'ART, the largest chocolate festival in Germany.
Stuttgart also has over 300 cabins adorned with Christmas lights and decors. Adults can shop, eat, and drink, while kids can ride a train through a miniature Christmas village.
If you take another quick train ride, you can also visit Esslingen and Gengenbach. You can find more Christmas markets where sellers dress in Middle Ages-themed costumes!
Germany Travel Reminders
All COVID-19-related restrictions for entry into Germany have been lifted, so Filipinos who want to visit or tour can do so without proof of vaccination, recovery, or testing.[2]
You still need to secure your visa to enter Germany.
Make sure to pack winter clothes, as winter in Germany will officially begin on December 21, 2022.
Prague, Czech Republic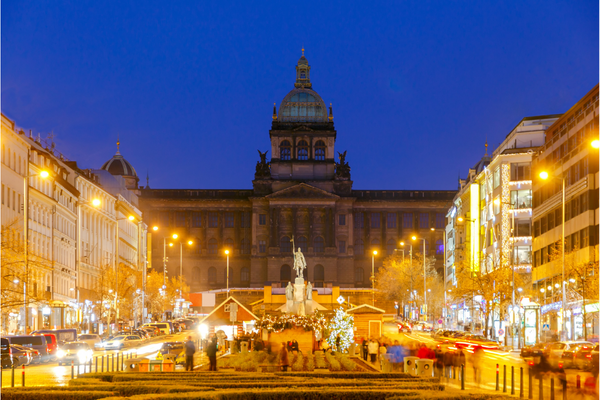 Winter in Prague is one of the most breathtaking scenes in the world, which makes it one of the best places to celebrate Christmas in Europe (and worthy of the ₱80k to ₱100k airline tickets!).
Add Prague to your Christmas holiday destinations if you're dreaming of a winter wonderland with your friends, family, or significant other. Like the Christmas markets in Germany, Prague also has Christmas markets at Old Town Square and Wenceslas Square, where you can drink, eat, shop, sing Christmas carols, and people-watch.
You can also go ice skating at an outdoor rink near the Vltava river. No need to buy your own pair of skates as you can get one from one of the nearby rental booths.
Or book a river sightseeing cruise at night to fully appreciate the beauty of Prague. The boats are heated, so you don't need to worry about feeling too cold.
Why not catch a classical concert or watch the opera or ballet? The Nutcracker is on at the National Theatre until the first week of January 2023.
Most performances are staged in Prague's grand concert halls like the Estates Theatre, National Theatre, and Prague State Opera. But others are held at historic buildings and majestic old churches, making the experience even more special and unforgettable.
Prague Travel Reminders:
You need a valid visa to enter the Czech Republic and visit Prague.
All COVID-19 restrictions have been lifted. There are no more travel bans, and you don't need to present any vaccination certificates or other relevant documents to enter the country.[3]
New York City, USA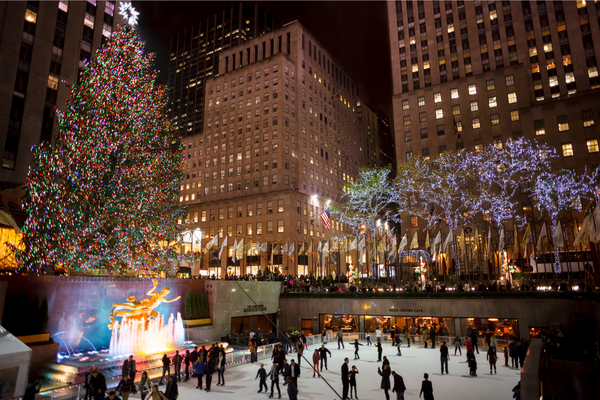 One of the best places in the world to celebrate Christmas is New York City. NYC at Christmas time exudes warm, fuzzy feelings straight out of a rom-com, so a Manhattan holiday can be just what your soul needs! Airline tickets start at ₱86,000.
Of course, you must visit the famed ice rink at the Rockefeller Center. Snap holiday pics with the giant Christmas tree in the background. If you have the budget for some shopping, check out stores in the area with eye-catching Christmas window displays.
Want to experience an authentic New York City Christmas? Watch a Christmas show featuring The Rockettes at the Radio City Music Hall. Ticket prices start at US$46.
After that, head to Central Park and check out the holiday market. Alternatively, you can visit the Bryant Park Winter Village Holiday Market, where you can enjoy hot snacks and warm drinks.
Take a walking tour and check out the Christmas lights at Dyker Heights. You can admire beautiful views at night aboard a Christmas holiday cruise. Listen to a jazz band playing classic favorites and holiday tunes while drinking hot cocoa or wine aboard a 1920s-style yacht.
New York City Travel Reminders
Light snow can occur in December, but it's more likely you'll deal with freezing rains. Either way, pack winter or rain clothes to be on the safe side.
You can enter the United States, including New York City, if fully vaccinated. Moreover, you no longer need to present a negative COVID-19 test or proof of vaccination.[4]
You must have a valid visa.
Final Thoughts
Before you start planning your itinerary, check out some travel hacks and determine how you'll fund your travels. Whether you plan to use your travel fund or secure a travel loan in the Philippines, check how much you can afford before you decide where to go.
And no matter which of the best places to celebrate Christmas you pick, don't forget to have fun, create new memories, and enjoy some well-deserved quality time with your loved ones.

Source: