Since the implementation of community quarantines, small businesses continue to be affected by business closures, shortened operating hours, reduced workforce, and continuous expenses. All these business challenges have resulted in unstable cash flow and income losses.
Because of this, many businesses have implemented adaptive business measures, like implementing work-from-home arrangements, using online platforms for all transactions, reducing costs, and diversifying products and services. Aside from these, the government continues to provide financial assistance to help small businesses recover from the adverse impact of the pandemic.
The Department of Trade and Industry's P3 CARES Program offers collateral-free and interest-free loans to micro, small, and medium enterprises (MSMEs) in the Philippines. Find out how these DTI loans for small businesses work and how you can avail of them.
DTI Loans for Small Business in the Philippines
The Department of Trade and Industry (DTI) and Small Business Corp. (SBC) launched the COVID-19 Assistance to Restart Enterprises (CARES) Program. The SBC CARES Program helps entrepreneurs get back on their feet. CARES offers DTI loans of up to PHP 500,000 and is part DTI's Pondo sa Pagbabago at Pag-Asenso, also known as P3 Program, first launched in 2017.
The P3 and CARES programs are quite similar. However, CARES Program specifically accommodates entrepreneurs whose businesses were affected by the lockdown. Keep reading to know more about these DTI loans for small business and if you should apply for them.
Read more: Business Loans for Startups in the Philippines
DTI P3 Program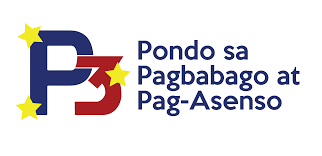 What is the DTI P3 Program?
DTI launched the Pondo sa Pagbabago at Pag-Asenso or P3 program in 2017, starting with a PHP 1 billion budget. The program aims to discourage underprivileged business owners from borrowing money from loan sharks.[1]
DTI partnered with SB Corp. to provide loans to customers from the country's top 30 poorest provinces. More than 250 microfinancing institutions (MFIs) are accredited by SB Corp to assist in the distribution of the P3 funds to micro-entrepreneurs.
How Much Can I Loan from the P3 Program?
You can borrow DTI loans amounting from PHP 5,000 to PHP 200,000 with a monthly interest rate of 2.5%.
There is also no charge for the loan process. SB Corp. partnered with over 250 MFIs nationwide to help business owners wanting to avail of the P3 loan.
DTI P3 Loan Requirements
To apply for a loan through the P3 program, you must fulfill the following DTI loan application requirements:
Self-employed or micro-entrepreneur with a legitimate business running for at least one year
Valid government-issued ID
Barangay Clearance issued in the past three months
Proof of small enterprise activity for at least one year
Proof of one-year residence
ID picture
Accomplished DTI P3 loan application form
DTI Business Name Registration Certificate for loans over PHP 50,000
Have your documents ready when you fill out the DTI P3 loan online application form on the CARES Bayanihan 2 Borrower Registration System website.
CARES Program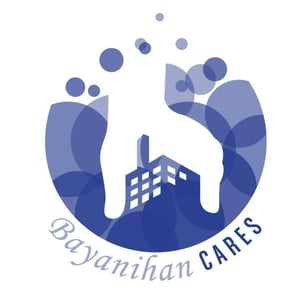 Because of the pandemic's huge impact on businesses, DTI continues to offer the CARES program to small businesses. If you're interested to know about businesses that are pandemic-proof, why not bring your business online? Almost everyone owns a smartphone these days, and a lot of people prefer shopping or buying online.
Tagged as CARES 2 to distinguish it from the initial CARES Program of 2020, it's part of the original P3 Program that caters to MSMEs that have been economically affected by the pandemic.
CARES originally had a PHP 1 billion fund to help affected enterprises. The Bayanihan 2 Bill, however, has allocated an additional PHP 10 billion for the CARES Program and other lending programs for micro and small businesses, cooperatives, and OFWs affected by COVID-19.[2]
As of February 9, 2021, DTI's financing arm SB Corp., has approved 21,659 CARES applications amounting to PHP 2.35 billion in loans.[3]
The DTI implements the CARES Program for the following purposes:
Assist eligible businesses to restart operations through the replacement of working capital
Replenish inventory of perishable stocks or damaged goods
Update the amortization for the vehicle or fixed-asset loans of the business
Encourage employment and innovation
How Much Can I Loan from the CARES 2 Program?
Here are the loan amounts and terms you can request based on your business assets.
Micro and small enterprises with assets worth PHP 3 million or less:
Amount: PHP 10,000 to PHP 200,000
Term: 18 to 30 months
Small enterprises with assets worth PHP 10 million or less:
Amount: PHP 51,000 to PHP 500,000
Term: 18 to 30 months
There's no interest rate for DTI loans submitted through CARES. However, borrowers have to pay a one-time service fee depending on the loan term:
1 year = 4% service charge
2 years = 6% service charge
3 years = 7.5% service charge
4 years = 8% service charge
There's also a grace period of three to 12 months depending on the loan term.
DTI CARES 2 Qualifications and Requirements
To be eligible for a DTI loan under CARES, you must fulfill the following:
Make sure the business is 100% Filipino-owned
Must be in operation for at least a year before March 16, 2020
Assets should not be over PHP 15 million, excluding the land where the business office or facility is located
Affected by the ECQ in Luzon or similar community quarantine areas in Visayas and Mindanao
Aside from these, you also need to submit the following DTI loan requirements:
Accomplished loan application form and signature card
Valid government-issued ID with photo
Barangay certification of business
Proof of permanent business address
Additional DTI loan requirements for CARES 2
These requirements are based on the loan amount you wish to borrow.
Loan amount of PHP 10,000 to PHP 50,000: Physical assets like kiosks, food cart, and basic business equipment
Loan amount of PHP 50,000 to PHP 150,000:
SEC or DTI registration
Barangay business permit or certification
Loan amount of PHP 150, 000 to PHP 200,000:
Post-dated checks
Mayor's business permit
SEC or DTI business registration
Loan amount of PHP 200,000 to PHP 300,000:
Post-dated checks
Mayor's business permit
SEC or DTI registration
2019 financial statements
Loan amount of PHP 300,000 to PHP 500,000:
Post-dated checks
Mayor's business permit
SEC or DTI business registration
2019 financial statements
BIR Certificate of registration
Read more: Business Permit Application Guide for First-Time Entrepreneurs
How to Apply for the DTI P3 CARES 2 Program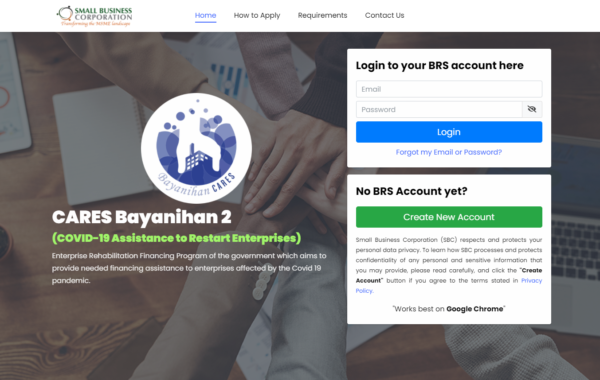 In the past year, the DTI accepted loan applications through different Negosyo Centers in the country. But now, there are no more manual loan applications. All P3 CARES 2 applications can be submitted online through SB Corp's online Borrower Registration System (BRS). Follow the P3 CARES 2 online loan application steps below.
DTI P3 CARES 2 Loan Online Application Steps
Prepare and scan your documentary requirements.
Visit the official CARES Bayanihan 2 Borrower Registration System website[4] and create an account.
Fill out the required information and provide an active and correct email address.
Wait for a verification email to be sent to the email address you provided, and then click on "Verify Email."
Key in the requested information on the DTI loan application form online, and then click on "Apply for a Loan."
Attach and upload your scanned loan documents.
You'll receive a confirmation email. All updates regarding your online loan submission and assessment will be sent to your email.
Make sure to submit correct and complete documents for a quicker loan evaluation, which usually takes seven days or less.
See also: Smart Tips to Get Approved for a Business Loan
Accredited Financial Institutions for DTI P3 and CARES 2 Programs
As mentioned, DTI and SB Corp. partnered with over 200 financial institutions nationwide to accommodate business owners wanting to get a loan. Here are some of them:
5K Multipurpose Cooperative (Apalit, Pampanga)
All Arm Finance Corporation (Quezon City)
ARDCI Microfinance, Incorporated (Virac, Catanduanes)
Bacarra Zanjera Irrigators (Buyon Bacarra, Ilocos Norte)
Baracbac Santa Fe Multipurpose Cooperative (Santa Fe, Nueva Viscaya)
Cebu People's Multi-Purpose Cooperative (Cebu City)
Family Lifers Multipurpose Cooperative (Hamig, Antique)
Free Planters (Digos City)
Ilocos Consolidated Cooperative Bank (Candon, Ilocos Sur)
Insol Development Foundation Inc (Pasig City)
Koop King Multipurpose Cooperative (Taguig City)
Lambayan Multi-Purpose Cooperative (Mapandan, Pangasinan)
ligan Light Employees Multipurpose Cooperative (Iligan City)
Metro Alabang Finance and Loans Corporation (Muntinlupa City)
Radiowealth Finance Company (Mandaluyong City)
San Jose Workers Multi-Purpose Cooperative (San Jose, Batangas)
Read more: 8 Golden Rules for Starting a Small Business in the Philippines
Final Thoughts
The pandemic may have wreaked havoc for both employees and entrepreneurs, but DTI loans for small business such as the P3 and CARES Program can help.
It's definitely a challenge to run a business during a health crisis. But as a business owner, it's your job to do everything in your power to keep your business running. Still, you need to consider your current financial status and your ability to repay a loan before you apply for one. If your small business is qualified to get a DTI loan, then go ahead and apply.
DTI Secretary Ramon Lopez encourages MSMEs to avail of the Bayanihan CARES program. It can help restart businesses without the worry of escalating financing costs and loan repayments for one year.
For more information about these loans, you may call the P3 Toll Free Hotline at 1-800-10-651-3333 or email cares@sbgfc.org.ph.
Related reading:
Apply for a Personal Loan for Your Business Needs
If you don't get approved or lack the requirements for a DTI or any government loan, you can also consider these options from banks and private lenders with easier application requirements and processes. Get a personal loan for your micro or small business through Moneymax!
Personal Loan Provider
Features
Citibank Personal Loan



Fast approval time in as fast as 24 hours
Loan amount of up to ₱2 million
Flexible payment terms of up to five years

EasyRFC Multi-Purpose Loan



Fast approval time in as fast as 24 hours
High loan amount of up to ₱3 million
Payment term of up to 12 months

SB Finance Personal Loan



Get approved within five banking days
High loan amount of up to ₱2 million
Flexible payment terms of up to 36 months

TALA Personal Loan





Fast approval time in as fast as 24 hours
Quick cash loan up to ₱15,000
24/7 application using an Android phone
Sources: