Opening a new business in the Philippines soon? A critical task you should make time for is your business permit application. This document is your proof that you can legally operate in the city or town where your business is located—whether it's a physical store, a courier service, an online shop, or any enterprise.
So you can set up your business without fuss, learn how to get a business permit properly. Here's everything you need to know about a business permit in the Philippines.
What is a Business Permit?
A business permit is a certification that your business is legitimate, meaning it's authorized to operate in the city or municipality where it's registered.
This official document is also called the mayor's permit because it's processed by the local government unit (LGU) with jurisdiction over the place of business.
A business permit in the Philippines is issued to ensure that a business pays taxes and complies with local regulations for safety, security, health, and sanitation. This document also entitles an individual or organization to any support provided by LGUs to businesses in their area.
Running an enterprise without this permit can result in penalties such as fines and imprisonment. In worst cases, the LGU may close the operations until a business permit is secured.
Why Should You Apply for a Business Permit in the Philippines?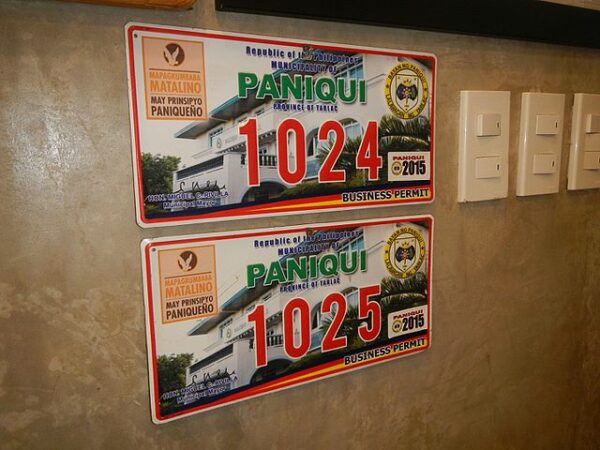 Being a new entrepreneur, you have so much on your plate as you prepare for your business launch. Despite that, it's important to make your business permit application a priority.
Why? First, it's required by law. Sole proprietors, partnerships, corporations, cooperatives, foundations, and associations in the Philippines need to get a business license from their respective LGUs before they start operations.
Second, a business permit in the Philippines is one of the requirements for application for business loans, government financial assistance programs, BIR registration, and other related transactions. It may also be required when you apply as an authorized reseller/distributor of a brand or as an online seller on e-commerce marketplaces.
Thus, you need to get this permit first, so you can set up your new enterprise smoothly.
Read more:
Get More Funds for Your Business Launch with a Personal Loan

Need additional cash to cover the costs of starting your business? Get a loan with one of the lowest interest rates in the Philippines like the Citi Personal Loan. What's more, Citibank offers a high loan amount of up to ₱2 million—
Make your loan application more rewarding! Apply for a Citibank personal loan through Moneymax (and get approved subsequently) to get an exciting welcome gift worth up to ₱10,990. This promo runs until October 31, 2022 only, so hurry and apply today!
Note: This product is sold by Union Bank of the Philippines, using certain trademarks temporarily under license from Citigroup Inc. and related group entities.
Business Permit Requirements 2022: What to Prepare
6 Permits and Certificates Needed to Start a Business in the Philippines
Before applying for a business permit, you need to register your business with the appropriate government agency and secure other clearances and permits.
Business permit requirements take time and effort to process and obtain. You might not have these documents on hand yet, so secure them first. Make sure you have the following required documents for your business permit application in the Philippines.
1. Fire Safety Inspection Certificate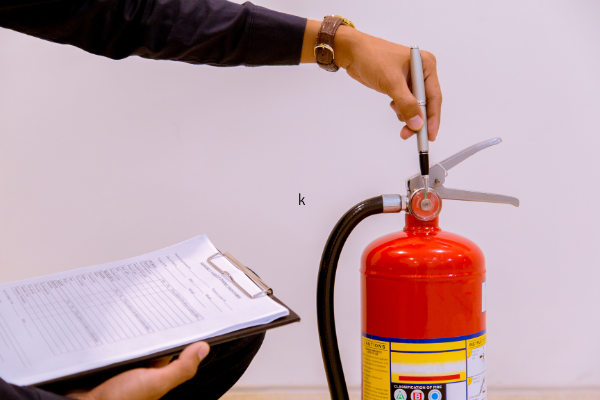 To get this certificate, you must have the following:
Building permit and building plan
Barangay Business clearance
Fire insurance coverage
Proof of compliance with requirements and recommendations from fire safety inspectors
2. Sanitary Permit
Prepare the following requirements for a sanitary permit:
Most recent chest x-ray results of the business owner
1x1 photo
Inspection certificate of the establishment
Receipt of paid Sanitary Permit Fee and Sanitation Inspection Fees
Medical Certificate and Health Card issued by the City Health Officer
3. Building Permit and Electrical Inspection Certificate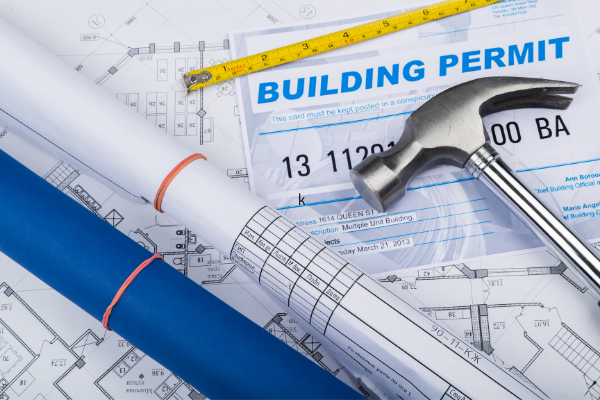 You'll need to submit the following requirements to secure a building permit and electrical inspection certificate:
Building plans
Lot plan
Clearances from the homeowners association, barangay, or any other authorized offices
Fire safety requirements
Contract of lease and authorization of owner (if rented)
Title, tax declaration, a tax receipt (if owned)
Contractor's business permit
Sketch of your business location
Bill of materials, specifications, structural computation
Copy of License of the Engineer
4. Certificate of Occupancy
To get a Certificate of Occupancy, here are the things you need to provide:
Images or photos of the site
Fire Inspection Certificate
5. Locational Clearance
For the locational clearance, submit the following:
Pictures of the site
Fire Inspection Certificate
Building Permit
Authorization letter from the owner (if rented)
Electrical Permit
Sanitary Permit
Certification of Non-Improvement
PRC License /PTC of the Engineer
6. Electric Utility Connection
For the electric utility connection, these are the required documents:
Letter of request from the owner
Electrical plan
DTI Registration or Copy of SEC Registration with Articles of Incorporation
Copy of Lease Contract, Transfer of Certificate Title (TCT), or Deed of Sale
Company SSS number or Tax Identification Number (if SEC/DTI Registration is not available)
Where to Get Business Permit Requirements
Depending on the type of business you own, there are several government agencies involved in your business permit application.
1. Department of Trade and Industry (DTI)
Purpose: Business name registration
All businesses, including single proprietorships, partnerships, corporations, and cooperatives should register for a business name with the DTI to begin the business permit application process.
Partnerships, Corporations, and Cooperatives should submit a Certified photocopy of the SEC and Articles of Incorporation or Partnership.
2. Securities and Exchange Commission (SEC)
Purpose: When corporations and partnerships need to apply for an SEC registration
So that a partnership or corporation is regarded as a legal entity, it has to register with the SEC. You can file for your company's business registration at the SEC head office (Secretariat Building, PICC Complex, Roxas Boulevard, Pasay City).
Alternatively, online SEC registration can be done via the eSPARC (Electronic Simplified Processing of Application for Registration of Company) facility, which can be accessed through esparc.sec.gov.ph/application.
3. Barangay Unit
Purpose: Applying for Barangay Business Permit and Clearance
After registering a business name, first-time entrepreneurs should go to the Barangay Unit where the business is located and apply for a business permit and clearance. You'll be required to submit a Community Tax Certificate and pay the Barangay Clearance fee, which is around ₱200.
4. City or Municipal Office (Business Permit and Licensing Office)
Purpose: Securing all requirements for a Business or Mayor's Permit
This is necessary if you have your own building or physical store. However, you may not need to get one if your business is located inside a mall. The mall management will be responsible for conducting the inspection and issuing the certificate.
In a Nutshell: Business Permit Requirements in the Philippines
To sum up, here are the typical requirements for a business permit that you have to obtain in the following order:
Business Permit Requirement
Purpose
Where to Get It

Applicable business registration document:

Certificate of Business Name Registration (for single proprietors)
Articles of Partnership (for partnerships)
Articles of Incorporation (for corporations)
Certificate of Registration (for cooperatives/foundations/associations)

Proof of business registration

For single proprietors – Department of Trade and Industry (DTI)
Partnerships and corporations – Securities and Exchange Commission (SEC)
Cooperatives – Cooperative Development Authority (CDA)
Foundations and associations – The regulating government agency

Barangay Business Clearance
Proof of business location
Barangay hall with jurisdiction over the business location

Contract of Lease (if renting a commercial space)
Transfer Certificate of Title / Tax Declaration (if the property is owned)

Proof of business location and existence
Owner or building administrator of the leased property (if renting)
Sketch and photos of the location
Proof of business location and existence
Owner or building administrator of the leased property (if renting)
Locational Clearance / Zoning Clearance
Proof of compliance with the city's/municipality's Comprehensive Land Use Plan and Zoning Ordinance
City Planning and Development Office of the city/municipal hall
Occupancy Permit
Proof that the structure where the business will operate has passed safety and health standards

Owner or building administrator of the leased property (if renting)
City Engineering Office of the city/municipal hall (if owned)

Public Liability Insurance
Protection against legal liabilities as a result of bodily injury/property damage to third parties in connection to the insured's business operation
Any Insurance Commission-accredited insurance company
Authorization letter/Special Power of Attorney and valid ID (if filed through a representative)
Proof that the person is authorized to transact on behalf of the business owner
Business owner
Note: Every LGU has its unique set of requirements for a business permit in the Philippines. Your LGU may also impose additional requirements, taxes, and fees for business permit applications. To know what else you need to secure and how much the fees are, contact your mayor's office or visit your LGU's website.
How to Apply for a Business Permit in the Philippines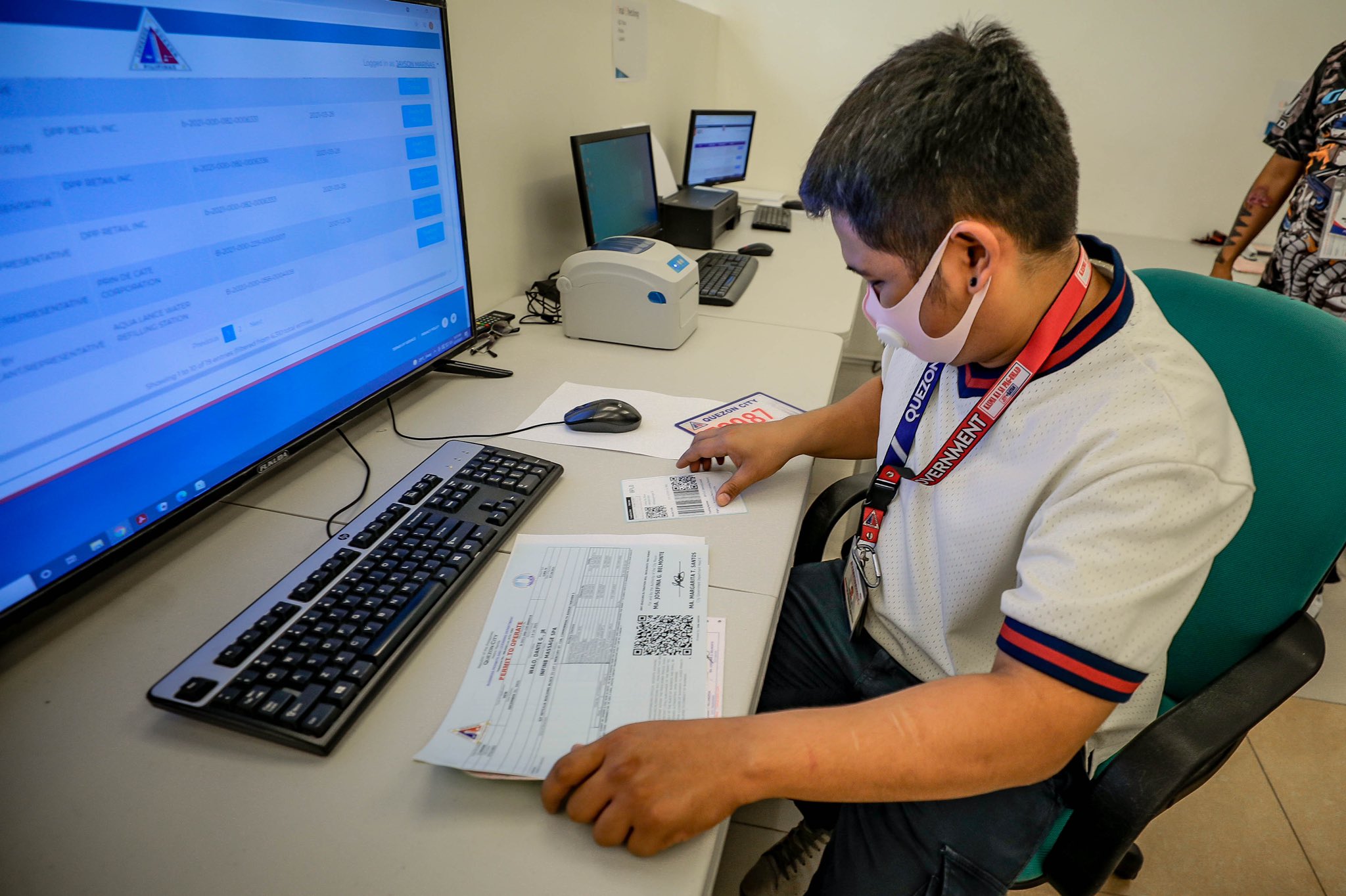 Walk-In Procedure: 5 Steps to Get a Business Permit
Procedure for new permit application varies per LGU. But to give you an idea of what to expect, here are the general steps to remember when you apply for a business permit.
Go to the Business Permit and Licensing Office (BPLO) within the premises of the city/municipal hall having jurisdiction over your business address. Alternatively, you may conveniently apply for a new business permit or renewal at off-site locations in malls (such as SM, Robinsons, Ayala, and Vista Malls) that have partnerships with your LGU.
Secure and fill out the application form. The form is available on-site, or you can download it in advance from the LGU's website.
Submit the accomplished application form and other requirements. The personnel will evaluate your documents. Your application will also undergo an assessment of tax and fees.
Pay for the assessed tax and fees to the cashier (once approved). Receive your official receipt.
Claim your business permit. The document may be issued together with a registration plate/sticker or any other certificate. Make sure to display them prominently in your store or office.
How to Get a Business Permit Online
Wondering if you could save time by getting a business permit online? Check your LGU's official website to see if it has an online business permit application service.
For example, if you'll open a business in Manila,[1] Valenzuela,[2] Pasig,[3] Muntinlupa City,[4] or Quezon City,[5] just to name a few, you can use the city's website or mobile app.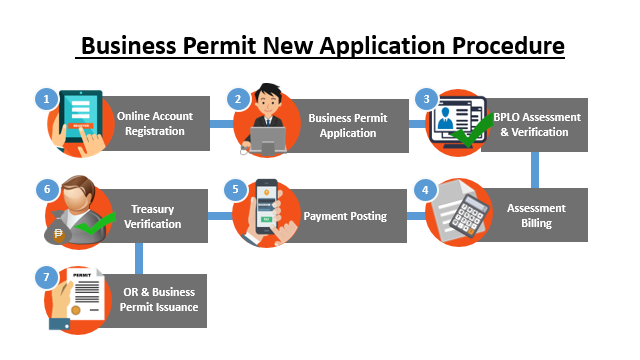 Still, you can opt to apply personally via a walk-in procedure. Just submit the requirements or through your authorized representative to the city or municipal hall where your business is located.
The advantage of a walk-in vs online business permit application is that you can ask the person in charge any question you may have. You get the answers right away, and you can get the assistance you need.
Business Permit Application and Renewal FAQs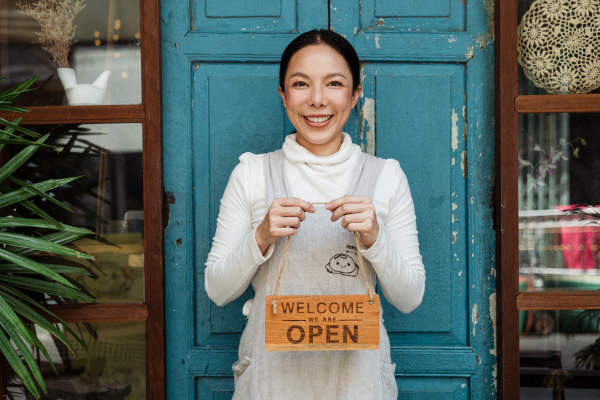 1. How much does a business permit cost in the Philippines?
Business permit fees differ depending on your location. But here are some fees you should pay when processing your business permit application.
Business permit processing fee: ₱500
Mayor's permit fee: ₱100
Sanitary fee: ₱150
Building inspection fee: ₱200
Electrical inspection fee: ₱20
Plumbing: ₱15
Signboard: ₱50
Fire: ₱300
Sticker: ₱50
2. Can I operate immediately after I receive my business permit?
Yes, you can start your business operation once your permit application is approved. But don't forget to secure the following documents:
Business TIN and Certificate of Registration from the BIR
Business SSS Number
Pag-IBIG Employer-Member Registration
PhilHealth Employer-Member Registration
4. Is a business permit required to open a sari-sari store?
Owners of sari-sari stores and carinderias still need to operate legally and must secure a business permit. However, take note that some LGUs don't require Public Liability Insurance for these types of businesses.
5. What are the requirements for business permit renewal?
Each LGU has a different set of business permit requirements for renewal applications.
Take for example Makati's business permit renewal[8] requirements below:
Three copies of the notarized application form
Declaration of Gross Sales from the previous year
Number of employees
Paid-up capital
Copy of last year's Business Permit and Billing Assessment
Audited Financial Statement or Business Income Tax Return
Community Tax Certificate
Barangay Clearance
Public Liability Insurance
Affidavit of Low Income
6. When is the deadline for business permit application renewal?
Business owners are required to renew their business permits on or before January 20 of each year.
However, some LGUs extend business permit renewal deadlines. To know the actual due dates for this year, check the official website, Facebook page, or Twitter account of your LGU.
7. I registered my business on October 2021. Should I renew my business permit on October 2022?
No. All businesses, regardless of the date of registration, should be renewed before January 20 of each year. This means you don't need to renew your business permit exactly a year after your registration date.
8. What happens if I fail to renew my business permit?
Failure to renew your business permit may result in payment of a 25% surcharge on top of the tax assessed, and an additional 2% for each month that the business permit was not renewed.
You may also be asked by the BIR to pay a fine of ₱5,000 up to ₱25,000. Delinquencies may also lead to the closure of the business and the seizure of business assets.
Final Thoughts
The process of applying for a business permit in the Philippines may look tedious because of its long list of requirements, but it's actually simpler than you might expect.
Remember that business permits should be renewed annually. Make sure to renew your permit between January 2 and 20 of every year to avoid penalties and suspension of your business license.

Sources: