What's in a name? In a business, it means a lot. Your business name is your company's branding, so it should catch attention and can be easily recalled. A business without a name is barely a business because it doesn't have an identity that customers can remember. Moreover, two businesses with identical names can confuse potential customers and might put all marketing efforts to waste.
Thus, the Department of Trade and Industry (DTI) encourages every entrepreneur to get a Certificate of Business Name Registration. You have to go through the DTI business registration process, if you're a sole proprietor, aside from coming up with a name for your new business.
What is a Business Name?
A business name is any name that you use to connect with your business. Technically, it refers to the word or words that your potential customers can associate with your products and services. Even a franchise business requires the franchisee to come up with a distinct trade name.
You can never imagine how having a unique business name duly registered and trademarked can create an impact on realizing your dream business. For instance, Prince Harry and Meghan Markle were in a dispute with a Filipino entrepreneur after discovering that a DTI registration application was submitted for the term Archewell Harvatera.[1] The application was opposed by Harry and Meghan's Cobblestone Lane LLC.
What is the Difference Between Business Name and Trade Name?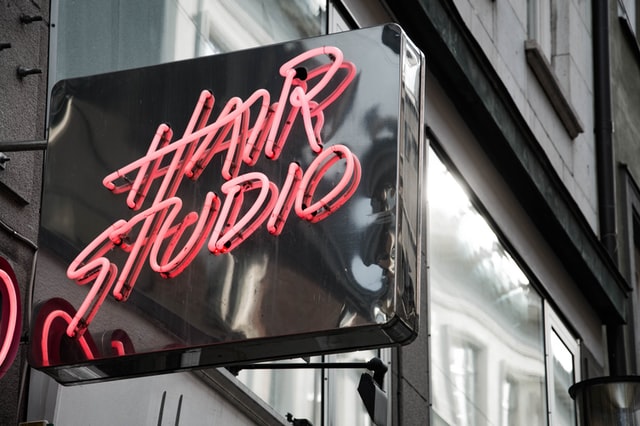 Often, we think that the common name of a business is the same as its legal name. Unfortunately, it doesn't work that way sometimes. Some entrepreneurs choose a more formal name as a business name and a witty term to serve as their trade name.
Technically, a trading name is also called a brand name, which is often used for advertising and marketing purposes. A business name is what you should use in all legal documents related to the business.
It helps a lot to choose a business name that has a strong recall, so you don't have to find a trading name to use for marketing.
What is a Trademark and When Should You Apply for One?
Your DTI permit doesn't guarantee that copycats won't use your business name for their benefit. The DTI permit primarily allows you to use the name to conduct a business, but it doesn't necessarily prevent others from imitating your logo, a letter, a word, or any other identifying marks that relate to your business.
In theory, DTI registration secures the exact business name from being entirely copied by others. However, a trademark from the Intellectual Property Office of the Philippines (IPOPHIL)[2] ensures that a product, name, or identifier will be exclusive to your registered business.
You can seek to protect your logo, name, and product using your DTI registration. IPOPHIL will require all the details of your initial application with DTI before you can apply for a trademark.
How to Create a Business Name in the Philippines
Before looking for info on how to get a DTI permit, you should ask first how to come up with a business name to register. Again, the business name is your trade's permanent identity, so plan out how you want it to be called.
DTI requires a business name to have two portions:
A dominant portion consists of words, a phrase, or a combination of letters and numbers.
A descriptor refers to the word or group of words intended to describe the nature of your business.
In the business name "Glenda's Ihaw Ihaw," for example, we can say that the dominant portion is the term Ihaw Ihaw, which is a strong recall for many, while the descriptor is Glenda's, simply because it serves as the modifier of the dominant word.
Over time, Filipinos' creativity took them beyond just having a dominant and a descriptor. Some just came up with a unique term that combined two dominant words together. With overflowing humor, Pinoys coined the funniest and most memorable names possible—from Libing Things as a name of a funeral parlor to Mami Pakyaw which refers to a noodle business.
Tips on Choosing Your Business Name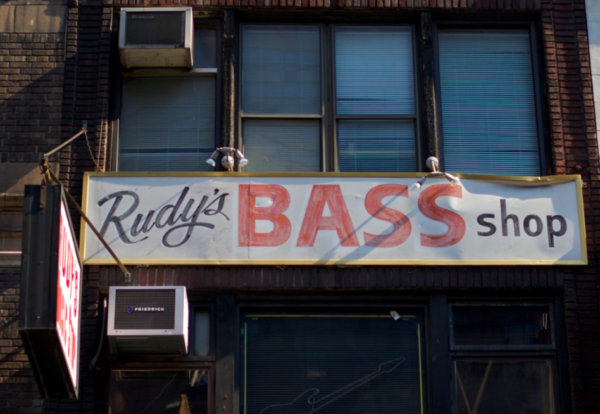 To make the process a lot faster and easier, follow these DTI guidelines when deciding on your proposed business name:
Describes the nature of your business - Assess what category your business belongs to, and you can trim down your options. For instance, if you're planning to sell rice, you can choose to use the words Bigas, Bigasan, Rice, or any other related term as a dominant portion. Knowing the category can help you find the right word for the business.
Consists of any alphabet, number, and/or punctuation mark in English or Filipino
Not similar to an existing trademark, such as "Anne Dok's Lechon," "Jolibee," and "Starbax Café"
Not too generic, such as "The Coffee Shop" for a café business
No abbreviation of a government agency or international organization, such as NBI Private Investigation Services, DTI Trading, UNESCO Marketing, WHO Health Services, etc.
Will not be used for illegal and offensive business, such as Popoy's Jueteng Betting Place, Boobs Massage and Spa, etc.
Not suggestive of the quality of any product or service, such as Best Taho Factory, A-1 Auto Repair Shop, etc.
Doesn't mislead or misrepresent the nature of the business, such as a business name carrying another person's name, "ABC Construction Services" where the nature of business is recruitment, etc.
Why You Need to Register Your Business Name with the DTI
Business name registration is required in the Philippines. Under the Business Name Law (Republic Act 3883), it's illegal for anyone to use any name for a business other than the owner's true name without first registering the business name with the DTI.
In short, securing your business name will guarantee you the legal and exclusive right to use it within its validity period (renewable every five years). This means no other business can register or use your business name in the barangay, city or municipality, region, or country, depending on your business location coverage.
However, note that business name registration is different from business permit application. The DTI registration provides legal identity to a business and is not a license or permit to run a business. To operate a business, you'll need to secure a business permit and other related documents from the local government unit where your business is located.
Lucky for you, we've prepared a detailed guide to DTI business registration in the Philippines. Find everything you need to know below.
Who Can Apply for DTI Business Registration?
You may apply for DTI business name registration if you meet these eligibility criteria:
Filipino citizens and foreign nationals at least 18 years old (Foreign nationals aged below 18 must submit proof that they come from a country where the legal age is lower than 18.)
Refugee or stateless persons
A representative may file your application for DTI business registration by submitting your authorization letter as a business name applicant, his or her valid ID, and other required documents.
Related articles:
DTI Business Registration Requirements: What You Need to Prepare
All applicants (except for those filing their application online) must download, print, and fill out two copies of the Business Name Registration Form[3] and present any of the following valid IDs:
Passport
Driver's license
UMID
PRC ID
NBI Clearance
Police Clearance (in ID form)
Postal ID
Voter's ID
OWWA ID
Seaman's Book
IBP ID
Senior citizen ID
PWD ID
Government office ID
Validated state college/university ID
Additional documents are required depending on the applicant:
For foreign nationals: Alien Certificate of Registration and Certificate of Registration for Sole Proprietorship/Certificate of Authority to Engage in Business in the Philippines issued by the concerned DTI office
For refugees/stateless people: Certificate of Recognition issued by the DOJ-RSPPU or Certificate of Recognition
Foreigners, refugees, and stateless people who apply for DTI business registration online still need to submit the documents listed above at any DTI office.
How Much is the DTI Registration Fee?
The business name registration fee varies per business territorial scope:[4]
Barangay: ₱200
City/Municipality: ₱530
Regional: ₱1,030
National: ₱2,030
Note: Late filing of DTI business name registration incurs an additional 50% charge.
How to Register a Business Name with the DTI
DTI Online Registration Procedure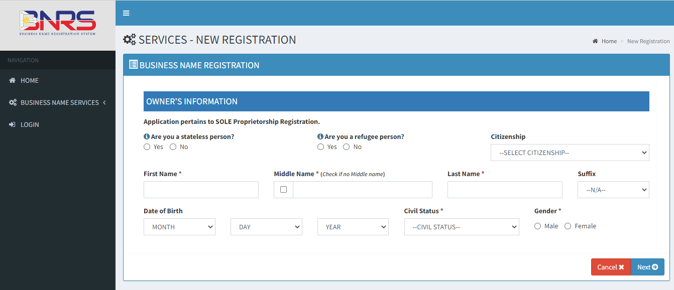 You can file your DTI business name registration online through the Business Name Registration System (BNRS) portal.
Here are the steps to register your business name online:
Access the Registration page[5] of the BNRS site. Go to bnrs.dti.gov.ph/registration and read the Terms and Conditions. When you're done, click the I Agree button at the bottom of the page.
Fill out the online registration form. Fields marked with a red asterisk must not be left blank. Your tax identification number (TIN) must also be provided on the online form.
Pay the business name registration fee within seven calendar days from the online application date.
Upon successful payment transaction, you'll receive the Certificate of Business Name Registration via email.
Once your payment is confirmed, click on "Register New Business" to complete the online DTI registration of your business name.
How to Pay for DTI Registration Fee Online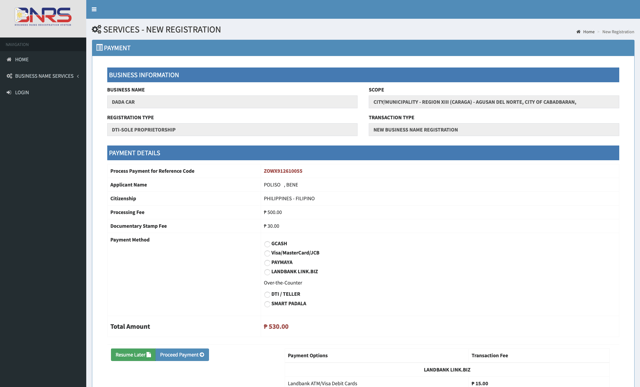 Paying for the DTI registration fee can now be done online. No need to go out of your home to process your registration payment.
Here are the steps you should follow:
Go to the "Transaction Inquiry" module (bnrs.dti.gov.ph/inquiry) under the Business Name Services.
Confirm and agree to the terms and conditions by clicking the button "I Agree."
Input the Reference Code of your transaction.
Choose the Search button to look for your business name. Click on your business name, which appears in a blue hyperlink.
You'll be redirected to the Transaction Summary page. At the bottom of the page, click on "Resume" to edit or complete your payment transaction.
You will then be redirected to the "Payment Details" page where you can choose from any of the available payment options (GCash, Maya, and credit/debit card).
Once the DTI payment has been successfully completed, you'll receive a Certificate of Business Name Registration (CBNR) and an Official Receipt (OR) in the email you provided during the registration.
Walk-in/Over-the-Counter Application for DTI Registration
Although it's much more convenient to apply for a DTI permit online via the BNRS portal, you may opt to file your business name registration personally. Here's how:
Go to any DTI office or Negosyo Center.[6]
Submit all the DTI business registration requirements. Make sure to have a list of backups in case your three proposed business names are already taken.
Pay for the business name registration fee.
Once the DTI approves your business name, it will issue a Certificate of Business Name Registration to you.
Keep your business name document because it's one of the most important documents you'll need to register your business at the municipal office and the Bureau of Internal Revenue (BIR).
How to Update Your Business Name Information
Your DTI-registered business name is valid for five years, but there will be instances when you need to modify some information related to your business. In this case, check out the BNRS website (bnrs.dti.gov.ph) and click on the Business Name Services tab then choose Update Information.
What Business Information Can be Changed?
Changing the details of your business is allowed only if your registration has not expired or has not been canceled previously. You can apply online or physically in any DTI branch for the change of the following details only:
Business address
Capitalization - Should there be instances when names and other nouns in the registration were erroneously entered as lowercase letters.
Line of business - This portion can be changed only if the new proposed line of business is in line with the existing one and relevant to the approved business name. Otherwise, if the line of business is not applicable to your chosen business name, a new application for registration will be necessary.
Products and services
Name of the registrant - In case the name of the registrant should be changed following marriage or any judicial process, the change should be supported by an original copy of the marriage certificate or any document that could verify the judicial decree.
Who Can Change the Business Information?
Changes in the information of an existing business can be done by the proprietor. All documents required for the application for change should be signed by the registered business owner. If the request for change is filed before the registration expires, then a Certificate of Change will be issued as a supplementary document to the Certificate of Registration
For single proprietors, the application can be done online. Juridical persons who apply for change must bring or submit a board resolution or any other equivalent document.
Once the application for change is submitted, it will be subject to the approval of DTI and shall be issued once payment has been made.
What are the Requirements for a Change in Business Name Information?
The following documents should be submitted for any of the changes applied for below:
Additional line of business
Single Proprietorship
Letter of request for an additional line of business
Photocopy of the business name certificate
Corporation or Partnership
Board resolution which indicates the request for an additional line of business
Certified true copy of the company's amended articles of incorporation
Change of address
Single Proprietorship
Letter of request for an additional line of business
Photocopy of the business name certificate
Corporation/Partnership
Board resolution requesting for the change of address
Certified true copy of the amended articles of incorporation (if applicable)
Copy of the notification letter (duly received by SEC) informing SEC of the change of address
Photocopy of the BN certificate
How to Renew Your Business Name with DTI
Your registered business name will expire after five years. Should you wish to retain the name, you need to renew your business name with DTI.
Here are the steps for business name renewal.
Under the Business Name Services, click on "Renewal" where you can find all the reminders on how to choose a business name. Once you've read and understood the terms and conditions listed on this page, you can click on "I Agree" and you'll get automatically redirected to the next page.
Input your Transaction Reference Number (TRN) or Reference Code then click search. You should find your current business name in the search results.
Once you found your business name, click on it and you'll be redirected to the Transaction Summary page.

Click on "Next."
Wait for the confirmation pop-up to appear. On the pop-up, you'll see "Renew Only" and "Update Scope and Renew." If all your business details are the same, you can click on the Renew Only option, and you'll automatically proceed to Step 5. If you choose "Update Scope and Renew," then you'll be asked to proceed to the next step.
Remember that during the renewal of your business name, you can update your residential address and email address. You can also update your business address as long as it is within the territorial scope of your business name.

Choose the new Territorial Scope. Changing the territorial scope also means subjecting your business name to validation. In the validation, provide your Dominant Name and then choose the appropriate Business Name Descriptor by inputting the keywords and describing the exact nature of your business. After inputting the Dominant Name and Descriptor, click the Check Name Availability button. The system will validate. Once validated, you can click the Next button.
On the regular Renewal page, review the details of the registration. Make sure that your email address, business address, and residential address are updated. Remember that under the Philippine Standard Industrial Classification field, you can type the words that best describe your business. Choose the best descriptor that suits your business.
Once you're done with the updates and review, click on "Next" and the Regular Renewal Summary page will show.
Review the details and click on "Next." This time, you should see a pop-up that contains your new Reference Code. Take note of the code because this will be required in all your transactions with BNRS.
Conform to the Undertaking then click on "Proceed." You may now be allowed to download the Undertaking and save it on your device.
Proceed to the payment section, which lets you choose the payment method applicable. Among the options will be DTI Teller, LANDBANK Link.BizPortal, Maya, GCash, and credit or debit card. Choose the payment channel and complete the DTI payment process. You'll be given up to seven calendar days to complete the payment. If payment is not made, the BN application will not be processed. Once the payment is confirmed, you have successfully completed the renewal of your Business Name Registration.
Final Thoughts
Knowing how to get a DTI permit for a small business is the first thing a determined entrepreneur should do. Having a business name is giving your small business idea a face to make them distinct from your competitors. And from there, you brace yourself for bigger challenges ahead.
Don't think for a minute that this will be the first and last time you'll have to deal with DTI business registration. Because your registered business name is valid for five years only, don't forget to renew it with the DTI before it expires.

Sources: