With plenty of options from different banks in the Philippines, the process of selecting a credit card can be overwhelming, especially if you're choosing for the first time.
But don't be impulsive and just avail of the very first credit card you see. After all, you can make the most of a card only if you have the right one. Keep reading to learn how to choose a credit card wisely, so you'll know which card is best for you.
Why is Finding the Right Credit Card Important?
When you search for credit cards online, you'll get several results, each looking better or more appealing than the next.
However, note that not all credit cards are built the same way. Take a look at several options to get a better idea of the kinds of credit cards that exist. Then research each option to find the best one for your spending habits.
When you pick the right credit card, you can save money on interest and annual fees, maximize your spending through rewards points, or earn your money back through cashback or rebates.
How to Choose a Credit Card in the Philippines for the First Time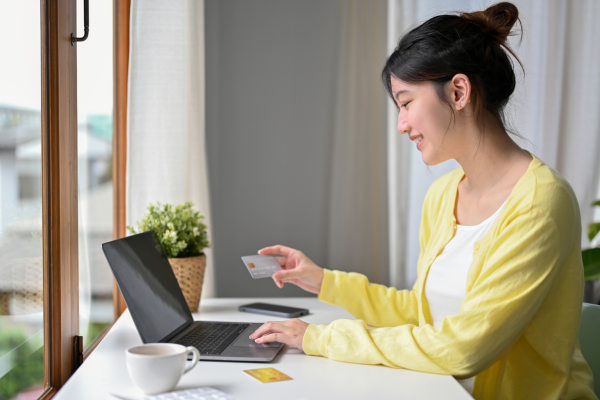 Step 1: Check Your Credit Report
Banks require good credit for credit card applicants, so you must first check your credit report. This document shows your creditworthiness—it provides information like your personal details, account history, and paying habits, which can help the bank decide whether or not to grant you credit.
If you get a poor credit score, it's better to improve it before applying for a credit card. Generally, the most effective way to pull up your credit score is to settle your bills on time and pay off any debt to lower your credit utilization.[1]
Step 2: Identify Your Needs and Preferences
Banks in the Philippines offer different types of credit cards based on consumers' varied spending behaviors and rewards preferences. To pick the best credit card, remember that its features should meet your needs.
Here are the different types of credit cards you can apply for and their corresponding perks:
Travel - Choose a travel credit card if you're a frequent jet setter and want to earn rewards from your travel spending or unlock exclusive deals or promotions from hotels, airlines, and more.
Shopping - If you love adding to your online cart or shopping in-store here and abroad, choose a shopping credit card to get discounts, rebates, points, or freebies.
Dining - A dining credit card is a must for anyone who loves treating themselves to delicious food at restaurants, cafes, and online delivery platforms. You can enjoy great discounts and rewards points for every qualified spend.
Fuel - Get discounts, points, or rebates whenever you gas up using this type of credit card. It's the perfect option for people who drive to work daily and frequently charge car or fuel-related purchases.
Premium - This type of credit card targets consumers with higher salaries who want only the best shopping experience for luxury products and services. It provides exclusive promos and the highest rebates and discounts.
Read more: Yummy in Your Tummy: 17 Credit Card Dining Promos in 2023
Step 3: Look Into Certain Criteria for Selecting a Credit Card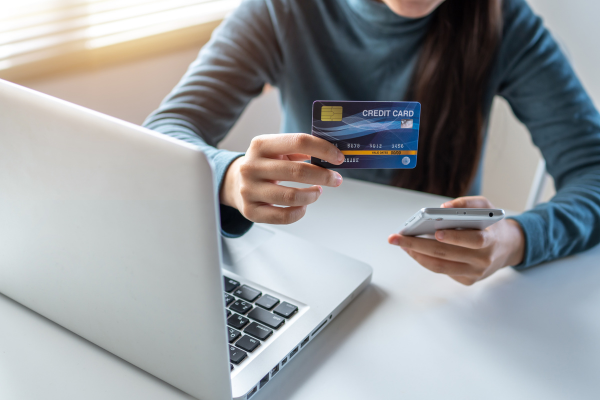 Which credit card should you pick when there's a long list of options? And what criteria should you use in choosing a credit card?
To narrow down your choices and choose the right card, consider the following factors:
🔎 Annual Fees
Credit card providers usually waive annual fees in the first year. If you want to enjoy this perk, explore HSBC credit cards like the Red Mastercard or Gold Visa Cash Back.
Banks also waive annual fees when you apply and meet the minimum spend requirement within a specific period. Some examples include the Metrobank Titanium Mastercard®[2], Metrobank Platinum Mastercard®, and the Metrobank World Mastercard®.
But if you don't want to pay membership fees at all, get a credit card with no annual fees for life, like the Security Bank Next Mastercard, Metrobank M Free Mastercard®, PNB Ze-lo Mastercard, or AUB Classic Mastercard.
🔎 Sign-Up Offers
Aside from the annual fees, compare the credit card welcome gifts you'll receive when your application gets approved. Some banks offer exciting sign-up gifts like gadgets, annual fee waivers, shopping vouchers, shopping credits, or airline miles.
🔎 Benefits and Rewards
Find out what benefits you can enjoy when shopping, dining, or traveling. If it offers bonus points or rebates, how much is the minimum spend to start earning?
For instance, credit cards like the Metrobank Titanium Mastercard®, HSBC Red Mastercard, and Security Bank Gold Mastercard let you earn 1 rewards point for every ₱20 spent. In comparison, the UnionBank Rewards Credit Card earns 1 point for every ₱30 spent.
Related reading:
🔎 Other Fees
Annual fees are not the only things you need to pay when you get a credit card, so make sure to compare late payment, overlimit, cash advance, and foreign transaction fees, just to name a few.
For example, the PNB Ze-lo Mastercard has one of the lowest finance charges in the market at 2.5%, plus no late payment and overlimit charges.
Meanwhile, if you like to shop or dine when you travel abroad, you can get a BPI credit card, such as the Blue Mastercard or Visa Signature, to enjoy its low foreign currency conversion rate of just 1.85%.
Read more: Top 11 BPI Credit Card Perks: Why You Should Make the Switch Today
Step 4: Get the Credit Card That Offers the Highest Overall Value
So what's the answer to the question "What credit card is best for me?" If you're looking for a credit card for beginners, choose one with a lower minimum income requirement; fewer application requirements; and features and benefits that fit your lifestyle needs, like zero annual fees, installment payment options, and flexible rewards programs.
If several credit cards meet your criteria, look closely for differences. You may compare other features such as APR (annual percentage rate), late payment charges, cash advance fees, and security benefits.
Check out this infographic for a quick recap on choosing a credit card: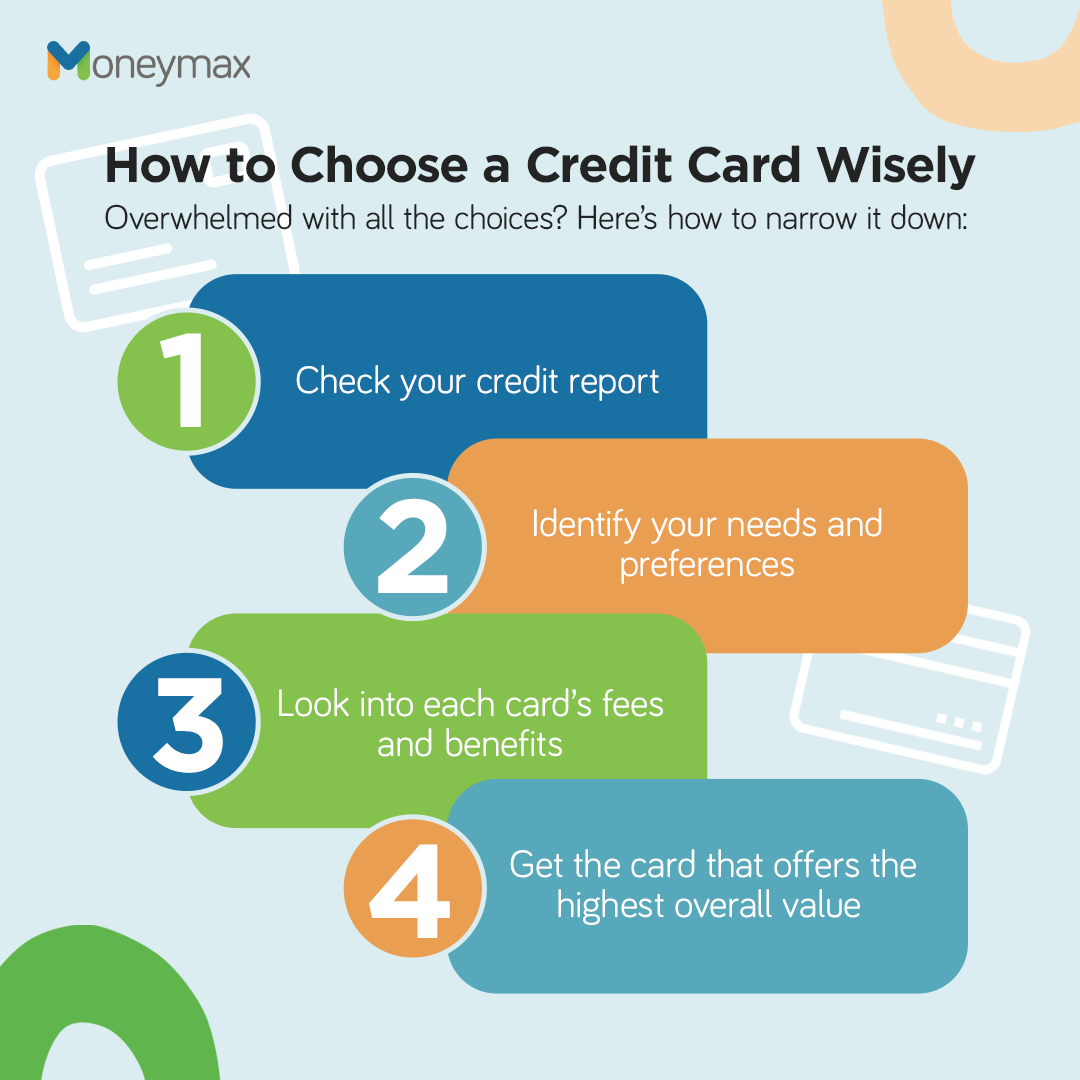 Final Thoughts
The best credit card will maximize your spending, help you save money in the long run, and let you enjoy plenty of perks, so make sure to follow these tips on how to choose a credit card.
To save time and energy, use Moneymax to easily compare credit cards for free. Sort credit cards by type and compare each card's income requirement, annual fees, interest rates, rewards, and more. If you're ready to apply for a credit card, you can do so without leaving the page!

Sources: