We've all heard a credit card horror story or two—mountains of debt, strained budgets, and unauthorized transactions. It's enough to scare credit card newbies away! Meanwhile, plenty of those who do end up getting a card think managing just one is enough responsibility.
But as long as you know how to handle them, there are benefits to having multiple credit cards. You can even use an additional credit card to turn your finances from bad to better.
Wondering, "How many credit cards should I have?" Read on to learn if having multiple credit cards is good, plus the benefits of having two or more credit cards.
How Many Credit Cards Should I Have in the Philippines?
Can you have multiple credit cards in the first place? Yes, you can. Some banks even require credit card applicants to be existing cardholders.
So how many credit cards are recommended to have? How many is enough?
There is no ideal number of cards to have because every cardholder is different. The answer depends on the current state of your personal finances and lifestyle. Consider getting a second card if you need another credit line to cover additional expenses, or if you want a rewards card to earn points.
Should you decide to get more credit cards, use them responsibly to reap the benefits rather than accumulate debts. After all, multiple credit cards mean multiple interest rates and charges. If you find yourself incapable of keeping track or paying on time, these fees will snowball and you'll be in even more dire straits.
"The more credit cards, the better" doesn't hold true for everyone. If you already have a hard time managing one card, just stick to it. Once you're able to get your spending on track, consider getting an additional card or two.
Read more: No Overspending and Late Payments: How to Manage Multiple Credit Cards
9 Benefits of Having Multiple Credit Cards
On the fence if it's indeed good to have multiple credit cards? There are actually a lot of good reasons why you should have multiple credit cards.
✔️ More Rewards and Cashback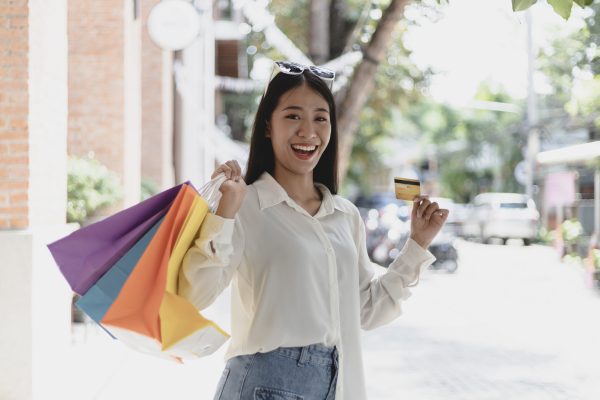 "Should I get multiple credit cards?" Yes, if love getting rewards.
Different cards offer different rewards for a variety of spending categories. Some cards provide rewards for travel, dining, shopping, or fuel expenses. A card with maximum rewards on groceries is different from another with maximum rewards on travel.
If you have just one credit card, you're missing out on the chance to earn rewards on every purchase you make. Yes, you're still earning rewards points or rebates, but they aren't racking up as fast as they would with multiple cards.
✔️ Welcome Gift with Your New Card
Getting an additional card from a different bank is great for another reason: it lets you receive a welcome gift from the get-go.
In recent years, credit card providers in the Philippines have been offering annual fee waivers, cashback or rebates, rewards points, electronic gift certificates, gadgets, air miles, and other free gifts to their new-to-bank customers.
So if welcome gift promos grab your attention, we recommend that you look for card options other than your current issuers instead of getting two or more credit cards from the same bank.
Read more:
---
🎁

Free Welcome Gift:

No Annual Fee for Life Plus Maximum Rewards for U!

Eligible card: UnionBank Rewards Credit Card
Promo period: Until October 31, 2023
Say goodbye to annual fees forever and hello to next-level rewards with your new UnionBank Rewards Card! Just apply via Moneymax and get approved within the promo period, and then meet the ₱20,000 spend requirement within 60 days from your card approval date.
This Moneymax UnionBank Rewards Credit Card No Annual Fee Promo runs until October 31 only. Per DTI Fair Trade Permit No. FTEB-172472 Series of 2023.
Note: The promo is exclusive to applicants who do not have an existing principal credit card issued by UnionBank and/or Citi.
---
✔️ Increased Aggregate Credit Limit
With multiple credit cards, you get access to a higher combined credit limit than a single card can provide.
For example, your credit card has a limit of ₱35,000. But if you have two more cards with the same limit, your purchasing power increases to ₱90,000.
Of course, a higher credit limit doesn't mean you should use up all your available credit. Remember: with great spending power comes great responsibility.
Read more: How to Increase Your Credit Limit and How to Request per Bank
✔️ Additional Financial Option During Emergencies
When it comes to emergencies, it's always better to be one step ahead. An extra credit card just for emergency use will help you cover sudden expenses, like when your car conks out or a family member gets hospitalized. This is ideal if you don't have immediate access to cash, or if you don't want to wipe out your savings.
The best credit card for emergencies should have no annual fees, a low interest rate, a low cash advance fee, and a high credit limit.
✔️ Better Credit Score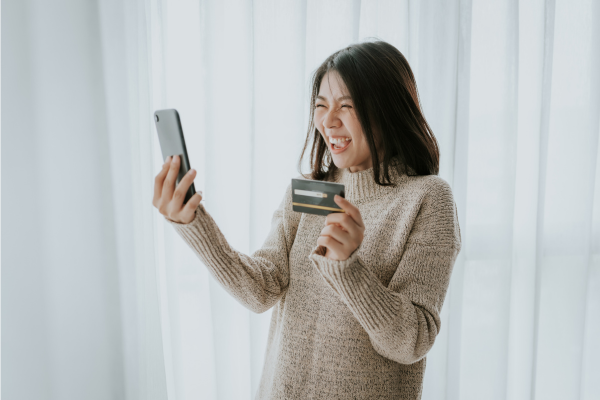 Myth: having more than one credit card is bad for your credit score. Fact: multiple credit cards can actually improve your credit score.
Using two or more credit cards can help you maintain a low credit utilization ratio since it spreads your spending across different cards.
The utilization ratio is a crucial factor in calculating your credit score. The lower this ratio (ideally below 30% at any given time), the higher your credit score. This raises your chance of getting approved for a loan or another credit card.
For example, your card has a ₱50,000 credit limit and you have a ₱25,000 balance on it. Your utilization ratio is 50% of your available balance (debt balance divided by credit limit) if you're using just one card. However, if you put half the balance on a second credit card with a ₱50,000 credit limit, your utilization ratio will be only 25%.
To build a good credit score through multiple credit cards, consistently make full payments on time. If you're organized and disciplined when it comes to multiple credit card payments, lenders will see you as creditworthy.
✔️ Backup Options
The risk of having just one credit card is that you don't have a backup in case it gets stolen, blocked due to suspicious activity, or declined for some reason.
For good measure, bring one or two cards and store another one safely at home (or the hotel, when you're traveling). If your card isn't accepted, you can whip out an alternative card. Or if your wallet is stolen, you can use your spare card while waiting for the replacement of your lost card.
Consider getting cards from different networks like Visa, Mastercard, JCB, and American Express. This way, you have an alternative if a merchant accepts only a particular credit card network.
✔️ Secure Online Transactions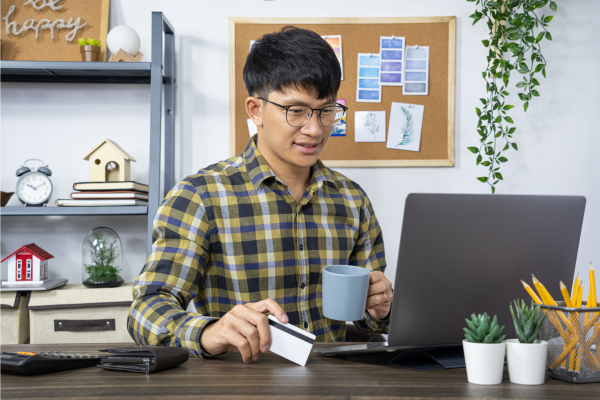 Do you often make financial transactions on the internet using your credit card? Consider getting a card exclusively for shopping, paying bills, and other online transactions.
A separate credit line for online purchases reduces the impact of identity theft or fraud. You can immediately cancel the card once you detect an unauthorized transaction. This won't affect your other cards.
Some virtual cards have better security features than regular cards. For example, the Metrobank ON Mastercard® sends a one-time password to the cardholder each time the card is used at participating online merchants.
✔️ Spread-Out Due Dates
If you're strategic, you can manage your spending better and even avoid interest charges. Since you have different payment due dates, you can use the card with the longer time left until the due date for certain purchases.
For example, you have Credit Card A with a due date every 15th, and Credit Card B every 30th. If you have to make a purchase on the 14th, charge it to Credit Card B to better manage your balance for the upcoming billing statement.
✔️ Organized Spending
Keeping track of your various expenses is easier with multiple cards than with a single card—as long as you organize your spending.
If you're an entrepreneur, for instance, you may want to keep your business expenses separate from your personal expenses by getting a business credit card.
For frequent overseas travelers, an additional card just for international spending (with a dual billing feature and zero or low foreign currency transaction fee) will help manage your expenses abroad.
7 Best Additional Cards for Existing Cardholders in the Philippines
Considering getting your second or third credit card? Check out our recommendations that will make a great addition to your arsenal of cards.

1 rewards point (non-expiring) for every ₱35 spend
Unlimited free access to Marhaba Lounge at NAIA Terminals 1 and 3

2x rewards points on dining, department store, and online purchases
1 point for every ₱20 spend
2x rewards points for international purchases
1 rewards point for every ₱20 spend
Up to 50% off on luxury dining deals
---
🎁

Free Gift from Moneymax:

₱2,500 eGift, Xiaomi Soundbar, or Mi Band 7 Smartwatch

Eligible cards: Metrobank World Mastercard®, Platinum Mastercard®, and Titanium Mastercard®
Promo period: Until October 31, 2023
How do you get an awesome Metrobank credit card welcome gift? Simple! Just apply and get approved for any eligible card through the Moneymax website. Choose from a ₱2,500 eGift voucher via Giftaway, Xiaomi Redmi Soundbar (worth ₱2,499), or a Xiaomi Mi Band 7 smartwatch (worth ₱2,499) as your free special gift!
Per DTI Fair Trade Permit No. FTEB-175599 Series of 2023. Terms and conditions apply. This Moneymax Metrobank eGift/Xiaomi promo runs until October 31, 2023 only. So hurry and apply now!
Note: Applicant must be an existing credit cardholder from any bank excluding Metrobank for at least 9 months.
---
5% cash back on groceries, 4% on fuel, 3% on bill payments, 2% on dining expenses, and 1% on shopping
Exclusive access to Marhaba Lounge at NAIA 1 and 3
Membership to more than 1,000 lounges in over 500 airports worldwide
Free travel insurance coverage of up to ₱10 million
Dining, spa, and retail offers from select exclusive airport merchants
---
🎁

Free Gift from Moneymax:

₱2,500 eGift, Sony Wireless Headphones, or De'Longhi Blade Coffee Grinder

Eligible cards: Select Security Bank credit cards
Promo period: Until November 11, 2023
Want a credit card from Security Bank? You're in for a treat if you apply and get approved for an eligible card through Moneymax and meet the minimum spend requirement. Pick your free Security Bank welcome gift: a ₱2,500 Giftaway eGift voucher, Sony WH-CH520 wireless headphones (worth ₱3,299), or a De'Longhi Blade Coffee Grinder (worth ₱3,800).
Per DTI Fair Trade Permit No. FTEB-175575 Series of 2023. Terms and conditions apply. This Moneymax Security Bank Giftaway/De'Longhi credit card promo runs until November 11 only. Apply now!
---

4% cashback on dining and online delivery spend, 1% cashback on supermarkets and department store spend, up to 0.3% cash back on other international and local retail spend
Exclusive perks and deals at any Ayala Malls nationwide

2 BPI points for every ₱20 spend
Up to ₱20 million free travel accident and inconvenience benefit
Exclusive 50% off deals on dining, hotels, resorts, fitness studios, and wellness centers, all year round
How Many Credit Cards Should I Have: FAQs
1. Is it bad to apply for multiple credit cards at once?
While having multiple credit cards to your name can certainly be beneficial as discussed above, avoid applying for them all at the same time. Some banks see multiple applications as a red flag—you may come across as an individual who overextended their budget and is in desperate need of credit.[1]
2. What should I consider when applying for an additional card?
Before you start shopping around for another card, ask yourself if you're financially capable enough to do so. Next, consider what you want another card for.
Do you want to spread out your balance? Look for cards with minimal balance transfer fees.
Just interested in maximizing rewards for purchases you often make? Get a co-branded credit card with great perks from your favorite clothing store, a cashback card with a high rebate rate on groceries, or an air miles credit card with travel discounts.
Final Thoughts
Now that you know the answers to questions such as "How many credit cards should I have" and "Is it good to open multiple credit cards," it's up to you to decide if your lifestyle calls for another card or two.
This would require even more financial responsibility on your part, so you need to seriously evaluate if you're up for the challenge.

Source: [1] Should You Apply for Multiple Credit Cards at the Same Time? (NerdWallet, 2023)