Medical bills are one of those expenses that can catch you off-guard. They're not at all predictable like utility bills. They hit you only sporadically—but every time they do, they're often hefty enough to completely wreck your budget.
Facing a medical emergency can take a toll on you not only health-wise—it can also drain you financially. There's nothing more crippling than getting slapped with a medical bill you can't afford while you're at your most vulnerable.
That's why a contingency plan is necessary when dealing with health-related expenses. Don't let your emergency fund get completely depleted—explore other options like paying with your credit card. While using a credit card for hospital bills in the Philippines is not too common, it's entirely possible and, in some cases, preferable over other payment methods.
If you're a smart budgeteer who has the wisdom and discipline to know when to swipe or not, get a credit card to help you manage your medical expenses. It will make your life easier while your health and wallet are still in recovery.
Credit Card Features Ideal for Medical Bills Payment
Credit cards will always have fans and critics—and that's only fair as they're not really made for everyone. But you'd be remiss if you don't acknowledge the value they bring to people who need them and know how to use them.
Using a credit card for health expenses and other essentials can save you money and bring you rewards. Below are some of the common features of credit cards that make them ideal to use for medical-related expenses.
✔️ Installment Plans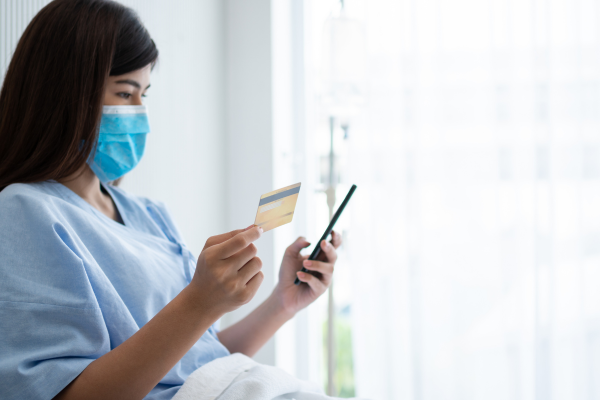 Using a credit card for hospital bills is practical because it gives you access to flexible payment terms. Many credit cards have installment plans, which you can use to make your medical bills more manageable. If you have good credit standing, you can even negotiate your payment terms to find the most comfortable setup.
Some banks also offer installment plans with zero to low interest (like the BPI hospital bill installment plan). This is especially helpful if you can settle your balance in full every billing cycle but just want to avoid making a dent in your budget.
✔️ Recurring Automatic Payments
Using a credit card to pay medical bills will make your life easier and save you the hassle of running to payment centers to settle your bills. With a credit card, you can use an automatic debit arrangement facility to ensure you won't miss a due date. Late payments incur interest, so this feature comes in handy if you're not keen on paying interest charges.
✔️ Healthcare Discounts
The best credit card for medical expenses varies depending on your unique need and situation. What hospitals or clinics are nearest to you? Do they offer discounts related to credit card use? What wellness stores or pharmacy chains do you usually go to for your medical needs? Are there certain banks that partner with them to offer deals and discounts?
When deciding on the best credit card for you, start by identifying what you want, then look for banks and credit cards that match that.
✔️ Cashbacks and Other Rewards
There are many ways to maximize the use of a credit card for medical expenses. Even if the one you have lacks specific health-centered perks, you can still use it to rake in other rewards.
While many credit cards have universal features, each still serves a unique purpose, so you won't get the same benefits across the board. With every swipe, you can earn reward points that are redeemable in various partner establishments.
Some cards will get you gift certificates, travel vouchers, and shopping and dining discounts. Others will earn you air miles. You can also earn rebates and cashback not only for medical-related expenses but for other categories as well.
✔️ Life or Health Insurance Perks
Did you know that credit card health insurance is a thing? There are banks that partner with insurance providers to help cardholders prepare for medical expenses. Insurance acts as a financial cushion to break your fall when you stumble into an unforeseen medical predicament.
Examples of credit cards that provide insurance-related perks are the Robinsons Bank Pru Life UK credit card and the UnionBank Insular Life credit card. Metrobank also has similar offers with AXA health insurance.
✔️ Fraud Protection
Another pro of using a credit card for medical bills is its built-in fraud protection mechanism, which makes it one of the most secure payment methods.
If you have a big medical responsibility to settle, it's impractical and unsafe to carry around a big amount of cash. Using a credit card is less risky and more ideal in this scenario—it's even safer than using a debit card because the former has fraud liability protections that the latter doesn't.
Best Credit Cards for Health-Related Expenses
Using a credit card for hospital bills in the Philippines is a good alternative when you know how to properly manage it. Many credit cards are great for all types of bills payment—but, among them all, is there one that ultimately deserves to be called the "best medical credit card?" Find out below.
Read on for more details and options:
Key Features
Annual fee: Free for life if you apply and get approved until July 31, 2023

UnionBank Classic Visa Card: ₱1,500
UnionBank Gold Visa Card: ₱2,500

Interest rate: 3%
Minimum monthly income requirement: ₱15,000
Cash advance fee: ₱200
Late payment fee: ₱1,000
Overlimit fee: ₱500
When it comes to credit cards, you can't go wrong with UnionBank. Products from this provider are top-tier in every sense. So if you're wondering which credit card is best for medical bills, UnionBank credit cards undoubtedly sit high up on the list as top contenders.
Two of its products—the UnionBank Classic Visa Card and the UnionBank Gold Visa Card—are especially worth mentioning. Both cards offer free life insurance coverage up to ₱400,000 from Insular Life.[1]
They also let you pay 0% installments and earn you one reward point with every ₱35 spend. With a Classic Visa, you can opt for longer monthly installment terms, while with a Gold Visa, you can earn non-expiring points.
There are also UnionBank credit card promos you can take advantage of in 2023.
Key Features
Annual fee:

HSBC Red Mastercard: ₱2,500
HSBC Platinum Visa Rebate: ₱5,000

Interest rate: 3%
Minimum monthly income requirement:

HSBC Red Mastercard: ₱16,667
HSBC Platinum Visa Rebate: ₱41,667

Cash advance fee: ₱200
Late payment fee: ₱1,000
Overlimit fee: ₱800
HSBC has a few products in its roster that can be deemed the best credit card for medical bills. This is because HSBC currently offers a Card Balance Conversion Plan for Hospital Expenses Promo that allows all HSBC credit cardholders in the Philippines to split their hospital expense transactions and spread them across six, 12, or 24 months.[2]
Use any HSBC card to avail of this promo. You can start with the standard HSBC Red Mastercard, which lets you earn one reward point for every ₱20 spend, and 4x the reward points for every online, shopping, dining, and overseas spend.
But if you're looking to maximize the health-related perks you can get, check out the HSBC Platinum Visa Rebate Card, which offers free purchase protect insurance coverage up to ₱15,000. On top of that, this card also lets you earn a 5% rebate on every shopping and travel transaction and a 6% rebate on your first Caltex fuel spend.
⚕️ Metrobank Cashback Visa
Key Features
Annual fee: ₱3,500
Interest rate: 3%
Minimum monthly income requirement: ₱29,167
Cash advance fee: ₱200
Late payment fee: ₱1,000
Overlimit fee: ₱750
Don't have a credit card yet? Start your journey with Metrobank.
To maximize your savings, go for the Metrobank Cash Back Visa Card. Save up to 5% cashback on essential items like groceries, and earn 0.2% cashback on all other purchases. This card also offers installment plans for up to 24 months with 0% interest, making it really handy when you need help covering medical expenses.
Metrobank occasionally offers discounts on healthcare products and insurance, so keep an eye out for partnerships and promos.
Key Features
Annual fee: Free for life
Interest rate: 3%
Minimum monthly income requirement: ₱45,000
Cash advance fee: ₱200
Late payment fee: ₱1,000
Overlimit fee: ₱500
Security Bank credit cards have a unique feature called Security Bank SimplyPay, which allows credit cardholders to make deposit payments to any local bank account. The credit limit can go as high as ₱500,000, making it a convenient option for paying hefty hospital bills.[3]
If you're a first-time credit cardholder looking for one of the most powerful cards that you can use for medical bills payment, look no further than the Security Bank Next Mastercard. It offers good installment plans and money-saving features that will help you on the road to financial independence. This card also makes you eligible for online purchase protection insurance of up to US$200!
Key Features
Annual fee: ₱2,050
Interest rate: 3%
Minimum monthly income requirement: ₱15,000
Cash advance fee: ₱200
Late payment fee: ₱850
Using a BPI credit card for hospital bills is easier on the wallet because of the bank's Special Installment Plan (SIP), which allows credit cardholders to convert their retail and online transactions worth at least ₱5,000 to installments.
BPI SIP for hospital transactions allows you to use 100% of your credit limit to settle your hospital bill in fixed installments for up to 36 months.[4] To maximize the medical-related perks, go for the BPI Amore Cashback Card, which gives you up to 1% cashback on drugstore and bills payment spend.
It also lets you save on other expenses, giving you up to 4% cashback on supermarket and department store spend, and 0.3% cashback on all other local retail spend.
⚕️ RCBC Flex Visa
Key Features
Annual fee: ₱1,500
Interest rate: 3%
Minimum monthly income requirement: ₱15,000
Cash advance fee: ₱200
Late payment fee: ₱850
Overlimit fee: ₱600
If you're all about flexibility, go for the RCBC Flex Visa. It offers twice the reward points on two of your preferred categories. Choose health and wellness as one of them to rake in more points for every health or medical-related purchase.
To switch it up every now and then, you also have the option to change your preferred categories every billing cycle. Earning reward points with this credit card is not only exciting but also practical as it allows you to either exchange your points for shopping vouchers or redeem them as cash rebates.
⚕️ AUB Gold Mastercard
Key Features
Annual fee: Free
Interest rate: 3%
Minimum monthly income requirement: ₱50,000
Late payment fee: ₱750
Not sure when you can settle your medical bills? You're treading on dangerous ground—but luckily you have the AUB Gold Mastercard to cover you while you sort out your finances. Unlike most credit cards, this one by Asia United Bank gives you the flexibility to choose exactly when to pay your bill, allowing you to find solutions without the dread of a looming deadline.
The perks don't end there. The AUB Gold Mastercard also lets you earn one reward point for every ₱50 spend, making every bills payment transaction an opportunity to unlock more savings. On top of that, it has no annual fees for life!
Hospitals That Accept Credit Card Payments in the Philippines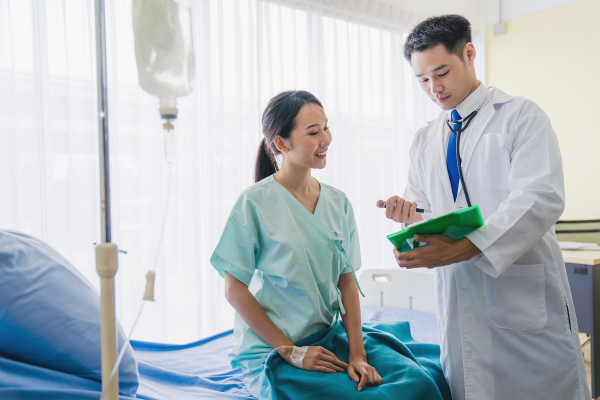 According to an Inquirer article, the premier state-owned Philippine General Hospital (PGH) accepts only hard cash—no credit cards allowed.[5] That revelation made some people question the viability of credit cards as payment methods for hospital bills.
Many wondered, "Do hospitals accept credit cards?" Are these shiny plastics a reliable payment alternative when cold, hard cash isn't readily accessible? The answer to both questions should be yes—but, unfortunately, not all hospitals in the country have the tools and mechanisms needed to accommodate credit card payments. Below are some of those that do.
🏥 St. Luke's Medical Center
Both the Quezon City and Bonifacio Global City (BGC) branches of St. Luke's Medical Center accept credit card payments.
Not sure how to pay your hospital bill with a credit card? Seek the assistance of hospital staff if you need any help, but essentially, using your credit card to settle your hospital bills is no different than using it for any other purpose.[6]
Just present the card and proof of your identification to proceed with payment. Keep your receipt and wait for your bill to reflect on your next statement of account.
🏥 Makati Medical Center
Makati Medical Center also facilitates online payments using credit cards. To access the online payment portal, you need to provide your patient ID, which you can find in your bill form. From there, you can choose your preferred payment method.[7]
🏥 The Medical City
Settle your hospital bills at The Medical City either online or on-site. If you prefer paying online, just log into your Patient Portal, then go to Billing and Payments. Click the View button to see the payment link, and then proceed with paying using your credit card.[8]
If you're an HSBC credit cardholder, you're eligible for a 0% installment plan for up to six months. Use this promo with every transaction worth ₱5,000 at The Medical City Ortigas.[9]
🏥 Other Medical Institutions That Accept Credit Cards
The following institutions in the Philippines also accept credit card payments for medical bills:
Asian Eye Institute
Asian Hospital and Medical Center
Batangas Medical Center
Cardinal Santos Medical Center
Cebu Doctors' University Hospital
Chong Hua Hospital
Davao Doctors Hospital
Fe Del Mundo Medical Center
Healthway Medical Clinic
Lung Center of the Philippines
Manila Doctors Hospital
ManilaMed
Medical Center of Taguig
National Kidney and Transplant Institute
Philippine Heart Center
Providence Hospital
Sacred Heart Diagnostic Medical Center
University of Santo Tomas Hospital
This list of hospitals that accept credit card payments is by no means complete or exhaustive. If you don't see your preferred hospital or clinic, just inquire with them directly to confirm the available payment options.
Final Thoughts
Contrary to what naysayers say, credit cards can be all the help you need during a medical-related financial crisis. Still, that doesn't discount the fact that there's also merit to what detractors claim—which is that credit cards also pose a danger, especially at the hands of those who don't know how to use them.
Save yourself from falling into medical debt by mastering the science of swiping. Know when to take out your credit card for hospital bills in the Philippines and when to keep it safely tucked in your wallet.
Use your credit card wisely. Avoid wasting your money on interest charges and other fees. Pay your bills on time and in full instead of paying just the minimum amount and revolving your balance month after month. Keep your finances manageable by being a responsible credit cardholder—that's the only way you can truly unlock the immense value of this financial tool.
Use a Comprehensive Credit Card Comparison Tool to Find Your Best Option
Still can't choose from all these options? If you're new to credit card applications in the Philippines, use the Moneymax online card comparison tool to get a better view of the features that come with each card.
The tool allows you to narrow down your options and shows you the best card that hits all the marks and matches your unique needs. Check out the tool now by clicking the banner below!

Sources: