The unstoppable evolution of the blockchain technology has changed gaming forever. Non-fungible token (NFT) games have made the connection between the virtual world and real life stronger than ever. Every triumph or loss in the game is reflected in the actual world; if you reap rewards in the game, you get real money. You get the drift.
In the Philippines, you can very well consider Axie Infinity the poster child of NFT games. However, there's a multitude of NFT titles waiting to be discovered. Just in case you're on the lookout for a rising game, consider SpaceCrypto. This may even appeal to you if you're a fan of space operas.
This guide outlines everything you need to know about the SpaceCrypto game.
What is SpaceCrypto Game?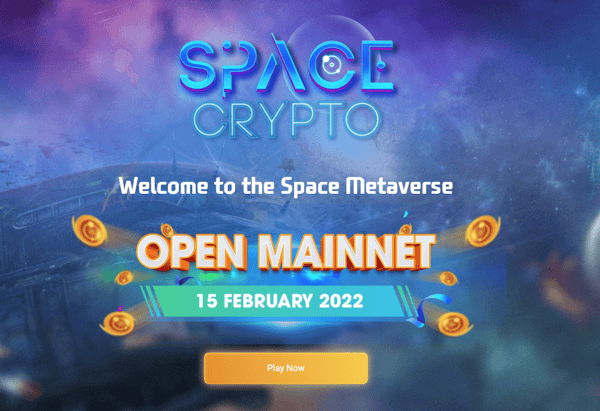 SpaceCrypto is a shooter video game where players use spaceships to fight evil entities. You'll also also forming alliances to reach mutual goals and protect the game's universe called the Space Metaverse.
While you're in the metaverse, you'll be called a space guardian. Because SpaceCrypto is an NFT game, the assets that you own in the metaverse― from tokens to spaceships―are tied to a real-life value.
How Do You Get Started on SpaceCrypto Game?
SpaceCrypto Game doesn't require you to create an account. But you'll need to open a compatible wallet and connect it to the game's website before you can actually play. Here are the steps:
1. Create a MetaMask Wallet
The first thing that you need to do is create a MetaMask wallet.[1] For easy access, install it as a Chrome extension. Once done, make sure that the network is set to Binance Smart Chain.
Then, load your wallet with BNB, which is Binance's cryptocurrency. If you have a Binance wallet, just withdraw your BNB to your MetaMask account.
2. Get SpaceCrypto's In-Game Token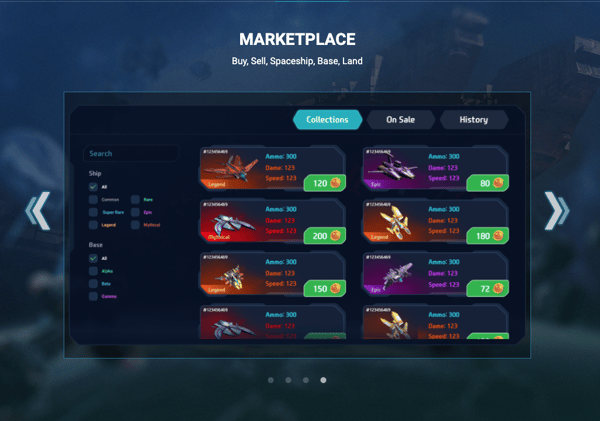 SpaceCrypto Game is free to play. However, you'll need to have Space Genesis Token (SPG), which is the metaverse's currency. SPG is required for minting your spaceships or buying items at the SpaceCrypto marketplace.
To get SPG, convert your BNB by using SpaceCrypto's recommended platforms: PancakeSwap and PooCoin.
3. Mint Your Spaceships
Now that you have SPG in your wallet, you can mint your spaceships. On SpaceCrypto's homepage, click the "Play Now" button. Then click "Connect Wallet."
You'll then be directed to the game's dashboard where you'll be required to buy a Genesis Box using your SPG. Once you've bought your boxes, open them to get your space ships.
Here are your odds of getting a specific spaceship. Note that a spaceship with a higher rarity level is much stronger.
Common – 82%
Rare – 10%
Super Rare ­– 6%
Epic – 1.4%
Legendary – 0.55%
Mythical – 0.05%
Read more: How to Use the Binomo App: Your Guide to This Rising Online Trading Platform
How to Play SpaceCrypto Game
Now that you have your NFT spaceships, you're ready to fight. So, how does the SpaceCrypto gameplay go?
If you know how to play Space Impact on the Nokia 3310 or any space shooter game on popular consoles, you'll easily get the hang of this game. Here's the SpaceCrypto gameplay:
1. First Things First: Remember the Game's Objective
The goal of the game is to join a space battle and beat the boss. Taking that into account, make sure that you have enough spaceships. The more spaceships you have, the more powerful your fleet will be. And if you have a powerful fleet, you'll be able to finish the battle sooner than expected.
2. Build Your Space Fleet
Choose the spaceships that you'll send to the battle. Click the "Fight" button under each spaceship unit. Keep in mind that you can use up to fifteen spaceships to join the battle.
Read more: Meet Your Blockchain Pet: How to Earn in My DeFi Pet
3. Engage in Space Battles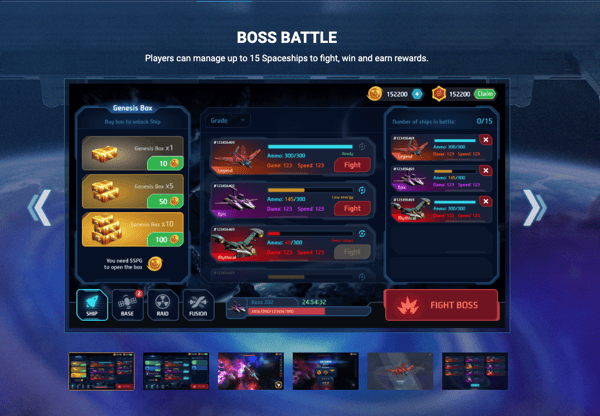 In the actual battle, all you need to do is beat the boss ship using your spaceship's ammunition (ammo) within the given time limit. When one of your spaceships runs out of ammo, it will be automatically removed from the game. Nevertheless, you can add another unit to your fleet as long as it has at least 50% ammo.
When your spaceship isn't engaged in a battle, it's being reloaded. If you want to reload your spaceships faster, you'll need to buy a more expensive base. One base can reload one unit at a time.
Bosses come in various waves, and the next waves are much stronger and more challenging than the previous ones. While the number of waves is unlimited, all players will join Wave One in the beginning.
Defeating each boss earns you Space Energy Tokens (SPE), the other currency in the SpaceCrypto metaverse. Beating stronger bosses means higher SPE rewards.
What happens if you can't beat the boss before the time limit? The sad news is that you'll have to restart at Wave One.

How to Make Money from SpaceCrypto Game?
SpaceCrypto Game isn't just about beating bosses and saving the metaverse. You can also make money from it through the following:
1. Engage in a Player vs. Environment (PvE) Battle
This is the default money-making set-up of the game. As mentioned, every battle won rewards you with SPE. The amount of the SPE will be decided in a slot game that comes after the battle.
2. Engage in a Player vs. Player (PvP) Battle (Soon)
The SpaceCrypto developers will soon launch the PVP mode where you can compete against your friends and other players in the metaverse.
3. Play the Raid Mode (Soon)
In this mode, players won't have to buy any spaceships. It will also allow busy people to play the game at a leisurely pace and earn extra cash at the same time. The rules for this mode are yet to be unwrapped.
4. Play the Tournament Mode (Soon)
While the mechanics for this game mode aren't discussed in detail yet, the SpaceCrypto developers explain that players can claim more tokens at the tournament where they have to prove that they're the best Space Guardian in the metaverse.
5. Buy a Land in the Metaverse and Rent it Out
In the game's metaverse, lands are prized resources that come in a limited quantity. They are NFTs that represent the physical parcels of the game. If you own a portion of the game's metaverse, you can earn money by renting it to other commanders who will then use that land as a battleground. You may also find extra SPG tokens in your own plot.
6. Stake Your Crypto
If you choose to hold your crypto and allow it to become part of the blockchain's validation process, you may earn some rewards. However, staking comes with some risks. It's important that you read comprehensive yet easy-to-understand materials about it.[3]
Read more: Play to Earn: Make Money While Having Fun with These 21 Crypto Games
SpaceCrypto Game FAQs
Want to know more about SpaceCrypto? Read this section to learn more about the game's metaverse, from its reliability to SpaceCrypto coins.
1. Is SpaceCrypto Game legit?
With lots of scams happening in the crypto and NFT industry, this is valid question. A lot of players believe in the legitimacy of SpaceCrypto Game. After all, it's been featured on reputable coin tracking websites, such as CoinMarketCap and Certik Security Leaderboard.
Its backers and partners include Icetea Labs, Gamefi, Maven Capital, DAO Maker, RedHat, and HG Ventures, among others. They're just some of the leading names in the blockchain industry.
2. What's the difference between SPG and SPE?

Space Genesis Token (SPG) and Space Energy Tokens (SPE) are the two currencies in the SpaceCrypto metaverse. But they have different purposes.
SPG is used for buying spaceships and other items at the SpaceCrypto marketplace. You can also use it for staking. More importantly, SPG gives you voting privileges. Such powers make you part of the body that will decide the future of the game. Currently, there are 1,000,000,000 SPG tokens in circulation.
SPE, on the other hand, is a reward that you can earn by playing the game. This is the currency that you'll use to purchase bases. At present, the game has an unlimited supply of it.
3. How much are SPG and SPE today?
As of this writing, one SPG is equivalent to ₱3.28. Meanwhile, one SPE is equal to $0.002905 or roughly ₱0.15.
4. Can I play SpaceCrypto on my smartphone?
You can play SpaceCrypto Game via a web browser. However, the game developers said that the title will soon be available on Android and iOS.
Read more: Compare the Best Cryptocurrency Trading Platforms in the Philippines
Final Thoughts
There's no escaping the metaverse. With the popularity of blockchain and its derivative technologies, such as crypto and NFTs, it's clear that everyone will eventually see each other in the virtual universe. But for now, the early stages of the metaverse are made concrete by the existence of NFT games, such as SpaceCrypto.
The SpaceCrypto NFT game is proof that you can make money while having fun. Before you dive deeper into this game, understand the risks and try to foresee your losses. Doing so affords you a plan that will help you avoid expensive blunders in the future. More importantly, only bet the money that you're willing to lose.

Sources:
DISCLAIMER: Information published on this blog or elsewhere on www.moneymax.ph should be used for general information purposes only and does not constitute investment advice, performance data or any solicitation or recommendation that any security, investment product, transaction or investment strategy is suitable for any specific person. This material does not take into account your financial situation, risk tolerance level, investment experience or objectives; all of which are unique to you. Before acting on information on this blog, we suggest consulting an independent professional to advise you on the risks of any decision and the extent of any exposure to loss.