Tamagotchi and Pokémon are often cited as the poster children of virtual pets. These games remain popular to this day because they appeal to people's nurturing side and tendency to collect things. Seeing your Tamagotchi grow can make you feel accomplished. In Pokémon's case, you get to go on adventures and battles with your "pocket monsters," and in a way, you establish a bond with your fictional fur babies.
If you love Tamagotchi and Pokémon, you may want to take things to the next level by having blockchain pets. Enter the metaverse of My DeFi Pet.
One interesting aspect of non-fungible tokens (NFTs) is that they focus on the culture of collecting. The game My DeFi Pet leverages that feature, ultimately establishing a venue that allows players to have fun, build a community, and somehow cultivate their parental instincts.
This article outlines all the important things you need to know about this game. You'll also learn how to earn in DeFi Pet.
What is My DeFi Pet?
Launched in 2021, My DeFi Pet is a blockchain game that allows players to own virtual pets, which they can breed, collect, evolve, and trade. Moreover, pet owners can join battles to earn rewards. If you've played Pokémon at some point, you'll easily grasp the concept My DeFi Pet. The difference is that the pets and items you own in the My DeFi Pet metaverse are NFTs, meaning they have real-life value.
My DeFi Pet adopts the concept of "Seasons," which breaks down the game progress into smaller segments. Such a model is primarily designed to address humans' tendency for short-term rewards.
My DeFi Pet is currently operating on Binance Smart Chain and KardiaChain. You can play it directly on your browser.
What are DPET Tokens?
DPET is the in-game currency that you can use to buy game items. Aside from that, you can use DPET to take part in the game's governance or stake it to earn special rewards.
The rationale behind the DPET token is to provide My DeFi Pet players a secure mode of payment within the game's ecosystem. You can earn DPET tokens by simply playing the game and accomplishing certain tasks. Learning how to earn in DeFi Pet is important, as DPET is necessary for summoning new eggs (which will eventually become a pet) and joining special events.
Nevertheless, the developers of My DeFi Pet make it clear in their whitepaper that the DPET token isn't intended to be a medium of exchange that can be used by the public as payment for goods or services.[1]
As of this writing, one DPET is equivalent to ₱7.98.[2]
Read more: Compare the Best Cryptocurrency Trading Platforms in the Philippines
How to Get Started on My DeFi Pet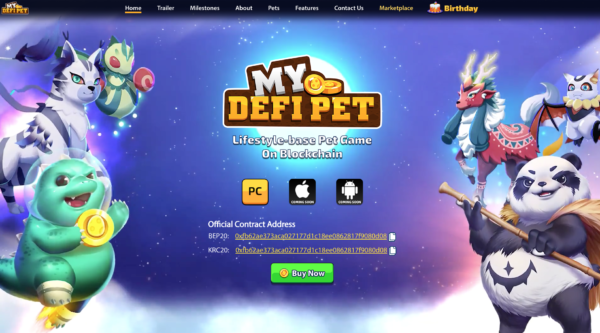 Before you learn how to earn in DeFi Pet, you'll have to set a few things up first. Here are the steps that you need to take before joining the metaverse. For illustrative purposes, the instructions below will be using Binance Smart Chain. After all, it's one of the most used blockchain networks.
1. Set Up a MetaMask Wallet
First, you have to create a MetaMask wallet. If you already have one, connect it to Binance Smart Chain.[3] To access your MetaMask wallet easily, it's highly recommended that you install it as a Google Chrome extension.
After connecting your MetaMask wallet to Binance Smart Chain, load it with BNB, which is Binance's cryptocurrency. You'll be using this coin to purchase DPET tokens.
Related article: What is Ronin Wallet? Know More About This Axie Infinity Crypto Wallet
2. Buy DPET Tokens
Go to the official website of My Defi Pet.[4] Click "PC" to access the game page. Once there, click "Connect" under Binance Smart Chain. After that, click "Refresh."
Once your MetaMask wallet is connected to Binance Smart Chain, you can buy DPET tokens via PancakeSwap.[5] Alternatively, you can buy DPET at other exchanges, such as Kucoin and gate.io.
3. Buy a Pet
Before you proceed to the game, you'll need to buy at least one pet. On My DeFi Pet's game page,[6] click "Shop" to buy an egg, which is priced at three DPET tokens.
Note: You don't have to create an account on the My DeFi Pet website to join the game. You can proceed directly to the game page as long as your MetaMask wallet is connected to Binance Smart Chain.

How to Play My DeFi Pet
The gameplay of My DeFi Pet revolves around various activities, such as collecting, breeding, evolving, trading, and battling pets. Here are the overviews for such gaming activities:
Collecting
There are two ways to get a pet. One is through summoning. Through it, you can get a random egg after spending three DPET tokens. Moreover, it creates a new generation pet and automatically places it on auction. To summon a new egg, just go to the game page and click "Shop."
The other method is joining an auction. A new pet is born every hour, and you can bid for it within 24 hours. Unclaimed pets are kept at the altar for later purposes.
Breeding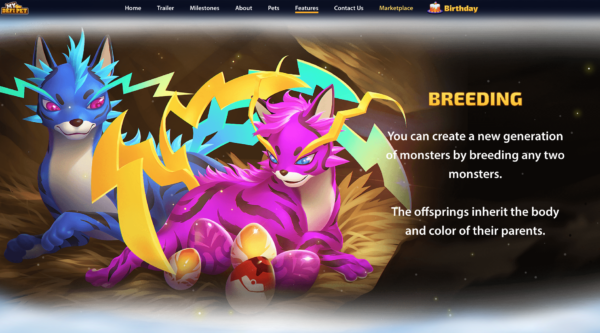 Just like in the real world, pets in My DeFi Pet can breed to give birth to a new pet. You can do this when you have two pets. The characteristics of the new pet will depend on the genes of the parents. There are some cases, though, where the new pet possesses recessive traits, meaning it has parts that have not appeared in its parents before.
Keep in mind that you'll need to pay five DPET tokens to breed your pets. The breeding of pets happens in the Happy Forest.
Evolving
Similar to Pokémons, pets in the My DeFi metaverse also evolve. It can happen only when you feed them DPET tokens. Once your pet evolves, it will have a new appearance and more powerful stats that will come in handy during battles. Keep in mind that a pet's evolution levels and capabilities all depend on its rarity.
Battling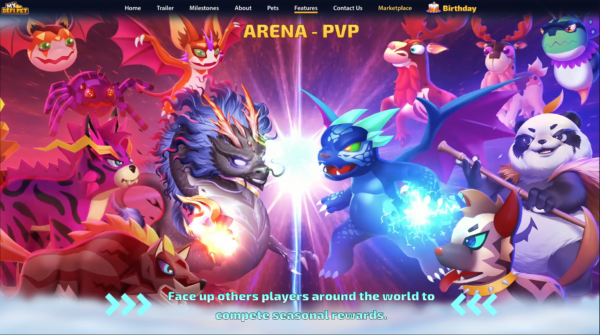 My DeFi Pet has an Arena mode, which is the metaverse's Player vs. Player game. In this mode, you'll be battling other players around the world to win rewards.
Joining Seasons and Events
When you participate in the game's seasons and events, you have a chance to win special rewards. The first season starts with a prize worth 100,000 USDT that is locked by the My DeFi Pet team in a smart contract. The contract will ask players to find pets with a specific set of features.
When you discover the said pets, you'll then send them to the smart contract to claim the prize. Remember that the prize requires you to find 10 legendary pets with maxed levels.
How to Earn in My DeFi Pet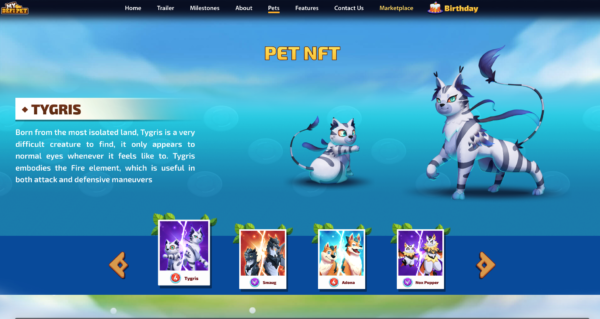 The metaverse is designed in a way that provides players different opportunities to make money. Here's how to earn money in DeFi Pet.
1. Play the Game Itself
The game rolls out missions that you need to complete. There are also battles that you may want to join. Completing missions or winning battles can earn you DPET tokens. Accumulate enough tokens and trade them on exchanges when the time is right.
2. Join Seasonal Events
My DeFi Pet organizes seasonal events where players will complete a specific list of tasks and meet certain requirements. Once you complete them, you'll receive a reward taken from a pool of prizes.
3. Sell Your Pets
Because your pets and items are NFTs, you can profit from them by selling or trading them on My DeFi Pet's Marketplace. The rarer your pet is, the more expensive it can get. If you want to have a unique NFT that you can sell in the future, you may need to invest some money in minting new pets.
4. Stake Your Pet
The Hunting feature of My DeFi Pet is actually staking. If you stake your pets, you'll be sending them away to hunt for treasures. This means they will be out of your farm for 30 days (the staking period).
Once the staking period is done, you can earn new pets or DPET tokens. And when you have more NFTs, you have more assets to sell or trade. How to earn in DeFi Pet can be as passive as this.
Read more: Best NFT Apps Every Collector and Enthusiast Should Have in 2022
My DeFi Pets FAQs
Even if you already know how to earn in DeFi Pet, you may still have some concerns and questions regarding the metaverse. Here are the top three items that you should take note of.
1. Is My DeFi Pet the same as Axie Infinity?
One can say that Axie Infinity and My DeFi Pet are taken from the same mold in a sense that they adopt a Play-to-Earn model. Both also leverage the appeal of cute monsters and employ similar breeding and evolving systems. So, if you have experience with Axie Infinity, you may easily get the hang of My DeFi Pet.
2. Is My DeFi Pet legit?
My DeFi Pet may be relatively new, but it has forged connections with leading investors and backers. These include Animoca Brands, Spark Digital Capital, Megala, and Consensus Lab, among others.
3. Can I play My DeFi Pet on mobile?
Technically, you can play My DeFi Pet on mobile by using a browser. But an app is already underway and will soon be available on Google Play Store and the App Store.
Final Thoughts
My DeFi Pet is just one of those blockchain games that you can play during your downtime. It's not mentally demanding, which makes it ideal for busy people. Plus, it lets you explore and appreciate your nurturing side as you raise your pets. More importantly, it has earning potential, making it a viable source of passive income. But for that to happen, you must master how to earn in DeFi Pet. Thankfully, a lot of resources about this matter are available online.

Sources:
DISCLAIMER: Information published on this blog or elsewhere on www.moneymax.ph should be used for general information purposes only and does not constitute investment advice, performance data or any solicitation or recommendation that any security, investment product, transaction or investment strategy is suitable for any specific person. This material does not take into account your financial situation, risk tolerance level, investment experience or objectives; all of which are unique to you.
You should be aware that the value of virtual currencies (VCs) including cryptocurrencies may fluctuate greatly. As with any other type of investment, you should know and fully understand VCs before investing in such a product. You should only buy if you are prepared to accept the risk of losing all of the money you put into VCs.
Before acting on information on this blog, we suggest consulting an independent professional to advise you on the risks of any decision and the extent of any exposure to loss.