NFTs are still nascent, but they're already changing how we interact with games, art, and other digital content. It's no secret that the world of NFT is growing by leaps and bounds. In fact, the NFT market surpassed $40 billion in 2021[1], and it's expected to grow in the next few years.
The industry has definitely exploded in popularity in just a few short years, thanks also to celebrities who support and invest in NFT. And it shows no signs of slowing down. So if you're curious about getting into the game, now's definitely the time. But with so many options out there, it can be tough to know which NFT app is right for you.
That's why we're going to take a look at the best NFT apps out there for people who plan on buying, selling, and creating NFTs.
What's the Most Popular NFT App?
OpenSea[2] is the most popular NFT app or platform for a number of reasons. First and foremost, it's one of the most user-friendly NFT platforms available, allowing users to easily buy, sell, or trade digital art. In a nutshell, you can discover, collect, and sell NFTs with this app.
In addition, OpenSea offers a wide variety of digital assets, from digital art and collectibles to in-game items and cryptocurrencies. Perhaps most importantly, OpenSea is one of the few NFT platforms that allow users to list their own assets for sale, giving sellers a great deal of control over their inventory.
As a result, OpenSea has become the go-to destination for NFT enthusiasts of all stripes. It's available on iOS and Android platforms and accessible on any web browser.
What are the Best NFT Apps to Download?
Aside from OpenSea, look into these NFT apps that are worth having on your smartphone and computer. We've divided them into two categories: the first is for the best NFT apps for buying and selling NFT art, and the other is for the best apps for creating NFT artwork.
Best Apps to Buy and Sell NFT
If you're currently scouring your app marketplace for the best NFT apps for iPhone or Android, check out the following.
Binance

The Binance app is more than just a cryptocurrency exchange platform as it has an NFT marketplace[3] where you can discover NFT, buy, sell, and trade them—all within its ecosystem.
If you're a novice user, you can get the hang of the marketplace and start listing your work. You can also flip NFT of other users and resell them at a higher price. There are also cool NFT artworks that you can discover using the Mystery Boxes—and flip them for a higher value.
Crypto.com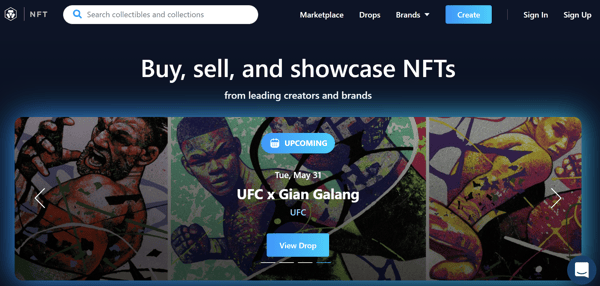 When it comes to NFT app wallets, Crypto.com[4] is the clear leader. Its user-friendly interface and wide range of features make it the perfect choice for those looking to get started in the world of crypto.
Crypto.com offers a wide range of features, including support for multiple currencies, a built-in exchange, and detailed transaction history. The security is top-notch, so you can rest assured that your funds and NFTs are safe.
Read more: Best Long-Term Crypto Investments 2023: 8 Crypto Coins with Potential for Growth
Axie Marketplace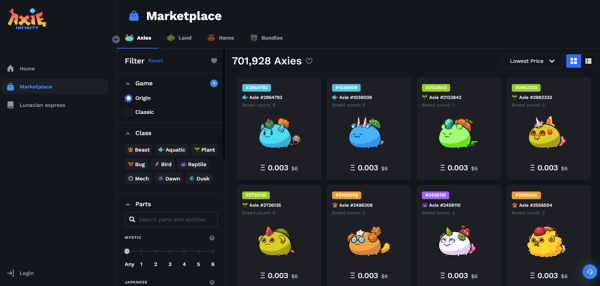 If you're looking for a fun and rewarding way to collect, trade, and manage your Metaverse items, then you'll want to check out Axie Marketplace[5]. As one of the leading NFT apps, Axie Marketplace offers a wide variety of features that make it a great choice for Axie breeders and players.
For starters, the app is very user-friendly and provides an intuitive interface that makes it easy to find the items you're looking for—your Axies and their features. But before using the marketplace, make sure you've already connected your Ronin Wallet for buying and selling items.
Related reading: Live Your Space Opera Dreams: How to Play and Earn from SpaceCrypto Game
Rarible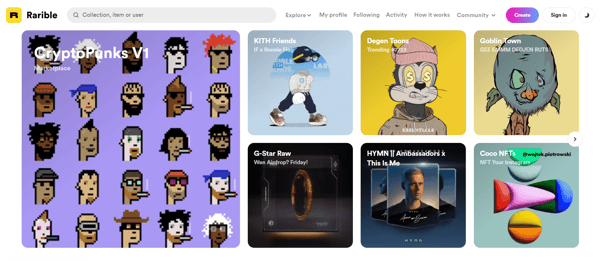 Next is Rarible[6], one of the best NFT apps out there because it's a convenient tool to browse different NFTs that you can buy on the blockchain. You can view any NFTs you want to collect, including their description, history, and other details.
Just by browsing on your phone, you can find a list of trending and hot collections, including featured items. If you plan to create NFTs, then this is the best place to start researching what's saleable and trending.
Best Apps to Create NFT Art
Do you dream of creating your own NFT art and putting it up in the NFT marketplace? Then start exploring these apps to help take your NFT art to the next level.
8bit Painter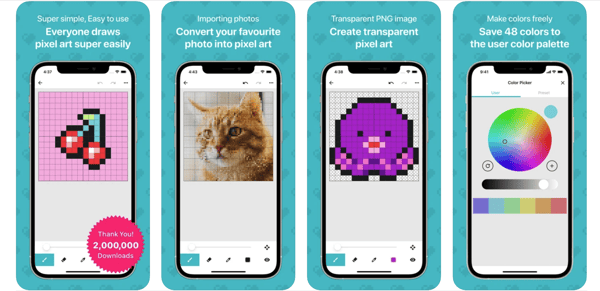 If you haven't heard of 8bit Painter[7], it's an app that allows you to create pixel art in three different image sizes. The app has a simple interface that makes it easy to get started in creating NFT collections.
You can create your own images and designs or use the app to edit existing ones. Moreover, you can export your images to PNGs and share them on social media. So, even if you're not a skilled graphic artist or designer, you can be confident that you can create terrific pixel art with 8bit Painter, one of the best apps to make NFT art.
NFT Creator!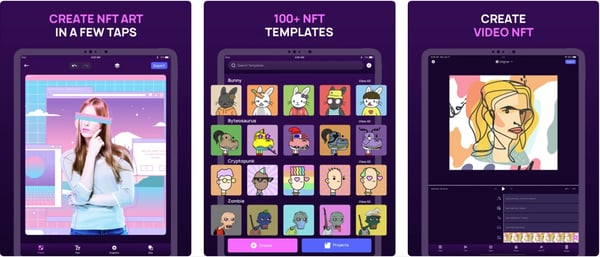 Another NFT app for iOS and Android users is NFT Creator![8], which turns your images into crypto art—even if you're not gifted with designing skills. There are more than 1,000 art filters that can turn your photo into art. You can also add fonts and other crypto art to your images.
This NFT creator maker comes with in-app purchases so you can access all the advanced features.
Adobe Photoshop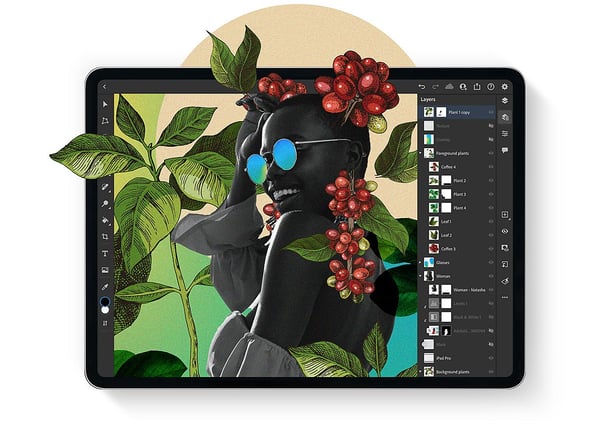 Last but not least is Adobe Photoshop,[9] one of the best NFT apps that you can use to create, edit, and optimize digital art with its amazing and advanced features. Creating high-quality artwork that you can buy and sell is possible as there are endless designs you can make through this software.
It has a desktop and mobile version. Thus, you can customize and design anything even if you're on the go. You can edit your images and turn them into animations, cartoons, and whatever you think would be saleable on the NFT marketplace.
Final Thoughts
Creating NFT art doesn't have to be a drag even if you're not an artist. Most of the best NFT apps can be downloaded for free. Others may require a premium subscription and in-app purchases for you to be able to access their advanced features.
When it comes to buying and selling, including flipping of NFTs, apps like OpenSea, Binance, Axie Marketplace, and Rarible are must-haves. You can set up your account on these apps for free and just connect your crypto wallet for minting digital art.

Sources:
DISCLAIMER: Information published on this blog or elsewhere on www.moneymax.ph should be used for general information purposes only and does not constitute investment advice, performance data or any solicitation or recommendation that any security, investment product, transaction or investment strategy is suitable for any specific person. This material does not take into account your financial situation, risk tolerance level, investment experience or objectives; all of which are unique to you. Before acting on information on this blog, we suggest consulting an independent professional to advise you on the risks of any decision and the extent of any exposure to loss.