Grab is Southeast Asia's largest mobile technology company that connects its users to drivers, merchants, and businesses. It also has a proven track record in delivering customer satisfaction, may it be through its ride-booking or delivery services.
If you haven't tried Grab's parcel and courier delivery service yet, we've gone ahead and created a GrabExpress delivery guide for you.
What is GrabExpress?
GrabExpress is Grab's parcel and courier delivery service platform that allows you to manage your deliveries. If you need something delivered urgently, GrabExpress can deliver your parcels instantly or within the day. You can even pick your vehicle type to match the weight of your goods. Do note that this service is only available in Metro Manila and Cebu.
What Can You Do with GrabExpress?
There are two types of delivery options for GrabExpress: Instant Delivery and 4-Hour Delivery.
Instant Delivery lets you send your parcels to anyone as soon as the booking is made. Meanwhile, GrabExpress 4-Hour Delivery allows you to send items within the day.
GrabExpress Instant Delivery is a great option for people who are on-the-go and need to send parcels as soon as possible. With the added convenience to Instant Delivery, it costs slightly higher than getting a 4-Hour Delivery service.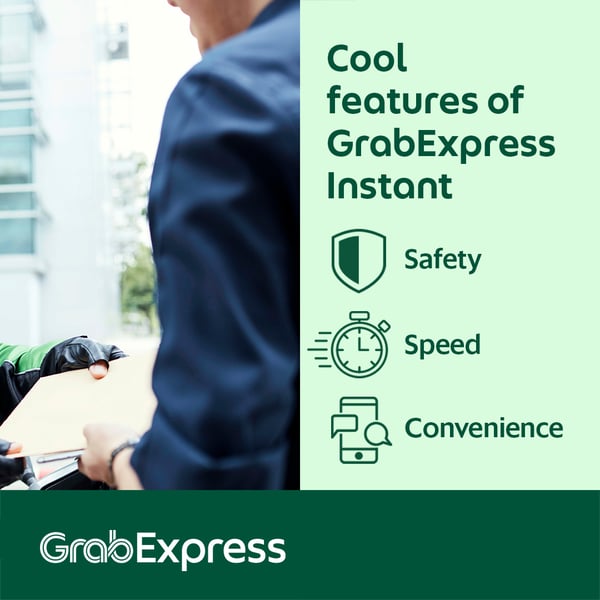 On top of that, you can also use GrabExpress' Add-on Service where the delivery partner collects payments from the recipient for items sold. This is a great option for when you're running a small online business.
With so many courier services in the Philippines, it can be stressful to find a partner you can trust. No matter what GrabExpress Delivery option you choose, you may track the status of your shipment using the Grab App so you know exactly where the driver is.
What Vehicles are Available for GrabExpress?
Parcels come in many different sizes and weights. If you're running a small business and want the option to switch vehicles to meet your delivery requirements, GrabExpress has different vehicle options you can choose from:
Motor vehicles - Recommended for small packages or documents that weigh up to 120 kg. Maximum dimension must be 16"x16"x16".
Cars - Affordable option for bulky or fragile items that weigh up to 200 kg.
Multipurpose vehicles - Best for transporting bulky or fragile items up to 300 kg. This is also a preferred option when shipping items during the rainy season.
Other GrabExpress Features You Must Know About
By opting for GrabExpress delivery services, you also get to enjoy the following features:
Send bulk deliveries - Bulk upload and book up to 150 deliveries concurrently
Multi-stop delivery - Send to multiple addresses in one booking to save on costs
Real-time tracking - Live GPS tracking so you and the recipient are updated on the delivery status
Rebook deliveries - Sending to repeated addresses? Just hit the 'Book Again' option to save time on manually inputting your recipient's details.
Downloadable e-receipts - Keep a record of your deliveries and expenses anytime.
GrabExpress API integration (for business owners) - Integrate Grab's API in your e-commerce app or website to use its delivery services.
Apart from GrabExpress' on-demand door-to-door deliveries, you may also take advantage of its other services like the Grab Assistant, Grab's concierge service, which allows you to request riders to buy items (Pabili) or queue (Papila).
There's also the GrabExpress Cash on Delivery where you have the option to collect payments from your recipient upon delivery of their package. The rider collects the payment on your behalf then returns to your address with the cash collected.
How to Use GrabExpress Delivery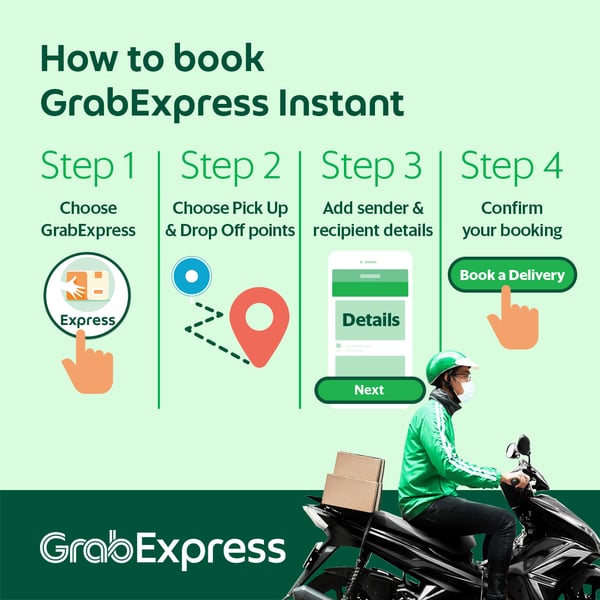 If you're wondering how to book GrabExpress delivery for your next shipping needs, here's how to do it from the Grab mobile phone app:
Book a ride. Set your pickup location and drop-off points. Click Confirm.
Get a rider. Grab will contact riders around your area and assign one to you.
Prepare your parcel. Make sure your item(s) are ready when your rider arrives. Don't forget to ensure proper social distancing when talking to your rider!
Track your parcel. Sit back, relax, and wait for your rider to deliver your parcel.
Share your ride. Make sure to send your booking link to your recipient so you can both track your parcel in real-time.
GrabExpress Scheduled Pickup
While you can use GrabExpress delivery anytime you need it, you can also book it in advance. This allows you to manage your time and prepare items at your own pace.
In case you want to plan ahead, you can opt for GrabExpress Scheduled Pickup service. Schedule deliveries in an instant or 4 hours pickup and delivery for up to 7 days in advance.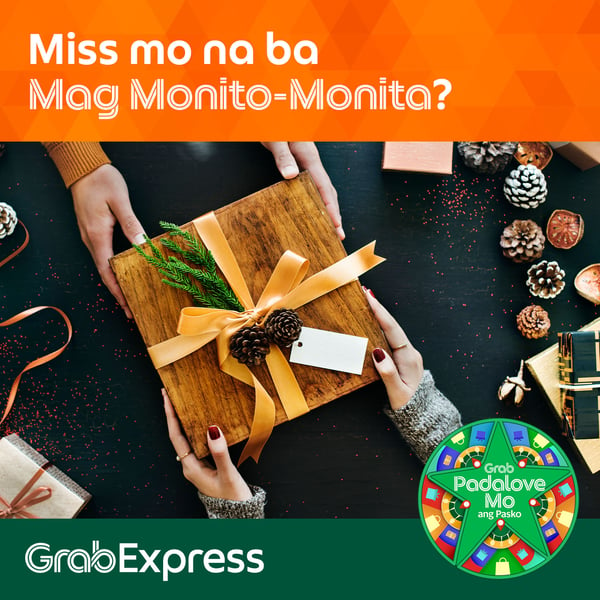 How to Use GrabExpress Scheduled Pickup
If you want to manage your GrabExpress deliveries ahead of schedule, here's how to do it:
Launch your Grab app and click the GrabExpress button.
Pin the address of your recipient.
Pick between Instant or 4 Hours.
Find your desired Pickup Schedule.
Add your delivery information.
Review the details and book your delivery.
What are the Payment Methods for GrabExpress Scheduled Pickup?
All payment methods are applicable for GrabExpress Scheduled Pickup.
Where Can You See Your Scheduled Pickup?
Tap My Activity, then click Delivery. Expand the Scheduled tab to view your scheduled pickups.
Can You Book Multiple Scheduled Pickups?
Yes, you can schedule up to 10 deliveries in advance.
Can You Reschedule a Scheduled Pickup?
Unfortunately, this feature is not available yet. The best option is to cancel your scheduled booking before a driver is assigned to you, then place a new booking with your preferred schedule.
GrabExpress Delivery Guide to Tracking Your Parcels
Tracking the status of your deliveries is also made easy with GrabExpress. Here's how to do it:
GrabExpress Delivery Tracking for Senders
After you've successfully booked your parcels with a rider, you can check their location through the Grab app. Make sure you have a stable internet connection throughout the booking. If you have a weak internet reception in your area, take note of your rider's contact number, which is already provided in the Grab app as soon as a rider is assigned to you.
GrabExpress Delivery Tracking for Recipients
Once the booking is confirmed, the recipient will receive an SMS with a link to track the delivery status in real-time. The rider will also contact the recipient upon arriving at their address.
How to Share Your Tracking Link
Launch your Grab app and click 'Activity' on the lower part of your screen.
Select 'Delivery'.
Select 'Ongoing' for current deliveries.
Open Specific delivery details.
Click the tracking link on the upper right corner of your screen.
The recipient will also receive a link to track the delivery status via SMS or in-app Grab notification if they have it activated.
How to Track Previous or Ongoing GrabExpress Deliveries:
Launch the Grab App and click 'Activity' on the lower part of the screen.
Select 'Delivery'.
Next, select "Past' for completed deliveries or 'Ongoing' for current deliveries.
GrabExpress Delivery Guide: Rates for 2021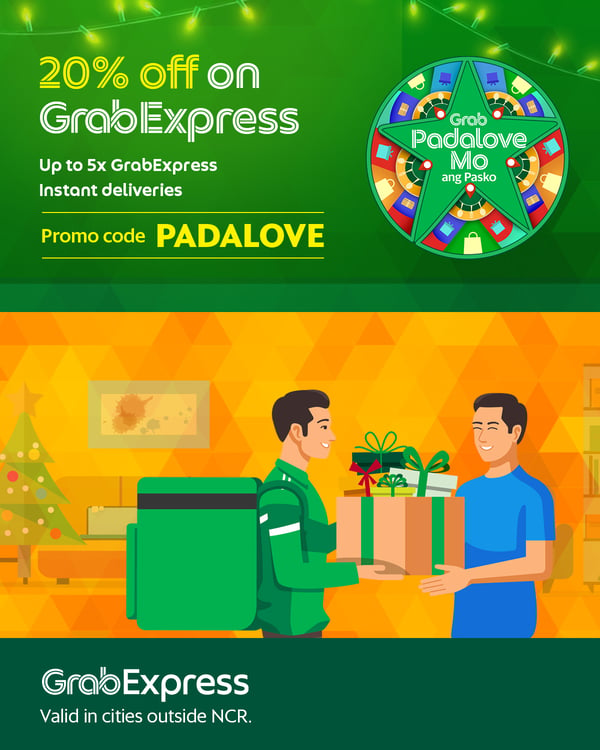 The GrabExpress delivery rates in the Philippines vary depending on your location and the distance between you and your recipient.
GrabExpress: Door-to-door (starts at PHP 80)
GrabExpress Lite: Curbside only (starts at PH 29)
For packages over 5 kg., GrabExpress offers nationwide delivery at a flat rate of PHP 180.
GrabExpress Rider Application
Looking for a side hustle? If you want to be a GrabExpress rider, here's what you need to know about the qualifications and application process.
GrabExpress Rider Qualifications:
Before you submit your GrabExpress application, make sure you meet the following qualifications:
Must have delivery experience
21 to 55 years old (applicants who are 51 to 55 years old must submit a medical certificate that proves they're fit to work)
Must have a motorbike (at least 2000 model) with good physical features
Should own a smartphone
GrabExpress Rider Application Requirements
You must also submit the following requirements with your GrabExpress application:
Valid and Original NBI Clearance and Police/ Brgy. Clearance
Proof of billing (same address with Police/ Brgy. Clearance, within the last 3 months)
Strictly OR/CR
1x1 pic (white background)
Picture of motorcycle (front, back, side)
Photocopy of valid driver license, Restriction 1
Authorization letter/Deed of sSle, and signed ID of registered owner (if biker is not registered owner)
Latest OR for payment of motorcycle (if loaned)
TIN (non-mandatory)
Drug test (photocopy of result from Hi-Precision Clinic)
Gmail account specifically made for GrabExpress (e.g. firstname.lastname.ge2018@gmail.com)
GrabExpress Contact Details
For any concerns or inquiries about your GrabExpress deliveries or Grab rider application, you may reach Grab through the following:
Customer Support: Facebook.com/GrabPH[1]
Grab Driver Registration (Makati Office): (02) 8883 7100
Office Addresses:

12F Wilcon IT Hub, Chino Roces Avenue Makati City
L2-249, 2nd floor, Market! Market!, McKinley Pkwy, Taguig, Metro Manila
Final Thoughts
Sending parcels to customers, friends, and loved ones can be a breeze with a reliable courier partner. Hopefully, this GrabExpress delivery guide can help you with your delivery and shipping needs.
If you wish to know more options, you can check out other courier service providers like JRS Express, Lalamove, and Transportify. For international shipping needs, you can check out our comprehensive guides for LBC and other international shipping companies.

Sources: