Curious to know which investments for beginners are right for you? Looking to grow your money in the long term through investing in stocks? Gone are the days when only the wealthy could afford to buy in the stock market. Now, everyone—even college students and homemakers—can begin investing through online stock brokers like COL Financial.
Stock investing in the Philippines is made easy and affordable for the average investor through online trading platforms. COL Financial for beginners is easy to learn. It's worth opening an account with this online platform if you're planning to start as a stock investor, even with minimal knowledge and experience in investing.
In this COL Financial guide, you can easily learn the ropes and jump-start your stock investment journey.
What is COL Financial?
COL Financial Group, Inc. (formerly CitisecOnline) is one of the leading and most popular online stock brokers in the Philippines. Established in 1999, COL Financial has been offering an easy and affordable way for Filipinos to invest in the stock market through its online trading platform.
Is COL Financial Legit?
Yes, COL Financial is a legitimate online stockbroker in the Philippines. It's a Philippine Stock Exchange (PSE) trading participant, as well as a Securities Clearing Corporation of the Philippines (SCCP) and Securities Investors Protection Fund, Inc. (SIPF) member.
Since its establishment in 1999, it has over 200,000 customers and ₱62 billion in customer assets.
What Can You Do with COL Financial?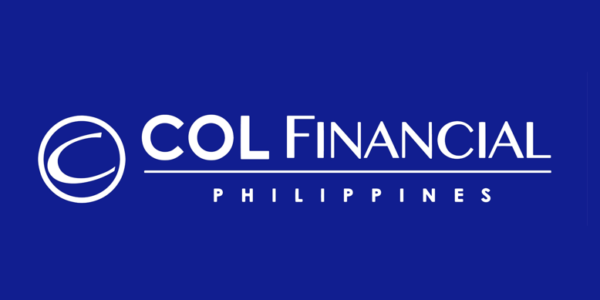 A beginner-friendly online platform for stock investors, COL Financial for beginners not only enables users to buy or sell stocks in the Philippine stock market but also equips them with the tools, knowledge, and up-to-date information they need to make smart stock investing decisions.
Its range of online trading and information services includes the following:
Real-time execution of trades
Automated order placement and execution online
Access to real-time stock quotes and other market statistics
Stock research reports and market commentaries
Online portfolio tracker
Price charting program and Ticker system display
Related article: How to Pick Stocks in PSE: Helpful Tips for Beginners
Is COL Financial the Right Online Trading Platform for You?
Only you can determine whether an online stock broker fits your needs as an investor or not. Doing your research is the best way to know if this online stock broker is the right one for you.
Here are the things you can do to help you decide and choose the best online stockbroker in the Philippines.
1. Attend Free COL Online Seminars
Currently, COL Financial offers webinars on the basics of mutual fund investing and stock market investing for beginners.
COL Financial's COL Basic Investing Webinar[1] is available online on its YouTube channel. Anyone interested—COL client or not—can access these webinars for free.
If you have little or no experience in investing, watching this online seminar is an excellent way to get a head start and learn more about COL Financial as a company and online trading platform.
Through the COL webinar, attendees gain a lot of knowledge and tips on starting their COL investment journey. The resource speakers aren't salesy or pushy when encouraging attendees to sign up for a COL account.
2. Sign Up for a Free Trial Account
To get a feel of how COL Financial's online platform works, register for a free seven-day trial of the platform before you open an account with COL.
For one week, you can explore the different features and functionalities of the online trading platform and take note of its advantages and disadvantages.
3. Explore Other Online Stockbrokers
The final deciding factor is knowing how COL Financial compares to other online stockbrokers in the Philippines. There are quite a few, so it will be time-consuming to compare all of them.
Trim down your choices by comparing only stockbrokers that allow an affordable minimum investment of ₱5,000 and below.
Here are the online stockbrokers you may want to research and review first. Explore their website, contact their office, read online reviews, and compare their features and services.
| Online Stockbroker | Minimum Investment |
| --- | --- |
| AB Capital | None |
| ALPHASEC | ₱5,000 |
| BPI Trade | None |
| COL Financial | ₱1,000 |
| FirstMetroSec | ₱5,000 |
| Luckysec Online | ₱5,000 |
| Philstocks | ₱5,000 |
| BASecOnline | ₱5,000 |
The advantage of COL Financial and other brokerage firms that are not tied to a bank versus those run by banks like BPI and Metrobank is that prospective clients need not open an account with an affiliate bank.
For example, BPI Trade allows only BPI depositors to open a trading account. With COL Financial, anyone, regardless of the bank they have an account with, can open a COL account for as low as ₱1,000.

Does COL Financial Have a Mobile App?
As of this writing, there's no official COL Financial app. You may access everything you need, from opening an account to withdrawing money, on the official COL Financial website at www.colfinancial.com.
How to Invest in COL Financial
If you're ready to start investing in stocks and mutual funds through COL Financial, follow the steps below.
1. Decide Which Account Type to Open
If you've decided to go with COL Financial, you need to apply for an online stock brokerage account before investing through the online trading platform.
Filipinos and foreigners here and abroad who are 18 years old and above may open a COL account. COL accepts applications from foreign residents in the Philippines and OFWs.
An In Trust For account can even be opened for minors, which is ideal for parents who want to prepare for their children's college education.
Refer to the table below for COL Financial's minimum investment per account type.
| COL Account Type | Ideal for | Minimum Investment | Services |
| --- | --- | --- | --- |
| COL Starter | Beginners who want to invest in the long term | ₱1,000 | Basic research reports, standard market information, and end-of-day charting data |
| COL Plus | Active traders (Those who buy and sell stocks for short-term profit) | ₱25,000 | Streaming quotes, comprehensive research reports, and live chart data with some customizable features |
| COL Premium | Premier investors | ₱1 million | Access to a wide range of features and assistance from a dedicated personal relationship manager |
Read more about each COL account type here.[3]
2. Prepare the COL Financial Requirements
Valid ID
To open a COL account, you need to provide photos of your valid ID. COL Financial accepts any of the following government-issued IDs:
Passport
SSS ID/UMID
GSIS eCard Plus
Driver's license
PRC ID
Voter's ID
Take a selfie with your ID and a photo of its back portion. You'll submit these COL financial ID requirements when you open a COL Financial account.
Sample Signatures
Get a blank sheet of paper and put three sample signatures. These must match the signature on your valid ID. Place your valid ID with the front side facing up on the sheet. Then take a photo of your ID and specimen signatures.
SSS/GSIS/CRN and TIN
Employed and self-employed applicants must provide their SSS/GSIS number or CRN Common Reference Number (CRN ) and Taxpayer Identification Number (TIN).
To apply for TIN, non-resident foreigners and unemployed Filipinos should file BIR Form 1904 with a copy of their birth certificate (and passport for non-resident foreigners).
Additional COL Financial Requirements
For opening an In-Trust-For account, parents need to submit the birth certificate of the beneficiary/minor applicant.
Expats should submit their Alien Certificate of Registration (ACR) or Work Permit from the Department of Labor and Employment (DOLE).
3. Submit the Requirements to COL Financial
Visit COL's online registration facility at signup.colfinancial.com and upload the photo requirements.
After submitting the requirements, you'll be issued an eight-digit COL account number. Keep a copy of your account number. You'll use this for funding your account and logging in to your online account.
Note: As of this writing, COL Financial is accepting account applications in a limited capacity.
4. Fund Your COL Account
To activate your COL account and start investing, you need to fund it through any of these options:
COL Business Center in Ortigas, Pasig
Online bills payment through the online banking facility or mobile app of AUB, BPI, Metrobank, UnionBank, and other partner banks
Over-the-counter bills payment. All partner banks, except for AUB and Robinsons Bank, charge a transaction fee ranging from ₱7 to ₱110.
Overseas remittance
Make sure to fund your COL account within three months after you submit your documents. Otherwise, you'll have to file a new COL Financial application again.
When funding your account, indicate the account holder's name and the eight-digit COL account to ensure the payment gets credited to your account within one to three days.
Check this COL Financial for beginners guide for more details on funding your COL account.[3]
5. Access Your COL Account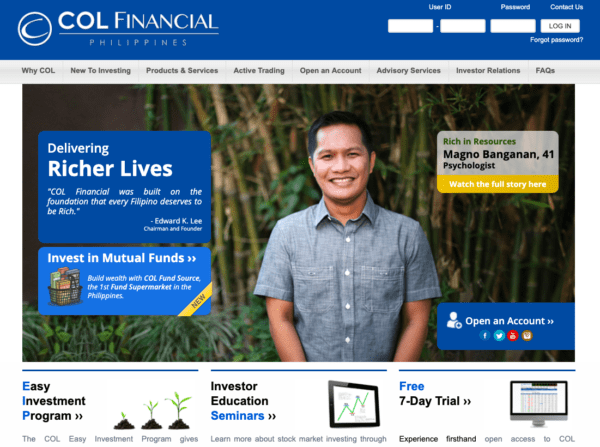 Once COL Financial confirms receipt of your funding, your account will be activated. You'll receive an email containing your account number and password. Use these details to log in to your online account. For the user ID, enter your eight-digit account number.
For your COL account's security, change your password as soon as you log in for the first time. Here's how:
Under the Home tab, click Change Profile.
Click the Edit tab next to Password in the second column.
Enter your current and new password. Your password must contain eight to 12 characters with at least one uppercase, one lowercase, and one number.
Type your new password again.
Click the Change Password button.
Congratulations! You can now begin investing in the stock market using your COL account.
COL Financial for Beginners: How to Use the Online Trading Platform
In this section, you'll learn how to use COL Financial. To confirm if your funds are credited to your account, log in and click Trade > Portfolio. You'll then see the Cash Balance table on the upper left of the page, which shows the amount available for buying stocks.
Note: The procedures for buying and selling stocks online discussed here focus on just the basics to give beginning investors an overview of what to expect when they start using the COL trading platform. Research and keep yourself updated on the latest in the stock market before you start investing in stocks.
Read more:
How to Buy and Sell Stocks in COL Financial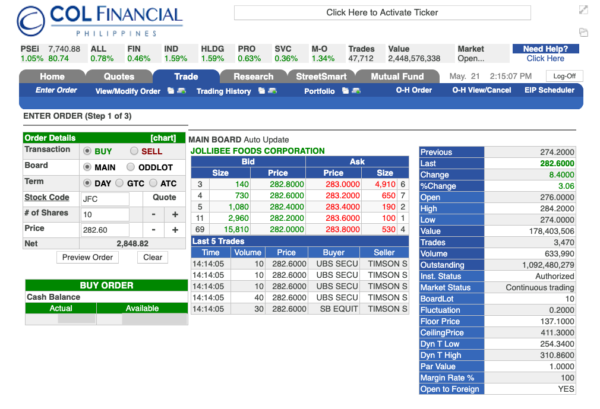 Buying or selling stocks involves placing an order on the COL trading platform. Here are the steps you need to take after logging in to your COL account:
Click the Trade tab > Enter Order.
In the Order Details table, tick the appropriate box (Buy or Sell) next to Transaction.
Enter your order details:
Stock Code[4] - The symbol representing a particular company listed in the PSE (e.g., ALI for Ayala Land, Inc., JFC for Jollibee Foods Corporation, etc.)
# of Shares - The number of shares you want to buy based on the board lot assigned to your chosen stock
Price - The price at which you'd like to purchase the stock based on its current quote
Click the Preview Order button. It will show a summary of the order for your review.
Enter your password.
Click Place Buy/Sell Order to submit the order for posting.
Related article: Ease Into Investing with Peso Cost Averaging
How to Withdraw Money from COL Financial
Once you've sold some or all your stocks, you'll want to withdraw your funds, of course. You can do it either online or manually.
Online Withdrawal Steps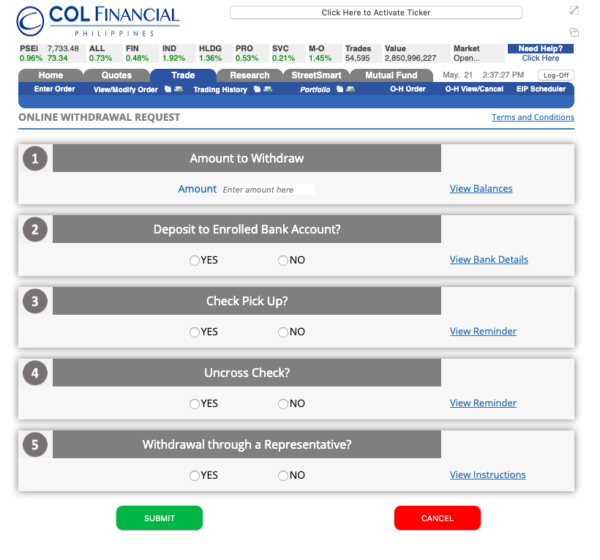 Log in to your COL account.
Click the Trade tab > Portfolio > Withdrawal Request.
Read the Terms and Conditions. Click the Accept button.
Fill out the online withdrawal request form. You can either have your funds deposited to your enrolled bank account or claim your check.
Click the Submit button.
Manual Withdrawal Steps
Download, print, and fill out the fund withdrawal form.[5]
Submit the accomplished form through any of these options:
Call the COL Business Center at 6-333-777 to ask for confirmation on the availability of your check for pickup.
How to Check the Status of Your Withdrawal Request
Using the Online Withdrawal Facility, log in to your COL account.
Click Trade.
Next, click Portfolio and then Withdrawal Status.
You'll see the corresponding withdrawal request status—Received, For Processing, Processed, Cancelled, or Rejected).
Note: Once your withdrawal request is received, you can no longer cancel or modify your request.
For more tips on using your account to buy and sell stocks, learn recommended stock picks, or monitor your investment portfolio, check out this COL Financial tutorial for beginners.
Read More: Learning Stocks Made Easier: Here's How to Use Investagrams
COL Financial Fees
There are trading and handling fees when using the COL Financial platform. Here are the corresponding charges to take note of when buying and selling:
Fee

Amount
Commission
0.25% of the Gross Trade Amount
Value Added Tax
12% of Commission
Philippine Stock Exchange Transaction Fee
0.005% of the Gross Trade Amount
Securities Clearing Corporation of the Philippines Fee (SCCP)
0.01% of the Gross Trade Amount

Additional fees for selling:

Sales Tax

Number of Shares x Price x 0.006
Note: The Commission fee has a minimum charge of ₱20 per transaction. For broker-assisted trades, a commission charge of .5% of the Gross Trade Amount will be charged.
Does Col Financial Have Monthly Fees or Handling Charges?
No, there are no monthly fees. Some handling charges include:
Lodging fee (when depositing a stock certificate) of ₱120 + VAT per stock (and additional ₱20 + VAT per certificate of the same stock after the first certificate)
Electronic Share Transfer (broker to broker) of ₱75/per stock from the issuing and receiving broker
Upliftment fee (when requesting a certificate) of ₱150 + VAT per stock
Are There COL Financial Withdrawal Charges?
No, there are no withdrawal charges. However, you may be charged the following on your cash balance account or from the withdrawn amount:
Service fee for interbranch or provincial branch deposits
Processing fee of ₱100 for failed check deposits to invalid or cash deposit only bank accounts
₱100 fee to cancel issued check for withdrawal cancellation
COL Financial for Beginners FAQs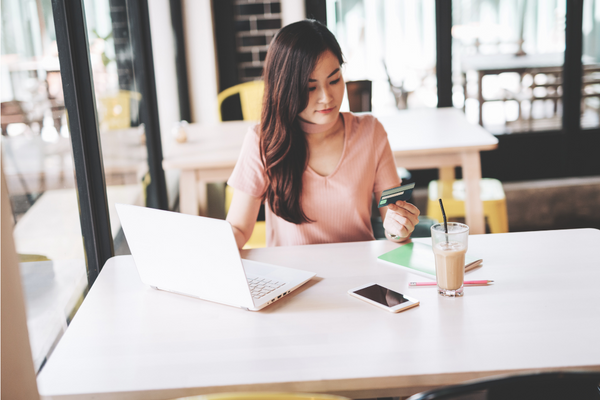 1. When does COL Financial update my information?
Your information is updated every evening of the same trading day, including changes in your balance through trades, deposits, or withdrawals.
2. How can I check my account balances and stock positions?
After logging in to your COL Financial account, click on Trade and then Portfolio to see your positions and balances. You'll find a summary of your account information, as well as your listed stock positions and their current market value.
Moreover, you can find your actual cash balance (how much money you have) and your potential buying power (what's available for purchase after any committed values for posted orders).
3. What are COL Financial's credit schedules?
If you wish to receive the credit to your COL account within 24 hours (except on public holidays and weekends), make sure to use the following options for your deposits:
COL Business Center
Over-the-counter at bank branches
Online banking
Deposits made via GCash and Maya will be credited to your COL account on the next banking day.
Once the funds have been credited to your account, you'll receive a deposit acknowledgment receipt via email. To ensure proper and timely credit to your COL account, indicate the COL account holder's name and account number.
4. When will I receive my withdrawn funds?
It will depend on the selling date, request date, or preferred settlement option.
Selling date - You need to wait three business days after your selling date before your withdrawal request can be processed.
Request date - Withdrawal request will be processed depending on the following cutoff processing times:

10:00 a.m. for COL-registered bank accounts
11:00 a.m. for clients without COL-registered bank accounts

Preferred Settlement Option - You can choose to pick up the check or have it deposited to your registered bank account.
5. Can I immediately withdraw the proceeds of a stock sale?
You can withdraw the stock transaction sale proceeds three days after a stock is sold (transaction day + three days), subject to the fund withdrawal procedures.
For example, you sold your shares on November 4, Friday. The clearing dates are November 4 (transaction day) + November 7, 8, and 9. Your check will be ready by November 9, Wednesday.
6. How can I transfer my stockholdings from another local stockbroker?
Suppose you're an existing COL Financial client. In that case, you can transfer your stockholdings to COL Financial by providing a written instruction to your stockbroker and a copy of it to COL Financial.
Stockholdings in street name and lodged with the Philippine Depository and Trust Corporation will be electronically transferred, which can take one to two working days. You also need to pay ₱75 per stock (or ₱82.50 for some brokers) as charged by the issuing and receiving broker.
7. How do I transfer my stock positions from COL Financial to another broker?
You can do this electronically by downloading and filling out the Request for Stock Transfer form.[6] Then send the original copy to the address below:
COL Financial Operations Department - 24/F East Tower, Tektite Towers, Exchange Road, Ortigas Center, Pasig City
8. Can I still place an order even if I don't have internet access?
Yes, you may place a broker-assisted order by calling (632) 6-515-888. Note that instead of the regular 0.25% charge, you'll be charged 0.5%.
9. How secure is the COL Financial website?
COL Financial Philippines ensures that your financial information and the online dealing platform are safe and secure. Whenever you log in to the website, you're always in a secure session. All information sent between your computer and the website is encrypted using Secure Socket Layer (SSL) encryption.
COL Financial also has a secure login. You'll always be asked to enter your security details at every login and before every order is sent. Furthermore, you'll see the last time you logged in to the website.
If you've been inactive for more than ten minutes, you'll be automatically logged out to avoid unauthorized access to your account.
Final Thoughts
Whether you're hesitant to invest directly in stocks because of the fluctuations of prices, because you're still learning the ropes, or because you're too busy to analyze market trends, you can start investing in mutual funds through the COL Fund Source. No need to register for a new COL account, as existing COL clients can access this feature within the online trading platform.
Do your own research and watch helpful guides online to familiarize yourself with how this trading platform works. You can also check COL Financial reviews online and other helpful information on COL Financial for beginners to get a good idea if this is the platform for you.

Sources:
DISCLAIMER: The opinions expressed by the writer are theirs alone, and do not reflect the opinions of Moneymax and/or its affiliates or any employee thereof. Neither Moneymax or its affiliates are responsible for the accuracy of any of the information supplied by the guest writer. The opinions expressed in this blog are for general informational purposes only and are intended to provide education about the financial industry.
Nothing in this blog constitutes investment or financial advice or any recommendation that any security, portfolio of securities, investment product, transaction or investment strategy is suitable for any specific person. This material does not take into account your personal circumstances, finances, goals and/or objectives; all of which are unique to you. Readers must make an independent decision regarding investments or strategies mentioned on this blog or elsewhere on www.moneymax.ph. We strongly consider seeking advice from your own financial or investment adviser before taking any action. We do not make any representation or warranty as to the accuracy, completeness or correctness of the information set out in this article.