Need to go on a business trip? Planning a quick and affordable R&R staycation? In this economy, it may be costly to travel, let alone fly. But if you book with the cheapest airlines in the Philippines, it's still possible to save a few thousand pesos and get to your destination real quick.
Before you dismiss or postpone your travel plans, check out these airlines that offer the cheapest flights within the Philippines and to other international destinations.
8 Cheapest Airlines in the Philippines
Looking for hacks to save on travel? On the hunt for the cheapest flights within the Philippines for your next trip? Dreaming of a holiday overseas but anxious about the costs? Consider one of these budget airlines.
✈️ Jetstar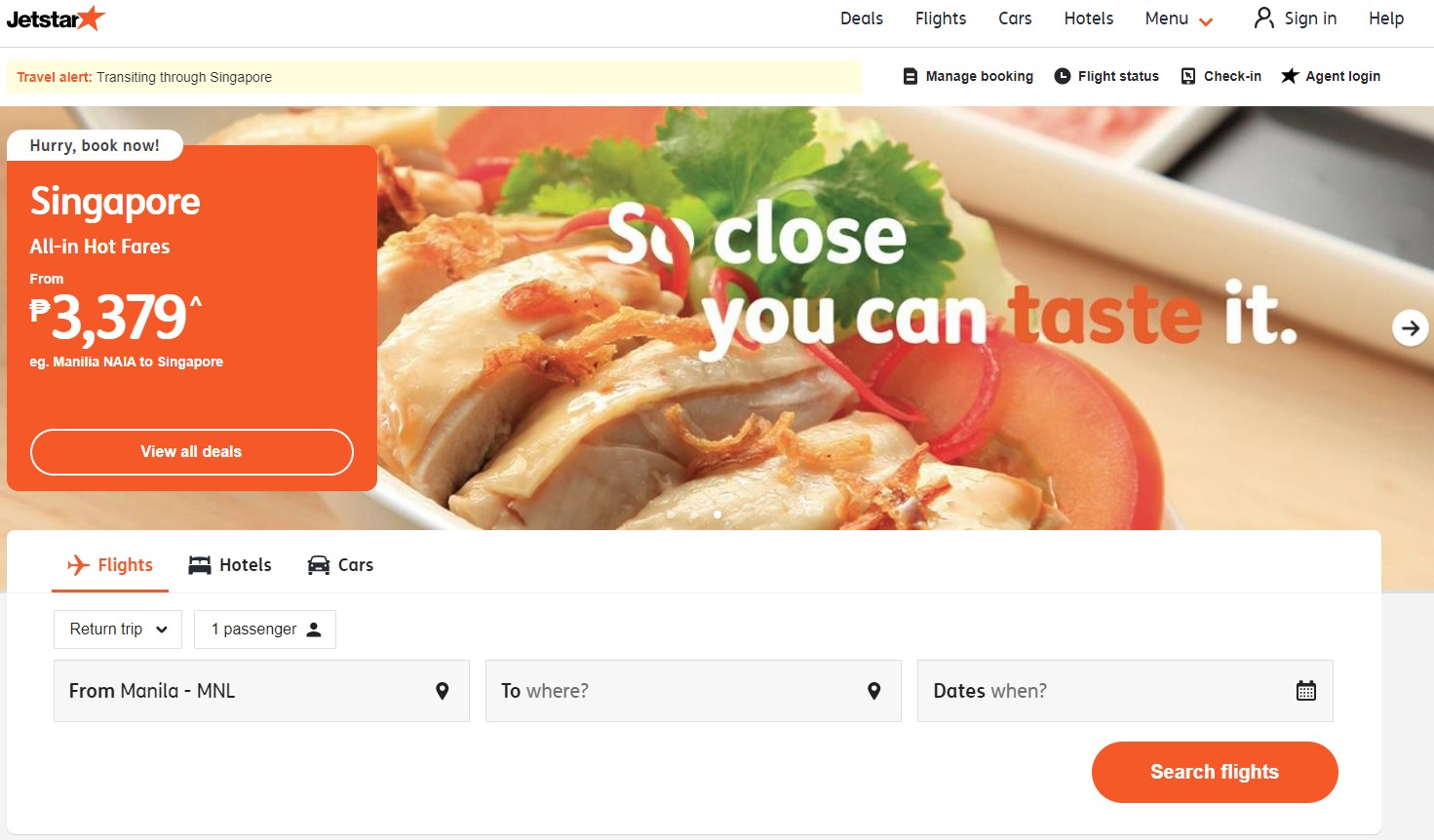 Jetstar Flights
Between Manila and 42 destinations in Australia, Cambodia, China, Indonesia, Japan, Malaysia, Myanmar, New Zealand, Singapore, Sri Lanka, Thailand, and Vietnam
Between Clark and 23 destinations in Australia, Cambodia, China, Indonesia, Japan, Malaysia, Myanmar, Singapore, Sri Lanka, Thailand, and Vietnam
Between Cebu and Singapore and three destinations in China and Japan
Between Kalibo and Singapore, and Osaka, Japan
The Jetstar Group is made up of value-based carriers that provide affordable fares across the Asia Pacific region, as well as New Zealand and Australia. Since its launch in Australia in 2004, Jetstar has carried over 250 million passengers with its budget-friendly airfares. Its carriers operate over 5,000 flights every week to over 85 destinations.
Under the Jetstar Group, there's Jetstar Airways in New Zealand and Australia. It's wholly owned by the Qantas Group. Jetstar Asia Airways is managed by Newstar Holdings and operates in Singapore, while Jetstar Japan is a partnership between Tokyo Century Corporation, Japan Airlines, and the Qantas Group.
Its fleet consists of the Airbus A321neo, Airbus A320, Airbus A321, and Boeing 787 Dreamliner for long-haul flights and selected domestic routes in Australia.
Jetstar Features and Promos
Jetstar is known for its year-round low fares, especially for flights to and from Singapore, Malaysia, and Japan. Unlike Cebu Pacific and AirAsia, Jetstar doesn't have an in-house airline loyalty program. But it holds a weekly promo, the Friday Fare Frenzy, and seasonal and holiday sales.
Jetstar's starter fare allows you to mix, match, and purchase add-ons to your airfare for the most convenient and hassle-free trip. Enjoy up to 7kg carry-on baggage (plus up to 40kg additional baggage), choose your seat, and pre-purchase your meal. Aside from flight bookings, you can find travel and hotel deals and car rental assistance.
Read more: Vietnam Travel Guide: Enjoy Your Visit with These Recommendations
✈️

Scoot
Scoot Flights
Flights from Manila, Davao, Clark, Cebu, and Iloilo
Flights to Australia, China, Germany, Greece, Hong Kong, India, Indonesia, Japan, Laos, New Zealand, Macau, Malaysia, Sri Lanka, Saudi Arabia, Singapore, South Korea, Taiwan, Thailand, the UK, Vietnam, and other destinations like Turkey, Spain, Belgium, Egypt, France, Denmark, Russia, Italy, Cyprus, Maldives, Romania, Bulgaria, Israel, and Switzerland
Scoot, which merged with TigerAir in 2017, is Singapore Airlines' low-cost carrier. It has flights between various locations in the country and over 100 destinations worldwide.
Scoot currently operates a fleet of 20 widebody Boeing 787 Dreamliner aircraft and 40 Airbus A320-family aircraft. It's also an award-winning airline, having won Skytrax's 'World's Best Long Haul Low-Cost Airline in 2021 and 2022.
The Singapore-based budget carrier operates from the NAIA Terminal 1 and offers medium to long-haul flights between the Philippines and international destinations. While it has plenty of international flights to and from key cities in the Philippines, Scoot doesn't operate domestic flights.
Scoot Features and Promos
Like other budget airlines in the Philippines, Scoot regularly holds seat sales for bargain-hunting travelers. Scoot offers fare bundles to help travelers save money and avoid the unpleasant charges that sometimes appear out of nowhere. You have the option to avail of the Fly, FlyBag, FlyBagEat, and ScootPlus fare bundles depending on your needs and budget.
Read more: Sand, Sun, and Sea: 12 Travel Destinations in the Philippines for Your Revenge Travel
✈️

Cebu Pacific and Cebgo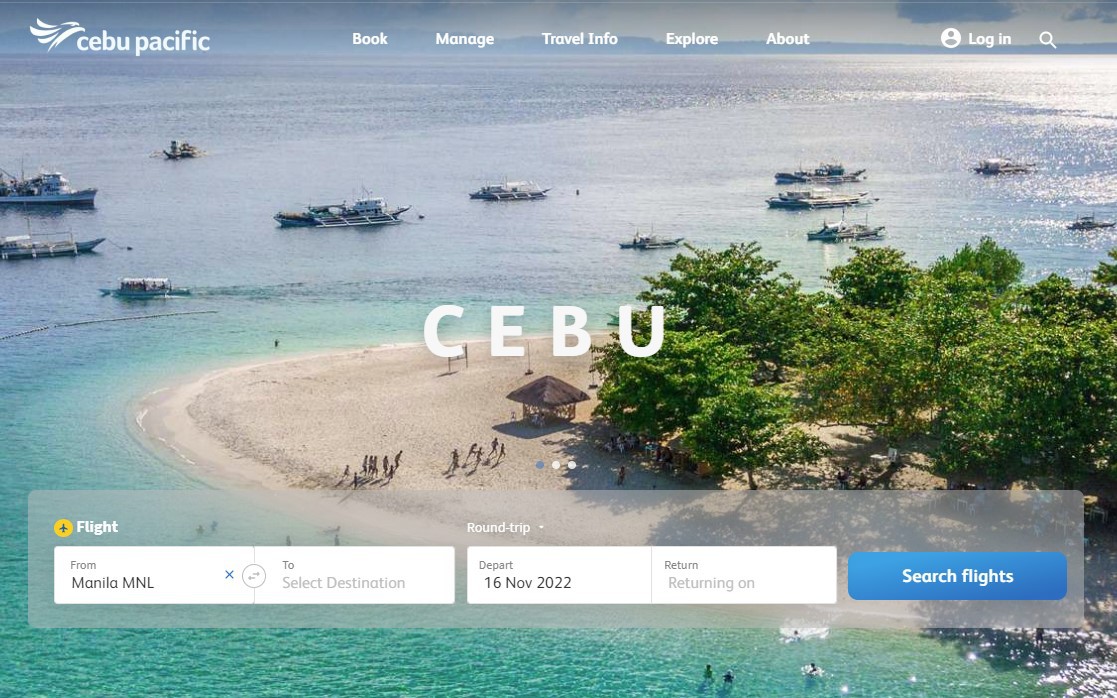 Cebu Pacific/Cebgo Flights
Domestic flights from Manila to 29 destinations and back
Cebu to 21 destinations
Iloilo to General Santos
Zamboanga to Tawi-Tawi
International flights between Manila to Bali, Bangkok, Brunei, Dubai, Fukuoka, Hanoi, Ho Chi Minh, Hong Kong, Jakarta, Kota Kinabalu, Kuala Lumpur, Nagoya, Osaka, Seoul, Singapore, Sydney, Tokyo, Taipei
Cebu to Singapore and Seoul
Low-cost Philippine airlines Cebu Pacific and Cebgo, Cebu Pacific's regional brand, are great options if you want to travel all over the Philippines or Asia without breaking the bank.
Cebgo may be familiar to frequent flyers in the Philippines. Still, only a few know that it was previously SEAir and Tigerair Philippines before Cebu Pacific bought the latter from Tigerair Singapore. While it's based in NAIA, Cebgo also operates from Clark International Airport.
Cebu Pacific/Cebgo Features and Promos
These low-cost airlines in the Philippines are known for their piso fares and seasonal seat sales, where you can enjoy huge discounts on airfare.
You can view your flight status information 48 hours before your departure or arrival and manage your booking up to two hours before your flight. View your itinerary, update guest details, check in your flight, and more.
If you frequently fly via Cebu Pacific, you can also enjoy its loyalty program called Go Rewards (previously Ceb GetGo).
Read more:
✈️

JejuAir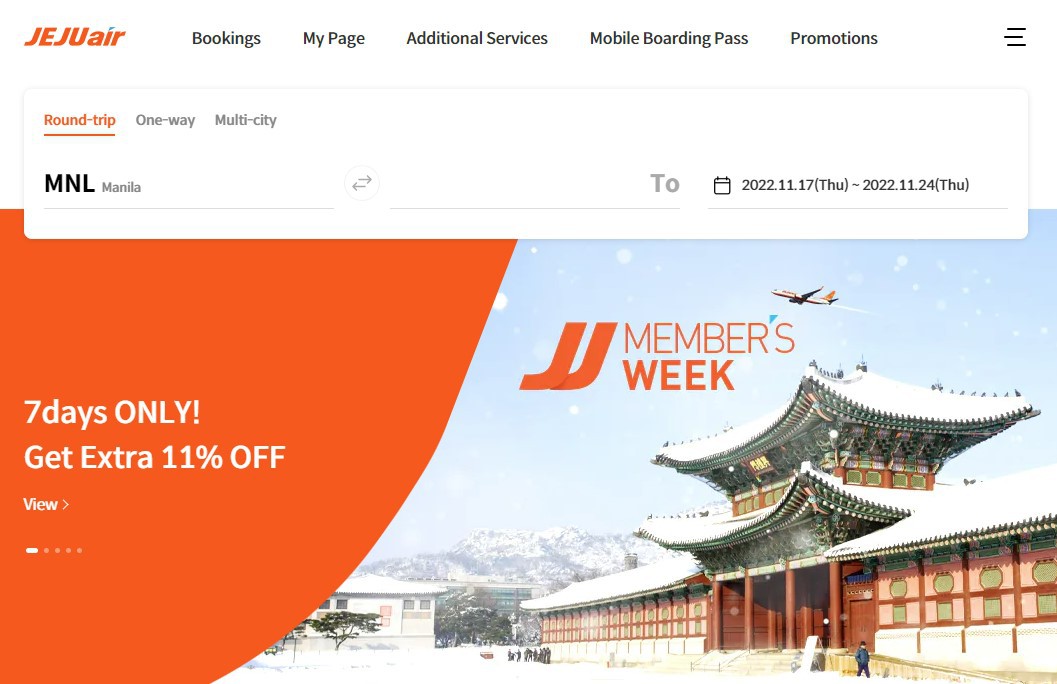 JejuAir Flights
Over 20 destinations in Europe and the Asia Pacific region, including Russia, the Philippines, China, Guam, Hong Kong, Japan, Mongolia, Northern Mariana Islands, South Korea, Thailand, Vietnam
Dreaming of a Korean getaway but concerned about your budget? JejuAir can help you get to your dream destination at an affordable cost.
JejuAir is the number one low-cost carrier in Korea and covers over 84 routes, including routes to 49 destinations, such as the Philippines, Japan, China, Thailand, Vietnam, Laos, Saipan, Guam, and Russia.
JejuAir

Features and Promos
Its website shows the recommended lowest fares so you can easily find the best deals and biggest discounts. Loyal customers may also sign up with JejuAir's frequent flyer program called Refresh Points. Collect points for boarded flights and receive discounts and freebies as your member benefits.
You can also purchase bundle deals, add baggage, book the seat you want, and order in-flight meals in advance to ensure you have the most comfortable flight.
Fly to Your Dream Destination with a Citi Personal Loan

You deserve a good holiday for working so hard all year. Book that well-deserved vacation and fund your dream holiday with a Citi Personal Loan!
Borrow up to ₱2 million, enjoy low interest rates, and repay for up to five years. If you apply via Moneymax, you'll also receive a special welcome gift. Hurry and apply today!
Note: This product is sold by Union Bank of the Philippines, using certain trademarks temporarily under license from Citigroup Inc. and related group entities.
✈️

Jin Air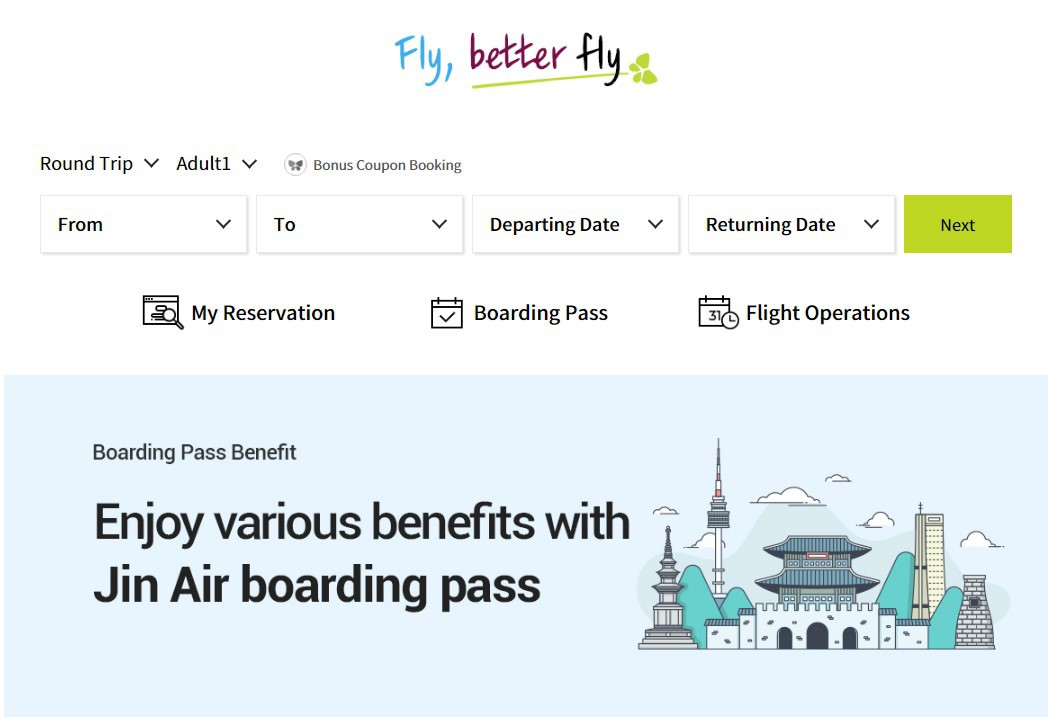 Jin Air Flights
Cebu, Clark, and Kalibo to Incheon and Busan in Korea, to Guam, and six destinations in Japan
Jin Air is another budget-friendly option if you travel to Korea. Jin Air was founded in 2008 and is the budget arm of Korean Air, South Korea's flag carrier. It caters to budget-conscious travelers and has one of the largest numbers of flights in Korea, covering routes to Southeast Asia, China, Japan, and Oceania.
Jin Air

Features and Promos
Enjoy services like counter and check-in information, in-flight sales, and duty-free products. Purchase additional baggage and fare bundles. Like the other low-cost carriers in the Philippines, the Jin Air website allows selecting your seat, pre-ordering your in-flight meals, and finding hotel and rental car information.
Jin Air also has a customer service program called JINI Boarding Pass, where you can enjoy perks with Jin Air affiliates when you present your Jin Air boarding pass. Some of these include a 30% discount at Hero Play Park, Coex Aquarium, and Kidzania in Korea, or a KR₩1,500 discount on Airport Railroad.
✈️

Air Busan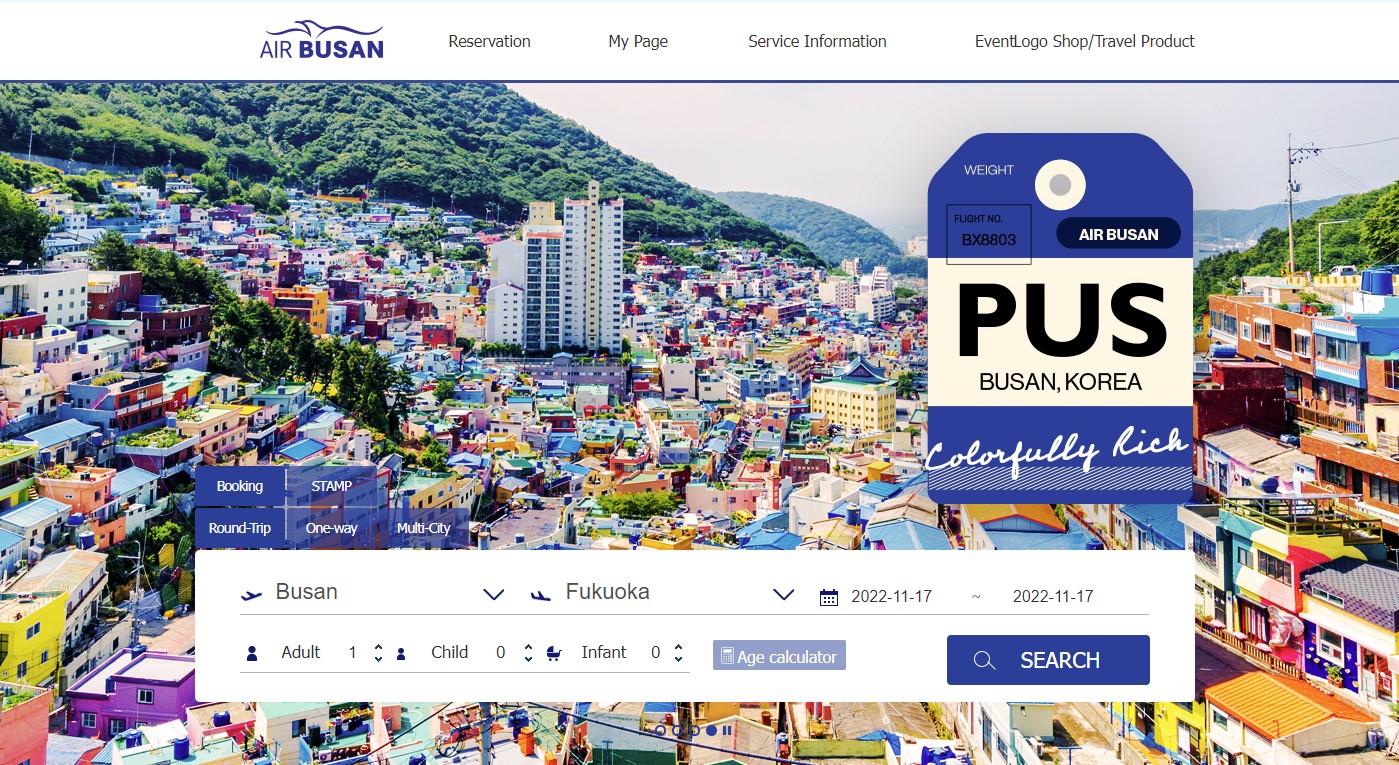 Air Busan Flights
Round-trip flights from Busan to Cebu and Kalibo and 35 other destinations in Korea, Japan, China, Cambodia, Vietnam, Malaysia, Laos, Mongolia, and Russia
Air Busan is one of Korea's budget airlines and is a subsidiary of Asiana Airlines. As a low-cost airline, Air Busan aims to create the best customer value and provide the best customer satisfaction.
Air Busan Features and Promos
Enjoy free carry-on baggage weighing 10 kg or less and additional services you can purchase, such as optional service bundles, in-flight meals, and lounge access. You can even travel with your pets![3] With Air Busan's affiliates, you can also score great deals on hotels, car rentals, and portable WiFi.
✈️

Lucky Air

Lucky Air Flights
Between Manila / Cebu and Kunming, China, to other destinations like Bangkok, Hong Kong, and Macau
Lucky Air was founded in 2004 and is a low-cost carrier that's part of the HNA Group, one of the largest airlines in China. It's also a joint venture of Hainan Airlines and the Yunnan government.
It's a relatively new player, having started its flights in the Philippines in June 2017. It won China's Leading Low-Cost Airline Award in 2019. In December 2021, Lucky Air officially joined the Liaoning Fangda Group.
Lucky Air is based at the Kunming Changshui International Airport (KMG), serves nine countries, and carries passengers to over 80 destinations. Consider it one of your options for the cheapest airlines in the Philippines with essential services.
Lucky Air

Features and Promos
You can check in online to save time and purchase extra baggage allowance and in-flight meals in advance. It also offers special traveler arrangements so everyone can fly in comfort.
✈️

AirAsia

AirAsia Flights
Domestic flights to Manila, Clark, Caticlan, Kalibo, Roxas, Virac, Iloilo, Tuguegarao, Bacolod, and Cebu
International flights to Malaysia, Australia, Cambodia, Japan, Maldives, Thailand, Bangladesh, Hong Kong, Laos, Myanmar, Indonesia, China, Brunei Darussalam, India, Macau, Saudi Arabia, South Korea, Vietnam, Sri Lanka, and Taiwan
AirAsia is celebrating its 20th anniversary this 2022. Since it launched as a "low fares, no frills" airline in 2002, AirAsia has grown and achieved milestone after milestone as a company.
AirAsia Features and Promos
With AirAsia, you can book cheap flights within the Philippines and abroad, hotel rooms, and hotel-related add-ons with one booking reference number. Book a holiday package, including festival or event tickets, flights, and hotel accommodations. It also offers a travel cancellation benefit so you can travel worry-free.
Final Thoughts
Low-cost airlines have made it possible for people to travel on a budget. But before you book your flight with any of these cheapest airlines in the Philippines, know the inclusions and understand the terms and conditions. This way, you know exactly what you're paying for and what you should enjoy before or during your flight.

Sources: