When you were a kid, you probably had the impression that traveling via plane is a privilege only the rich can afford. After all, tickets were insanely priced back then. But thanks to the proliferation of budget airlines, a lot of people can now explore the world. Tickets can still be a tad expensive at times, but you can't deny that flights have become much more inclusive these days.
In the Philippines, Cebu Pacific and AirAsia are the go-to low-cost carriers for many flyers. The flights are significantly cheaper compared to those offered by full-service airlines. However, keep in mind that there are several trade-offs and minor inconveniences that you need to weather (We're looking at you, insufficient legroom and unreliable customer service).
The comparison between the two aviation players can't be helped, especially if you've experienced both carriers' services. To give you a much more objective perspective, this Cebu Pacific vs AirAsia comparison review covers various aspects of both airlines' services. This article will also benefit travelers who are used to one carrier but are looking to expand their alternatives.
Number of Destinations and Flight Routes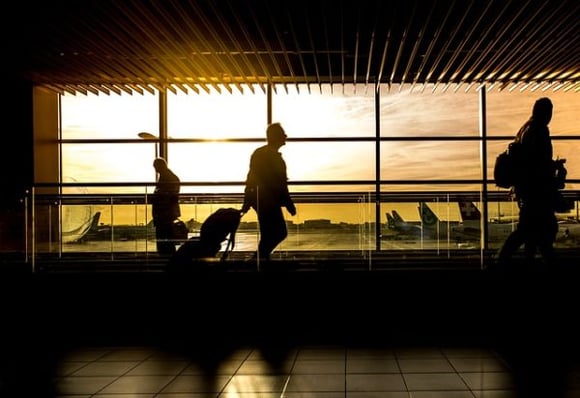 Fondly called Ceb Pac, Cebu Pacific claims that it's the leading airline in the Philippines. This homegrown carrier currently operates flights to more than 60 domestic and international destinations across 14 countries, including China, Japan, Vietnam, Singapore, Malaysia, Indonesia Australia, and the United Arab Emirates, among others.[1]
AirAsia Philippines, on the other hand, has around 30 destinations across 12 countries. But note that AirAsia has already evolved from being an air carrier into an all-around travel and lifestyle platform. And this means a lot of things.
For one, AirAsia's unified booking website now includes flights from other airlines. So, when you book flights via the platform, flights from other airlines, like Cathay Pacific, EVA Air, Emirates, British Airways, Etihad Airways, and Malaysia Airlines, to cite a few, will be listed as options.[2]
Through AirAsia's website, you can book trips to destinations that aren't covered by AirAsia, including Australia, the Americas, New Zealand, and the Americas (try booking Lima, Peru). Evidently, this is an advantage that AirAsia has over Cebu Pacific
Winner: AirAsia
Health and Safety Rating
According to the International Air Transport Association (IATA), aviation is the safest form of long-distance transport. The said organization, which is composed of around 290 airlines worldwide, cites that in 2018, the all-accident rate was 1.35. This is equivalent to one accident for every 740,000 flights.
Hopefully, that bit of information will help quell your anxieties. Nevertheless, it's just reasonable to check the safety rating of Cebu Pacific vs. AirAsia.
For an impartial outlook, we can lift some insights and data from AirlineRatings.com,[3] a leading airline safety and product rating review website.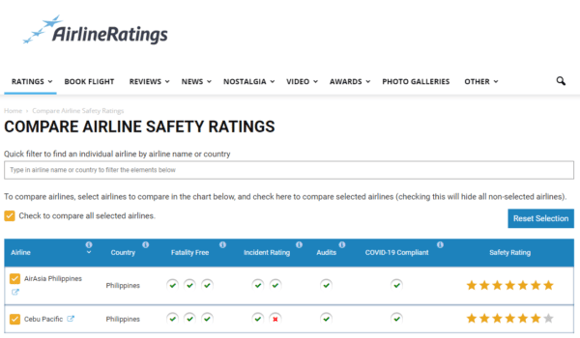 Currently, Cebu Pacific has a safety rating of 6/7. On the other hand, AirAsia Philippines has a safety rating of 7/7. The ratings are based on four parameters, which also cover COVID-19.
Winner: AirAsia
Cebu Pacific vs AirAsia: Reliability
The reliability of an air carrier is largely dependent on its timeliness. For the longest time, both Cebu Pacific and AirAsia have had a reputation for being late. This is one of the disadvantages that you'll need to endure in exchange for affordable flight tickets.
You'll be able to look at both carriers' reliability from two perspectives: data and actual customer reviews.
On-Time Performance
Using the figures from the Official Aviation Guide (OAG), a global travel data provider, you can easily gauge the on-time performance of Cebu Pacific and AirAsia. For context, an airline's on-time performance is based on the actual departure gate times within 15 minutes of schedule.[4]
For a fair comparison, we've pulled data from June 2021, a period when both air carriers appeared in OAG's database. During that month, Cebu Pacific had an on-time performance of 84.7%. This means that of its 1,814 flights that month, about 270 flights were late. On the other hand, AirAsia has a 77.4% on-time performance. During the same month, it had 437 flights, and around 100 of them were late.
It's important to note that OTP varies from month to month. For instance, AirAsia had an OTP of 54.7% last May 2022. This means that 45.3% of its flights or over 890 of its 1,987 flights that month were late. One can easily deduce that the said figure doesn't look good.

Actual Customer Experience on Flight Delays and Cancellations
A delayed flight is a major hassle, as it affects the affairs of the passengers (e.g., time-sensitive work appointments or connecting flights). As such, it's a matter that should be addressed seriously.
Based on various customer reviews shared online, a few experienced having their AirAsia flights moved to different schedules without prior notice. One even noted that they waited 9 hours for their flight and that AirAsia didn't even offer them refreshments. Another reported that the captain asked them to get off the plane after discovering that it had a technical problem. They were then transferred to a replacement plane. As a result, they were nearly three hours late to their supposed arrival time.
Some Cebu Pacific flyers had similar experiences. One ended up staying at the airport for eight hours as their flight was rescheduled five times in one day.
Winner: None
Both air carriers have to do something to minimize flight delays and cancellations.
Cebu Pacific vs AirAsia: Baggage Policy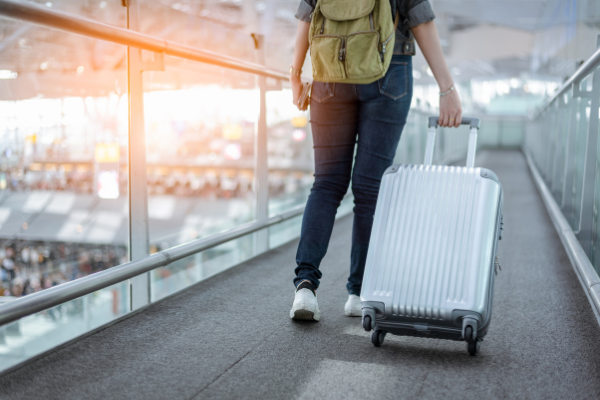 Extra luggage comes with a price, so it would be wise to compare the baggage policies of both carriers before booking your flights. Here's what you need to know.
Hand-Carry Baggage Allowance Policy
Generally, both air carriers offer free baggage allowances with size and weight limits.
Cebu Pacific primarily allows one carry-on baggage per passenger. The said baggage must have a maximum weight of seven kilograms and dimensions up to 56 cm x 36 cm x 23 cm. Nevertheless, the airline allows a maximum of two pieces of baggage with a combined weight of seven kilograms or less. Just make sure that one of the bags can fit under the seat.
AirAsia has a similar policy: the total weight of your baggage should not exceed seven kilograms. Generally, you can carry one piece of cabin baggage, as long as it doesn't exceed the dimensions of 56 cm x 36 cm x 23 cm. Should you carry two bags and one of them is a laptop bag, a handbag, or a small bag, the extra bag should not exceed the dimensions of 40 cm x 30 cm x 10 cm. Additionally, it should fit under the seat.
However, AirAsia has recently offered flyers a new product: the Xtra Carry On. It allows you to bring two hand-carry pieces of baggage totaling 14 kg for an upgrade price worth ₱390 for domestic passengers.
Check-In Baggage Allowance Policy
The price of purchasing a checked baggage allowance depends on your destination. Typically, baggage allowance becomes more expensive when you're traveling abroad.
With Cebu Pacific, baggage allowances are available in 20 kg and 32 kg. Note that you're only allowed a total of two pieces of baggage in any weight combination. Nevertheless, you can check in baby strollers and walking canes for free.
Meanwhile, AirAsia offers more options for baggage allowance: 15 kg (domestic flights only), 20 kg, 25 kg, 30 kg, and 40 kg.
Winner: AirAsia
---
✈️ Book Your Trip Now, Pay Later with #UNOnow Loan!

Fulfill your travel goals without worrying about your budget. UNO Digital Bank has got your back! You can easily apply online for an #UNOnow Loan—no collateral needed—and get extra cash for booking your trips.
Enjoy quick approval and disbursement, as well as flexible payment terms, so you can travel now and pay later. Apply via Moneymax now!
---
Seat Comfort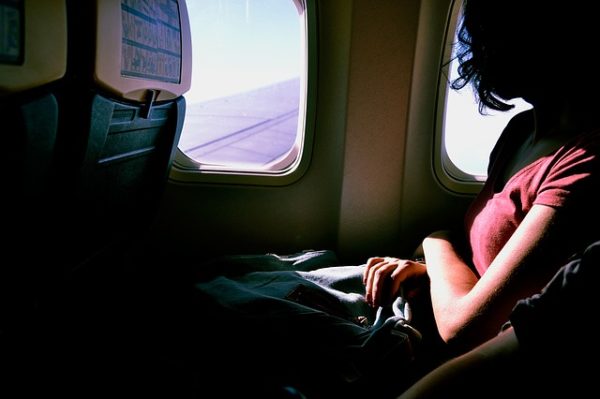 Another compromise passengers of Cebu Pac and AirAsia have to deal with is the limited legroom in the cabin. While it isn't a big deal for many passengers, the bigger and taller ones may find the cabin space too cramped and uncomfortable. You can't even recline the seat without hitting the knees of the passenger behind you.
A workaround is to book a seat in the emergency exit row that has bigger legroom, but you'll have to pay a seat selection fee to get that seat.
Winner: None
Value-Added Services
Airlines these days offer not only flights but also a host of services that makes flying much more worthwhile or holidaymaking much more comfortable. At this point in the Air Asia vs Cebu Pacific review, we'll compare the air carriers' auxiliary products.
Cebu Pacific Add-On Services
Cebu Pacific's flight-related services include CEB Seat Selector, which allows you to pre-select your desired seat, and CEB Meals, which lets you pre-order your onboard meals. Cebu Pacific also has CEB Equipment and CEB Surfboard, which allow you to take your sports equipment, such as diving equipment, bicycles, bowling balls, golf clubs, surfboards, and bodyboards.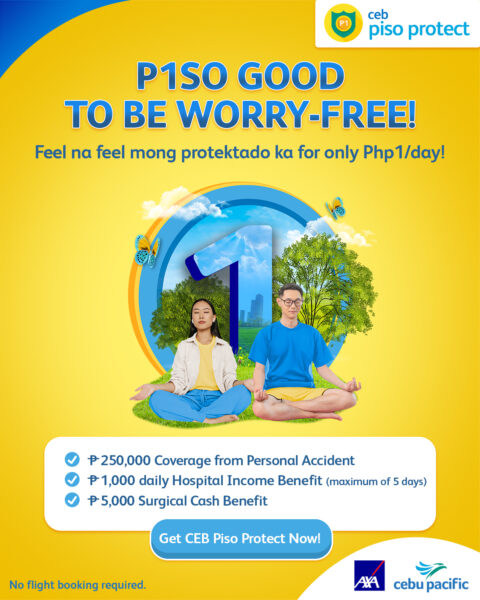 Cebu Pacific's CEB Piso Protect, on the other hand, is a personal accident insurance policy offered to flyers. The air carrier partners with AXA Philippines to provide you with accidental death or permanent disablement benefit of up to ₱250,000, hospital income benefits of ₱1,000 per day, and surgical cash benefits worth ₱5,000 while in hospital confinement for at least two days.
A similar product called CEB TravelSure offers personal accident insurance worth up to ₱2.5 million and also covers COVID-19. Nevertheless, this particular product may also cover your baggage, and flight refunds, among others.
The airline's CEB Flexi allows you to cancel your flight for free and get your booking value back in the form of a travel fund. Lastly, you can buy limited edition Cebu Pacific merch, like blankets and souvenirs, at the CEB Fun Shop.
AirAsia's Add-On Services
Meanwhile, AirAsia has taken its new reputation as a lifestyle platform very seriously. Through its SNAP program, you can book a flight and a hotel in one go and at a much more affordable price. Nevertheless, you can choose to book just the hotel.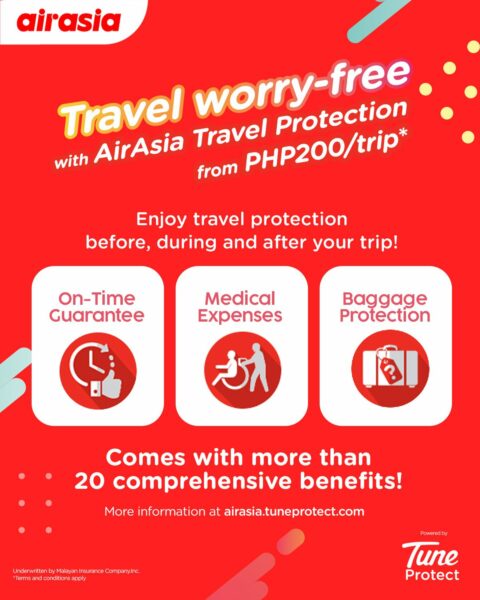 When it comes to insurance, AirAsia offers a range of plans through its Tune Protect brand. Tune Protect Travel Insurance covers personal accidents with a benefit of up to ₱500,000, emergency medical and mortal remains repatriation of up ₱100,000, bereavement allowance, baggage delay, loss or damage of baggage, coverage for accompanying infants, missed flight connection, and flight delays. Insurance is underwritten by Malayan Insurance Company, Inc. and starts at only ₱230.
AirAsia also has a few branded services that travelers may find practical. AirAsia Ride, for one, allows you to book or give a car ride. AirAsia Xpress, an on-demand parcel delivery service, lets you have your items delivered to your chosen destination.
Through AirAsia Money, you can apply for an AirAsia credit card and even a personal loan. Partner banks include Standard Chartered and Alliance Bank. This AirAsia component also offers valuable content for money-savvy customers.
AirAsia TravelMall is the airline's online shop where you can buy a variety of items from personal care travel packs and beauty kits to alcoholic drinks and headsets. The said store also carries duty-free items.
Keep in mind that the availability of some of these services depends on your country. Check AirAsia's official website and app to learn more.
Winner: AirAsia
Read more: Compare the Best Travel Insurance in the Philippines!
Which is Cheaper: AirAsia or Cebu Pacific?
Both Cebu Pacific and AirAsia are big on promos and discounts.
Discounts on base fares are something that Cebu Pacific offers regularly. As of this writing, the airline has a base fare for international travel for as low as ₱499. It also has a base fare of ₱88 for some local destinations. More importantly, Cebu Pacific offers Piso Fare, a promo that cemented the airline's reputation in the low-cost flight industry.
AirAsia usually offers a 50% discount on select flights. Currently, you can book local and international flights with a one-way base fare of ₱156. It also offers 15% off on any airline.
Note that promos and discounts change from time to time. But rest assured that they're always present. We encourage you to subscribe to the airlines' newsletter to be alerted of the upcoming sales.
Generally, we find Cebu Pacific's offers much more affordable. If you've booked flights with Cebu Pacific and AirAsia, you may see that the latter's prices can get quite expensive at times. Add to that the fact that AirAsia also lists the flights of pricier brands, such as Cathay Pacific and Emirates. But then again, the cost of your trip will all depend on your destination and the fees imposed by the airline.
Winner: Cebu Pacific
Related articles:
Cebu Pacific vs AirAsia: Loyalty Programs
A loyalty program is a big deal if you're a frequent flyer, as it gives you access to more perks and discounts. At this point, we'll take a look at the existing reward system of Air Asia vs Cebu Pacific.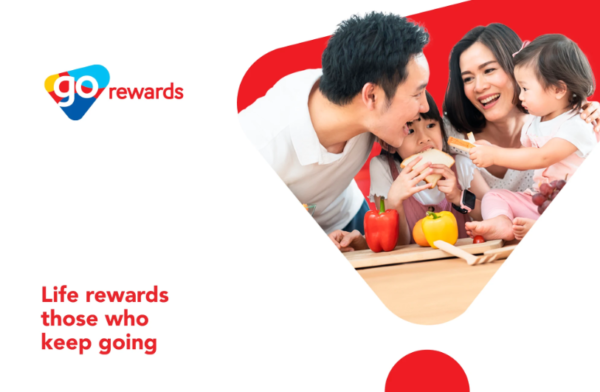 Cebu Pacific has already ditched its Get Go system and now offers points through Go Rewards. Go Rewards is a lifestyle rewards program where you can use your points at more than 2,000 physical stores and through a variety of online shops available in the Go Rewards app. You can earn points from the base fare and add-ons.
The number of points earned will depend on your membership type. For instance, Classic and non-Go Rewards cardholders can earn one Go Rewards point for every ₱80 spend. Classic and Go Rewards prepaid or debit cardholders can earn one Go Rewards point for every ₱40. Lastly, Black or Cebu Pacific Platinum or Gold Credit Cardholders can earn one Go Rewards point for every ₱20.
Cebu Pacific's credit card partnership with UnionBank also gives you free airport lounge access and free travel insurance. These perks, however, will depend on the kind of credit card that you have.
AirAsia, on the other hand, offers loyalty perks through AirAsia Rewards. It also has its own credit card in partnership with RCBC. The said card has a welcome bonus of up to 8,000 points. It allows you to earn up to 2x points on daily and AirAsia spend, and it instantly upgrades your AirAsia membership to Platinum status.
Winner: Cebu Pacific
Ceb Pac wins based on the merits of its program's simplicity and straightforwardness. AirAsia Rewards' online page is packed with various messages and promotions, and finding what you need is a tad confusing. The existence of AirAsia Big Loyalty also adds to the complexity of the rewards system.
Final Thoughts: Which is Better, AirAsia or Cebu Pacific?
In this Cebu Pacific vs AirAsia comparison review, AirAsia is the clear winner based on the number of flight destinations, safety rating, baggage policy, and value-added services. Nevertheless, Cebu Pacific dominated two categories namely flight prices and loyalty programs. After all, that's what the airline has always been loved for.
If you've booked flights with either of the two or with another low-cost carrier for that matter, manage your expectations as much as possible. Chances are you'll find yourself making some petty sacrifices. However, this is not to say that you should just hold your peace. Speak up if it's evident that you're experiencing substandard services. Just because the flight is affordable doesn't mean that you deserve low-quality products and amenities.
Want to go beyond the Cebu Pacific vs AirAsia arena? You can try other low-cost carriers, such as Jetstar and Scoot.
See also:
💳 Find the Best Air Miles Credit Card for Your Flight Bookings
Booking a Cebu Pacific or an AirAsia flight is more convenient and rewarding if you use a credit card, especially one that earns airline miles that can be redeemed for free flights or hotel stays.
Looking for one? Check out these top options for air miles credit cards in the Philippines.
Credit Card
Air Miles and Travel Benefits

Metrobank World Mastercard®

2.5 rewards points = 1 Mabuhay Mile
Exclusive airport discounts

HSBC Red Mastercard

1 air mile per ₱25 or ₱30 spend, depending on the transaction type
Exclusive travel deals worldwide via HSBC's home&Away Privilege Programme

Security Bank Platinum Mastercard

11,667 rewards points = 1,000 Mabuhay Miles
Access to airport lounges worldwide
Access to Marhaba Lounge

11,667 rewards points = 1,000 Mabuhay Miles
Access to Marhaba Lounge

BPI Signature Card

8,000 points = 1,000 PAL Mabuhay Miles or airasia rewards
Access to airport lounge
Up to ₱20 million travel insurance

BPI Platinum Rewards Card

8,000 points = 1,000 PAL Mabuhay Miles or airasia rewards
Access to more than 1,300 lounges worldwide
Up to ₱10 million travel insurance

PNB-PAL Mabuhay Miles NOW Mastercard

₱58 spend = 1 rewards point = 1 Mabuhay Mile
1,000 Mabuhay Miles welcome gift
5% discount on select Philippine Airlines international flights booked via the official PAL website all year round
Pay bills in peso even for transactions abroad

PNB-PAL Mabuhay Miles Platinum Mastercard

₱48 spend = 1 rewards point = 1 Mabuhay Mile
2,000 Mabuhay Miles welcome gift
5% discount on select Philippine Airlines international flights booked via the official PAL website all year round
Option between single and dual currency billing
Sources: