If you're the dedicated vacay organizer in your group, you know too well that flights are often the most expensive part of the trip. Since every penny counts, you have to try your best to find cheap flights. The whole endeavor can be frustrating at times, but it is what it is.
There are several ways to score affordable plane tickets, and the good news is they aren't that complicated. Read on to learn more.
How to Find Cheap Flights: 11 Tricks of the Trade
From being flexible with your travel plans to being open to mixing and matching airlines, here are some tips on how to find cheap flights:
✈️ Be Flexible with Your Travel Dates and Destinations
If you have the money, you can simply book your flights on your ideal dates. But since you're looking for cheap flight tickets, you need to reverse the process. You'll have to let the ticket prices dictate your travel dates. This means you'll have to avoid seasons or holidays with a large demand for flights.
This technique also works if you're an adventurous traveler. Let the cheap flight tickets tell you where to go! Who knows, your most memorable trip yet may be waiting at a destination that you didn't initially plan to visit. You can also discover hidden gems and places not yet ravaged by mass tourism.[1]
Read more: Different Kinds of Friends You Love and Hate Traveling With
✈️ Use Flight Search Engines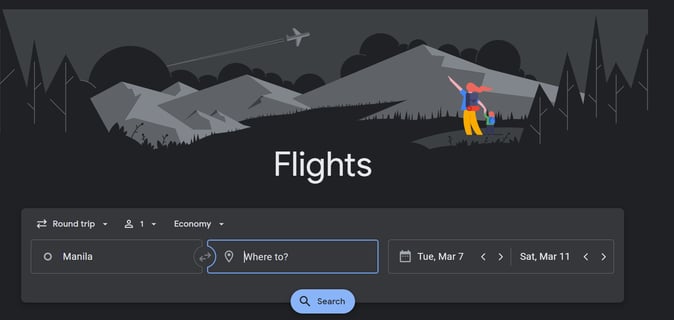 You can find and book cheap flights on flight search engines, as they aggregate different flight prices and even directly point you to the most affordable options. There is a sea of flight search engines out there, but a lot of travelers swear by the reliability of Google Flights.[2]
Use its Track Prices feature to monitor the prices for your chosen travel dates or routes. You'll also get a notification or email when the price of the flight you're tracking is likely to go up or expire soon.
Some flight search engines are called online travel agencies or OTAs. These are the likes of Skyscanner, Expedia, Agoda, Kayak, Booking.com, and Traveloka, among others. Take this route if you're looking to increase your savings, as some OTAs offer flight-hotel bundles.
✈️ Consider Flying Midweek
According to Google Flights, flying in the middle of the week is one tip on how to book cheap flights. You may even save up to 20%.
While you're at it, avoid last-minute bookings, as they're usually the most expensive. Plan your trip ahead of time and book your flights ideally months before the travel date.
✈️ Subscribe to Your Airline's Newsletter
If you want first dibs on the cheapest airplane ticket promo, you need to be in the know on the latest seat sales and discounts. Subscribe to your airline's newsletter so that promos will be sent directly to your email.
Don't forget to follow your airline's social media pages, too. On Facebook, turn on the post notifications of the airline page you're following, so you can be instantly notified of any upcoming or ongoing promotional fares.
✈️ Use Your Miles
If you have a credit card that accumulates points and miles, use them to slash the price of your flights. Or if you have enough of them, you can even score free tickets.
Don't have this frequent flyer credit card? Now's the right time to get one and start earning points and miles! Check out a few of your best options for earning air miles and points
✈️ Use Your Travel Fund
Maybe you have some airline travel funds you've forgotten about. Use them to cover portions of your flights. Moreover, you can use them to pay for flight add-ons, such as seat selectors, extra luggage, and meals.
✈️ Grab the Seat Sale as Soon as You Can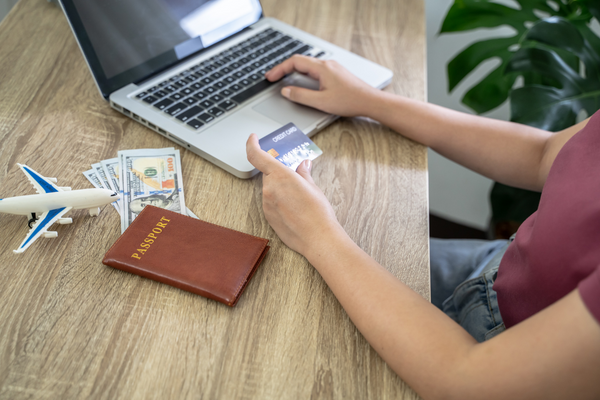 If you already have flight dates in mind and they happen to be cheap, book them as soon as possible. Don't think twice or wait for the prices to get cheaper, because chances are, they won't.
✈️ Fly with Budget Airlines
Gone are the days when only the rich could actually ride the plane. With the proliferation of budget airlines over the years, everyone can now fly to their intended destinations. While there are a few trade-offs, such as small leg rooms and occasional delays, you can enjoy significant savings.
In the Philippines, the most popular budget airlines are Cebu Pacific and Air Asia. If you're traveling within just within Asia, you may add these budget air carriers to your list:
Jetstar

Scoot

Hong Kong Express

Jeju Air

Peach Air

VietJet Air

Tigerair Taiwan

Nok Air
Read more: 8 Cheapest Airlines in the Philippines for Your Next Trip
✈️ Book Connecting Flights
Instead of flying directly to your destination, break your trip down into two legs. Often, connecting flights are much cheaper than direct flights. The bargain, however, means enduring a long layover. But that's usually an addressable problem.
This is a sensible strategy if you're wondering how to find international cheap flights to Europe, the Americas, or anywhere outside the Southeast Asia region. You may choose to do it yourself by booking two separate flights.
But if you prefer convenience, just look for an air carrier that will do it for you. For instance, Air Asia offers connecting flights. If you take this route, don't forget to check the transit visa requirements.
✈️ Use Two Airlines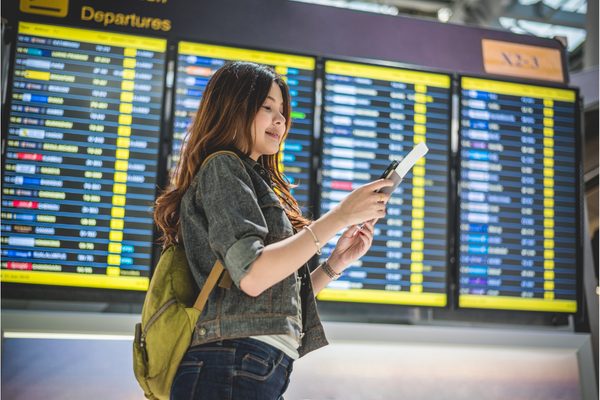 More often than not, seat sales apply only to one-way trips. If you want to know how to find cheap flights, consider booking your departure and return flights with two different airlines. You may even enjoy two promos if both air carriers launch seat sales at the same time.
✈️ Ditch the Add-Ons
Sometimes, ditching the add-ons is a practical tactic on how to find cheap flights. If you're a light packer, you won't need extra luggage. Skip the in-flight meals by getting your fill before the trip. If you already have personal or travel insurance, you may opt out of the policy offered by your air carrier.
Related reading:
Final Thoughts
If you know how to find cheap flights, you can plan your travel budget accordingly. The money you save can go toward other things, such as food and attraction tickets.
Everything boils down to having the right travel mindset and being open to changes. If it's your first time scouting for cheap flight tickets, don't worry—you'll get the hang of it in no time!
Sources: