No matter how savvy you are with money, getting hit with financial emergencies can happen to the best of us. Whether they're medical in nature or petsa de peligro woes, unexpected expenses can drain your savings. Good thing you can always rely on cash loan providers in the Philippines, one of which is the relatively new UNO Digital Bank, also known as UNOBank.
How reliable is UNOBank when it comes to solving your financial problems? Before applying for a loan, check out this UNOBank loan review to see whether this new product fits your cash needs.
What is UNOBank?
Before we dive into our UNOBank loan review, let's take a closer look at UNOBank. Founded in 2016 by a team with more than 100 years of experience in banking and technology, UNOBank touts itself as the first full-spectrum digital bank in Southeast Asia. It aims to make banking simpler and more accessible, especially in a country like the Philippines where over 30 million are still unbanked as of 2022.
As one of the first neobanks to enter the Philippine market, UNOBank offers its banking products and services completely online. There's no need to go to a physical branch to open a bank account or apply for a cash loan—every transaction happens in the UNO Digital Bank mobile app. You can even link your GCash account to your UNOBank account to open a savings account that earns you as much as 6.50% per annum.[1]
👉 Is UNOBank Legit?
While considered a newcomer, UNOBank is as legitimate as the other top online loan providers in the Philippines. It's one of the neobanks that have been recently granted a banking license by the Bangko Sentral ng Pilipinas (BSP), placing it on the same level of legitimacy as other traditional banks.
UNOBank deposits are also insured by the Philippine Deposit Insurance Corporation (PDIC), entitling each depositor up to ₱500,000.
Why Should You Apply for a Loan with UNOBank?
Ready to find out what you can do with UNO Digital Bank in the Philippines? Getting an UNOBank loan takes just a few taps on your phone. Before you download the app, check out the UNOBank loan features that make UNOBank a legit new player in the banking and fintech space.
✅ No Collateral Needed
There's no need to give up any asset to take out a loan. You can apply for an UNOBank loan without collateral or a co-maker, making it easier for you to get the funds you need for your emergency without any hassle.
✅ Multi-Purpose Loan
You can apply for an UNOBank loan for almost any need. Whether you're looking to settle medical bills, tuition, or rent, or funding your dream wedding or vacation, an UNOBank loan can provide you the means to have it all. You can borrow as low as ₱10,000 or as high as ₱200,000, depending on the need.
✅ Simple Application Process
Since every transaction with UNOBank Philippines is digital, applying for an UNOBank loan is easy. You don't need to go out and line up at a bank. Just download the app and complete the electronic Know Your Customer (eKYC) journey.
Once your account is created, you can apply for the loan you need. You're not required to have an existing credit card or a bank account prior to your application.
✅ Instant Loan Disbursement
The loan disbursement process is convenient as well. Once you're approved, your loan will be deposited to the UNOBank account created especially for your loan.
You can then pay your loan through the bank account—all within the UNOBank Digital Banking app. Just deposit your payment to the account, and UNOBank will automatically deduct it every month.
✅ Flexible Payment Terms and Schedule
Payments-wise, settling your UNOBank loan won't hurt your wallet that much. Apart from the convenient auto-debit arrangement, you can also enjoy affordable financing term options. You can choose to pay back your loan in 6, 12, 18, 24, or 36 months at competitive interest rates as low as 1.79% per month.
Plus, there's also an option for partial payment or loan pre-termination to make repayment more flexible for you. The schedule of your monthly installments will depend on the salary frequency and salary credit date you declared when you applied for your loan.
If your salary is once a month, your payment schedule will be based on the following:
30th – Due date will be set on the 1st
5th – Due date will be set on the 6th
10th – Due date will be set on the 11th
15th – Due date will be set on the 17th
20th – Due date will be set on the 21st
25th – Due date will be set on the 26th
If your salary is twice a month, your payment schedule will be based on the following:
1st and 16th – due date will be set on the 17th
5th and 20th – due date will be set on the 21st
10th and 25th – due date will be set on the 26th
15th and 30th – due date will be set on the 1st
✅ Safe and Secure Platform
Aside from the fact that UNOBank is regulated by the BSP, the UNOBank Digital Bank app itself comes with security features to make every transaction as secure as possible. You can use a password or your device's biometrics to secure the app. Also, each transaction requires a one-time password (OTP) for an extra layer of protection.
UNOBank Loan Review: What People Are Saying
Everything's all good so far, but what do other customers think about the product? In this part of the UNOBank loan review, let's explore what previous borrowers have said about the new UNOBank loan product.[3]
💬 Great Customer Service
One way to measure the value that a company brings is to check the quality of customer support it provides to its clients. UNOBank has gained favorable points in this department.
According to early reviews, UNOBank has been responsive in addressing customers' concerns regarding its newly launched app. Customer support promptly responds to comments on the App Store and Play Store, assuring customers that UNOBank consistently works on fixing the errors that users have encountered.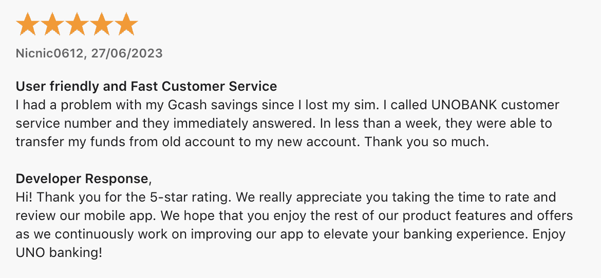 💬 Convenient Features
In a highly competitive market, UNOBank continues to stand out, thanks to its feature-packed mobile app. While other banking apps charge cash-in fees to their customers, UNOBank keeps most basic transactions like cash-ins and real-time money transfers free.
UNOBank has also added more billers for easier in-app bills payment, as well as more features like QR code payments and cross-platform support with GCash.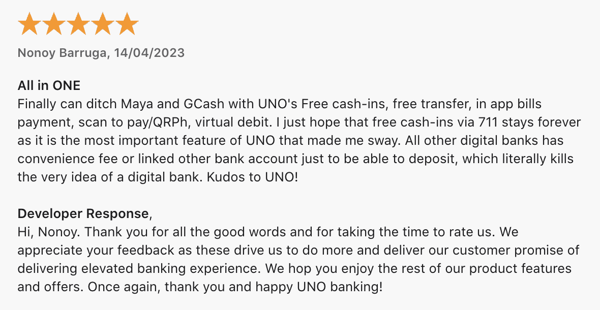 💬 App Improvements
Bugs are inevitable for new apps, and the UNOBank mobile app is no exception. Early users pointed out the issues they encountered while using the app. Some had problems logging into their accounts, while others had trouble making their biometrics login work.
A few hiccups on the app's integration with GCash were also raised. But thanks to UNOBank's solid customer service, these bugs were addressed during the app's first few months of release.
UNOBank Pricing and Fees
Below are the fees you have to consider when applying for an UNOBank loan.
Processing fee - 3% of the loan amount or ₱500, whichever is higher. This is a one-time handling fee that will be deducted from your loan to cover the cost of processing your loan application. It will apply only to new loan customers.
Documentary stamp tax - ₱1.50 for every ₱200. This fee covers the tax on documents, instruments, and loan agreements that prove the acceptance of a loan obligation. This will also be deducted from your loan proceeds.
Late payment fee - 5% of the unpaid installment or ₱500, whichever is higher. If you fail to pay your loan on your due date, expect your next payment to include an additional late payment fee. Always pay your loan in time to avoid additional fees.
Loan pre-termination fee - 3% of the unbilled loan amount or ₱500, whichever is higher. You can pay back your unpaid online loan in full before your payment term ends. You just have to shoulder a loan pre-termination fee. If you have the budget to settle your loan early, feel free to do so as this will help you manage your finances in the long run.
Monthly add-on rate: 1.79%. UNOBank loan's monthly interest rate is equivalent to the annual percentage rates (APR) ranging from 35.78% to 37.54%, depending on the loan term. The APR for each loan term is as follows:
| | | |
| --- | --- | --- |
| Loan Term | Monthly Rate | APR (p.a.) |
| 6 | 1.79% | 35.94% |
| 12 | 1.79% | 37.54% |
| 18 | 1.79% | 37.45% |
| 24 | 1.79% | 36.98% |
| 36 | 1.79% | 35.78% |
➗ UNOBank Loan Calculator
Want to calculate your potential interest rate and monthly installment due before you apply for an UNOBank loan? After all, it's important to determine if you have the means to pay off your loan on a monthly basis.
To start, you have to calculate the interest that needs to be paid. To do this, just multiply the loan amount with the add-on rate and your chosen loan term. For example, if you're planning to apply for an UNOBank loan worth ₱100,000, and you're looking to pay it back in 12 months, your interest calculation should look like the following:
Interest = Principal Amount x Monthly Add-On Rate x Loan Term

Interest = ₱100,000 x 1.79% x 12 months

Interest = ₱21,480
Then to calculate your monthly payment for 12 months, add your loan amount with the interest you calculated and divide it by your loan term, in this case, 12 months. So the formula should look like the following:
Monthly Payment = (Principal Loan Amount + Interest) / Loan Term

Monthly Payment = (₱100,000 + ₱21,480) / 12 months

Monthly Payment = ₱121,480 / 12 months

Monthly Payment = ₱10,123.33
UNOBank Loan Eligibility and Documentary Requirements
UNOBank's loan eligibility criteria and documentary requirements are relatively basic and easy to meet. Check them out below to see if you qualify!
🧑 UNOBank Loan Eligibility
Whether you're salaried or self-employed, you can use UNOBank's suite of products and services. As long as you meet the following eligibility criteria, you can take out an UNOnow loan with UNOBank.[2]
Individuals aged 21 to 65 years old (must not be older than 65 upon loan maturity)
Filipino national or citizen, and a non-U.S. person
Resides and/or works within Metro Manila, Rizal, Laguna, Bulacan, Pampanga, Cavite, Cebu, Batangas, and Iloilo
Annual minimum gross income of ₱180,000 or ₱15,000 per month

If employed, must be tenured for at least six months
If self-employed, business must be in operations for at least two years
📋 UNOBank Loan Documentary Requirements
Applying for an UNOnow loan is easy and straightforward. You just need to prepare three onboarding requirements.
Contact Details - To start your application, you must provide an active mobile number and email address. These contact details will enable UNOBank to reach you.
Selfie - As part of the eKYC process, you will be asked to take a photo of yourself with liveness detection. This is required of all applicants to ensure maximum protection of all accounts.
Valid ID - You need to scan only one valid ID, as long as it contains key information like the ID number, your name, gender, and civil status. Valid IDs accepted by UNOBank include:

Philippine Passport
Driver's License
Unified Multi-Purpose ID (UMID)
Social Security System (SSS) ID
Philsys National ID
Professional Regulation Commission (PRC) ID
How to Apply for an UNOBank Loan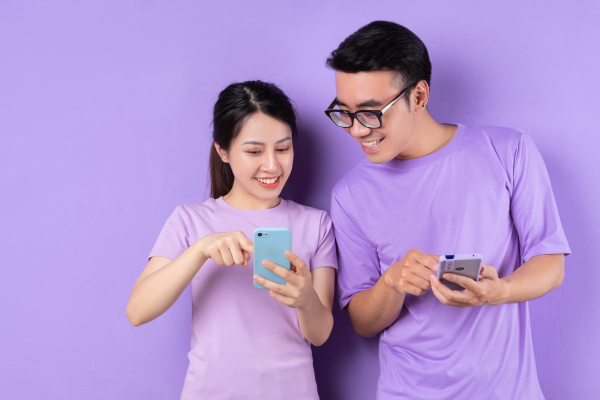 The application and approval process for an UNOBank loan is similar to that of other loan providers like RFC Loan and Tonik Big Loan. It's simple, quick, and straightforward. Just follow these steps to start:
Download and install the UNOBank app from the App Store or Google Play Store.
Complete the onboarding journey on the UNOBank app by providing all the onboarding requirements and selecting the loan product you want to apply for.
Wait up to 10 minutes as UNOBank conducts an initial profile assessment based on the information you've entered into the database.
Complete your profile by providing any necessary personal, employment, and financial information for further checking. Answer the FATCA and DOSRI questionnaires.
Wait one to two days for UNOBank to complete televerification and residence verification.
Should there be a need for other documents and further checks, you will be notified via SMS. You can also check the status of your application through the UNOBank app.
Once your application is approved, you will be asked to review the loan terms and decide if you agree or not. If you wish to proceed with the loan, you must register a password and passcode.
Wait for the loan proceeds to be credited to your UNOBank account. You can withdraw the loan amount via the Send Money feature in the UNO mobile application.
After loan availment, the following documents will also be sent to you via your registered email address:
Loan Agreement / Terms and Conditions
Promissory Note
Disclosure Statement
Loan Amortization Schedule
Final Thoughts
When you're short on cash, it's always good to know that you have decent options to help with emergencies. Hopefully, this UNOBank loan review gave you a better understanding of the value that the new UNOBank loan offers.
If you need cash right now and are comparing possible options, why not apply for an #UNOnow Loan via Moneymax? You can also use the platform to easily compare other personal loan options from reputable companies.
| Personal Loan | Minimum Loan Amount | Maximum Loan Amount | Monthly Add-on Rate | Minimum Annual Income | Approval Time |
| --- | --- | --- | --- | --- | --- |
| UNO Digital Bank Personal Loan | | | | | |
| Metrobank Personal Loan | | | | | |
| UnionBank Personal Loan | | | | | |
| BPI Personal Loan | | | | | |
| RFC Loan | | | | | |
| Tonik Flex Loan | | | | | |
| Tonik Quick Loan | | | | | As fast as 1 hour |
| Tonik Big Loan | | | | | 7 days |
| Tala Loan | | | | | 24 hours |
| HSBC Personal Loan | | | | | |
| CIMB Personal Loan | | | | | |
| Maybank Personal Loan | | | | | |
| RCBC Bank Personal Loan | | | | | |
| SB Finance Personal Loan | | | | | |
| CTBC Bank Personal Loan | | | | | |
| PSBank Personal Loan | | | | | |
Sources: