What's your biggest dream in life? Do you daydream about being your own boss and setting up a small business? Perhaps you want to pursue further studies? Or do you want to finally buy a new car?
For a lot of us, big dreams seem to be just that—pipe dreams. After all, these goals cost a lot of money. But these dreams don't have to stay unattainable forever. If you're serious about making those dreams a reality, consider applying for a Tonik Big Loan in the Philippines.
What is a Tonik Big Loan?
Tonik Big Loan is the first all-digital collateral loan in the Philippines that offers the fastest approval time in the market (within minutes of the application) and quick disbursement of only seven business days from the submission of documents.[1]
It's a secured loan, meaning you need to pledge an asset as collateral to avail of this home equity type of loan. For its Big Loan, Tonik accepts condominium titles as collateral.
But is Tonik Big Loan a legit online loan? Yes, Tonik—the country's first neobank—is licensed by the Bangko Sentral ng Pilipinas (BSP). Its deposits are insured by the Philippine Deposit Insurance Corporation (PDIC).
Tonik Big Loan Features

Wondering how much can you borrow with a Tonik Big Loan in the Philippines? Check out its features below:
High loan amount: Borrow from ₱250,000 up to ₱5 million to fund your next big project, whatever it may be.
Easy application and quick approval: No need to step out of the house to apply for this loan! Finish the entire application process on the Tonik App, get pre-approved in as fast as 30 minutes, and wait for Tonik to disburse the loan amount to your account in just seven business days. Just make sure to submit the required documents as soon as possible.
Flexible terms: Enjoy friendly repayment terms with 12, 24, 36, 48, or 60 monthly installments. Choose the loan term that best fits your budget.
Fixed interest rates: Make payments with ease, thanks to Tonik Big Loan's 0.5825% monthly contractual rate or 6.99% annual percentage rate.[2] These rates are fixed, so your monthly repayment amount stays the same throughout the term.
No credit history required:

You don't need a credit card either. As mentioned, however, you need to submit your condo title as collateral.

Co-borrower option: Apply for the loan with your spouse as a co-borrower to increase your chances of getting a bigger loan amount.
What Can You Do with a Tonik Big Loan in the Philippines?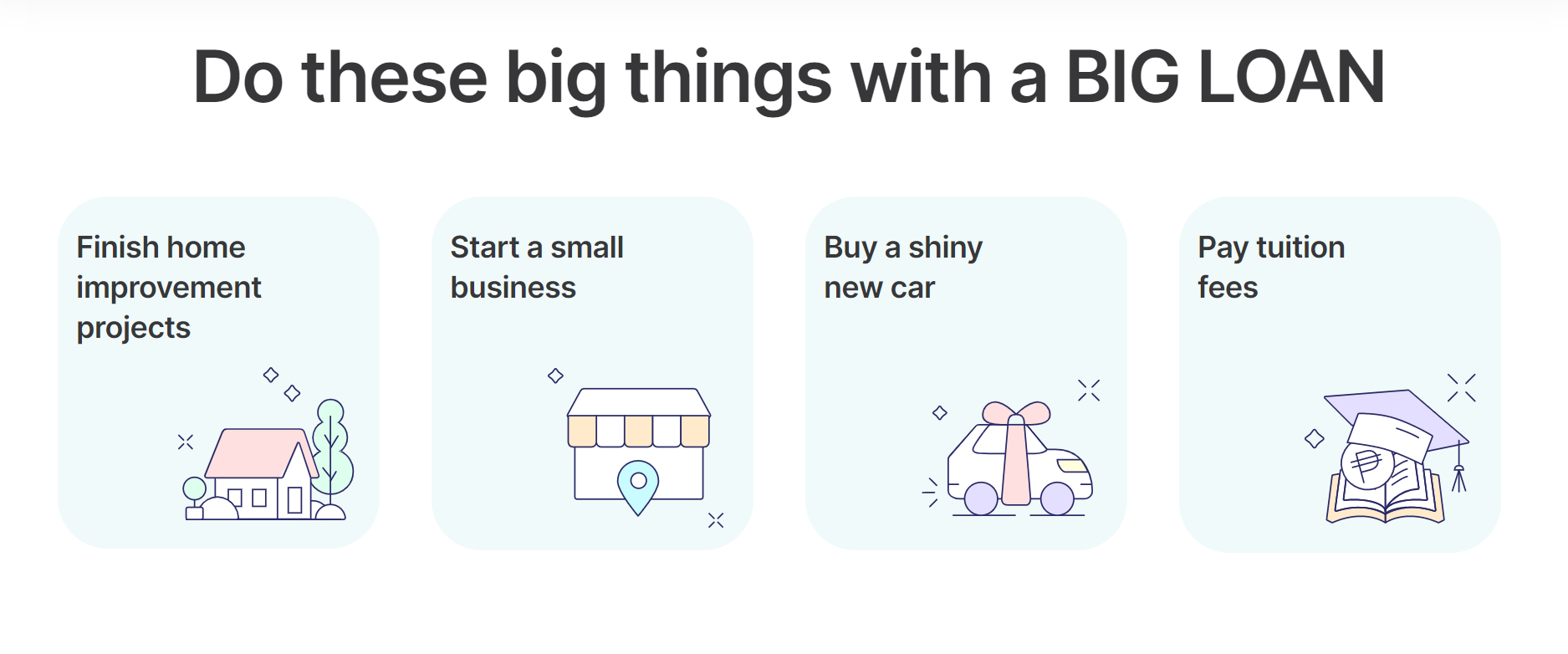 Make big goals happen, whatever your purpose is for getting a Big Loan. Here are some projects you can fund with this loan product from Tonik.
👉

Start a Small Business
If your dream business has been on the back burner for years, maybe this is the year to finally get it up and running! With Tonik Big Loan's high loan amount, you can start any small business idea under the sun—be it a sari-sari store, food stall, home salon, or laundry shop. Some of the biggest companies today started small too, so who knows what heights your own business will achieve?
👉

Buy Your Dream Car
Is your old car more trouble than it's worth? If you have to deal with poor fuel efficiency, overheating issues, and breakdowns every day, it's time to get a replacement. Use Tonik Big Loan to fund your new dream car.
👉

Finish Your Home Renovations
After a long day at work, who wants to come home to a house that's falling apart? You deserve a home you can call a haven. With Tonik's Big Loan, you won't have to deal with outdated plumbing and faulty wiring in your house anymore. You can also finally finish building the new wing for your extended family.
👉

Pay Tuition Fees
Education is an investment—albeit a really expensive one. But whether it's your child's education or your own, don't skimp on it. Education opens doors to a better career and lifelong skills, after all. Use the Tonik Big Loan to pay tuition fees and other miscellaneous costs.
Who Can Apply for a Tonik Big Loan in the Philippines?
Are you eligible to apply for a Tonik Big Loan? Check if you meet the following criteria:
Filipino citizen
23 to 55 years old
Owner and title holder of a fully paid condo unit in Metro Manila
Tonik Big Loan Requirements
Prepare the following documents before you apply for a Tonik Big Loan in the Philippines:
Your valid ID
Bank statements and pay slips for the past three months
Scanned and original copies of the Condominium Certificate of Title
Photos of your condo unit
Real Estate Tax Clearance
Condominium Association Dues Certificate
For married borrowers: Your spouse's valid ID and your Marriage Certificate
For widows or widowers: Spouse's Death Certificate
For annulled borrowers: Final Court Order on Legal Declaration of Nullity of Marriage ​

How to Apply for a Tonik Big Loan
Ready to proceed with your online loan application? Refer to the easy Tonik Big Loan application steps below:
Download the Tonik App and create a Tonik Savings Account.
Click Loans and tap on Big Loan

.

Fill out all the required fields.
Upload your required documents.
Wait for a call from Tonik's credit team. Inform your building administrator and employer that Tonik will be getting in touch with them as well.
Wait for a notification of your loan approval on the app.
Once approved, submit other pending documents at the Tonik Hub, located at Unit 605-B, 6/F West Wing, The Estancia Offices, Meralco Avenue, Pasig City. Take note that Tonik will keep your copy of the Condominium Certificate of Title throughout the loan term.
Your loan proceeds will then be directly disbursed to your Tonik account.
Read more: Tonik Loan Application: Complete Guide for Beginners
How to Pay Your Tonik Big Loan
Tonik will source your monthly payment from the Tonik Savings Account you created. Just make sure to top up your account with enough funds before your due date, or else you'll have to pay late fees.
Top up through the following channels. Charges and fees apply.
BPI Direct
UnionBank Direct
Local Bank Debit Card
PESONet
7-Connect
CLiQQ
SM Business Center
Cebuana
M Lhuillier
Looking for more online loan options? Check these articles out:
Final Thoughts
With a Tonik Big Loan, you can finally make your big dreams a reality. If you're seriously considering applying for a Tonik Big Loan in the Philippines, just remember that you'll be handing over your condo title as collateral—so make your payments on time!
Check Out Other Loan Options from Reputable Lenders in the Philippines
| Personal Loan | Minimum Loan Amount | Maximum Loan Amount | Monthly Add-on Rate | Minimum Annual Income | Approval Time |
| --- | --- | --- | --- | --- | --- |
| UNO Digital Bank Personal Loan | | | | | |
| Metrobank Personal Loan | | | | | |
| UnionBank Personal Loan | | | | | |
| BPI Personal Loan | | | | | |
| RFC Loan | | | | | |
| Tonik Flex Loan | | | | | |
| Tonik Quick Loan | | | | | As fast as 1 hour |
| Tonik Big Loan | | | | | 7 days |
| Tala Loan | | | | | 24 hours |
| HSBC Personal Loan | | | | | |
| CIMB Personal Loan | | | | | |
| Maybank Personal Loan | | | | | |
| RCBC Bank Personal Loan | | | | | |
| SB Finance Personal Loan | | | | | |
| CTBC Bank Personal Loan | | | | | |
| PSBank Personal Loan | | | | | |
Sources: