You may be incubating a brilliant business idea that has the potential to become the next Jollibee or Facebook. But that idea will not take off unless you have enough fuel. Your determination can only do so much; you need money to make things happen.
It's easy to find a business lender these days. However, finding one who understands the drive and mentality of small business owners may be quite challenging. Nevertheless, there are a handful of reliable lending companies out there―and Esquire Financing, Inc. is one of them.
If you want to turn your business plan into a reality, consider collaborating with Esquire Financing, Inc. Here are some important tidbits about the company. We've also included a short application guide should you decide to apply for this loan.
Who is Esquire Financing?
Esquire Financing's business loan is a financial loan designed to support micro, small, and medium enterprises (MSMEs). It's a non-collateral loan, which means that you don't need to declare any assets for your application to be processed.[2]
Where Can I Use Esquire Financing Business Loan?
Primarily, you can use the proceeds of the loan to start your dream business. But Esquire Financing, Inc. also provides additional working capital for business owners who want to scale up their ventures or simply ensure the continuity of their operations.
Read more: Tala Loan Application Guide: Everything About Borrowing from Tala Philippines
What are the Advantages of Esquire Financing Business Loan?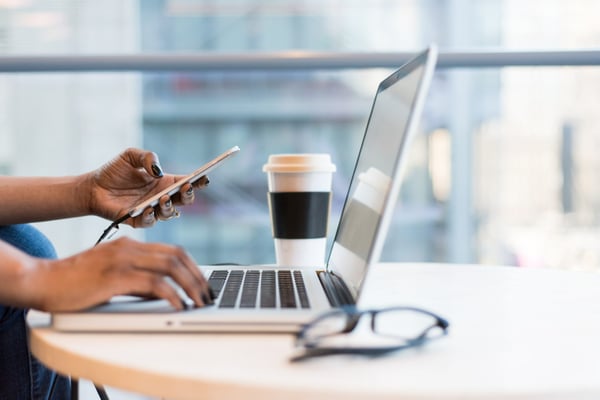 There are many good reasons to apply for a business loan with Esquire Financing. Here are some of them.
1. High Loan Amount
Esquire Financing's starting loan amount is PHP 100,000, but you can borrow up to PHP 10 million. These loan values are much higher than the standard business loan amounts. So, whether you're building the business from the ground up or positioning an existing enterprise for future expansion, you're assured of enough financial support if your application is approved.
2. No Collateral Involved
As mentioned, Esquire Financing, Inc.'s business loan will not require you to surrender an asset to close the deal. So, you can keep your store location's title or the OR/CR of your fleet― Esquire Financing won't need it!
3. Lower Interest Rates
A lot of banks and lenders may charge up to 7% or 10% interest. This is a hefty amount of money that will be added to your amortization. Esquire Financing, Inc., on the other hand, generally charges about 3.5% interest. Just note, though, that this rate may change without prior notice. The company also reminds applicants that the interest rate is dependent on the approval of the credit committee and the loan amount.
Read more: Your Easy Guide to BPI Personal Loan Application
What are the Disadvantages of Esquire Financing Loan?
No loan product is perfect, so Esquire Financing Business Loan also has its fair share of cons. Here are a few to take note of.
1. Processing Takes Up to Seven Days
The processing of every application has a seven-day turnaround time. For many business owners, this period is already long enough, especially if business operations are at a critical point or the business is seeing a breakthrough that needs to be sustained right away.
2. Short Loan Tenure
Esquire Financing, Inc.'s loan tenure is comparatively shorter than the terms of other lenders. While other lenders have terms that reach up to 10 years, Esquire Financing, Inc.'s loan tenure ranges from three to six months (or presumably up to a year). This means that you need to raise money quickly in order to repay the lender. Nonetheless, the loan tenure may also depend on the amount borrowed.
3. High Required Monthly Income
Only those with a minimum monthly income of PHP 300,000 per month are allowed to apply for a business loan. This is evidently a barrier for many loan applicants who don't earn this much.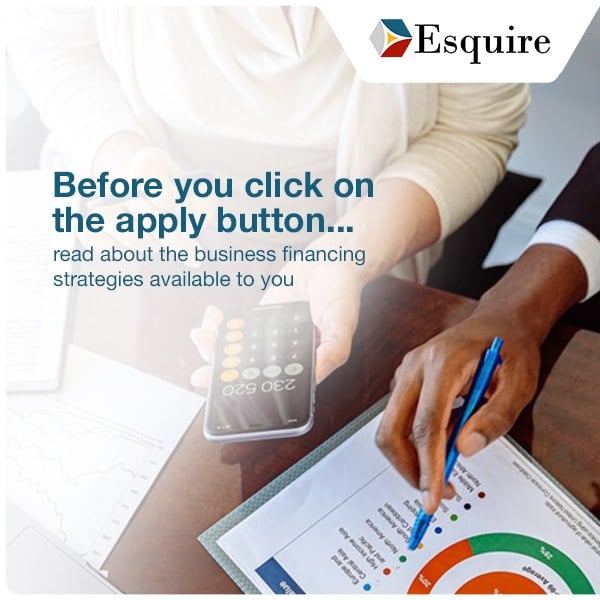 How to Apply for Esquire Financing Loan
If you think an Esquire Financing business loan is the right product for you, here's what you need to do to get your application started.
1. Check if Your Business is Eligible for a Loan
Before you collect all the requirements, check first if your business is actually eligible for Esquire Financing, Inc.'s business loan. Here are some of the criteria that you need to fulfill.
Your business must be operating for at least a year
Your business must be registered with the DTI (for sole proprietors) or the SEC (for partners or corporations) under the borrower's name
You must have a checking account for at least six months
2. Collate the Requirements
Once you've determined that you qualify for Esquire Financing's business loan, start collating all the requirements, which include the following:
Filled-out application form
TIN ID or any other government-issued ID
Photocopy of valid Barangay Business Clearance
Photocopy of valid Mayor's Permit
2" x 2" picture of the principal borrower
Pictures of the business (one exterior shot and one interior shot)
Latest Bank Statements for the last three months and Bank Certification
Sketch or map of the business and residence location (provide the closest landmark)
Proof of Billing (e.g. electricity/water/cable bill not older than two months)
For additional requirements, visit the link below.[3]
3. Fill Out the Online Application Form
Go to Esquire Financing, Inc.'s website and fill out the online application form.[4] If you apply online, you'll receive an automated SMS and email to confirm your application and provide you with the next instructions. Alternatively, you can download the application form and manually fill it out.
4. Submit All the Required Documents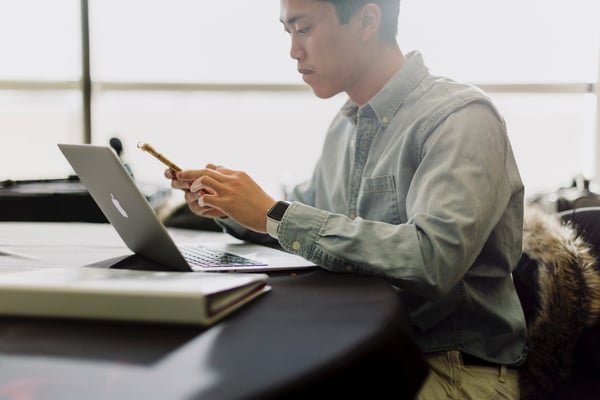 After double-checking the application form and all the required documents, head to any of Esquire Financing's offices or accredited sales partners nationwide. Remember that the application process is free of charge. If you encounter a suspicious loan specialist, contact Esquire Financing at (02) 8811-8888 or loans@esquire.com.ph.
5. Wait for Your Loan Application's Approval
Note that the processing of your application may take up to seven days. You'll find out if your application has been approved once you receive an email from Esquire Lending. Similarly, a loan officer may reach out to you.
Read more: Home Credit Cash Loan Application: Its Pros and Cons Plus Useful Tips
What to Consider Before Applying for Esquire Financing Loan
Before starting the loan application process, there are things that you must check or review first to get the most out of your loan. Here are a few reminders.
1. Know the Purpose of Your Business Loan
Make sure that the purpose of your loan is clear and specific. By doing so, you can easily determine how much you exactly need to borrow. And with that, you'll be able to avoid overborrowing or underborrowing.
Moreover, don't use the loan proceeds in non-business activities. Keep reminding yourself that this is not a personal loan and that this must be used for its intended purpose.
2. Decide on the Loan Tenure
Ultimately, the loan tenure will determine how much interest you'll need to cover. Longer terms usually mean paying interest longer than you'd like. And while going for a shorter loan term has an undeniable benefit (i.e. finishing off the loan earlier), it also means raising repayment funds quickly and paying higher monthly payments. This may spell a problem, especially if your business's monthly profit isn't consistent.
3. Check If You Can Pay the Monthly Amortization
Gauging your capacity to cover the monthly amortization should be part of your due diligence. Paying on time positively impacts your credit score. Otherwise, your credit score will take a hit, and you'll find yourself covering penalties and late payment charges.
A Short Review of Esquire Financing Business Loan
Generally, Esquire Financing receives overwhelming support and recommendations from its previous borrowers.
One client said that the loan approval is very easy. Another said that the customer service has been great and reliable. Moreover, one manufacturing-based business owner also shared the flexibility of the Esquire loan―she used the proceeds to bridge her payroll and payables.
While the reviews for Esquire Financing are mostly positive, a few borrowers on Facebook have also shared the inconvenience they have experienced.
One expressed his disappointment over the bulk of the requirements the lending company asks despite the fact that it calls its requisites "minimal documentation requirements."
Another claimed that she experienced bad customer service. This may be an isolated case. But the complainant still advised the company to train its staff on how to handle clients professionally.
Read more: RFC Loan Guide: How to Get a Loan from Radiowealth Finance
Final Thoughts
Think of your business as the car and the capital as the fuel. No matter how brilliant your business idea is, it will not materialize unless you have enough money. And if you choose to bootstrap your business, your future plans, such as expansion and creation of a new product line, will still catch up to you. All these plans will definitely require a hefty amount of funds.
In the sea of banks and large lending companies, you'll always find someone who understands the nature of small business. Luckily, Esquire Financing has designed its services with MSMEs in mind. Other than providing you with a large capital, this company is known for its no-strings-attached approach to lending, as its products don't require borrowers to pledge any collateral. The requirements are fairly easy, and the processing is pretty straightforward, too.
Nevertheless, it won't hurt to broaden your options. The best way to arrive at a wise decision is to list down possible lenders and compare their pros and cons. We're here to help you apply for a loan; just use our comparison tool to find the right business lender for you. You may also read our other business articles and guides to give you an idea of how to approach your venture better.
Compare your options and apply for a personal loan here at Moneymax!
Personal Loan Provider

Minimum Loan Amount

Maximum Loan Amount

Minimum Annual Income

Approval Time

Metrobank

₱20,000

₱1 million

₱350,000

7 days

BPI



₱

20,000

₱2 million

₱

300,000

5 to 7 banking days

EasyRFC

₱

10,000

₱150,000

₱

120,000

As fast as 24 hours

Maybank



₱

50,000

₱1 million

₱

300,000

Apply online in just a few clicks

RCBC



₱

50,000

₱1 million

₱

360,000

5 to 7 banking days

SB Finance




₱30,000

₱2 million

₱180,000

5 banking days

CIMB



₱

30,000

₱1 million

₱

180,000

24 hours

HSBC



₱

30,000

₱500,000 or 3x gross monthly salary, whichever is lower

₱

168,000

5 to 7 banking days

CTBC



₱2

0,000

₱1 million

₱

180,000

3 to 5 banking days
Sources: