There was a time not too long ago when seeking medical advice online was discouraged. It doesn't help that false medical information continues to spread on social media to this day. But now that the COVID-19 pandemic forced everyone to stay indoors, getting a good online medical consultation in the Philippines has never been more important.
Enter telehealth services. The introduction of telehealth services in the Philippines proved beneficial to Filipinos. Just like digital banks, these types of online medical consultation platforms are exactly what the public needs to get past COVID-19.
According to KonsultaMD, telehealth will continue to be on-demand and evolve even after the COVID-19 pandemic, not to replace face-to-face consultations but to use it as a first touchpoint.[1]
Choosing the right telehealth service will help you start living "the new normal" as healthy as possible. Read on to learn more about it.
What is Telehealth?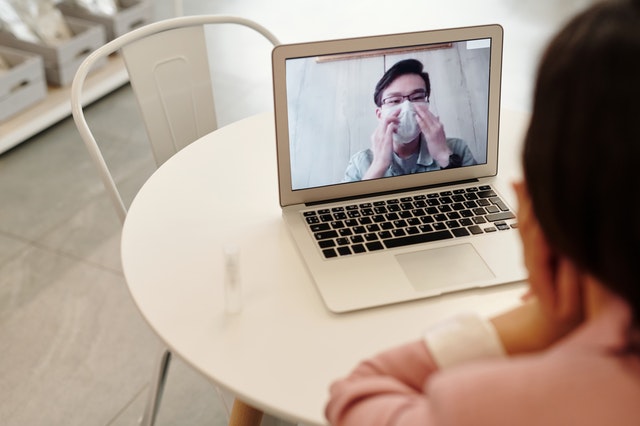 The American Health Resources and Services Administration (HRSA)[2] defines telehealth as "the use of electronic information and telecommunication technologies to support and promote long-distance clinical health care, patient and professional health-related education, public health and health administration." Basically, telehealth involves contactless consultation.
Telehealth services in the Philippines make good use of technologies like the internet, landline connections, mobile apps, video conferencing, ride-hailing services, and others to address medical concerns with minimal to no physical contact. In short, telehealth allows you to seek an online medical consultation in the Philippines and request immediate care without leaving your home.
Read more: How Much Does COVID-19 Hospitalization Cost in the Philippines?
Telehealth vs. Telemedicine
The Federation of State Medical Boards in America[3] defines telemedicine as "the practice of medicine using electronic communication, information technology, or other means between a physician in one location, and a patient in another location, with or without an intervening health care provider." This is why telehealth and telemedicine are two interchangeable terms.
While the two terms basically mean the same thing, there's still a distinction between them. Telehealth is a broad collection of telecommunication technologies while telemedicine is just a subset of telehealth.
To make it even shorter: all telemedicine is telehealth, but not all telehealth is telemedicine. Nevertheless, the general public shouldn't worry too much about this.
Telehealth Benefits and Advantages
Convenience - Seek medical advice anytime and anywhere with only a few clicks. Online medical consultation services can help you find the right doctor when you need it the most.
Better access - Now you can get medical care even if you live in far-flung places. Telehealth also gives better medical access to persons with disabilities, bedridden individuals, and other patients that may require special and urgent care.
Inexpensive - Because it's all online, consultation fees are rather cheaper compared to traditional checkups. Some companies even offer free online consultations.
Less anxiety - No need to feel the dreaded anxiety of entering a hospital or clinic just for a consultation. Having less anxiety when talking about your medical concern can help your doctor diagnose you better.
Better rapport - Doctors can develop better relationships with their patients because of the number of convenient ways patients can communicate with their doctors.
Reduced costs - Patients spend less when they set up consultations online while health institutions save money on their overheads, thanks to the convenience of online medical consultation platforms.
Read more: Does Health Insurance Cover COVID-19? What Filipinos Need to Know
Telehealth Services for Online Medical Consultation in the Philippines
If you're not feeling well, save the trip to the doctor's clinic and reduce your exposure to COVID-19. Check out these telehealth apps and websites today.
1. Medifi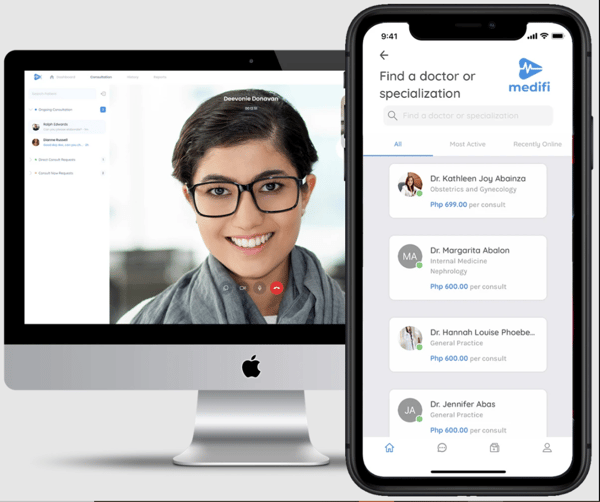 Consultation hours: 24/7
Consultation fee: ₱699
Medifi started operations in 2015 as a way to ease the "overburdened" healthcare system in the Philippines. As one of the few telehealth services operating 24/7, Medifi promises to connect you with a doctor online wherever you are. Through its official Medifi app, you can either connect with an online doctor randomly or search for a specialist of your choice.
How to Use the Medifi Consult Now Feature
Download the Medifi app[4] and create an account.
From the Medifi homepage, tap Consult Now.
Type your medical concern on the text box provided.
Pay the fixed consultation fee of ₱699.
After paying, an online doctor will now address your medical concern.
How to Use the Medifi Find Your Doctor Feature
From the Medifi homepage, tap Find Your Doctor.
A list of online doctors will then appear, along with their respective consultation fees.
Choose the doctor you want by tapping their name.
Tap Talk to Doctor and type your medical concern on the space provided.
Pay the consultation fee of the doctor and wait for your consultation.
2. KonsultaMD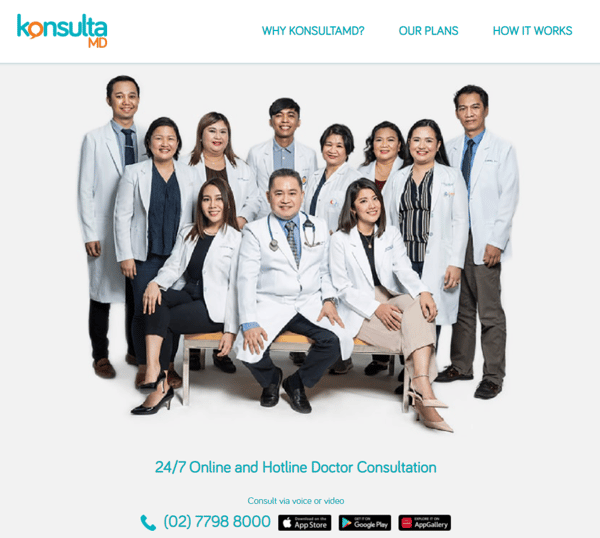 Consultation hours: 24/7
Consultation hotline: (02) 7798-8000
KonsultaMD is a 24/7 hotline service that provides medical assistance over the phone. Patients can sign up for an annual subscription and they can also get a group plan of up to five members. KonsultaMD partnered with established health institutions, including AC Health, Hi-Precision Diagnostics, MetroDental, Aventus Medical Care, and Qualimed, among others.
There are three KonsultaMD health plans to choose from:
Personal (₱499) - membership for 12 months, 1 member, 12 video consults
Partner (₱799) - membership for 12 months, 2 members, 24 video consults
Family (₱999) - membership for 12 months, 5 members, 48 video consults
All Health Plans are inclusive of unlimited voice consults plus access to partner benefits, e-medical certificates, e-laboratory requests, and e-prescriptions.
How to Subscribe to KonsultaMD
Visit the KonsultaMD website[5] and choose a plan.
Call the KonsultaMD hotlines and follow the instructions.
Download the KonsultaMD app, sign up with your mobile number or Google/Facebook account, and follow the instructions. The app is available in the Google Play Store and the Apple App Store.
Visit your nearest Globe Store and apply from there.
3. HealthNow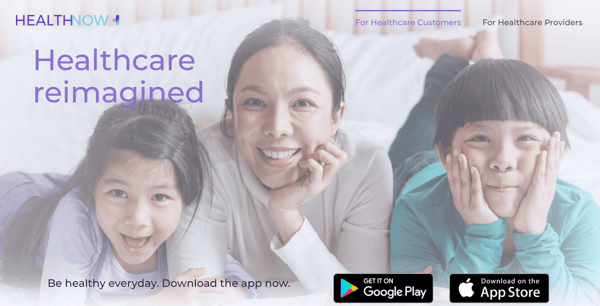 Consultation hours: 24/7
Consultation hotline: Video call through the HealthNow app
HealthNow sets itself apart from other telehealth services in the Philippines by providing 24/7 online medical consultation via video conferencing. You can interact with doctors anytime and anywhere through a video call using the HealthNow mobile app.
HealthNow offers two types of online medical consultation services: the Consult Now and the Consult Later.
Consult Now is an on-demand service that allows you to get instant medical advice from a licensed general practitioner. Alternatively, you can avail of Consult Later by booking a schedule with a doctor and paying for the consultation fee before your appointment.
Each consultation lasts about 20 minutes. Maximize your consultation call by listing down the symptoms you're having and tracking your vital signs beforehand. Also, it's best to prepare your medical history and other important facts your doctor needs to know.
How to Use the HealthNow App
Launch the HealthNow app.[6] If you need to talk to a doctor right now, select Consult Now. Choose Consult Later if you want to set a future preferred date and time.
Pay for your consultation.
You'll find your queue number while waiting for your turn, and you'll get a reminder five minutes before your consultation (for Consult Later).
Click Enter Consultation Room to join the video call.
4. AIDE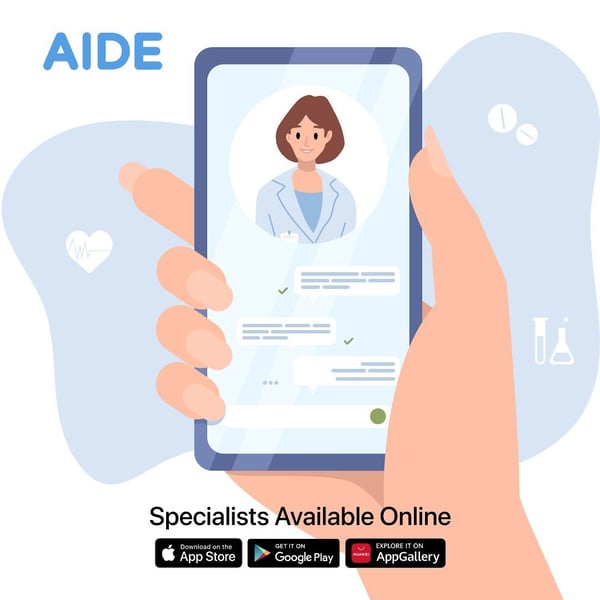 Consultation hours: 24/7
Consultation fee: Professional fees and consultation fees vary
While AIDE is widely known as a home health care platform, it also launched its online medical consultation feature on its app. With this, AIDE now has one of the most robust online telehealth services out there. Its services include laboratory testing, physical therapy, vaccination, and nursing care, among many others.
How to Use the AIDE App
Download the AIDE app[7] and create an account.
Choose the medical service that you need.
Fill in the request form with your complete details. You'll then see offers from different medical professionals.
Make your payment to confirm your online consultation appointment.
5. DOCPH

Consultation hours: 9 a.m. to 9 p.m. daily
Consultation fee: Free
In an effort to help combat COVID-19 remotely, the Philippine Medical Association (PMA) launched its very own online medical consultation platform. The best part? It's all free and it's all on Facebook Messenger. At least 100 doctors volunteered to be part of DOCPH. According to the PMA, they're planning to make it a round-the-clock service moving forward.
To get an online medical consultation from DOCPH, just visit the DOCPH website[8] and click the consultation button. This will lead you to its Facebook messenger profile. From there, you just need to answer at least 12 questions related to your medical history prior to your consultation.
6. DOH COVID-19 Hotlines
Consultation hours: 24/7
Consultation hotline:
1555 for mobile (toll-free for Smart/TNT subscribers)
02-894-26843
The Department of Health also has its telehealth hotlines to help combat COVID-19. In partnership with PLDT and the Department of Interior and Local Government, everyone with a phone can now call the DOH directly for their COVID-19 concerns. Smart and PLDT customers can call the hotlines toll-free, making it a good alternative for KonsultaMD.
Watch the video below to learn more about the Department of Health's free telemedicine consultations in Metro Manila.
7. Generika Libreng Telekonsulta
To help Filipinos during this health crisis, Generika Drugstore also made its free medical consultation service available through the phone. The Libreng Tele-Konsulta is available at Generika branches nationwide. Just visit the official Facebook page of Generika[9] to get the updated Libreng Telekonsulta schedules.
8. Bayanihan E-Konsulta
Opened by the Office of the Vice President, Bayanihan E-Konsulta offers free teleconsultation services for outpatient cases in NCR. It caters to Filipinos who don't have access to doctors or telecommunication platforms.
To avail the free service, just go to the Bayanihan E-Konsulta Facebook page[10] and click Send Message to get started. You'll need to fill out a questionnaire about your health concerns to help determine if you need emergency medical care or not.
For emergency cases, Bayanihan E-Konsulta can also help patients access the One Hospital Command Center.
Related:
Final Thoughts
Innovation will always spring out of necessity. Thanks to platforms that provide online medical consultation in the Philippines, you can now consult medical professionals with relative ease. And in the midst of the COVID-19 pandemic, Filipinos now have these platforms at their disposal to help prevent and combat the dreaded virus.

Sources: