Did you know that October is Breast Cancer Awareness Month? Pink October, as it's often called, is a global health campaign that puts breast cancer awareness at the forefront of global conversation.
This campaign is a relatively established one, dating back to 1985 in the United States when the American Cancer Society partnered with Imperial Chemical Industries Pharmaceuticals to promote mammography as the best tool to fight breast cancer.[1]
In the 1990s, the pink ribbon emerged as the ultimate emblem for breast cancer awareness—hence the long-running moniker, "Pink October." To this day, the pink ribbon is used as a powerful visual reminder of the importance of early detection and prevention in fighting breast cancer.
Breast Cancer in the Philippines: An Overview
In the Philippines, this campaign is taken seriously as the danger posed by breast cancer is becoming more apparent. Breast cancer is the top cancer in terms of incidence among Filipino women, with over 27,000 new cases reported in 2020, according to the International Agency for Research on Cancer (IARC), an intergovernmental agency under the World Health Organization (WHO). In terms of fatality, it ranks third, with almost 10,000 deaths, just behind lung and liver cancer.[2]
Moreover, according to the Department of Health and the Philippine Cancer Society, three in every 100 Filipina women and one in every 1,000 men will be diagnosed with breast cancer in their lifetime.[3]
If there's a good time to learn about breast cancer in the Philippines, specifically the costs associated with it, it's now. Read on to find out more about the cost of fighting this pervasive disease.
Cost of Testing and Treating Breast Cancer in the Philippines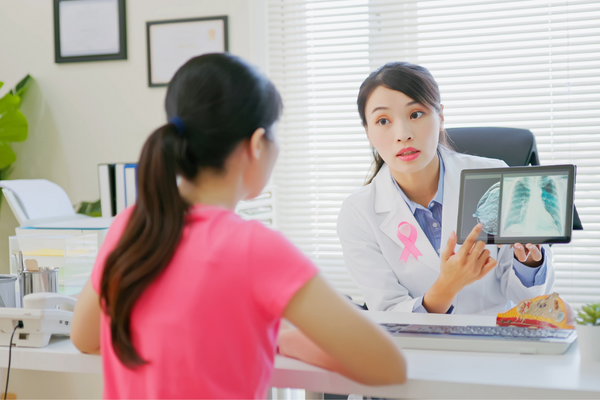 Now that we're observing Breast Cancer Awareness Month in the Philippines in 2023, it's important to spread as much information about this disease as possible.
Unfortunately, it's no surprise that cancer can cause significant adverse impacts on the economy and bring heavy financial burdens to patients and their families.
According to Val Ulep, Senior Research Fellow at the Philippine Institute for Development Studies (PIDS), the annual economic cost of cancer in the Philippines could reach ₱110 billion, equal to almost 1% of the country's gross domestic product. This staggering economic cost is felt more strongly by individual patients who shoulder out-of-pocket expenses.[4]
If you often find yourself asking questions about the cost of treating breast cancer in the Philippines, below are a few answers for you.
How Much Do Breast Cancer Tests Cost?
The costs of various breast cancer tests vary from one provider to the next. Below are some of the most common breast cancer tests and their price estimates.
🎀 Mammogram
Mammography is one of the best screening tools for breast cancer. Using a low-dose X-ray to produce images of the breasts can help detect small tumors and other abnormalities, which can lead to the early detection and treatment of breast cancer symptoms.
In the Philippines, a mammogram can cost between ₱1,500 to almost ₱10,000, depending on the treatment type and provider.
🎀 BRCA Gene Test
The BRCA test for breast cancer is a blood test that uses DNA analysis to detect mutations in the BRCA1 and BRCA2 genes, otherwise known as the breast cancer susceptibility genes.
Getting a negative result from the test doesn't necessarily mean that you're not at risk of breast cancer. It's still possible for you to have a gene mutation that hasn't been discovered yet.
In contrast, if your result comes out positive, then you have an increased risk of developing not just breast cancer but also ovarian cancer. Genetic counseling is advised for those who test positive for either one of the BRCA genes.
If you want to avail of genetic testing for breast cancer in the Philippines, prepare at least ₱5,000. Prices vary, but in the U.S., the costs usually fall somewhere between US$200 to US$5,000.
🎀 CT Scan
A Computed Tomography (CT) scan is a form of diagnostic radiology imaging that's used to look at the head, chest, and/or abdomen to see if breast cancer has metastasized to other organs, like the lymph nodes, lungs, liver, brain, and/or spine. Doctors typically order CT scans for cancers in more advanced stages.
In the Philippines, the cost of a CT scan for breast cancer can be somewhere between ₱4,000 to ₱10,000, depending on which part of the body is examined.
🎀 Breast Cancer Index Test
The Breast Cancer Index Test is taken to predict the risk of early-stage cancer coming back five to ten years after diagnosis. This test can help influence the decision of whether or not to extend hormonal therapy, and what the benefits of doing so could be.
How much does a breast cancer index test cost? In the U.S., the average cost is between US$3,000 to US$6,000. It's unclear how much this test costs in the Philippines, but prepare to shell out a hefty price if you plan on getting this test.
🎀 PET Scan
A Positron Emission Tomography (PET) scan is a non-invasive imaging test that's used to track any potential risks of breast cancer spreading to other parts of the body. PET scans can identify cancer-risk areas that a Magnetic Resonance Imaging (MRI) or CT scan might miss. When combined with a CT scan, a PET scan can provide cancer data (e.g., tumor's exact location, size, and configuration) with higher accuracy and greater detail.
The cost of a PET scan for breast cancer in the Philippines can be somewhere between ₱30,000 to over ₱100,000.
🎀 Breast Cancer Vaccine
There are still no known breast cancer vaccines in the Philippines. Breast cancer vaccines, unlike other cancer vaccines, are still in early clinical trials.
Based on a study conducted by researchers from the University of Washington School of Medicine in Seattle, U.S., the experimental tumor vaccine they're working with appears to be able to safely generate anti-tumor immunity with inconsequential side effects. The researchers are confident of its potential to become the breast cancer vaccine that everyone's been waiting for.
The cost of a breast cancer vaccine is still unknown. Pricing will depend on many factors, including how expensive it was to make, what methods were used, and how great the current demand is.
For reference, prostate cancer vaccines cost about US$100,000. Meanwhile, you might also want to check out other vaccine prices in the Philippines.
How Much Do Breast Cancer Treatments Cost?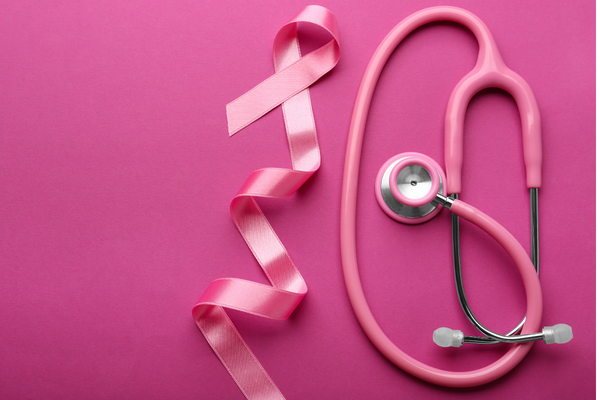 So how much does it cost to treat breast cancer in the Philippines? All told, breast cancer treatment can cost anywhere between ₱120,000 to over ₱1,000,000.
Here are some of the most common treatments for breast cancer in the Philippines:
🎀 Lumpectomy or Breast-Conserving Surgery
A lumpectomy is a type of breast-conserving surgery that's performed at the early stages of breast cancer to remove lumps in the breast as well as small margins of surrounding tissues and lymph nodes. This surgery leaves healthy breast tissues intact and preserves the natural look and shape of the breast.
To give you an idea of how much a lumpectomy is in the Philippines, the average cost for this breast cancer treatment without insurance is usually north of ₱100,000, although it can also be as low as ₱60,000.
🎀 Mastectomy
Unlike lumpectomy and other breast-conserving surgeries, mastectomy is a surgical procedure that completely eliminates cancer tissues by removing the breast in its entirety—including the lobules, ducts, fatty tissues, nipple, areola, and some skin. Mastectomy is often done when lumpectomy is no longer an option.
The cost of this breast cancer operation in the Philippines is usually somewhere between ₱100,000 to ₱250,000. PhilHealth can cover up to ₱22,000 for mastectomy.
🎀 Radiation Therapy
Typically performed after breast cancer surgery, radiation therapy is a procedure that uses controlled doses of radiation targeted at a tumor to destroy cancer cells and minimize their recurrence in the breast. This therapy may require five sessions per week for three to six weeks.
The cost of radiation therapy for breast cancer in the Philippines starts at ₱3,000 per session or up to ₱100,000 per case.
🎀 Chemotherapy
Chemotherapy is an example of systemic therapy, which involves the use of certain medications to destroy fast-growing cancer cells. It's the most common cancer treatment as it's relatively more affordable than newer cancer medicines.
While chemotherapy is not always necessary, some oncologists may require it for certain reasons, like if there's a high risk of cancer recurrence and metastasis, or if large tumors need to be shrunk before surgery. Chemotherapy can also be used to stop estrogen production.
The estimated cost per session of breast cancer chemotherapy in the Philippines ranges between ₱20,000 up to over ₱120,000.
🎀 Hormone Therapy
Hormone therapy is used to treat breast cancers that are found to be sensitive to hormones like estrogen and progesterone. This treatment works by stopping hormones from attaching to receptors on cancer cells, or by decreasing the body's production of hormones.
The cost of hormone therapy for breast cancer varies. It can be as low as ₱500 per month or as high as ₱5,000.
🎀 Targeted Therapy
Targeted therapy is a more effective way of treating cancer. It uses drugs that work better than chemotherapy drugs and with less severe side effects. Unlike chemotherapy, targeted therapy focuses on eliminating cancer cells instead of destroying other non-cancer cells, making it a safer and more ideal option.
There's only one catch: it comes with a steep price. Targeted therapy has been offered in the Philippines since 2011, but it's still not widely practiced because of its high cost, making access to it quite limited.
So, how much does this breast cancer treatment cost? Targeted therapy in the Philippines can cost anything between ₱300,000 to ₱450,000.
Although some public hospitals have started offering free targeted therapies for breast cancer patients, access to such programs is still limited because of budget constraints. The greater public remains unable to afford this treatment without financial assistance from breast cancer support institutions.
---
💳 Best Credit Cards for Hospital Bills in the Philippines
A credit card makes paying for medical expenses more manageable and convenient through installment plans and other money-saving features. If you don't have one yet, here are some of the best credit cards for medical and hospital-related transactions to consider:
Credit Card
Hospital-Related Benefits

HSBC Red Mastercard

0% interest installment plans
Cash installment plans
6% rebate on your first Caltex fuel spend; 3% after

HSBC Platinum Visa Rebate

₱10 million free travel insurance coverage
1% rebate on insurance payments
0% interest installment plans
3x bonus points on installment transactions
6% rebate on your first Caltex fuel spend; 3% after

BPI Amore Cashback Card

Special Installment Plan (SIP) to convert retail and online transactions worth at least ₱5,000 to installments
Fixed installments for up to 36 months
1% cashback on drugstore and bills payment spend

RCBC Flex Visa

2x reward points on two preferred categories, including health and wellness
Exchange points for shopping vouchers or redeem them as cash rebates

AUB Gold Mastercard

Flexibility to choose exactly when to pay your bill
1 rewards point for every ₱50 spend
No annual fees for life
---
Healthcare Coverage Options for Breast Cancer Treatment in the Philippines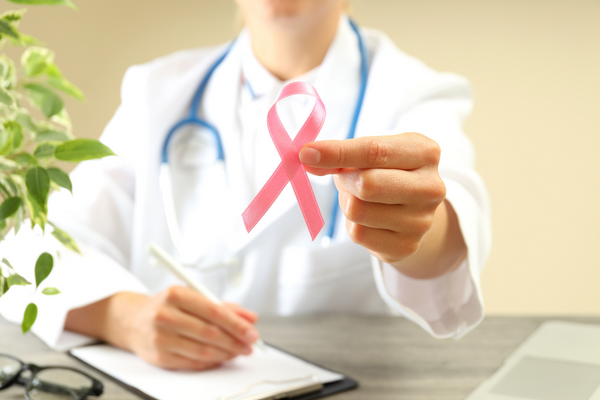 While efforts have been made to make cancer treatments more affordable, many patients still feel the sting of steep healthcare costs.
According to data gathered through the Cost of Illness of Cancer survey, about 15% of the cost of inpatient medical services in public hospitals and 41% in private hospitals are still paid for using patients' hard-earned money. Meanwhile, out-of-pocket spending for outpatient medical services rises to 29% in public hospitals and 65% in private hospitals.[5]
This is why it's crucial for patients to have breast cancer insurance coverage options to help defray healthcare expenses.
👉 Is Breast Cancer Treatment Covered by PhilHealth?
According to the same Cost of Illness of Cancer survey above, PhilHealth covers about 55% of inpatient spending in public hospitals and 46% in private hospitals. For outpatient spending, PhilHealth covers 24% in public hospitals and 8% in private hospitals.
There's also a breast cancer PhilHealth coverage option available for cancer patients, called the Z Benefits Package for catastrophic illnesses. This package offers ₱100,000 to patients diagnosed with early-stage breast cancer (i.e., stage 0 to IIIA). The package can be used to pay for therapy, surgery, laboratory exams, hospital room and board fees, medicine, and other medical service fees.[6]
To avail of the Z Benefits Package from PhilHealth for breast cancer treatment, just go to any PhilHealth contracted hospital or facility and connect with a coordinator from the start of your diagnosis up to the end of your treatment.
👉 Is Breast Cancer Treatment Covered by HMOs in the Philippines?
Breast cancer care is unequivocally expensive—it can drain your finances in one fell swoop.
The question is: Is breast cancer covered by insurance? If yes, how much does insurance cover for breast cancer? Also, does critical illness insurance cover breast cancer?
The short answer is yes, health maintenance organizations (HMO) typically cover costs related to breast cancer in the Philippines. Some have cancer coverage as an additional feature, while others have it as part of their insurance plans.
Most testing and treatment costs related to breast cancer—including mammography, CT scan, chemotherapy, radiotherapy, laboratory exams, hospitalization costs, and other necessary medical management services—are covered up to the policyholder's annual benefit limit.
Financial Assistance Options for Breast Cancer Patients
According to a study by Acta Medica Philippina, a peer-reviewed health science journal published by the University of the Philippines (UP), about 40.6% of cancer patients and their families experience financial problems upon cancer diagnosis due to the high costs of medical care. Out-of-pocket costs can ruin their finances entirely, leaving them to experience financial toxicity.[7]
It's for this reason—and the fact that around 70% of cancer cases affect indigent women—that breast cancer care must be subsidized and made more equitable for all. Check out below some of the programs that provide financial assistance for breast cancer patients in the Philippines:
💗 Cancer Assistance Fund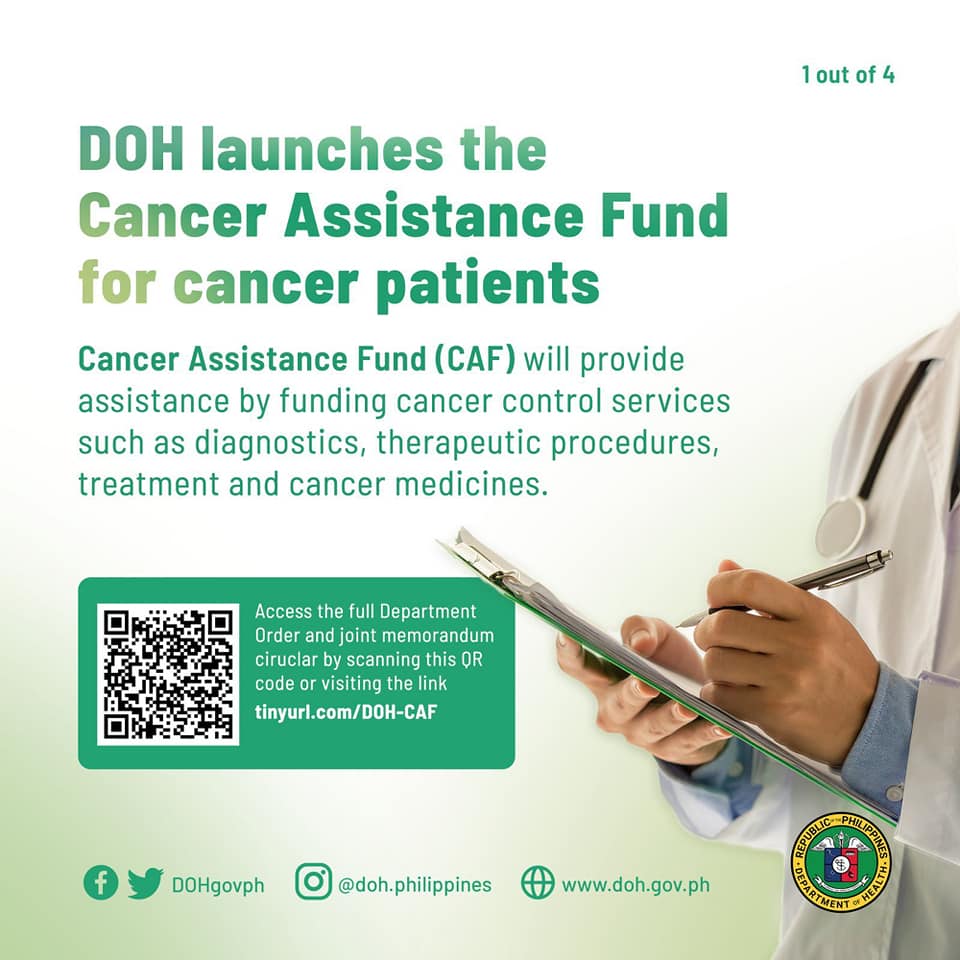 The Department of Budget and Management (DBM) and the Department of Health (DOH) released a Cancer Assistance Fund for 2023, amounting to a total of ₱529.2 million. The Cancer Assistance Fund is aimed at easing the financial burden caused by cancer by providing financial support to cancer patients, persons living with cancer, and cancer survivors.[8]
The fund can be used to defray outpatient and inpatient cancer control services, including diagnostics, therapeutic procedures, and other medicines needed for cancer care. Funding has been specified for eight priority cancer types, one of which is breast cancer.
The Cancer Assistance Fund can be used until December 31, 2023. To avail of it, just go to any breast cancer hospital in the Philippines where you're registered as a cancer patient.
There are 31 DOH hospital access sites and other health facilities all over the country that have been given funds for cancer treatments. See the list below to find the one nearest to you:
Hospitals with Cancer Assistance Fund
NCR

Amang Rodriguez Memorial Medical Center
East Avenue Medical Center
Jose R. Reyes Memorial Medical Center
Rizal Medical Center
Philippine General Hospital
National Kidney and Transplant Institute
Philippine Children's Medical Center
National Children's Hospital
Asian Hospital and Medical Center

Luzon

Baguio General Hospital and Medical Center
Region I Medical Center
Ilocos Training and Regional Medical Center
Mariano Marcos Memorial Hospital and Medical Center
Cagayan Valley Medical Center
Jose B. Lingad Memorial Regional Hospital
Bataan General Hospital and Medical Center
Dr. Paulino J. Garcia Memorial Research and Medical Center
Batangas Medical Center
Bicol Regional Teaching and Training Hospital

Visayas

Western Visayas Medical Center
Corazon Locsin Montelibano Memorial Regional Hospital
Western Visayas Center for Health Development
Vicente Sotto Memorial Medical Center
Eastern Visayas Medical Center

Mindanao

Zamboanga City Medical Center
Northern Mindanao Medical Center
Davao Regional Medical Center
Southern Philippines Medical Center
Cotabato Regional and Medical Center
Cotabato Sanitarium
💗 Malasakit Center
Patients and their families can go to any hospital's Malasakit Center to access government funding for cancer assistance and potentially avail of free cancer treatment.
The Malasakit Center is an all-in-one facility for multiple government agencies that offer financial aid to Filipinos. These agencies include the Philippine Health Insurance Corporation (PhilHealth), the Department of Health (DoH), the Philippine Charity Sweepstakes Office (PCSO), and the Department of Social Welfare and Development (DSWD).
Cancer patients who need financial assistance can go to the Malasakit Center to seek help. While no direct cash assistance is provided, patients can receive a guarantee letter amounting to a maximum of ₱150,000.
On top of that, aid will be allocated for diagnostic procedures and confinement, and patients can receive an allowance of up to ₱5,000 to help with other costs like medicine, food, and transportation.
💗 Other Support Programs and Groups That Provide Financial Aid
There are other government and non-government organizations that provide financial assistance to cancer patients. A comprehensive list of that and other cancer support groups is available on the Philippine Society of Medical Oncology website. A list of hospitals offering free consultations with medical oncologists is also available there.[9]
One of the prominent breast cancer foundations in the Philippines listed on the site is the Kasuso Philippine Foundation for Breast Care—a non-profit, volunteer-based organization that provides financial and emotional support to indigent patients. The foundation offers various programs that support breast cancer patients—two of which are the Boobie Botika, which facilitates access to affordable medicines and supplies; and the Bantay Bukol, which offers breast self-exam training and free breast screening.
Tips to Fight Breast Cancer in the Philippines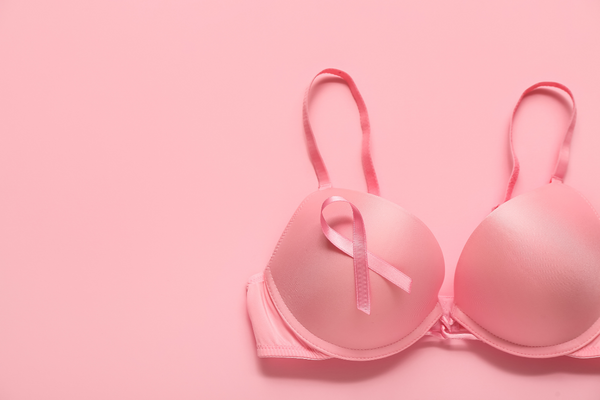 Getting cancer usually means not just one thing going wrong with your body but a medley of different things going haywire. But worry not—you can usually take some precautions to help you minimize your risk of developing cancer.
While there are factors that are out of your control, like your genes and the natural makeup of your body, there are also factors you can influence and change for the better—like your lifestyle and environment.
Below are some tips on how you can spread breast cancer awareness in the Philippines to help fight this deadly disease.
✔️ Adopt a Healthy Lifestyle
You've probably heard of this a million times before. It might sound stale by now—but adopting a healthy lifestyle is often the simple solution to preventing many diseases, including cancer.
If you can, adjust your eating habits to add more healthy foods to your diet. Cost doesn't have to be a big obstacle as there's a way for you to eat healthily on a budget.
Also, try your best to develop good sleeping patterns to allow your body to regenerate properly every day. Finally, plan your daily errands in a way that lets you maximize physical activities on the daily.
While having a healthy lifestyle is not always a guarantee that you'll never develop cancer, it sure does help lower your risks of getting it.
✔️ Avoid Risk Factors
Apart from adopting a healthy lifestyle, also avoid the most common risk factors for breast cancer. Obesity and alcohol consumption are a part of that list. A personal history of a benign breast disease and a reproductive history that highly exposed you to estrogen are also factors to watch out for.
Moreover, being more advanced in age and having dense breast tissue can also put you at a greater risk for breast cancer. Certain therapies also heighten your risk, specifically taking hormone therapy for symptoms of menopause and radiation therapy to the breast or chest area.[10]
If you have an inherited risk of breast cancer, talk to your doctor immediately about how you can manage that risk and protect yourself better. Schedule an online medical consultation, or pay a quick visit to the hospital before it's too late.
✔️ Initiate Preventive Screening
Time is of the essence when it comes to fighting cancers of all sorts. That's why it's important to be proactive in seeking immediate early screening or medical help. Look for preventive interventions and attend comprehensive cancer screening programs to educate yourself and your loved ones about breast cancer.
Detecting any cancer symptoms early on can make all the difference in saving your life. Also, it can significantly bring down the costs of breast cancer care, giving you access to more affordable treatments in the long run.
Final Thoughts
Local efforts to fight breast cancer in the Philippines exist, and many of them truly help spread awareness about this fatal disease. Still, for lasting change to happen in the country, we need more investments, proper legislation, and centralized healthcare infrastructure to make breast cancer prevention, diagnostics, and treatment affordable for everyone. Doing so will ultimately minimize the number of breast cancer incidents and improve survival rates.
Apart from these macro-level solutions, there are also some things you can do on an individual level to lower your risk of developing breast cancer and improve your chances of survival if it ever strikes you. Make sure to do everything you can to achieve the best-case scenario. While cancer is neither unavoidable nor unbeatable, you still need to do your part in fighting it.
Good luck in spreading the word. And, remember—as trite as the saying goes, health truly is wealth!
Sources:
DISCLAIMER: Every content and media on the Moneymax blog is created and published online for informational purposes only. It is not intended to serve as a substitute for professional medical advice.
Always seek the guidance of your doctor or any other qualified health professional with questions regarding your health or medical condition. Never disregard or delay following the advice of a medical professional because of something you read on the Moneymax blog. If you choose to rely on any information provided by Moneymax, you do so solely at your own risk.
If you think you have a medical emergency, call your doctor, go to the nearest hospital, or call emergency services immediately.