If you own a cellphone with a prepaid or postpaid SIM card, chances are you've had enough of those scammy text messages flooding your inbox. With the SIM card registration law in the Philippines, Filipinos will hopefully stop receiving these malicious messages from unknown random numbers, curbing the proliferation of online fraud.
SIM card registration in the Philippines is nearing its deadline. If you haven't registered your SIM yet, here are some essential things you need to know.
What is SIM Card Registration?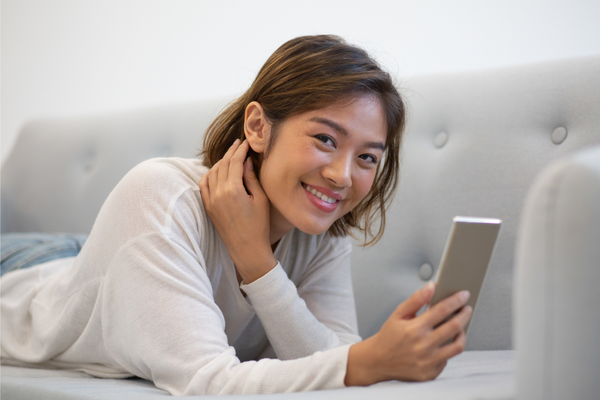 Under the SIM Card Registration Act of the Philippines (Republic Act No. 11934),[1] all Philippine subscriber identity module (SIM) cards must be registered. The SIM owner's personal information is attached to the registration and acts as its unique identifier.
This SIM card registration policy covers all individuals—including foreigners—and corporate entities using SIM cards bought in the Philippines for mobile phones and modems.
SIM card registration in the Philippines started last December 27, 2022. Whether you have a physical or embedded SIM (also called eSIM), you need to register it until the April 26, 2023 deadline to avoid SIM deactivation.
If you purchased a new SIM on or after December 27, 2022, you must register it before it can be activated.
👉 Why is SIM Card Registration in the Philippines Mandatory?
SIM registration in the Philippines makes it easier for authorities to prevent and investigate cybercrimes involving SIM cards. It also protects consumers from online and mobile fraud, which has increased over the years.
In the past, fraudsters could easily purchase new SIM cards without linking their personal information. As such, they could use these cards for criminal activities without getting caught.
Under the SIM card registration law in the Philippines, all SIM cards sold by telcos, authorized distributors, and resellers will be activated only after you register the SIM card via its authorized registration platform.
Worried about your data privacy? Under the Act's confidentiality clause, all data collected will be treated as strictly confidential.
👉 What Happens If You Fail to Register Your SIM Card?
If you fail to register your SIM card on or before the deadline, your SIM card will be deactivated. Obviously, this means you won't be able to make outgoing calls, receive incoming calls, or send and receive text messages. Your remaining load balance will be forfeited if your SIM card is deactivated.
Without a SIM card, you also won't be able to subscribe to prepaid data packages. Without a data connection, you won't be able to access your email and favorite apps.
More importantly, however, you won't be able to receive one-time passwords (OTPs), which are standard security features not just in shopping and social media, but also in online banking. If you can't receive OTPs via your mobile number, you'll find it difficult to access your bank accounts.
Plus, an active mobile number is typically a requirement when it comes to applying for credit cards or loans. If you fail to register your SIM, you'll miss out on important credit card or loan notifications regarding your application status, payment reminders, promos, and other matters.
👉 Is the

SIM Card Registration

Extended?
Good news for those who have not registered their SIM yet: the registration has been extended for another 90 days. President Ferdinand Marcos Jr. has approved the SIM card registration extension, according to the Department of Information and Communications Technology (DICT).[2]
This means mobile subscribers in the Philippines can still register their SIM cards until July 25, 2023. However, those who failed to register on or before the original April 26 deadline will have limited access to their network operator's services (such as unavailability of social media apps) until they've finally registered.
SIM card registration in the Philippines is free and takes only a few minutes. Finish it earlier than the deadline to avoid the rush and the hassle of getting your SIM card deactivated because of non-compliance.
Read more:
Where to Register Your SIM Card in the Philippines
Now you might wonder, "Can I register my SIM card online?" Yes, you can visit your telco's secure SIM card registration online platform to complete your SIM card registration. Just fill out the registration form electronically.
Check out this quick guide on how to register your SIM card in the Philippines: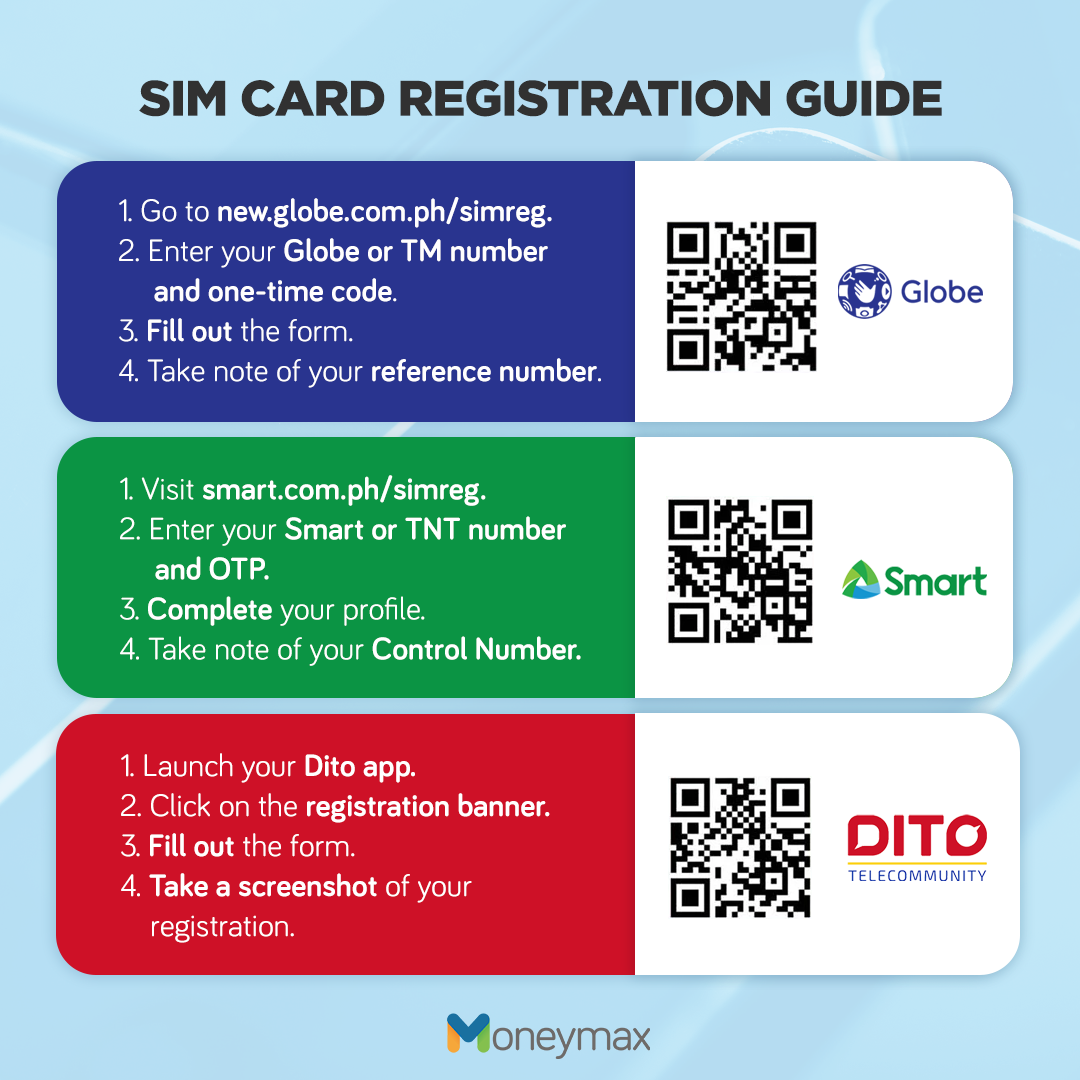 Read on for a more in-depth guide for each service provider.
📌 How to Register SIM Card

from Globe or TM
Complete your prepaid Globe and TM SIM card registration by following these steps:
Go to new.globe.com.ph/simreg.

[3]

Enter your 10-digit Globe or TM mobile number and click

Register

.

Key in the one-time code that will be sent to your number.

Fill out the online form to verify your identity. You must provide your full name, address, date of birth, and gender. You'll also need to provide a valid ID and its ID number.

Take a selfie or upload a photo of your valid ID. The maximum file size is 2MB.

Tick the boxes and click

Next

to complete your registration.

Note the reference number, which will serve as your

SIM card registration control number

.

Globe will also send an SMS regarding your successful SIM card registration.
You may also register your prepaid SIM card via the Globe One app. If you're using only a basic phone or don't have internet access, you can proceed to any assisted registration hubs and on-site booths nationwide to help you register your Globe or TM prepaid SIM.
Meanwhile, existing Globe postpaid and Platinum subscribers can confirm their SIM registration by texting SIMREG [account number] [landline/SHP number] and then sending it to 8080.
LTE@Home customers can confirm their SIM registration by waiting for the text from GLOBEATHOME and then texting SIMREG to 268204.
Globe Business accounts billed under corporate individuals can complete their SIM registration by texting SIMREG to 8080 or registering via the SIM registration microsite.
📌 How to Register SIM Card

from Smart or TNT
To register the number of your Smart prepaid SIM online, follow the steps below. These instructions also apply if you have a TNT SIM.
Visit smart.com.ph/simreg.

[4]

Enter your 10-digit Smart or TNT mobile number and tick the Terms and Conditions and Privacy Notice boxes.

Click

Send OTP

.

Enter the code and click

Verify OTP

.

Complete your profile and attach a copy of a valid government ID.

Take note of your

SIM card registration control number

for further validation. You may also receive a call or an SMS regarding your successful SIM card registration.
Alternatively, you can visit any Smart Store or call the Smart Hotline (*888 from your Smart or TNT mobile or 02 8888 1111 from your landline) to register. You may also register via the GigaLife App or Smart FB Messenger.
Smart postpaid subscribers' Subscriber Application Form and submitted documents will serve as their SIM card registration. To confirm this, subscribers only need to text YES and send it to 5858. They will receive a successful SIM registration after (plus free 3 GB of data).
📌 How to Register SIM Card

from DITO
New Dito subscribers can proceed with their Dito SIM registration[5] by clicking the SMS link sent after inserting their Dito SIM card. If you're an existing subscriber, launch your Dito app, click the SIM Registration banner, and fill out the form.
As part of the registration process, Dito will collect your personal information, such as full name, address, date of birth, gender, ID, and ID number. Take a selfie with your valid ID and enter the OTP for verification. Click Submit, and that's it!
For your reference, take a screenshot of your successful SIM card registration.
FAQs on SIM Card Registration in the Philippines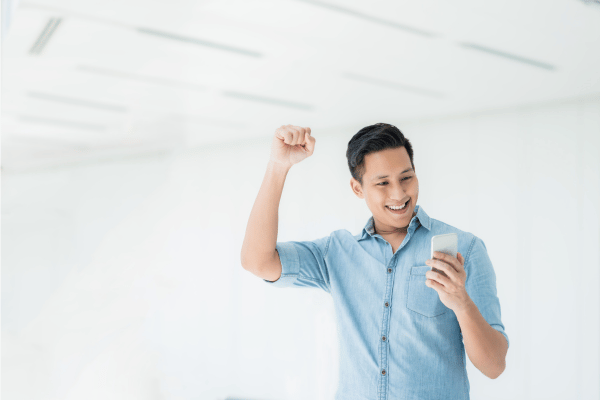 1. How much does a SIM card cost in the Philippines?
You can purchase a new SIM card for ₱29 to ₱49. But SIM cards also come with free data, which you can buy for ₱299 or ₱399, depending on the telco.
2. Does a SIM card have an expiry date?
When your SIM card has no load, you're given an extra three months (90 days) to reload and keep your prepaid SIM card active. If you fail to load within the additional 90 days, your SIM card will automatically expire, and your prepaid number will be disconnected.
3. What IDs are accepted for SIM card registration?
You can use any valid government-issued ID, such as your passport, PhilSys national ID, driver's license, etc., bearing your photo (for identity verification) to register your SIM card.
4. What is the SIM card registration process for children below 18 or those who don't have valid IDs?
You can register a minor's SIM card under the parent's or legal guardian's name.
5. I'm using a SIM for business. Who should register the SIM card?
If you're using a SIM card under your company name, it should be registered by the authorized company representative. They'll also be responsible for updating the telco on any changes in their business SIM.
6. Can I register more than one SIM card number in the Philippines?
Yes. You must register each new or active SIM card under your name. Visit your telco's SIM card registration page and follow the process for each SIM card.
7. Are foreigners required to register their SIM cards?
Yes. If you're a foreigner visiting the Philippines as a tourist, your registered SIM will be valid only for 30 days.
To register the SIM card, prepare the following requirements:
Passport

Return ticket to country of origin or another country

Proof of address in the Philippines (hotel booking or any other type of accommodation)
For foreigners holding a different type of visa, you should present the following:
Passport
Proof of address in the Philippines
Alien Certificate of Registration Identification Card (BOI), Alien Employment Permit (DOLE), or school registration or ID for students
8. Is there a way to reactivate a deactivated SIM card?
Yes, you can have your SIM card revived within five days after the registration deadline, according to the National Telecommunications Communication (NTC).
NTC Deputy Commissioner Jon Paulo Salvahan said that the SIM Card Registration law's implementing rules and regulations (IRR) allow for the reactivation of an automatically deactivated SIM.[6] However, the IRR doesn't state anything about how to restore deactivated SIM cards after the deadline.

9. Can I still keep my mobile number if my SIM gets deactivated for failure to register?
No, you can't use the same mobile number once it's deactivated. This is why you need to register your SIM card in the Philippines within the registration period.
10. What should I do if I lose my phone or device with my registered SIM card?
Report the lost SIM card immediately to your telco and provide your particulars and mobile number. Your telco will permanently disconnect your SIM and give you a new one with the same mobile number.
11. I registered my SIM card online but didn't receive a successful registration SMS. What should I do?
Try to input your SIM card number on the online registration portal. You should receive a prompt that the number is already registered. If not, proceed with the SIM registration steps again.
Related reading:
Final Thoughts
There are 170 million SIM cards to be registered within the 180 days set by the law,[7] so be patient if you're having difficulties accessing the registration portals. Do it during off-peak periods (late night or early morning) to increase your chances of a successful SIM card registration in the Philippines.
Moreover, be wary of emails or text messages inviting you to click on links to register your SIM. Don't click on these links to avoid potential threats, and don't provide any personal information.
To be safe, visit your telco's official SIM registration online portal to know its registration guidelines and complete your registration.

Sources: