Getting around the National Capital Region (NCR) or Metro Manila is undeniably stressful. And sometimes, there's no way of getting used to it. You may find yourself sitting too long in the jeepney that's trapped in a sea of vehicles, uncomfortably taking in the heat and the smoke. If you're willing to suffer the hellish traffic in the comforts of your taxi or Grab car, you may need to pay extra bucks.
In the midst of it all is a small reprieve that is the LRT-1. Serving around 500,000 passengers daily before the pandemic,[1] it's undoubtedly one of the most reliable public transportations in the metro. Sure, the trains sometimes get heavily packed, but they'll get you where you need to go.
Whether you're an expat who's new to the Philippines or a Filipino who's navigating Manila for the first time, this article details what you need to know about the LRT-1 stations.
What is LRT-1 and Where is It Located?
LRT-1 or Light Rail Transit Line 1 is a light rapid transit system in Metro Manila. Currently operated by the Light Rail Manila Corporation (LRMC), this train system is also known as the Green Line. It's one of the few existing train systems in the metro, the other being the Light Rail Transit Line 2 (LRT-2), the Metro Rail Transit (MRT Line 3), and the Philippine National Railways Metro Commuter Line.
With the inauguration of its first segment in 1984, LRT-1 is considered the first LRT system in Southeast Asia.[2] It traverses four cities in Metro Manila, namely Pasay, Manila, Caloocan, and Quezon City.
LRT-1 Stations List in the Philippines: What are the Stations of LRT Line 1?
Currently, there are 20 LRT-1 stations serving the key areas of the four cities mentioned above. Each station is close to important establishments, tourist attractions, and points of interest.
Before you hop aboard the train, familiarize yourself with the LRT-1 stations. That way, you'll get to your destination faster. From south to north, the order of the LRT-1 stations is as follows.
🚉 Baclaran Station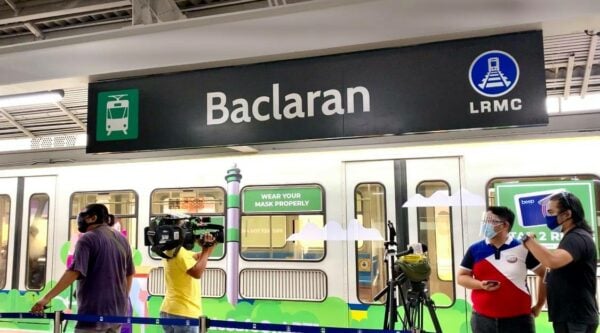 Baclaran is presently the southernmost station of LRT-1. As such, it accommodates thousands of passengers heading to various places in the north. Because it sits at the center of shops and flea markets, it's easily one of the busiest LRT-1 stations.
If you're traveling south of Luzon, a 15-minute ride can take you to the Parañaque Integrated Terminal Exchange (PITX), which is a hub for public vehicles going to Cavite, Batangas, and Bicol Region.
Nearby landmarks:
Ayala Malls Manila Bay
Baclaran Flea Market
Baclaran Redemptorist Church
Baclaran Shopping Center
Blue Bay Walk
City of Dreams
Coastal Mall
Ninoy Aquino International Airport (NAIA)
SM Mall of Asia
Solaire Resort and Casino
Read more: Never Miss a Flight Again: The Quickest Ways to Get to NAIA Terminals
🚉 EDSA Station
Named after one of the busiest thoroughfares in the metro, EDSA Station sits perpendicularly to the MRT, making it a transfer hub for commuters going north. Head down the station and you'll find a barrage of jeepneys and taxis plying EDSA and Taft Avenue. These can take you to different points in Metro Manila, such as Makati, Taguig, Parañaque, and Muntinlupa.
Several bus stations are situated close to the station. These include Victory Liner and Philtranco. It's also the LRT station that gives you direct access to SM Mall of Asia, which is just one jeepney ride away.
Nearby landmarks:
Heritage Hotel
Manila Tytana College
Metropoint Mall
Philippine Senate
San Juan de Dios Hospital
Saver's Square
SM Mall of Asia
The Dessert Musuem
🚉 Libertad Station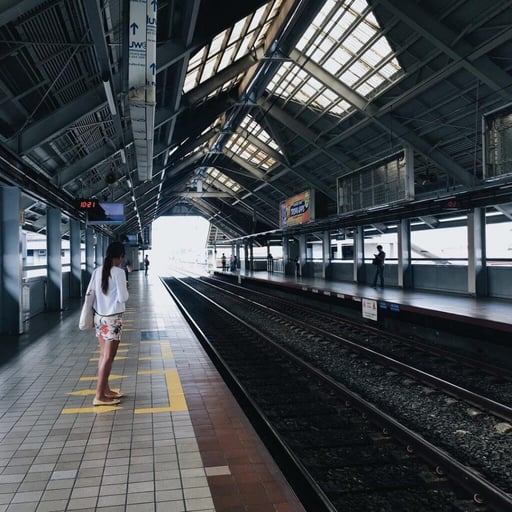 Also known as Arnaiz Station, Libertad is one of the LRT-1 stations found in Pasay City. Alight at this station if you're visiting the US Embassy Annex or the Japanese Embassy, both located along Roxas Boulevard. At the foot of the station, you'll find jeepneys bound for different parts of Pasay. Along Arnaiz Avenue itself, there are several jeepneys going to Makati.
Arnaiz Station is also filled with shops and restaurants, making it yet another busy station in the LRT-1 system.
Nearby landmarks:
Cartimar Shopping Center
Cuneta Astrodome
Dampa sa Pasay
Department of Foreign Affairs
HK Sun Plaza
Japanese Embassy
Libertad Market
Mary's Academy Pasay
Pamantasan ng Lungsod ng Pasay
Pasay City Hall
US Embassy (Annex)
Victory Pasay Mall
🚉 Gil Puyat Station
Going to Makati City? Gil Puyat is your LRT-1 station. Strategically located in the midst of Buendia and Taft Avenue, Gil Puyat is a transport hub for commuters headed to Laguna, Batangas, Lucena, and Manila. If you're going to SM Mall of Asia and you miss your stop at EDSA station, you can alight here and take a multicab to reach your destination.
Important establishments, such as the World Trade Center, the Cultural Center of the Philippines (CCP), and the Philippine International Convention Center (PICC), are just one taxi ride away from Gil Puyat Station.
Nearby landmarks:
Arellano University
Buendia Food by the Court
CCP Complex
GSIS Complex
Philippine Law School
Philippine Senate
SM Mall of Asia
Star City
Upside Down Museum
World Trade Center
🚉 Vito Cruz Station
When you reach Vito Cruz station, you may feel like you're entering a new territory, as most of the passengers alighting and hopping aboard are students. And that's because the station is close to De La Salle University (DLSU), De La Salle-College of Saint Benilde (DLS-CSB), and Saint Scholastica's College. You can also reach the CCP complex and the PICC via this station. In case you're catching a sports event at the Rizal Memorial Sports Complex, remember to alight here, since the said venue is just right behind DLSU.
Vito Cruz also serves the denizens of Malate, a district in Manila, and Makati City.
Nearby landmarks:
Bangko Sentral ng Pilipinas
Coconut Palace
DLSU - College of Saint Benilde
Cultural Center of the Philippines
De La Salle University
Folk Arts Theater
Harrison Plaza
Manila Film Center
St. Scholastica's College
Rizal Memorial Sports Complex
🚉 Quirino Station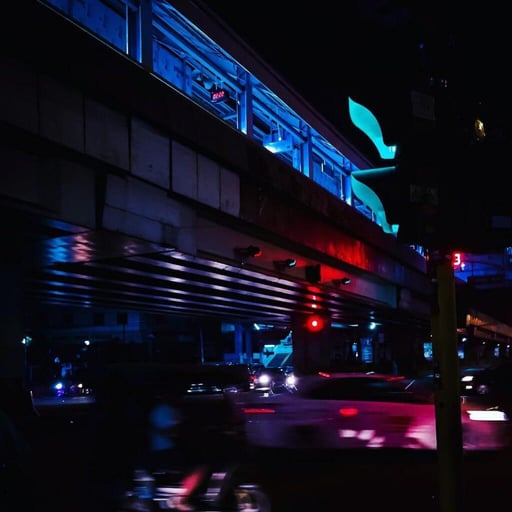 Like Vito Cruz, Quirino station also serves most of the Malate area. The station sits at the intersection of Quirino Avenue, Taft Avenue, and San Andres Street, making it a busy area. This is an advantage since it won't be hard to hail a taxi, a jeep, or a bus going to various points around and outside Malate.
If your family is out for the day and wants to go sightseeing at Manila Zoo, alight at this station and ride a taxi bound for Roxas Boulevard. And since you're here, go further ahead to reach Manila Baywalk where you can watch the iconic Manila Bay sunset.
Nearby landmarks:
Adriatico Street
Malate Catholic School
Malate Church
Manila Yacht Club
Manila Zoo
Ospital ng Maynila Medical Center
Plaza Rajah Sulayman
Remedios Circle
🚉 Pedro Gil Station
Sometimes called Herran station, Pedro Gil is the 7th station if you're headed towards Roosevelt, which is the northern terminus of the LRT-1 system. Located at the corner of Taft Avenue and Pedro Gil Street, the station lies close to many universities and colleges, so you'll definitely find many students around.
And because it's within Ermita, one of Manila's key commercial districts, expect that you'll bump into a lot of employees. The area is also teeming with hotels, restaurants, and shops, catering to both local and foreign tourists.
Nearby landmarks:
Hyatt Hotel and Casino Manila
Paco Park
Philippine Christian University
Philippine General Hospital
Philippine Women's University
Robinsons Place Manila
Saint Paul University – Manila
University of the Philippines Manila
🚉 UN Avenue Station
Not too far from Pedro Gil Station is the United Nations or UN Avenue Station. This is one of the most strategically located LRT-1 stations because it's close to various government offices, tourist attractions, and universities.
Perhaps, the most recognizable attraction is the Rizal Park, which is just a stone's throw away from the station. About a 12-minute walk due west via UN Avenue can take you to the US Embassy along Roxas Boulevard.
Nearby landmarks:
Adamson University
Department of Justice
Department of Tourism
Emilio Aguinaldo College
Luneta Park
Malacañang Park
Manila Ocean Park
National Bureau of Investigation
National Library
National Museum Complex
National Planetarium
Philippine Normal University
Rizal Park and Monument
Supreme Court of the Philippines
Technological University of the Philippines
US Embassy
🚉 Central Terminal Station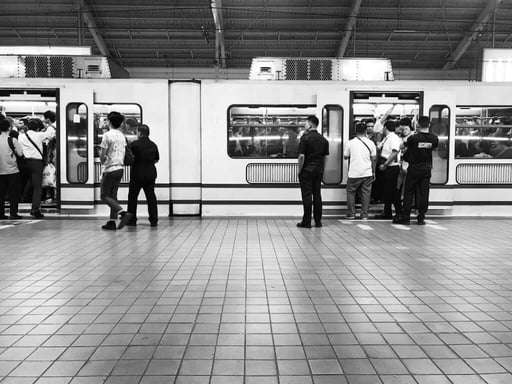 This is the perfect LRT-1 station if you're planning a walking tour around Old Manila. Just cross Taft Avenue and you'll find Intramuros or the walled city that houses historic spots, such as the Manila Cathedral, Fort Santiago, and Baluarte de San Diego, among others.
Want to go museum hopping? The National Museum of Fine Arts and the National Museum of Anthropology are just a few minutes' walk away. While you're at it, you may want to pay Rizal Park a visit.
Central Terminal Station caters to a lot of students since it's close to the University Belt, which includes nearby schools, such as Colegio de San Juan de Letran, Philippine Normal University, Mapua University, and Pamantasan ng Lungsod ng Maynila. Furthermore, it allows you to visit other parts of Metro Manila via Ilog Pasig. This is because the Pasig River Ferry Service has a station in Lawton.
Nearby landmarks:
Colegio de San Juan de Letran
Fort Santiago
Intramuros Complex
Liwasang Bonifacio
Lyceum of the Philippines University
Manila Central Post Office
Manila City Hall
Manila Metropolitan Theater
Mapua Institute of Technology
National Museum of Anthropology
National Museum of Fine Arts
Philippine Normal University
🚉 Carriedo Station
Love indulging in gastronomic adventures and shopping? Carriedo, which sits close to Binondo and Divisoria, is definitely your station. Take note, though, that this station is near Manila's other two important districts namely Quiapo and Santa Cruz. So, if you're a devout Catholic, you can alight at Carriedo to get to Santa Cruz Church or Quiapo Church.
Head southwest and you'll reach Escolta where you'll find various heritage buildings and restaurants. If you're into arts and culture, don't miss HUB Make Lab, which is a collective of indie brands selling clothes, antiques, and DIY items.
Nearby landmarks:
Arroceros Forest Park
Binondo
Chinatown Arch
Escolta Street
FEU
Liwasang Bonifacio
Philippine Postal Corporation
Plaza Lacson
Quiapo Church

🚉 Doroteo Jose Station
Doroteo who? Named after a local hero, Doroteo Jose is an aboveground LRT-1 terminal located in Manila's Sta Cruz district. If you're heading east of Metro Manila, this LRT-1 station serves as your transfer point since it's connected to LRT-2. Alight at this station and take the walkway leading to the LRT-2 Recto Station. From there, you can take a train going to New Manila, Cubao, or Marikina.
If you love shopping and bargain hunting, you can access Tutuban Center and various Divisoria malls through this station. It also sits near many universities, such as the Far Eastern University and University of the East. There are even a handful of provincial bus terminals here that serve passengers bound for various points in Luzon, such as Pampanga, Pangasinan, Bataan, Tarlac, and Benguet.
Nearby landmarks:
Bataan Transit
Divisoria Mall
Fabella Memorial Hospital
Far Eastern University (FEU)
Genesis Transport Service
Isetann Cinema Recto
Manila Grand Opera Hotel
Philippine Rabbit Bus Lines
🚉 Bambang Station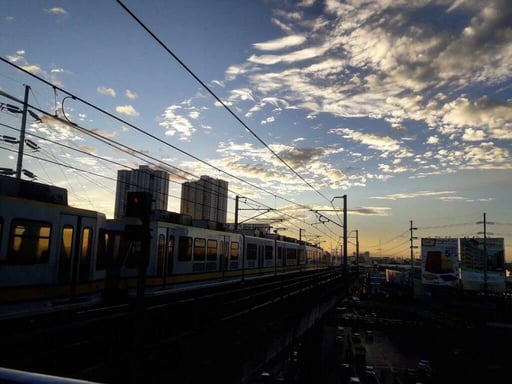 This is one of the LRT-1 stations serving the Santa Cruz district. Named after the street right beside the station, Bambang gives you access to the University of Santo Tomas. It's also close to some hospitals, such as Jose Reyes Memorial Medical Center and San Lazaro Hospital.
Probably because of its proximity to universities and hospitals, the neighborhood has a wealth of medical supplies shops. So, if you're a medical sciences student looking for more affordable tools and supplies, remember to alight at this station.
Nearby landmarks:
Bambang Medical Supplies
Hope Christian School
Jose Reyes Memorial Medical Center
Metropolitan Medical Center
Saint Stephen's High School
San Lazaro Hospital
Teodora Alonzo High School
University of Santo Tomas (UST)
🚉 Tayuman Station
Tayuman is another LRT-1 station located in the Santa Cruz district. This is where you should alight if you're planning to buy flowers from Dangwa, a wholesale flower market in Sampaloc, Manila. It's also close to SM City San Lazaro. If you're coming from the north and you're heading to San Lazaro Hospital and Jose Reyes Memorial Medical center, you may choose to get off this station.
Nearby landmarks:
Dangwa Flower Market
Dapitan Market
Department of Health (Head Office)
Espirito Santo Church
San Lazaro Hospital
🚉 Blumentritt Station
Blumentritt station caters to three of Manila's districts, such as Santa Cruz, Tondo, and Sampaloc. It also connects you to PNR Blumentritt Station. If you're from the north and you're heading to the southeast side of Manila (e.g., Makati, Taguig, etc.), you can alight at this station and get aboard the PNR train. You'll also find jeepneys and taxis plying Rizal Avenue.
Nearby landmarks:
Blumentritt Flea Market
Chinese General Hospital
Manila North Cemetery
San Roque de Manila Parish
SM San Lazaro
🚉 Abad Santos Station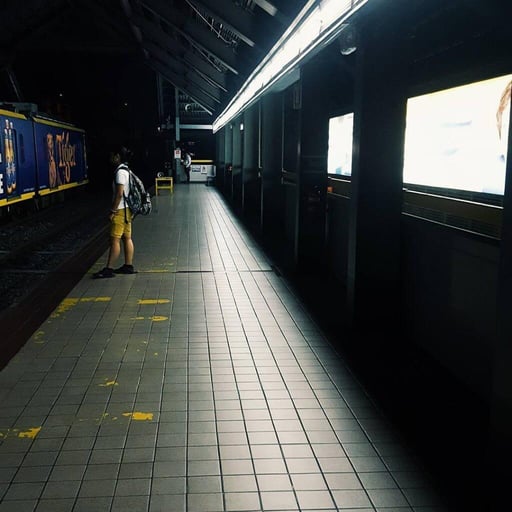 Named after the nearby Abad Santos Avenue, this LRT-1 station serves the districts of Tondo and Santa Cruz. Just below the terminal, you can find jeepneys and tricycles that will take you to the inner roads of both Tondo and Santa Cruz.
Nearby landmarks:
Joseph School
Manila Chinese Cemetery
Mila's Lechon and other lechon stores in La Loma
Ospital ng Tondo
🚉 R. Papa Station
Sitting next to Ricardo Papa Street, R. Papa is one of the LRT-1 stations that serve Tondo. If you're bound for Caloocan or Quezon City, this will be your last station in the city of Manila. Facing north, R. Papa is bounded by residential neighborhoods in the west and by the Manila Chinese Cemetery in the east. Commuters heading to La Loma Cemetery typically alight at this line.
Nearby landmarks:
Barrio Ebrero Elementary School
La Loma Cemetery
La Loma Church
Marulas Elementary School
🚉 5th Avenue Station
As you leave Manila and enter Caloocan, the first LRT-1 station that will welcome you is 5th Avenue. It was named after the nearby 5th Avenue or C-3 road. Below the station, you can hail a jeepney or a bus to reach your intended destination within Caloocan.
Nearby landmarks:
Northern Rizal Yorkin Chinese School
Philippine Cultural College
Thai To Taoist Temple Pagoda
Ung Siu Si Buddhist Temple
🚉 Monumento Station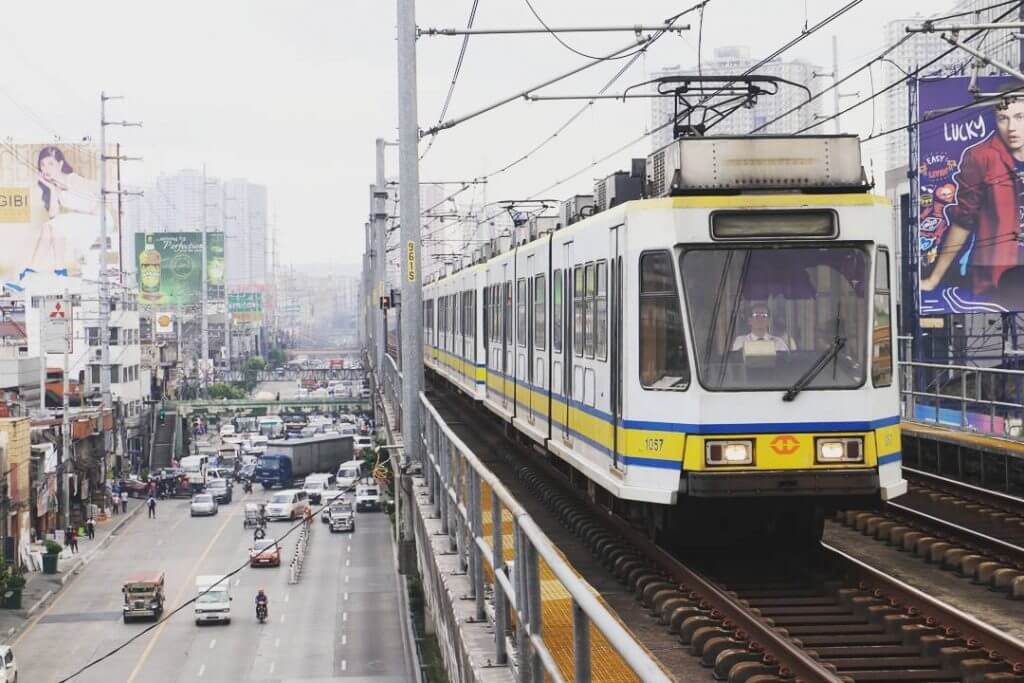 Together with 5th Avenue, Monumento makes up the two LRT-1 stations serving the city of Caloocan. This LRT-1 route is not hard to miss, as it's surrounded by various shops and landmarks. The most iconic of them is the Bonifacio Monument from which the station's name was derived.
Alight at this station if you're heading towards Malabon, Navotas, Valenzuela, and other parts of Caloocan. Right below the terminal, you will find jeepneys going to Samson Road and MacArthur Highway.
Nearby landmarks:
Araneta Square Mall
Caloocan City Public Library
Malabon Zoo
Monumento Circle
Our Lady of Grace Shrine
Parco Supermarket
Puregold Monumento
SM City Grand Central
University of the East Caloocan
Victory Central Mall
🚉 Balintawak Station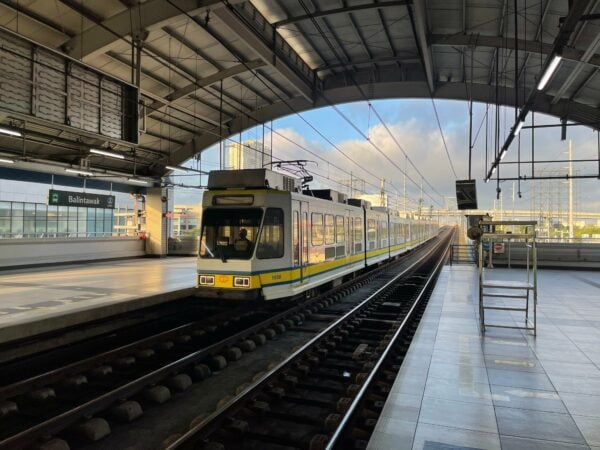 As you leave Caloocan, the LRT-1 line will make a turn to the east, taking you to Quezon City. Once you're in Quezon City, the first station that you'll find is Balintawak. Opened in 2010, this is one of the most recent additions to the LRT-1 route.
Balintawak's strategic location draws in commuters from both Quezon City and Caloocan. Once you're at the foot of the station, you'll notice that you've somehow come full circle since you're at EDSA again.
Nearby landmarks:
Ayala Malls Cloverleaf
Balintawak Home Depot
Balintawak Market
Cry of Balintawak Monument
EDSA-Cloverleaf Interchange
Joseph the Worker Parish Church
Landers Superstore
Metro Manila Skyway
The Cloverleaf Estate
Wilcon Builders Depot
🚉 Roosevelt Station (Closed)
Roosevelt is the last terminal of the LRT-1. Also known as Munoz station, the terminal was launched in October 2010 as part of the government's Line 1 North Extension Project. It links to Waltermart North EDSA as well as Jackman Plaza Munoz.
The station is currently closed to give way for the construction of the Unified Grand Central Station (UGCS) or Common Station. This massive station will connect four rail lines: LRT-1, MRT-3, MRT-7, and the Metro Manila Subway.[3]
Nearby landmarks:
AMA Computer University
Muñoz Market
Congressional Arcade Building
Quezon City General Hospital
S&R Congressional
STI College Muñoz-EDSA
WalterMart
Additional LRT-1 Stations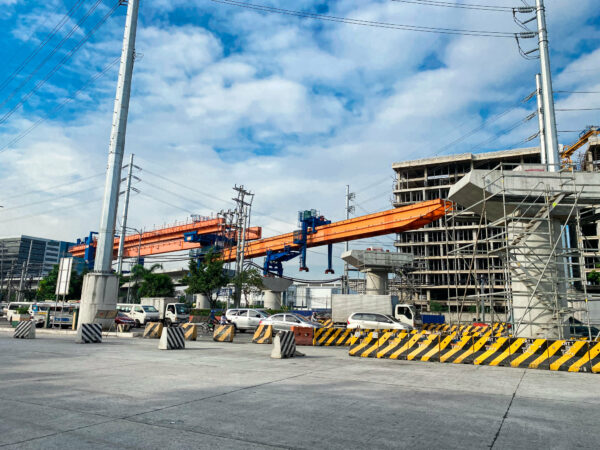 Soon, eight additional stations will be added to the existing roster through the LRT-1 Cavite Extension Project. In total, there will be 28 LRT-1 stations.
The said project will add 11 kilometers to the southern section of LRT-1, serving the cities of Parañaque, Las Piñas, and Bacoor, Cavite. This means that the travel time from Pasay to Cavite and vice versa will be cut down from an hour to just 25 to 30 minutes.[4]
The additional LRT-1 stations in order are the following:
Redemptorist Station (after Baclaran Station)
Manila International Airport (MIA) Station
Asiaworld Station
Ninoy Aquino Station
Dr. Santos Station
Las Piñas Station
Zapote Station
Niog Station
LRT-1 Stations FAQs
Even if you already have your LRT stations list, you may still have some related questions. Read through this section, and you may find the answers you're looking for.
1. What is the difference between LRT and MRT?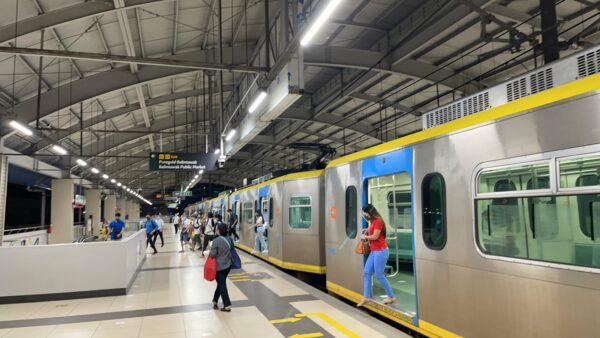 While LRT-1 and MRT (also known as the Yellow Line) are both mass transportation systems within the NCR, they have a few key differences. First is the companies that operate them. LRT-1 is currently being run by the Light Rail Manila Corporation (LRMC), which is a joint venture of Metro Pacific Investments Corporation's Metro Pacific Light Rail Corporation (MPLRC), Sumitomo Corporation, Ayala Corporation's AC Infrastructure Holdings Corporation (AC Infra), and the Philippine Investment Alliance for Infrastructure's Macquarie Investments Holdings PTE Ltd. (MIPHL). It has a multi-billion peso agreement with the Department of Transportation and the Light Rail Transit Authority (LRTA).
On the other hand, MRT is owned by the Metro Rail Transit Corporation (MRTC). The said consortium is composed of different companies, such as Ayala Corporation's Astoria Investment, National Bookstore Group's Anglo Philippine Holdings Corporation, RAMCAR Group's Railco Investments, UNILAB Group's Sheridan LRT Holdings, and Metro Global Holdings Corporation, among others.
Another difference between LRT-1 and MRT is the route that they take. LRT-1 runs through the major thoroughfares in the east side of Metro Manila, which include Taft Avenue and Rizal Avenue. Note, though, that Balintawak and Roosevelt stations run through EDSA.
MRT, on the other hand, just runs through EDSA. Both ends of the MRT are connected to LRT 1. So, if you look at the map, you'll see that LRT-1 and MRT forms a loop.
See also: 8 Ways to Survive the MRT
2. What's the difference between LRT-1 and LRT-2?
Both LRT-1 and LRT-2 (also known as the Purple Line) are mass transportation systems under the LRTA of the Department of Transportation (DOT). However, they follow different routes. While LRT-1 follows a north-south route, LRT-2 travels from east to west and vice versa. With that set-up, LRT-2 connects Recto in Manila to Antipolo, Rizal. If you look at the map, you'll see that LRT-2 intersects with MRT in EDSA and ends at its station in Recto, which is connected to LRT-1's Doroteo Jose Station.
Compared to LRT-1, LRT-2 is less busy, giving you a much more pleasant ride.
3. How much is the fare for LRT-1?
It will depend on your destination. Fares for single journeys cost from ₱15 to ₱30. But if you're using a stored value card, you'll pay less, which is ₱11 to ₱29.[5]
4. What are the operating hours of LRT-1?
Take note that LRT-1 is not operating 24/7. Though it runs daily, you must take note of the following schedules:
First Train
From Baclaran – 4:30 am (weekdays, weekends, and holidays)
From Roosevelt – 4:30 am weekdays, weekends, and holidays)
Last Train
From Baclaran – 10:00 pm (weekdays) / 9:30 pm (weekends and holidays)
From Roosevelt – 10:15 pm (weekdays) / 9:45 pm (weekends and holidays)
5. Any tips for LRT-1 newbies?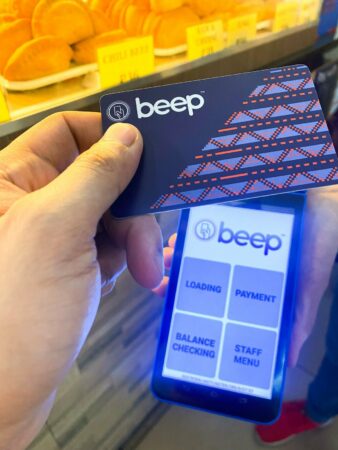 If it's your first time to ride a LRT-1 train, these handy tips may make your trip much more comfortable.
If you think that you'll be using the train regularly, get yourself a stored value card called the beep card. As long as your card is loaded, you can skip the line at the ticketing booth and go straight to the platform. Your fare will also be discounted.
Unless you're going to work or a client presentation, wear something comfortable. Trains can get packed too quickly, and saturated crowds can affect the train's air conditioning.
Avoid rush hours at LRT-1 stations. Plan your trip around times when the crowd at the station isn't too big.
Put your bag in your front whether you're in line or inside the train. That way, you can easily keep an eye on your belongings.
Related articles:
Final Thoughts
Metro Manila is certainly a very energetic region. It's full of interesting sights and sounds that can overwhelm the senses. But beneath its color, grit, and friendly people lies an obvious commuting dilemma that a lot of denizens have been enduring for so many years: the sorry state of public transportation.
Thankfully, LRT-1 provides a safe and much more affordable option to get around the city. While it's far from perfect, you can always count on it, especially in situations where you don't want to be late.

Sources: