Whether you're new to Metro Manila or you're a city denizen through and through, three letters can help you get around the capital region: MRT. While far from perfect, this train system is the go-to mode of transportation for more than 300,000 commuters daily.[1] It's cramped, but you get to bypass the hellish and unbearable traffic of the metro.
If you're an MRT rookie, getting to know the train system will help you use it properly and easily. This guide covers the MRT station list in order and offers a few tips to make your commute as smooth, safe, and comfortable as possible. Expats and city dwellers not familiar with the MRT are welcome here.
For clarity's sake, the MRT in this article refers to the MRT Line 3 (MRT-3), which is the only MRT line operating as of now.
What is the Difference Between MRT and LRT?
The MRT or the Metro Rail Transit and the LRT or the Light Rail Transit are both mass transportation systems serving the National Capital Region (NCR). However, there are some differences between the two.
First is the organizations running them. The MRT, also known as the Yellow Line, is operated by the Metro Rail Transit Corporation (MRTC), which is composed of various private companies. The said corporation is supervised by the Department of Transportation (DOTr). The LRT, on the other hand, is purely government-owned since it's managed by the Light Rail Transit Authority (LRTA), which is under the DOTr.
Second is the route these rail systems take. The MRT runs through EDSA. In fact, it's technically part of EDSA since it lies in the middle of the road. Meanwhile, the LRT has two lines that serve different sections of the NCR. Line 1 or the Green Line runs from north to south of Metro Manila's eastern side and vice versa. Line 2 or the Purple Line runs from the western side of Metro Manila to Antipolo in the east and vice versa.
What is the Schedule of the MRT Trains?
The MRT stations operate daily. However, take note of its first and last train schedules. Plan your trips around this timetable:
Period
First Train
Last Train
Weekdays

4:59 a.m. (North Avenue)

5:50 a.m. (Taft Avenue)

9:10 p.m. (North Avenue)

10:10 p.m. (Taft Avenue)

Weekends

4:59 a.m. (North Avenue)

5:51 a.m. (Taft Avenue)

9:10 p.m. (North Avenue)

10:01 p.m. (Taft Avenue)
How Many Trains Does the MRT Have?
After a massive overhaul, the MRT now has 55 trains running on the tracks. This means the MRT-3 can accommodate more passengers and keep delays at bay. Each train car is expected to accommodate up to 394 passengers.[2]
MRT Station List in Order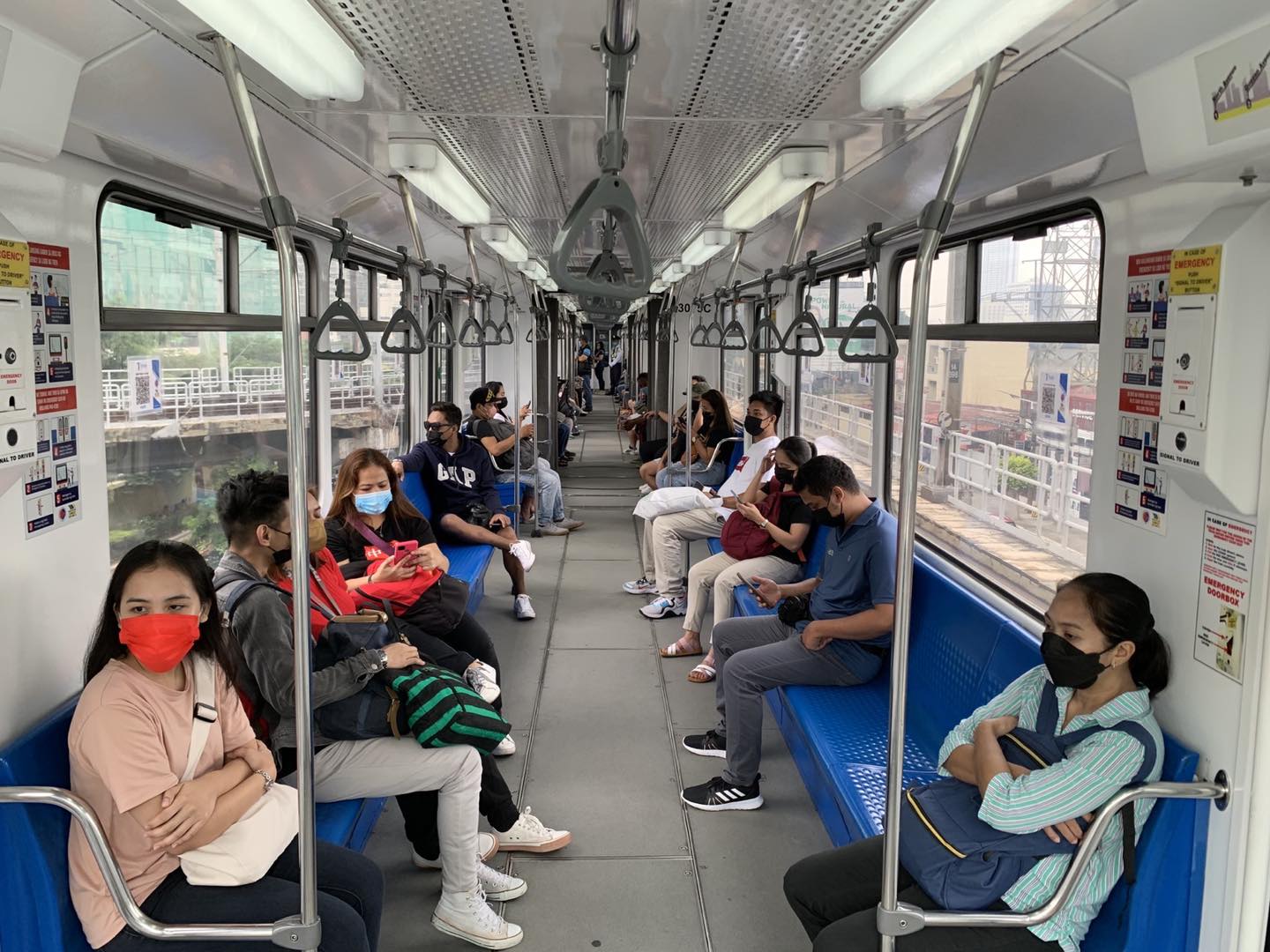 Photo from DOTr MRT-3 Official Facebook page
Currently, there are 13 stations situated along EDSA. The MRT passes through the following cities: Pasay, Makati, Mandaluyong, San Juan, and Quezon City. Here is the MRT station list in order to guide you on where to ride or alight based on your destination.
Taft Avenue
Taft Avenue Station is the only MRT station located in Pasay. It's the transfer point for commuters riding the LRT 1 to either Baclaran or Roosevelt station. The station is near many provincial bus lines, including Victory Liner, Five Star, and Philtranco, which travel to Pangasinan, Nueva Ecija, and Pampanga, respectively.
Nearby landmarks:
SM Mall of Asia
SMX Convention Center
San Juan de Dios Hospital
Manila Tytana College
Magallanes
If you are from the south of Metro Manila, Magallanes is probably your bus stop before taking the MRT. It's the station closest to the South Luzon Expressway (SLEX) as well as other major points of the metro, including Chino Roces Avenue and Dasmarinas Village.
Nearby landmarks:
Asia Pacific College
Assumption College
Don Bosco Technical Institute
Colegio San Agustin-Makati
Alphaland Makati
Ayala
Ayala is probably the busiest MRT station. Employees and students regularly descend this station, as it is closest to the Makati Central Business District and Bonifacio Global City. It has an elevated walkway that connects to SM Makati and the rest of Ayala Center.
Nearby landmarks:
SM Makati
Glorietta
Greenbelt
Ayala Triangle Gardens
The Philippine Stock Exchange
BPI, China Bank, RCBC, and Citibank Headquarters
Makati Shangri-La Hotel
Manila Peninsula
Read more: Guide to BGC Bus Routes: How to Conveniently Commute to BGC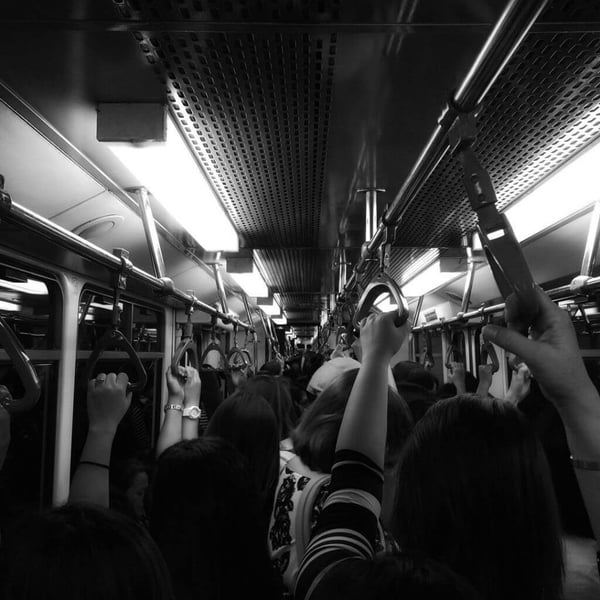 Buendia
Also known as Gil Puyat station, Buendia station is one of the two underground stations (the other being Ayala) of the MRT line. Employees and students headed to Makati CBD can also drop off here.
Nearby landmarks:
Department of Trade and Industry
MMDA Offices
Makati Avenue
Jupiter Street
Century City Mall
Metrobank and DBP Headquarters
Guadalupe
Guadalupe station serves as an access point to many landmarks in Metro Manila. You can board a jeepney, bus, or even a ferry going to eastern Makati, Fort Bonifacio, Pateros, and Mandaluyong. It is also close to the ever famous (and ever traffic-plagued) Guadalupe Bridge.
Nearby landmarks:
Rockwell Center
PowerPlant Mall
Makati City Hall
University of Makati
San Carlos Seminary
Our Lady of Guadalupe Seminary
Roman Catholic Archdiocese of Manila
Boni
If you are going to Mandaluyong, specifically in Pioneer, get off Boni Station. Like Ayala station, Boni is a popular drop-off for students and condominium owners as it is close to Rizal Technological University and SM Light Residences.
Nearby landmarks:
Robinson's Cybergate
Victor Potenciano Medical Center
GA Twin Towers
SM Light Residences
TV5 Media Center
Paragon Plaza
Rizal Technological University
Shaw Boulevard
Like Boni station, Shaw Boulevard station also serves the Mandaluyong area. Considered a central terminal, it's the only MRT station with two tracks. Commuters headed to Ortigas Center and Greenfield District should drop off this line.
Nearby landmarks:
Shangri-La Plaza
Pavillion Mall
Starmall Shaw
Capitol Commons
San Miguel Corporation
Department of Education
University of Asia and the Pacific
Lourdes School
St. Paul College Pasig
PhilSports Arena
Wack Wack Golf and Country Club
Ynares Sports Arena
Ortigas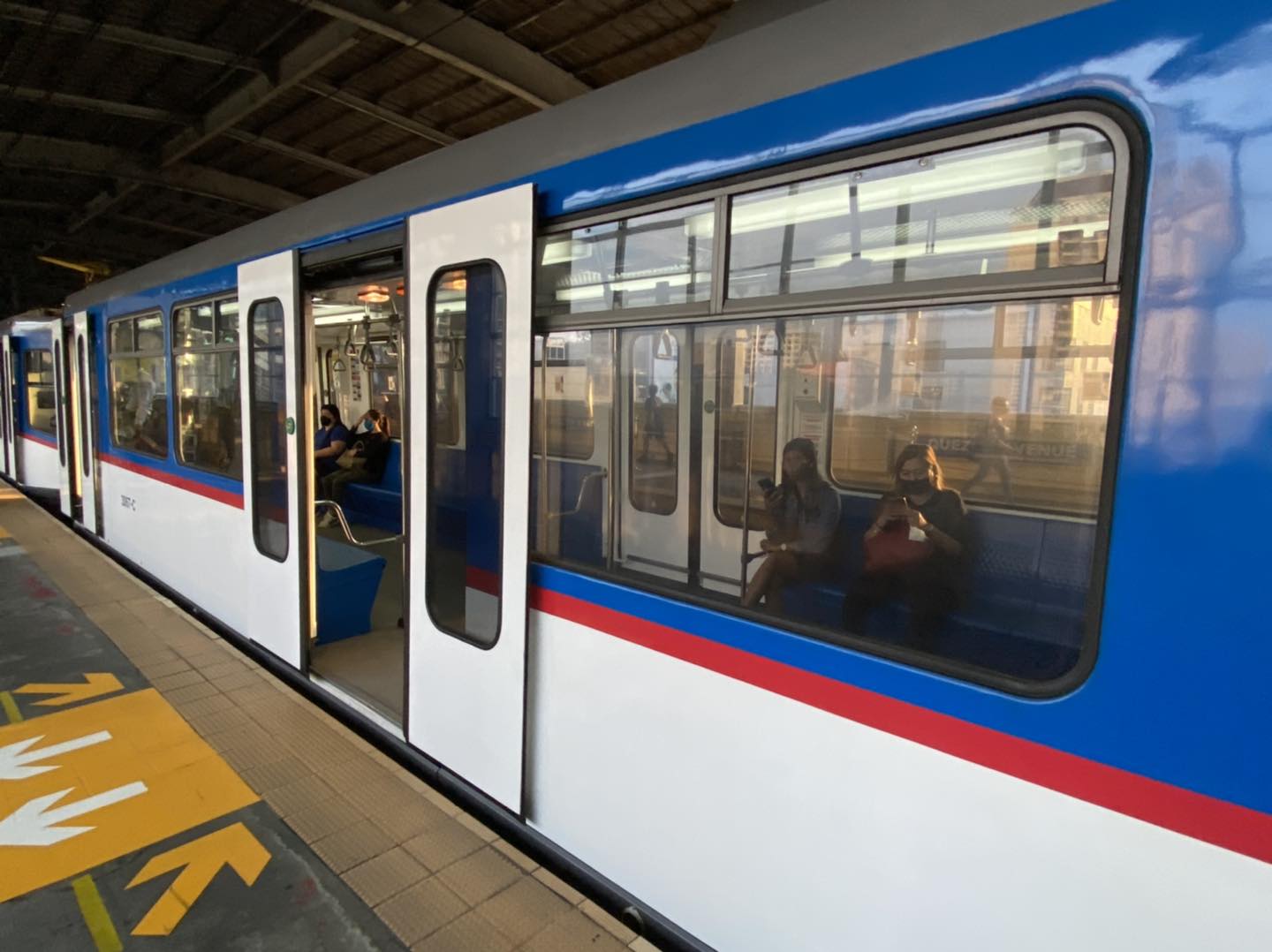 Photo from DOTr MRT-3 Official Facebook page
Ortigas station serves most of the Ortigas Business District. It is the last MRT station in Mandaluyong when coming from the south.
Nearby landmarks:
Asian Development Bank
Robinson's Galleria
SM Megamall
The Podium
Francis Square
Philippine Stock Exchange
Meralco Theater
EDSA Shrine
Philippine Stock Exchange
The Medical City
Holiday Inn
Crowne Plaza
Santolan-Annapolis
Located between Annapolis Street and Santolan Road (thus the name), the Santolan-Annapolis station is popular as a landmark for the Philippine National Police Headquarters. It is also close to Katipunan and Eastwood City.
Nearby landmarks:
Camp Aguinaldo
Camp Crame
Armed Forces of the Philippines
Department of National Defense
Philippine National Police
Greenhills Shopping Center
Araneta Center-Cubao
Araneta Center-Cubao holds second place when it comes to the busiest MRT station. Apart from being a transfer point for commuters taking the LRT-2, the station also serves as a stop for provincial buses coming from the north.
Nearby landmarks:
Araneta Coliseum
Farmer's Plaza
Gateway Mall
Ali Mall
Cubao Expo
Kamuning
Named after Barangay Kamuning, Kamuning station is near Timog Avenue, a well-known entertainment district in Quezon City.
Nearby landmarks:
GMA Network
Land Transportation Office
Department of Public Works and Highways
Philippine Statistics Authority
Philippine Heart Center
Quezon Memorial Circle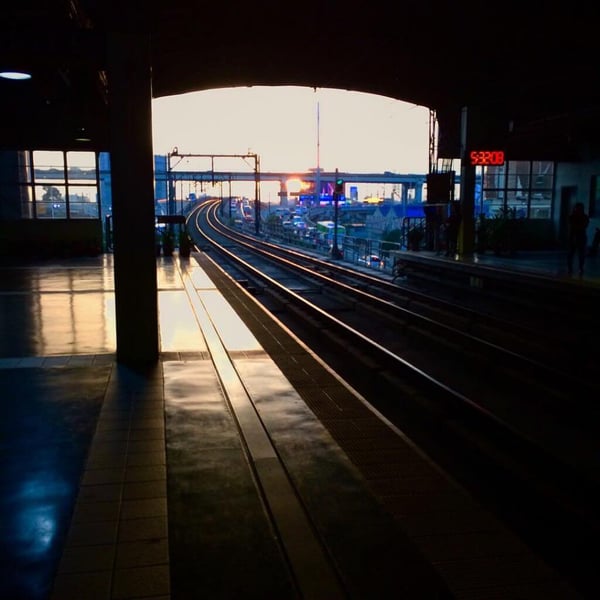 Quezon Avenue
Another populous MRT station is the Quezon Avenue terminal. Students frequent this station as it is closest to the University of the Philippines-Diliman.
Nearby landmarks:
Philippine Science High School
University of the Philippines-Diliman
ABS-CBN Network
PAGASA Complex
Office of the Ombudsman
Court of Tax Appeals
Lung Center of the Philippines
Eton Centris
UP-Ayala Land Technohub
Fairview
North Avenue
North Avenue station is the MRT's last station. Also called "North" by regular passengers, the station links to TriNoma, one of the largest malls in Quezon City. Individuals who live near Valenzuela and Bulacan also head to this terminal.
Nearby landmarks:
TriNoma
SM City North Edsa
Quezon Memorial Circle
Veterans Memorial Medical Center
Department of Agriculture
Quezon City Science High School
Ninoy Aquino Parks and Wildlife
What About the MRT-7?
Now that you know the existing MRT station list in order, you may be wondering about the MRT Line 7. In case you haven't heard of it, the MRT-7 is a train line that runs from northeast to southeast and vice versa. To give you a picture of the route, its terminuses are located in San Jose del Monte, Bulacan and Quezon City's North Avenue.
The MRT-7 is currently under construction. Once completed, it will have a 22-kilometer railway with 14 stations. It also has a total of 108 cars. This San Miguel Corporation (SMC)-backed train line is expected to become fully operational by 2024-2025.
Here's the list of MRT station list in order for Line 7:
North Avenue Joint Station (or Common Station, which will connect the LRT-1, MRT-3, and MRT-7)
Quezon Memorial Circle
University Avenue
Tandang Sora
Don Antonio
Batasan
Manggahan
Doña Carmen
Regalado
Mindanao Avenue
Quirino
Sacred Heart
Tala
San Jose del Monte
A Beginner's Guide to Riding the MRT
First time riding the MRT? Other than memorizing the MRT station list in order, you need to know the entire commute process. Here's an MRT guide for you:
How to Buy a Ticket at the MRT Station Ticket Booth
Buy a ticket at the MRT station. The price of a train ride ranges from ₱13 to ₱28, depending on the destination. There are two tickets that you can choose from:


Single-journey ticket (SJT) – You can use this ticket for a single ride. This is valid only on the date of purchase. Before you buy one, inform the ticketer of your destination.
Stored-value card (SVC) – Usually called the beep card, the SVC is a reloadable card you can use to electronically pay for multiple MRT rides. As long as this card is loaded, you can skip the queue at the ticketing booth and head straight to the automatic gate. A stored-value card costs ₱100 (₱30 for the issuance fee and ₱100 for the initial load balance). Load amount ranges from ₱20 to ₱10,000.[3]

Tap the automatic gate with your ticket.
Ride the train.
Get off at your destination station. If you're using an SJT, insert it into the inlet of the gate. If you're using an SVC, tap the gate to exit.
How to Buy a Ticket Through the MRT Ticket Vending Machine (TVM)
On the screen of the TVM, select the ticket that you want to buy.
If you want to buy an SJT, select your destination and insert your bills or coins. If you want to buy an SVC, just insert your bills or coins. For SVCs, note that the TVM doesn't dispense change.
Press the Receipt button and get the ticket.
Tap the automatic gate with your ticket.
Ride the train.
Get off at your destination station. If you're using an SJT, insert it into the inlet of the gate. If you're using an SVC, tap the gate to exit.
Read more:
Riding the MRT: 6 Tips for Commuters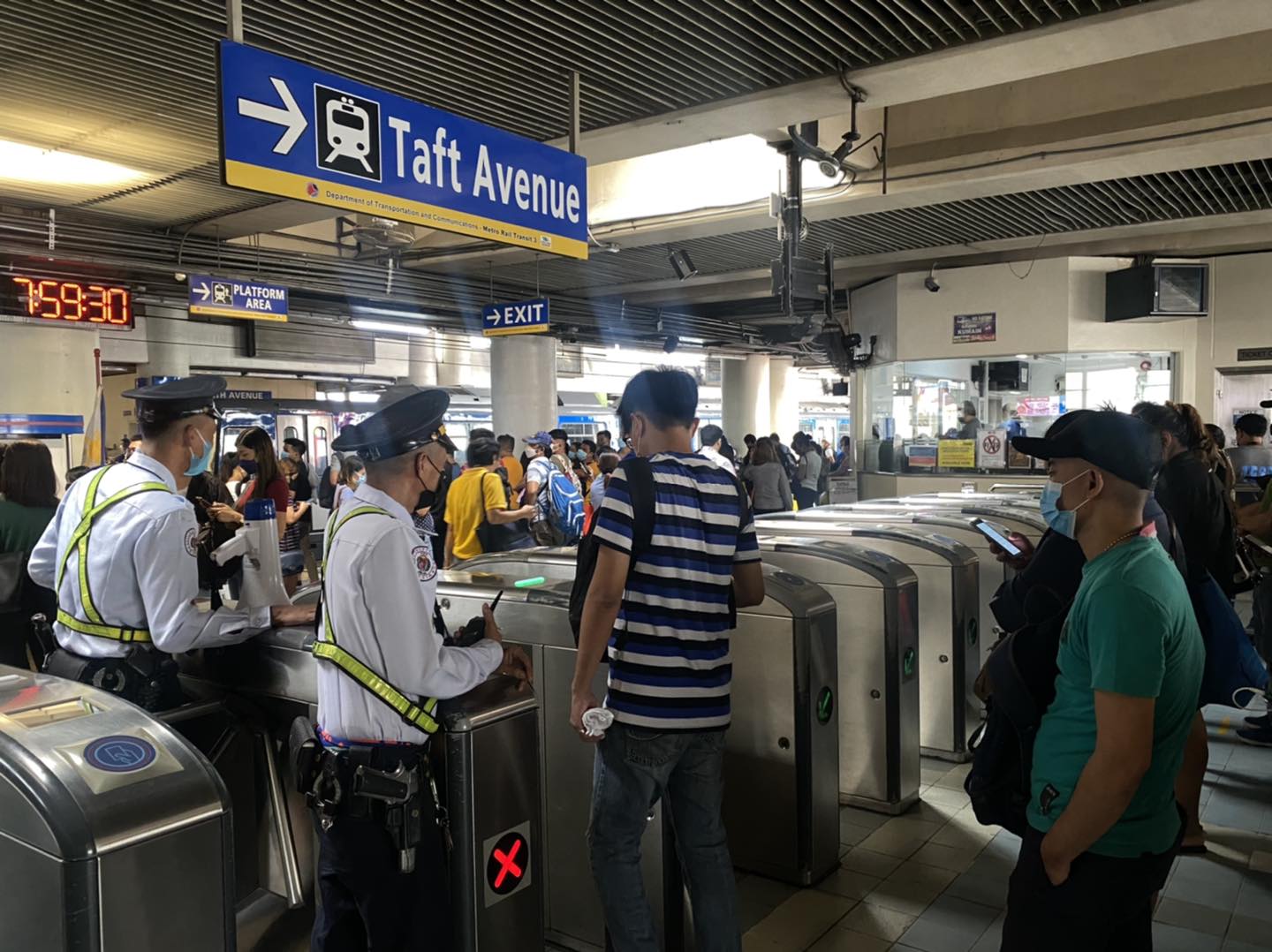 Photo from DOTr MRT-3 Official Facebook page
Make your MRT commute smooth, safe, and comfortable with the following tips:
1. Get a beepTM Card
Will the MRT be part of your daily routine? If yes, it's wise to get a beepTM card. With this stored-value card, you can do away with the hassle of lining up at the ticket booth.
2. Wear Comfortable Clothing
The MRT is notorious for its packed cars. Even if the train provides air conditioning, it may still feel hot and humid at times. As such, wear light and comfortable clothing.
3. Avoid Rush Hours and Congested MRT Stations
Usually, rush hour starts at 4 p.m. It gets worse between 5 p.m. and 8 p.m. If you happen to be located between two MRT stations, choose the less crowded one. Keep in mind that Ayala and Cubao are the most packed MRT stations during rush hour. Magallanes, Buendia, and GMA-Kamuning are usually less crowded.
4. Remember the MRT Stations
This should go without saying. Memorizing the MRT station list in order helps you plan your trips, so you can reach your destination faster. Also, knowing which next station comes next will help you get ready before alighting.
5. Keep an Eye on Your Belongings
You can do this by putting your bag in front of you whether you're lining up for a ticket or riding the train. Use a small pouch where you can store loose change and beepTM card. Keep this pouch in your shirt pocket if possible.
6. Be Considerate
Survival may be the name of the game when riding the MRT, but that's not an excuse to be inconsiderate. Always follow the rules. Avoid cutting the line or entering the train when exiting passengers haven't alighted yet.
Read more:
Final Thoughts
The MRT is flawed, but you can always rely on it to take you where you need to go. Inside it, you're safe from the chaos of city traffic. Memorize the MRT station list in order, so you can easily get around the city. If you have some concerns, don't hesitate to ask the security guard at the station. They're usually approachable and helpful.

Sources: