When you drive a car, you're responsible not only for your own life but also for the safety and well-being of your passengers. If you're a parent, you know how urgent and grave this responsibility is. So whenever your kid is riding with you, you always make sure that you're precise when you make a turn, and you carefully navigate streets filled with speed bumps and pedestrians.
The government has the same goals as yours as far as the safety of your child is concerned. This is why Republic Act 11229 or the Child Safety in Motor Vehicles Act[1] has been signed into law in February 2019. The said law, however, will be fully enforced this year after certain rules and regulations have been approved.
You might have a lot of questions in your head, but don't worry, as we have rounded up the important things that you need to know about this child seat law in the Philippines. That way, you'll be prepared to hit the road while ensuring that your kids are safe and you avoid committing violations.
Read more: Best Car Apps for Drivers and Car Enthusiasts
Guide to Child Car Seat Law Philippines
What is the Child Safety in Motor Vehicles Act?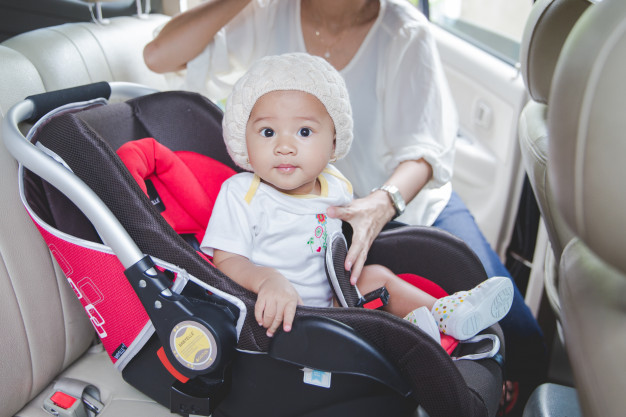 The child car seat law requires the use of child restraint systems (CRS) in the Philippines. CRS refers to child safety seats or booster seats. The law applies to kids who are 12 years old and below and with a height of 4'11" and below.
The CRS should be appropriate to the age of the child, their height, and weight. This is where things get a little bit tricky—some 12-year-olds and 10-year-olds may be tall and heavy enough to fit into a child safety seat. Issues may arise, especially if the car is quite small (e.g. a hatchback). This has been a point of debate, and the best that parents can do right now is to wait for updates and further changes in the regulations.
Don't forget that the CRS must be mounted in the rear seat of the vehicle.
When will the Child Seat Law Take Effect in the Philippines?
RA 11229 took effect on February 2, 2021. However, according to the Land Transportation Office (LTO), it will only begin the apprehension and ticketing of violators three to six months from now. This means you still have time to buy a child safety seat or adjust the configurations of your vehicle's seating.

Which Vehicles are Covered by the Child Safety Act?
As of now, only private vehicles are mandated to use a child seat. Don't worry if you're driving a bike, a tricycle, or a motorcycle, as these vehicles are not covered by the law.
Likewise, public utility vehicles (PUVs), such as jeepneys, taxis, and buses, will not be affected. However, the Department of Transportation will conduct a study to determine the feasibility of CRS in public vehicles.
Read more:
What are the Penalties for Violating the Child Car Seat Law?
Motorists who violate the law will have to pay the following penalties:
First offense: PHP 1,000 fine
Second offense: PHP 2,000 fine
Third and succeeding offenses: PHP 5,000 fine and a one-year suspension of driver's license
Again, you still have time, as the LTO will only start apprehending violators three to six months from now.
On the other hand, companies that manufacture, distribute, import, and retail substandard or tampered car seats will also be penalized. They'll have to pay a fine between PHP 50,000 and PHP 100,000.
Read more: MMDA Violations and Penalties Motorists Must Know About
Why Child Restraint Systems are Important
Installing a child car seat is very much worth it, as it limits the movement of the body during a car collision.
In fact, according to the World Health Organization's (WHO) Global Status Report on Road Safety, child car seats lower the risk of death or injury by 80%. The WHO also notes that wearing only a seat belt reduces the risk by just 32%.
How to Choose the Best Car Seat for Your Child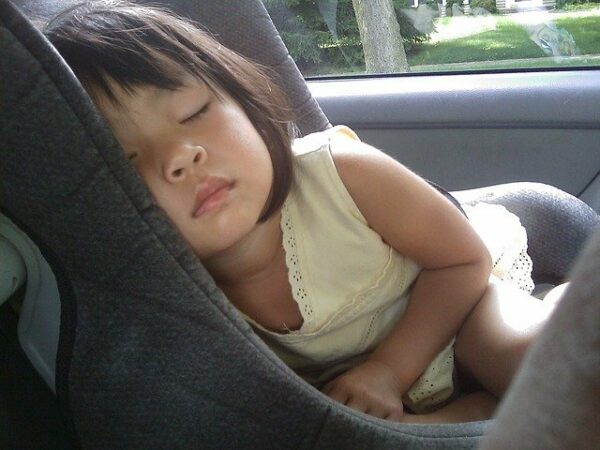 1. Buy Only from Licensed Sellers
Find out if the brand's CRS specifications are compliant with the standards of the law.
To prevent anyone from using poor-quality child car seats, the child car seat law in the Philippines requires the use of CRS with a Philippine Standards (PS) seal or an Import Clearance Certificate (ICC) sticker.
2. Pick the Right Model Based on Your Kid's Size
Parents and guardians must use a car seat that suits a child's age, weight, and height. To know the right type of car seat to buy for your children, use the online car seat finder tool[2] of the U.S. National Highway Traffic Safety Administration (NHTSA). Simply enter your child's birthdate, height, and weight.
It also helps to know the five child car seat types[3]:
Infant car seats - For newborns
Convertible car seats - For babies who have outgrown their infant car seats
Booster seats - Used to raise a child in the car, so the seatbelt will be strapped correctly
All-in-one car seats - Designed to work from your child's baby days through their toddler and big kid phase
Toddler booster - An option for older kids who are not yet ready for a booster or transition seat
3. Check Your Car Manual
Usually, owner's manuals have a section dedicated to child safety. There, you may see which dimensions and specifications of CRS suit your car.
How Much Does a Child Car Seat Cost?

Brand-new child car seats in the Philippines cost around PHP 5,000 on average, according to a 2017 study on car seat affordability[4] by the Institute of Health Policy and Development Studies at the University of the Philippines Manila.
If you're looking for options, we've listed a few car seats offered by trusted brands in the country.
Enfant (Price range: PHP 1,400 - PHP 5,500)
If you're looking for infant seats that are light and easy to install and don't take up too much space, Enfant may be the brand for you. Enfant car seats are generally made of durable plastic.
Baby 1st (Price range: PHP 3,000 - PHP 7,000)
Car seats under this brand have curvy designs to easily accommodate your kid. For comfort, the seat is wrapped in gentle fabric. This is a good choice for parents looking for an entry-level CRS.
Joie (Price range: PHP 3,000 - PHP 21,000)
If you're looking for a car seat with deluxe cushioning and a practical harness system, consider the items from this brand. Some car seats have a one-hand turn mechanism to make car seat rotation convenient.
Chicco (Price range: PHP 9,000 - PHP 79,000)
The baby brand has a range of car seats, such as the KeyFit line, which can be assembled in 30 clicks. Chicco's Unico line, on the other hand, can accommodate a child from birth to 12 years old.
Can I Just Buy Any Type of CRS or Improvise?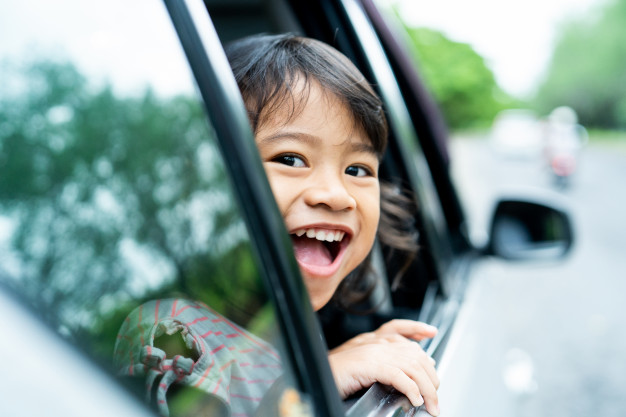 This is a big NO. All car owners in the Philippines are required to purchase and install car seats that are checked and approved by the Department of Trade and Industry (DTI).
The car seats that you'll install should also be designed according to the standards articulated in the UN Regulations 44 and 149[5]. Eventually, the DTI will release a list of brands that have satisfied the requirements of the law.
Improve Your Family's Car Safety with These Tips
Ensuring your kids' safety in your car goes beyond the car seats that you install. As such, you need to set up and observe measures that will boost your family's safety.
Here are some tips on child safety in cars:
Never leave your kids alone inside the car. They may be abducted, and they may even suffer or die due to heatstroke[6].
If your kid is 6 years old and below, don't let them sit in the front seat. There's a law that prohibits it.
Keep your car keys out of your child's reach.
Remind your kids that playing inside a car is not safe.
Make sure that all the doors are locked before you drive. Check the child lock. Likewise, keep the doors locked when everyone has stepped outside of the car (so that your kid will not come back and accidentally lock himself).
As an additional layer of protection, get a car insurance policy that also covers your passengers in case of a car accident.
Final Thoughts
Your kids' safety as you drive is and will always be important. While keeping children safe in a car can be quite tedious and even expensive, just remember that their lives are precious and priceless that car seats and other safety features should be all worth the trouble and cost.

Sources: