With the number of kamote riders and drivers out there, it's no surprise that a lot of Filipinos are looking for the best SUV in the Philippines. After all, compared to even the best sedans and compact cars, SUVs can handle most―if not all―types of roads and driving conditions in the country.
There's also a sense of safety and security that comes with driving an SUV. That's probably because you can protect yourself and your passengers from the perils on the road with all the technology and safety features that come with a big vehicle.
So, if you're planning to purchase a vehicle―be it a brand-new or second-hand car―explore your options by checking out our list of the great SUVs that will fit every need and budget.
Pros and Cons of an SUV
An SUV, or a sport utility vehicle, is a car classification that combines the features of a regular passenger car and an off-road vehicle. Because of this, SUVs are popular among adventure-seekers or car owners with larger families. To see if an SUV fits your needs, consider this short list of pros and cons.
👍 Pro: Powerful and Durable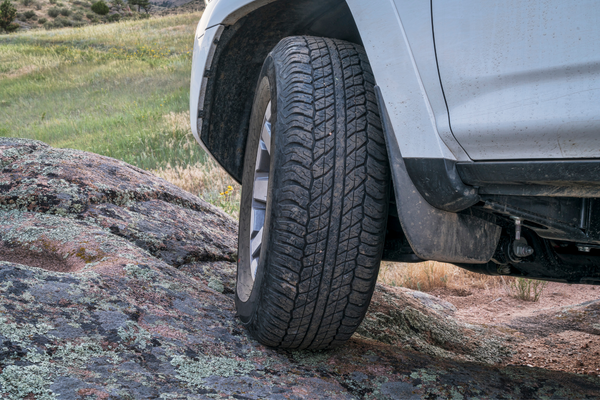 Because SUVs are almost like off-road vehicles, they're more durable compared to smaller vehicles. An SUV in the Philippines is likely to survive the harshest driving conditions like unpaved roads and flash floods. Because they're powered by capable engines, SUVs can also reach top speeds of up to 300 km/h. Get an SUV if you value these things the most.
👍 Pro: Height Advantage
The height of an SUV can give you driving advantages you probably don't realize you need if you've been driving a sedan for too long. The extra height gives you a better 360-degree view of the road and everything around it. SUVs also afford you a high ground clearance, making floods, curbs, and potholes non-issues.
👍 Pro: Spacious and Comfortable
Driving a bigger vehicle means having more space for passengers. If you have a family with more than five members, you can easily seat them in an SUV and make them comfortable during hour-long road trips. You'll also get more space for your luggage, camping gear, inventory, and other types of cargo. Big car, big benefits.
👎 Con: More Fuel-Hungry
Because of their power and size, SUVs aren't lauded for their fuel efficiency. It's rare for SUVs to get an efficiency rating of up to 20 km/L. Those that do usually cost millions, regardless if they're brand new or second-hand. If you don't want to spend money on fuel every time you drive your car, an SUV might not be the perfect fit for you.
👎 Con: More Expensive
SUV prices in the Philippines can easily cross the ₱1 million mark, making SUVs more expensive compared to sedans and hatchbacks. While there are affordable options out there, the cream of the crop will leave a dent in your bank account. So, unless money isn't an issue, try looking for better deals from second-hand dealerships.
👎 Con: Parking Challenges
Apart from dealing with narrow and traffic-ridden roads, driving a bigger vehicle also means dealing with various parking frustrations. Finding spacious parking slots becomes a challenge. Also, you'll need a bigger garage to house your SUV, so if you don't want your car towed in the future, invest in a bigger property.
What to Look for When Buying an SUV in the Philippines
If the disadvantages of owning an SUV don't concern you, the next step is to make an informed decision on what vehicle to buy. Here are the things you need to consider when shopping for an SUV in the Philippines.
🔎 Fuel Efficiency
Since you'll be spending on gasoline more than any other car expense, it's best to consider how fuel-efficient your vehicle is. SUVs are notorious for consuming more fuel than other vehicle types, but that doesn't mean there aren't any fuel-efficient SUVs out there. If your budget can afford it, consider buying a hybrid SUV for better fuel efficiency.
🔎 Body Type and Size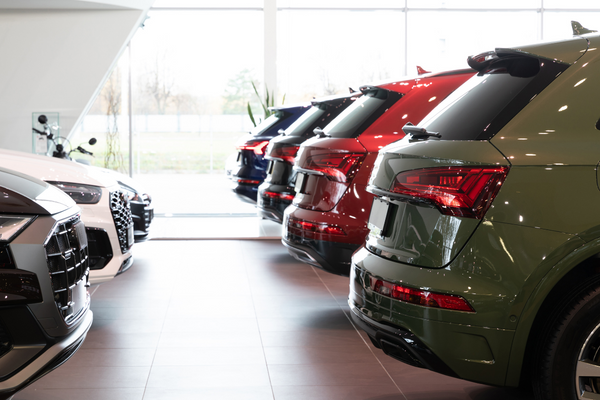 There are two SUV body types you need to consider: crossover and truck-based body. Crossovers resemble the compact body of a regular car and offer better handling and ride comfort compared to truck-based ones. SUVs also come in different sizes: small, midsize, and large. Consider the purpose of the SUV before choosing your preferred size.
🔎 Drivetrain Configuration
The drivetrain system delivers power to the wheels of the vehicle, allowing it to thrust forward. An SUV's drivetrain configuration contributes to its overall performance on the road. Here are the main configurations and their benefits:
Front-wheel drive – balanced performance for everyday driving
Rear-wheel drive – allows you to carry and tow heavier loads
All-wheel drive – ideal for sloppy road conditions and off-road terrain
🔎 Safety Features
You should always consider what kind of safety system is included in any vehicle, regardless of classification. If you're planning to get an SUV, make sure not to settle for anything less. Check the airbags, driver assistance technology, and other common safety features. If you're looking to drive on extremely dangerous terrain, just get an off-road car rather than an SUV.
🔎 Seating and Cargo
Most SUVs seat at least five people, with the seating capacity affecting the space allotted for cargo. If you think that's not enough, get yourself a larger SUV. Consider a truck-based SUV if you're looking for more cargo space. If you intend to seat as many people as possible, go for a midsize or large SUV.
What is the Best SUV in the Philippines? Your Top 14 Options in 2023
Curious to know what the best SUV in the Philippines is in 2023? People have different tastes when it comes to their rides. At the end of the day, you decide which SUV is the best for your needs, your lifestyle, and most importantly, your budget. Here are some options to help you decide.
Suzuki Jimny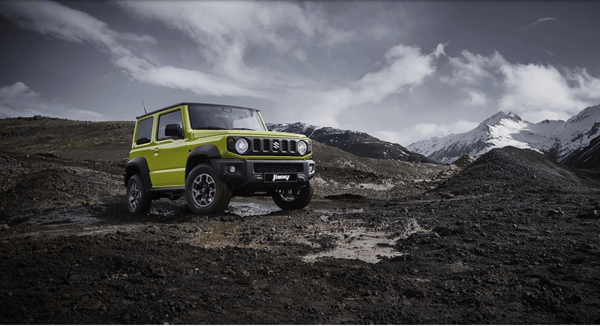 Price: Starts at ₱1,170,000
Key Suzuki Jimny Specs:
Body type: Mini SUV
Seating capacity: 4
Transmission type: Manual and automatic depending on the variant
Engine: 1.5L K15B engine, 4-cylinder, 16-valve
Performance: 101 HP @ 6,000 rpm
Fuel type: Gasoline
Dreaming of going on an adventure with your car where the roads are rocky and muddy, only to be replaced by endless, open highways? That sounds like a trip best taken on the Suzuki Jimny![1]
This mini SUV is definitely up for the job. It's a serious off-road machine equipped with a 1.5-liter engine, rigid axle suspensions with coil springs, and powerful torque. It's compact, lightweight, and fuel-efficient. Not to mention that it has an impressive exterior design and very comfy interiors.
And with its relatively affordable price tag, you can certainly add the Suzuki Jimny to the list of models with the lowest down payment for cars in the Philippines.
Mitsubishi Montero Sport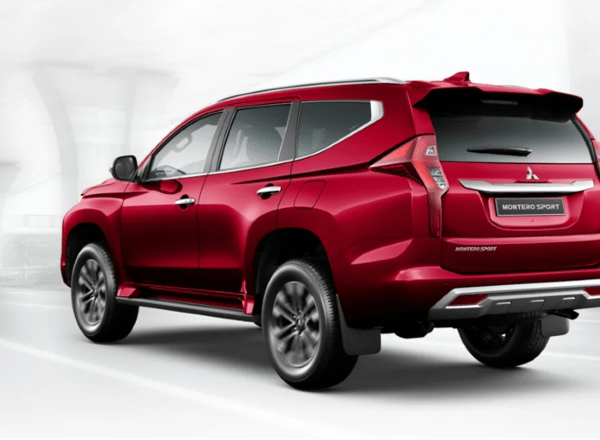 Price: Starts at ₱1,568,000
Key Montero Sport Specs:
Body type: SUV
Seating capacity: 7
Transmission type: Manual and automatic, depending on the variant
Engine: 2.4L MIVEC Clean Diesel Engine (4N15)
Performance: 179 HP @ 3,500 rpm
Fuel type: Diesel
Want to own one of the most affordable SUVs in the Philippines for 2023 and elevate your driving experience? The Mitsubishi Montero Sport[2] is the clear choice for outstanding performance anytime, anywhere. It's reliable and fun to drive on any kind of terrain. Plus, you get to enjoy its interior's quietness and luxurious feel.
Every ride in the Montero Sport is comfortable and enjoyable because of its eight-inch color LCD on the dashboard that makes it easy to read the information on your speed or about your trip. This vehicle is also packed with advanced safety features and entertainment options for both driver and passenger. If you're looking for tough and luxurious, that's the Montero Sport for you.
Isuzu mu-X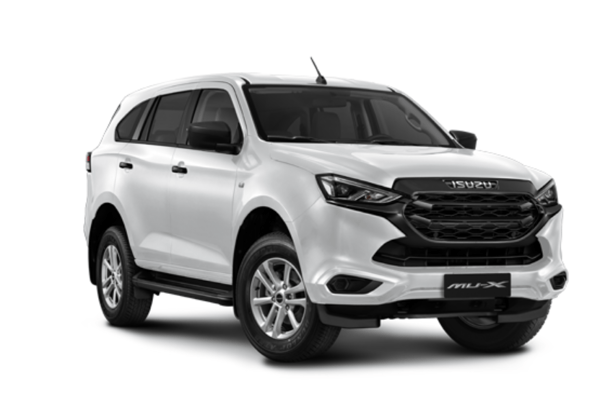 Price: Starts at ₱1,590,000
Key Isuzu mu-X Specs:
Body type: SUV
Seating capacity: 7
Transmission type: Automatic
Engine: 3.0L 4JJ3-TCX Blue Power Diesel engine
Performance: 148 HP @ 3,600 rpm to 187 HP @ 3,600 rpm
Fuel type: Diesel
Another head turner on the streets is the highly impressive Isuzu mu-X.[3] Built with your safety in mind, it comes with the Advanced Driver Assist System (ADAS), plus the smart DUO camera and rear radars that will help you avoid possibly dangerous situations on the road. They work by detecting and notifying the driver of visual and audio alerts around the vehicle.
The Isuzu mu-X also has a feature called Forward Collision Warning (FCW). When a front collision is likely to happen, it automatically stops the car with autonomous emergency braking even if you fail to step on the brakes. Same with the Turn Assist (TA) when you're about to hit something as you make a turn.
This SUV also levels up on safety with the pedal misapplication mitigation, which cuts off the engine from the transmission when you mistakenly engage the accelerator pedal. It also has the walk-away auto-lock feature, which automatically locks the car doors when you're already three meters away.
The second and third-row seats of the Isuzu MU-X are also configurable, which means more flexibility depending on your storage needs. And with its 800mm wading capacity, it will put your mind at ease should you drive through the flooded roads of Metro Manila!
If you're already sold on this vehicle, get the 3.0 LS-E 4x4 AT variant―it's the best SUV in the Philippines among 4x4 models, so you won't regret getting one!
Toyota Fortuner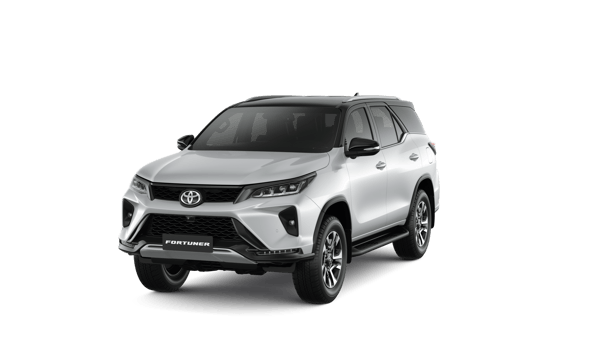 Price: Starts at ₱1,671,000
Key Toyota Fortuner Specs:
Body type: SUV
Seating capacity: 7
Transmission type: Manual and automatic depending on the variant
Engine: 4-cylinder, in-line, 16-valve DOHC variable nozzle turbo with air-cooled intercooler
Performance: 148 HP @ 3,400 rpm – 201 HP @ 3,400 rpm
Fuel type: Diesel
With its impressive build and superior performance, the Toyota Fortuner[4] is undoubtedly considered the most comfortable SUV in the Philippines. Navigate the roads with ease and precision and look good while doing it, too.
From its premium interior finish to its onboard control system, this SUV easily ticks off all the items that you're looking for in a good SUV.
It's reliable, powerful, and fuel-efficient. You can also rest assured that your journey will be enjoyable and comfortable, whether it's 15 minutes or 15 hours. The Toyota Fortuner is definitely the perfect choice for a family car or a trusty ride to countless outdoor (and off-road) adventures.
Chevrolet Trailblazer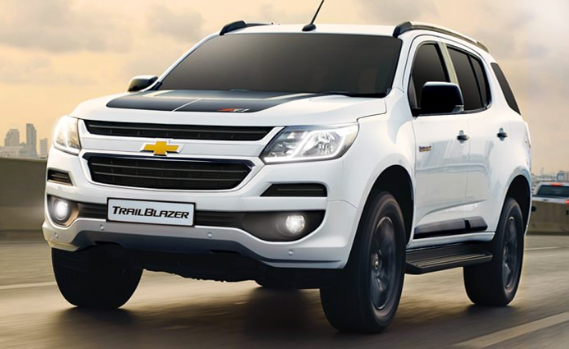 Price: Starts at ₱1,488,888
Key Chevrolet Trailblazer Specs:
Body type: Crossover
Seating capacity: 5
Transmission type: CVT
Engine: GM E-Turbo 1.3L DOHC, VVT, turbocharged
Performance: 155 HP @ 5,600 rpm
Fuel type: Diesel
This eye-catching and powerful ride is fit for all types of driving, be it a quick city drive or a long journey to the province. The family won't complain of cramped space, either, because it also has more than enough interior space for everyone.
Keep everyone entertained as well with the Chevrolet MyLink Infotainment System. Other notable features include the active grille shutters, engine start or stop system, and advanced driver assistance systems. Truly, the Chevrolet Trailblazer is a vehicle you'll enjoy driving around the country!
Nissan Terra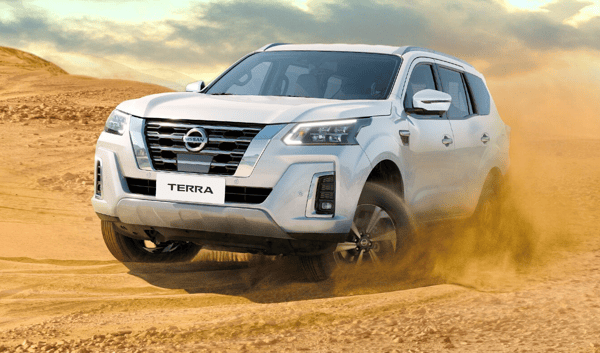 Price: Starts at ₱1,664,000
Key Nissan Terra Specs:
Body type: Midsize SUV
Seating capacity: 7
Transmission type: Manual and automatic, depending on the variant
Engine: Inline 4-cylinder, DOHC, with variable turbocharger (VGS) and intercooler
Performance: 187 HP @ 3,600 rpm
Fuel type: Diesel
Just one look at the Nissan Terra and you'll know that it will only deliver excellence in all aspects. Driving is always a terrific experience, and everyone enjoys a comfortable ride―all thanks to the Nissan Terra's top-notch air conditioning system, leather padded seats, and spacious interiors.
It's also not lacking in safety features with its driver, front passenger, side, and curtain airbags. It comes with an Anti-Lock Braking System (ABS) with Electronic Brakeforce Distribution (EBD) and Brake Assist (BA), alarm and engine immobilizer, blind spot detection system, and parking sensors at the front and rear.
As for entertainment, it's equipped with the Nissan 9″ Advanced Touchscreen Display Audio where you can play music through the BOSE premium audio system, wireless Apple CarPlay, or Android Auto. The Nissan Terra is undoubtedly a top contender for the best midsize SUV in the Philippines for 2023.
Ford Everest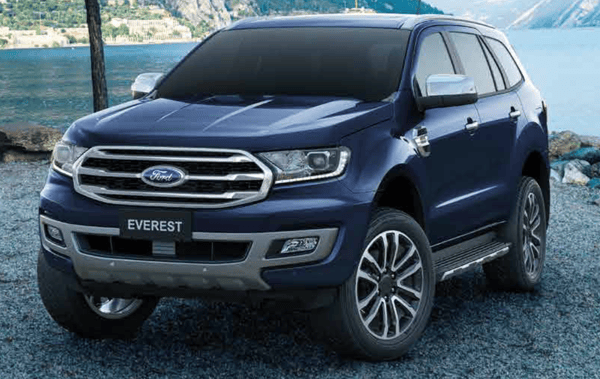 Price: Starts at ₱1,799,000
Key Ford Everest Specs:
Body type: SUV
Seating capacity: 7
Transmission type: Automatic
Engine: 2.0L bi-turbo diesel engine
Performance: 158 HP @ 3,200 rpm – 210 HP @ 3,750 rpm
Fuel type: Diesel
With the Ford Everest,[5] there's no such thing as an ordinary ride. Designed with the latest technology, it's gorgeous, capable, and designed for maximum comfort.
It's equipped with Advanced Driving Assist Technology (ADAS), which includes adaptive cruise control. It adjusts your speed automatically when there's a slowdown in traffic and then goes back to your regular speed when traffic eases up.
And with the Ford Everest's lane departure warning, you'll instantly get alerted and steered back to your lane on the road. It also comes with active park assist and autonomous emergency braking that activates when it detects vehicles and pedestrians and you fail to hit the brakes.
Nissan Patrol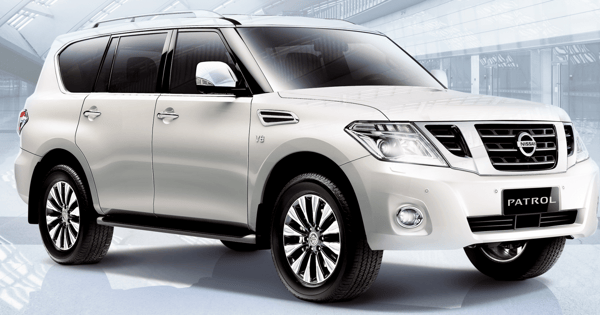 Price: Starts at ₱4,548,000
Key Nissan Patrol Specs:
Body type: SUV
Seating capacity: 8
Transmission type: Automatic
Engine: 405 PS and 560 Nm 5.6L V8 engine
Performance: 400 HP @ 5,800 rpm
Fuel type: Gasoline
Drive anywhere in luxury and style with the Nissan Patrol. This is arguably the toughest, most reliable, and is one of the best SUV cars in the Philippines that can effortlessly navigate city roads and rough terrains in the most severe driving conditions.
The Nissan Patrol is designed with Nissan Intelligent Mobility, which lets you monitor and detect any moving objects around you as you drive. What's more, you can select from different drive modes to maximize its off-road capabilities.
Set the soundtrack to your off-roading adventures with its 13 Bose speakers and rear entertainment system. With the Nissan Patrol, you're guaranteed a premium ride experience anywhere.
Ford Territory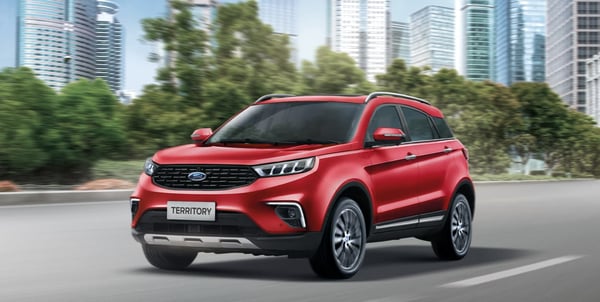 Price: Starts at ₱1,310,000
Key Ford Territory Specs:
Body type: Crossover SUV
Seating capacity: 5
Transmission type: Automatic Continuously Variable Transmission (CVT)
Engine: 1.5L EcoBoost Engine
Performance: 143ps @ 4500-5200 rpm max. power output, 225Nm @ 1500-4000 rpm max. torque
Fuel type: Gasoline
Ford is known as one of the most durable car brands in the Philippines. A clear testament to this is the Ford Territory—an all-in-one SUV that delivers a safe, smart, and stylish driving experience.[6] This SUV can traverse all types of roads, be them paved, gravel, or dirt. Boasting a greater fuel economy, it's perfect for daily use.
Comfort and convenience are also at the top of the list when talking about the Ford Territory. Apart from the sizable passenger and cargo space, which comes in handy every time you just want to lie back and unwind, this SUV also comes with a 10-inch touchscreen panel with a multi-view function. It can also be connected to Apple CarPlay and Android Auto, giving you easy access to different apps.
Ford Territory is also big on safety, featuring the latest Safety and Advanced Driver Assist Technology to give you peace of mind. It has six airbags to protect you and your passengers during a collision. There's also a pre-collision assist system with autonomous emergency braking, adaptive cruise control with forward collision warning, lane departure warning, and blind spot information system. With features like these, you know you're hitting the jackpot.
Kia Stonic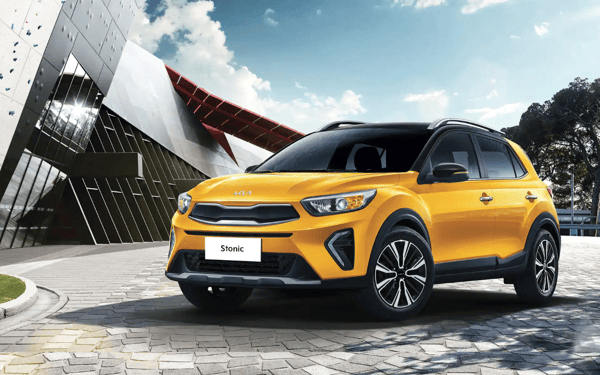 Price: Starts at ₱780,000
Key Kia Stonic Specs:
Body type: Subcompact crossover SUV
Seating capacity: 5
Transmission type: 5-speed manual or 6-speed automatic
Engine: 1.4L in-line 4 cylinders, DOHC, D-CVVT petrol
Performance: 95 PS and 100 PS or 6,000 rpm
Fuel type: Gasoline
When you think of trendsetters, Kia Stonic comes to mind. It's probably the cheapest SUV in the Philippines for 2023, with an award-winning design both inside and out. It's easy to ride out in style and drive with confidence with this iconic SUV.[7]
It's not just all about aesthetics. Beauty meets function with the Kia Stonic's unique features. Style and comfort go hand-in-hand, with functionalities that can be accessed with just the push of a button from the steering wheel.
Among the medley of features that this vehicle offers are Apple CarPlay and Android Auto connectivity, fully foldable rear seats that provide maximal space, an eight-inch touchscreen infotainment system, hill start assist control, and six audio speakers.
Read more: 25 Cheapest Cars in the Philippines You Can Buy in 2023
Honda CR-V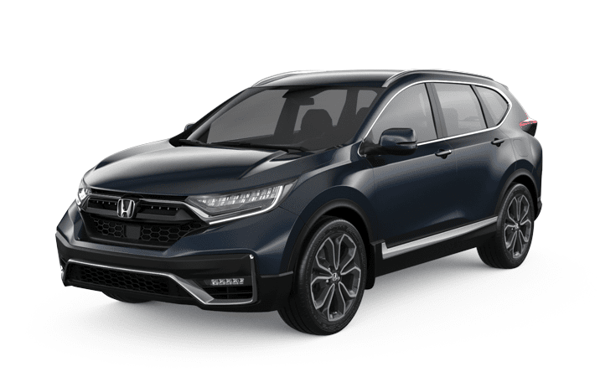 Price: Starts at ₱1,738,000
Key Honda CR-V Specs:
Body type: Crossover
Seating capacity: 5-7
Transmission type: Automatic
Engine: 1.5L Turbo
Performance: 118 HP @ 4,000 rpm - 153 HP @ 6,500 rpm
Fuel type: Diesel or Gasoline
CR-V stands for "Comfortable Runabout Vehicle," which is exactly what the Honda CR-V is. Over the years, this compact crossover has become a superior choice for car buyers because of its reliability.
There's no end to what you can do and how far you can go with the Honda CR-V. It was designed and built for all purposes, so you can count on it to give you the best driving experience every time. It's also one of the most fuel-efficient cars in the Philippines, so you can use it as often as you want.
Honda CR-V also has touchscreen control systems and easy-access commands that let you understand and take control of your surroundings. On top of that, it has cutting-edge technology that ensures your safety every step of the way.
Geely Okavango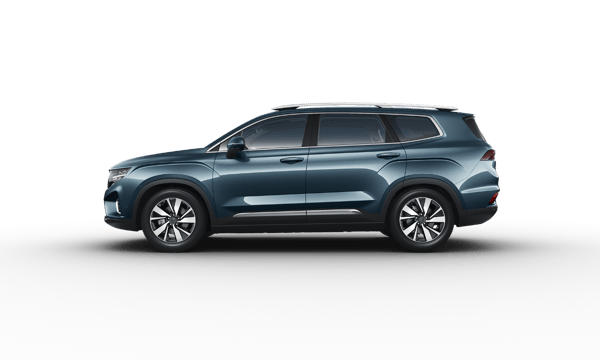 Price: Starts at ₱1,285,000
Key Geely Okavango Specs:
Body type: Mid-size crossover
Seating capacity: 7
Transmission type: 7-speed wet dual clutch
Engine: G-power 1.5L 3-cylinder, turbocharged with dual VVT
Performance: 300 Nm @1,500 – 4,000 rpm
Fuel type: Gasoline
Comfort, style, safety, and craftsmanship—the Geely Okavango has it all.[8] You probably can't name a feature that this SUV doesn't already have. Hailed by many as the best SUV in the Philippines in 2023, this vehicle clearly makes no compromises.
With a 48V electric motor synergy battery, Geely Okavango offers superior on-road performance and fuel efficiency. Its smart space feature also ensures that every nook and cranny is utilized, maximizing the full functionality of the vehicle. What's more, the expansive sky roof, infotainment panel, and digital instrument panel will keep you amused and entertained while on the road.
This SUV is so far the largest of its kind that Geely Auto offers, with a 69% space utilization rate and an optimal seat configuration. When the rear seats are folded flat, the interior rear space can reach 2.2 meters (like a king-sized bed!). This is perfect for long drives that require sleeping on the road.
The perks don't end here. This SUV is also clearly vying to become the top choice for car buyers during the pandemic. Apart from the built-in intelligent safety features, it's also equipped with a CN95-grade high-efficiency air purification system that can filter out droplets that may contain viruses and other harmful particles. If that doesn't seal the deal, what will?
MG RX5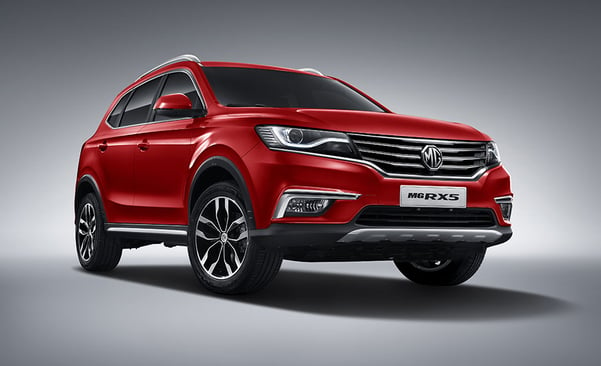 Price: Starts at ₱1,058,888
Key MG RX5 Specs:
Body type: Compact crossover SUV
Seating capacity: 5
Transmission type: 7 TST 0r 6 TST
Engine: 1.5T for 2WD or 2.0T for 2WD and AWD
Performance: 250 Nm/(1,700-4,400 rpm) or 350 Nm/(2,500-4,000 rpm)
Fuel type: Gasoline
The MG RX5 screams "class" at first glance. On the outside, it looks refined—like a ride befitting those with impeccable taste. On the inside, it's modern, spacious, and comfortable—clearly a vehicle that'll appeal to everyone.[9]
The MG RX5 is a compact SUV with a fuel-efficient, turbocharged engine. Its driving dynamics are smooth, allowing you to navigate all types of terrain. It's equipped with MacPherson struts at the front and a multi-link suspension system at the rear, which means bumpy rides will be a thing of the past for you as every journey on the road will be completely smoothed out.
Ergonomic convenience best describes the interior of this SUV. You'll get ample legroom and headroom, comfortable seats made of high-grade materials, and an infotainment system with an Apple CarPlay feature. There's also a panoramic sunroof to let you enjoy the pleasant weather.
Chery Tiggo 7 Pro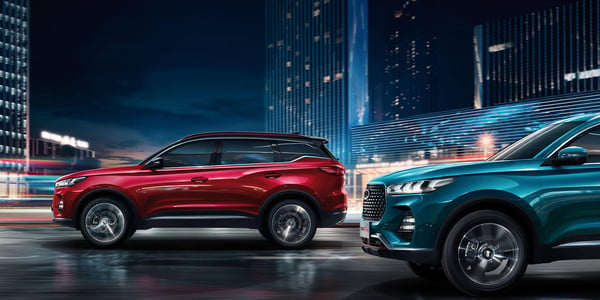 Price: Starts at ₱1,250,000
Key Chery Tiggo 7 Pro Specs:
Body type: Crossover
Seating capacity: 5
Transmission type: 9-speed CVT with electronic shifter
Engine: 1.5 TCI (turbocharge), 4-cylinder
Performance: 145 hp/5500, 210 N-m/1750-4000 rpm
Fuel type: Gasoline
If you want a car that looks more futuristic and has advanced functionality, then this crossover's for you. The Chery Tiggo 7 Pro leverages technology to provide comfort and safety. It has a tri-screen interactive feature that includes an infotainment display, an instrument cluster, and a full-touch panel.[10]
When it comes to the interior, nothing beats the luxurious feel that this vehicle offers. Power seats are accessible for both the driver and passenger, allowing for a more relaxed drive. An auto dual zone aircon system also gives you the option to set different zone temperatures for the driver and passenger.
Safety-wise, the Chery Tiggo 7 Pro is very ideal as it has built-in features that allow for a faster response time, more efficient risk assessment, and better assistance for a safer drive. The vehicle also has an N95 air cabin filter that blocks out harmful gasses and fine particles. This feature is more important now than ever given the ongoing threat posed by COVID. It's also just generally handy, especially when you're cruising through heavily polluted areas in the country.
See also: Buying a Truck? Check Out the Best Pickup Cars in the Philippines
FAQs on SUVs in the Philippines
1. What is the best SUV in the Philippines in 2023?
The best SUV in the Philippines depends on what you value most as a buyer. If you're looking for an affordable SUV, get the Kia Stonic. If you're looking for an affordable hybrid SUV, get the Geely Okavango. If money isn't an issue, get the Nissan Patrol.

2. Which SUV brand is the most reliable?
This also depends on the buyer as well. Ford is definitely a great choice if you want an SUV from one of the most established car manufacturers. In terms of after-sales reliability, Toyota and Mitsubishi are excellent choices because they're the most common brands, with car parts that can be easily sourced in the Philippines.

3. Which SUV is best for floods?
The Isuzu mu-X has a great balance of ground clearance and wading depth capacity at 230 mm (9.1 inches) and 800 mm (31.5 inches), respectively.

4. Which SUV has the best wading depth?
If you're looking for the best SUV for flood-prone areas in terms of wading depth capacity, you can choose between the Ford Everest, Isuzu mu-X, and Nissan Terra. These SUVs have the same wading depth of 800 mm (31.5 inches).

Final Thoughts
Have you found the best SUV in the Philippines that meets all your criteria? Hopefully, this list has helped make up your mind. Whether it's the cheapest SUV in the market or the most expensive one, it's a good buy if it meets all your needs. Once you've made your pick, head over to the best car dealers in the Philippines to finally make that purchase.
After successfully sealing the deal, make sure to get your SUV insured. Get a car insurance quotation in the Philippines quickly and easily through Moneymax.

Sources: