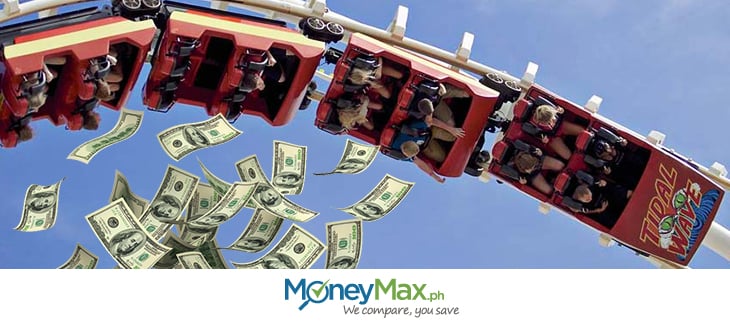 The Philippine Stock Exchange index (PSEi) dropped roughly 500 points, losing 6.70% in one day and dropping below the 6,800 mark. After weeks of troubling news, from the recent (and continuous) crash of the China stock market to the devaluation of the yuan, global markets are in a panic and the Philippines is no exception. As China's growth slows, it affects the Philippine economy as well, according to a July article by Randell Tiongson. "If China's growth falls below 7%, that could affect many of the manufacturers in ASEAN including the Philippines — since our region provides a portion of the intermediate goods for China to finish or complete," he writes – and that seems to have happened.
Investors are at the edge of their seats. Seeing their investments in PSEi stocks are in the red is tempting enough for a selloff; however, before you sell your stocks, stop, think, and relax. Moneymax.ph rounds up 3 things investors can do (and not do) when the stock market is down:
Revisit your strategy
You should not go into the stock market without an investment strategy in place. Moneymax.ph, in an interview with Marvin Germo, gives you the step-by-step on how to create an investing strategy for the stock market. When your stocks are in the red, it's best to revisit your strategy.
How long's your timeline? If it's more than a decade, then you shouldn't sell at the first sign of a loss.
How much money are you willing to risk? Before you started buying stocks, you should have come up with a benchmark that when your stock hits that mark, you'll cut your losses and sell. If your benchmark is selling at a 50% loss, but your stock dropped only 10%, then again, don't sell at the first sign of a loss.
What does technical analysis tell you? Yes, the market as a whole is on a downtrend, but study your stock holdings, and look at the long-term picture. Your stock may have dropped drastically in one day, but if you look at the stock's one-year chart, you can see that it is moving up.
As Marvin Germo says, "if the market is going down, stick to your strategy. Be consistent."
Read more: COL Financial Review and Beginner's Guide to Stock Investing
Keep your emotions in check
Aside from having an investment strategy and an end goal in mind, keeping emotions in check is another trait that makes a good stock investor according to Germo. Because you love Chickenjoy, you bought shares of Jollibee Foods Corporation (JFC:PS), and when you opened your trading account today, you saw that your shares lost -4.25% from last Thursday.
Before you click the 'sell' button on your trade, stop and think for a minute. Unlike mining companies which are greatly affected by the export demands of global economies, Jollibee is less susceptible to the volatility of global markets. Can you imagine a Philippines without Jollibee? No. In addition, even though JFC shares fell, the coming of the Christmas season may increase demand for the beloved Chickenjoy and bring your JFC shares back to profitability.
According to Germo, "Disregard your emotions. Your emotions will make you panic and force you either to buy or sell rashly."
Buy low, sell high
"If you are a buy and hold investor, look for bargains if the market continues to drop. The cheaper they become, the better it will be for you," Germo says.
Instead of panicking at the fall of the market, have a different perspective. Seize the opportunity to buy more shares at a bargain. PLDT (TEL:PS), which traded as high as Php 3,074 last March 2, 2015 is down at Php 2,560 (as of 24 Aug 2015) . Just like Jollibee, which has one of the strongest brands in the Philippines, PLDT is the leading telecommunications provider in the country, and it won't be going anywhere anytime soon. When the stock market is down, seize the opportunity to buy great blue-chip stocks at cheaper prices.
I can't help but panic!
"Beginners should invest only a small percentage of their net worth into the market. Once they are more confident, they can invest a larger percentage," Marvin Germo, author of the Stock Smarts series of books, says in the interview.
Never invest your hard-earned money blindly. Yes, the stock market is a great tool for you to make your money grow, but returns are not guaranteed. People lose money in the stock market because they enter before they're ready; however, if you're already invested and you're panicking with every fall of the index, take a deep breath. Every move you make, be it buying or selling more stocks or waiting the market out, should be aligned with your investing strategy.
Read more: